10 Ways to "Wow" at Your Housewarming Party
Posted by Marcus Larrea on Friday, February 9, 2018 at 1:07 PM
By Marcus Larrea / February 9, 2018
Comment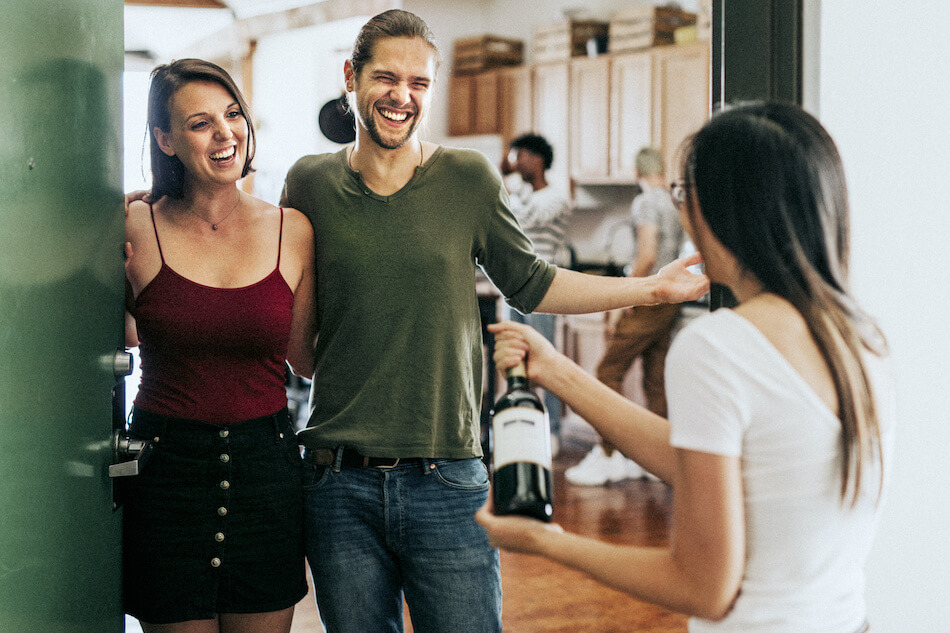 A housewarming party isn't just another birthday or holiday party (though of course those are special too!). Housewarming parties are the time to make your guests feel just as at home as you are while you celebrate this big milestone in your life. To help make your party as warm and inviting as can be, here are ten ways to wow at your housewarming party.
1. Simplify the Guestlist
It's tempting to invite everyone who wants to see your new home and, of course, you are proud to show it off! However, too many people will make the party an exhausting task rather than a relaxing gathering. An overcrowded housewarming means less time to spend with everyone, harder crowd-control (so your snoopy aunt may be browsing your closet), and the guests will be uncomfortable from being in a packed space. Invite those closest to you to make it a more intimate and welcoming setting.
2. Over-Communicate Parking & Directions
The vibe of your party will be felt by your guests even before they set foot through the door. Directions to your place, instructions on where to park, and even a simple balloon on your mailbox will keep your guests from asking, "Is this the house?" For your timid guest who will ring the bell rather than walk right in, leave a sign giving them permission: "Our home is your home tonight! Come right in!"
3. Have a Time & Space for Gifts
People will want to bring housewarming gifts to break in your new home. Make an effort to acknowledge that kind gesture by setting aside a designated space for guests to leave their gifts. This will also ease the awkwardness of guests carrying the gift around and not knowing what to do with it. Make opening the gifts a part of the evening to acknowledge your guests' generosity – and remember to send thank you notes later!
4. Create Enough Seating Accommodations
Comfort is a big factor in making your guests feel at home. A lot of times people are standing and socializing but, as the night goes on, we all eventually want to rest our feet in between the night's events. Count how many people your own seating can accommodate and then borrow folding chairs from family and friends. Folding chairs are great for allowing guests to have flexible seating options.
5. Set Up Food and Drink Stations
You don't want everyone crowding around the same area to get food because, let's face it, we all like our personal space and we don't like to wait when we are hungry! With the congestion in one area, the flow of the party is interrupted and awkward. Set up a couple places for food or double up everything for both sides if you are using an island in the kitchen.
6. Plan Activities for Mingling
Games are perfect for giving the guests who don't know each other a chance to socialize. As you make your rounds to chat with everyone, your guests can be entertained by a few simple and fun activities. Icebreaker games like Sticker Stalker and Who's My Match are great for larger groups and can be played as the party goes on.
7. Make a Signature Non-Alcoholic Drink
If you want to add a personal twist to your drink menu, look up non-alcoholic drink recipes and pick one you really enjoy. For some added fun, have it match the design or atmosphere that you're going for with your new home. Making the drink non-alcoholic means everyone on your guest list can drink it and it can be a great conversation starter.
8. Set the Tone
Do you want a chill vibe or a party vibe? A search on your music player for housewarming playlists can help you curate the right sounds for your guests to get a little rhythm in their steps as they mingle. Just don't play the music too loud – unless, of course, a dance floor is included in your party!
9. Use Sturdy Plates & Bite-Sized Foods
You know that guests will be eating and drinking as they walk around and socialize. And you know that it's awkward to hold a plate while also dealing with food that needs to be broken or cut into. With their hands full holding the plate, make it easy for them! Sturdy plates make it harder to drop things and bite-sized food makes it effortless to eat and chat.
10. Put Out an Address Book
This takes the guest book idea a step further to add a personal touch. Set up a table in plain view for guests to fill in their names and addresses. We are really good at getting social media handles and phone numbers from people, but this is a great way to collect addresses of the people you care about. This way, you can send a personal thank you note after the party and also have the list on hand for things like Christmas cards.
Hopefully this list helps and even sparks some ideas as you are planning your housewarming party. Just remember that the most important thing is to enjoy the moment and the people around you as you step into the journey of your new home!