5 Tips to Keep in Mind When Decorating Kid's Rooms
Posted by Marcus Larrea on Friday, June 8, 2018 at 2:53 PM
By Marcus Larrea / June 8, 2018
Comment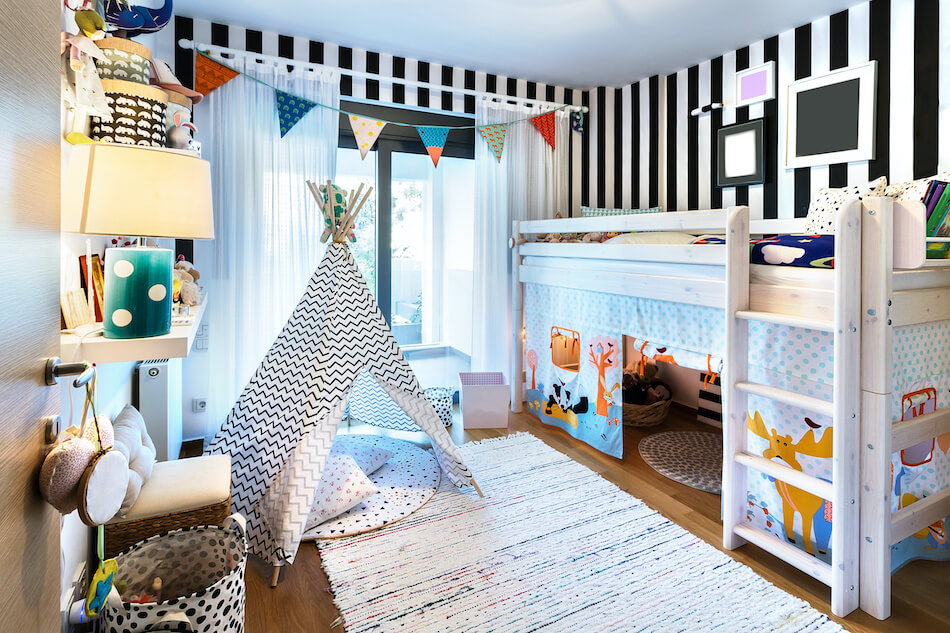 When designing our kid's room, any layouts or color schemes we've been using for the rest of the house often go out the window. Kid's rooms should be a happy, fun, and creative place for your child to rest and play. They deserve a space in the house that's all their own – their own oasis to escape to. So what do we need to keep in mind when creating the perfect bedrooms for our children? Here are five tips to keep in mind when decorating kid's rooms.
1. Accessorize with Color
How do we avoid major remodeling every time our kid's favorite color changes from orange to green to purple and back again? Keep the foundation of your home neutral and introduce splurges of color into your accessories. Find colorful bedsheets, curtains, and rugs to draw the eye. If you have books in the room, consider having shelving to show off the colors of the books. Providing a colorful environment is a great way to keep a child happy and in love with their new room!
2. Remember Whose Room It Is
Let your child take the lead on some of the decorating decisions. We often think that our opinion is best when deciding on the room (whether it be colors or accessories), but try to remember who's going to be spending most of their time there. We can always help and guide them but, if they are set on a specific color, then it should be up to them to make the final decision. This is a great way to encourage self-expression!
3. Plan Ahead
Choose a layout and furniture that makes it easy to transition through life's multiple stages. Try to pick and choose pieces and decorations that can be slightly altered as your child grows from infant to toddler to teen. For example, how will the room need to be shifted as your child moves out of a crib and into a "big kid" bed? Connect with family and friends to see what items you might be able to trade back and forth to keep from paying for brand new and expensive furniture.
4. Embrace the Strange
It's fine to be a little weird with your child's room design. Encourage their sense of individuality and let their imagination run wild! How about a lava lamp or a crazy patterned rug? You could swing a hanging cocoon from the ceiling or create a lego wall that your child can build onto. If room allows, create a "secret room" in their closet or in a fort for your child to escape to. Decorations can be easily changed and, when one thing falls out of style, you can just replace it with another.
5. Make Function Fun
In the midst of all of this creative chaos, do your best to make functionality a priority. After all, we know how messy our children can be… Create a patterned wall of drawers or line the walls with floating shelves to keep toys and accessories organized. If space is especially limited, you can stack clear, labeled boxes in under-bed storage. To keep homework assignments organized, hang a corkboard on the wall to pin incomplete assignments as a reminder. There are plenty of ways to be fun and functional!
When decorating a child's room, the ideal room design takes their wants and needs into consideration while keeping them kid-friendly, fun, and organized. After all, keeping your child in a space where they want to be helps them feel confident and self-assured. Don't we all want to be in a comfortable space to work or play? Follow these tips for decorating kid's rooms and you'll be that much closer to your "Coolest Parent Ever" award.