A Record Breaking Month and a Shocking Statistic…
Posted by Marcus Larrea on Wednesday, June 24, 2020 at 4:01 PM
By Marcus Larrea / June 24, 2020
Comment
A record breaking month and a shocking statistic.
It's been over 3 months since the lock down started. And with May now closed out and with Florida leading the way in reopening for business, we are getting a better idea of the true impact of the pandemic on our local housing market. Plus at the end of this video, I'll share a shocking and encouraging statistic with you.
Hi, it's Marcus Larrea, with Palm Paradise Real Estate.
In April, we saw the housing market stumble a bit. But last month, we saw the full impact that came by way of a 10 year record low sales month for May in Southwest Florida. Across Lee and Collier Counties, there were 50% less homes sold in May of 2020 than in May of 2019. But this is actually something that we expected. Keep in mind that it takes about 30 to 45 days from the time an offer is accepted to the time the sale is completed. If you think back 60 – 75 days ago, you'll remember that uncertainty was extremely high.
What's interesting to note is that while it was a record low sales month for the Southwest Florida market as a whole, here at Palm Paradise Real Estate, we had a very active May. This is all thanks to the uncommonly effective marketing and negotiation strategies we use to get our customers' home purchased or sold for their best price in any market, including this unprecedented one we see ourselves in today.
Now here's the shocking statistic. Across Lee and Collier counties there are approximately 36% more homes going under contract than new homes being listed on the market. This is fantastic news because it shows a huge surge in buyer confidence and activity. If you're watching this and thinking of selling your home, the law of supply and demand is a full effect. And it's tilting in favor of sellers.
One thing that I know is what's happening today and what our team is experiencing. We are seeing many more multiple offer scenarios play out and average days to contract has taken an 18% dip from May of last year. Homes are selling faster. I am not in the business of predicting the future, but here's something to consider as Fort Myers, Cape Coral, Naples and the rest of the country opens up. As people gain greater confidence, we're likely to see a lot more homes coming on the market, a scenario where supply and demand isn't as favorable for sellers as it is right now.
Am I saying it'll be a bad time to sell a home? By no means. All of the data is showing positive trends toward a market that is bouncing back. The reality is if you're thinking of selling right now, we are finding ourselves in a great time. Naturally, that's what you would expect a real estate agent to say, right?
Fortunately, our team's strong results and track record of success are built on bringing real time news from the trenches, so you can have peace of mind and make informed decisions. I know if I were a home seller, I look at unemployment rates, I look at all that's going on in the world and I would definitely be questioning if this is a good time to sell overall. Here's what we're seeing… pending home sales have increased drastically month over month, the financial markets are opening up and home loans are becoming much more available.
Interest rates continue to reach historic lows and back when the pandemic hit lenders were afraid to issue loans, but now they're feeling much more comfortable. Something I'm sure you've heard many times is this, "Follow the money." and here is what's happening. More money is available to buyers. And right now, there are not as many homes on the market. So to reiterate one more time, it is a great time to sell.
If you would like to learn more about what's happening in the market, check out a more detailed look at the SWFL market stats for May below: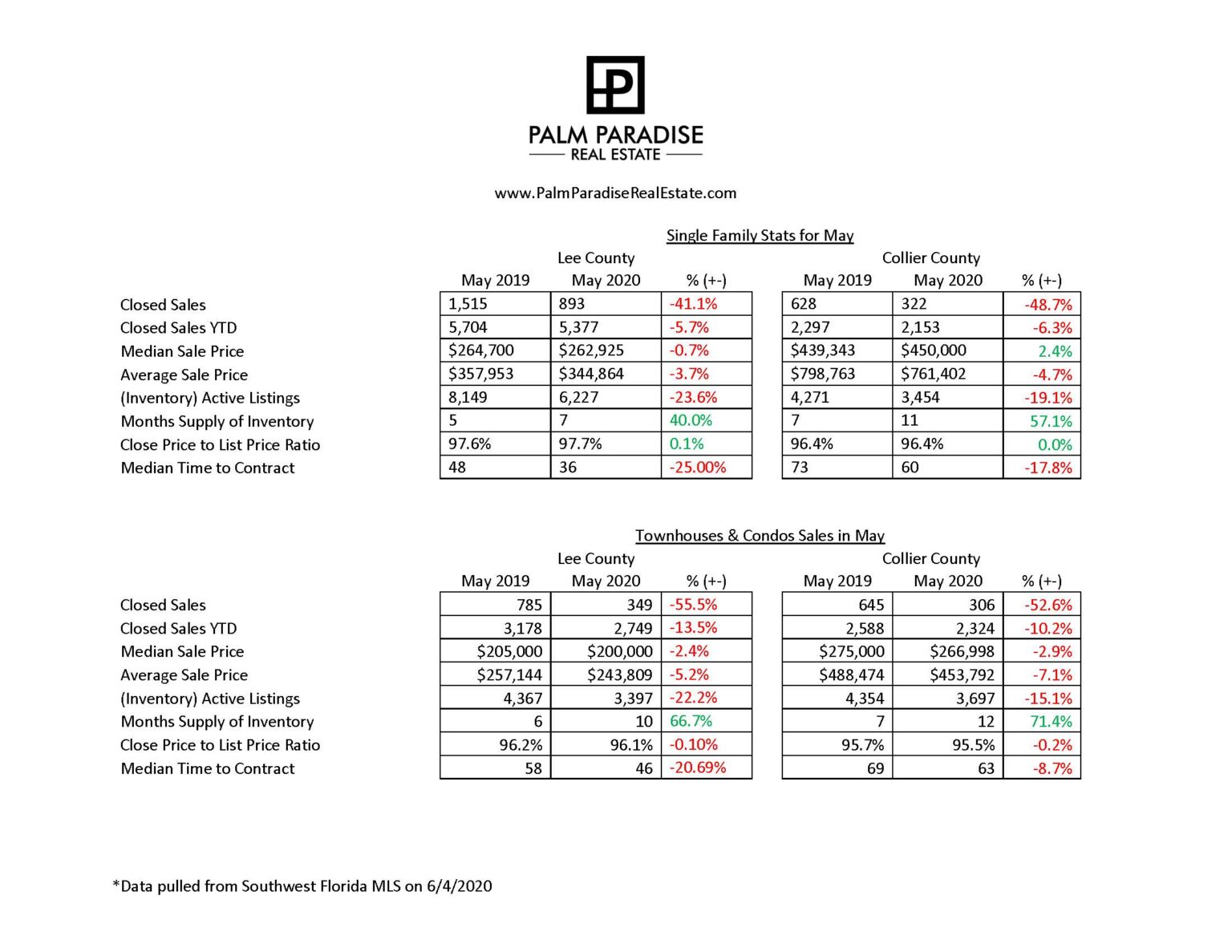 Please feel free to reach out to one of our team members at Palm Paradise Real Estate to see how we're safely and effectively helping our clients with their home sale or purchase.
You can call, text or email any of our agents or visit us online at www.PalmParadiseRealEstate.com.