In-Ground Pools Vs. Above-Ground Pools: Everything To Know Before Choosing Your Pool Type
Posted by Marcus Larrea on Wednesday, May 4, 2022 at 5:45 AM
By Marcus Larrea / May 4, 2022
Comment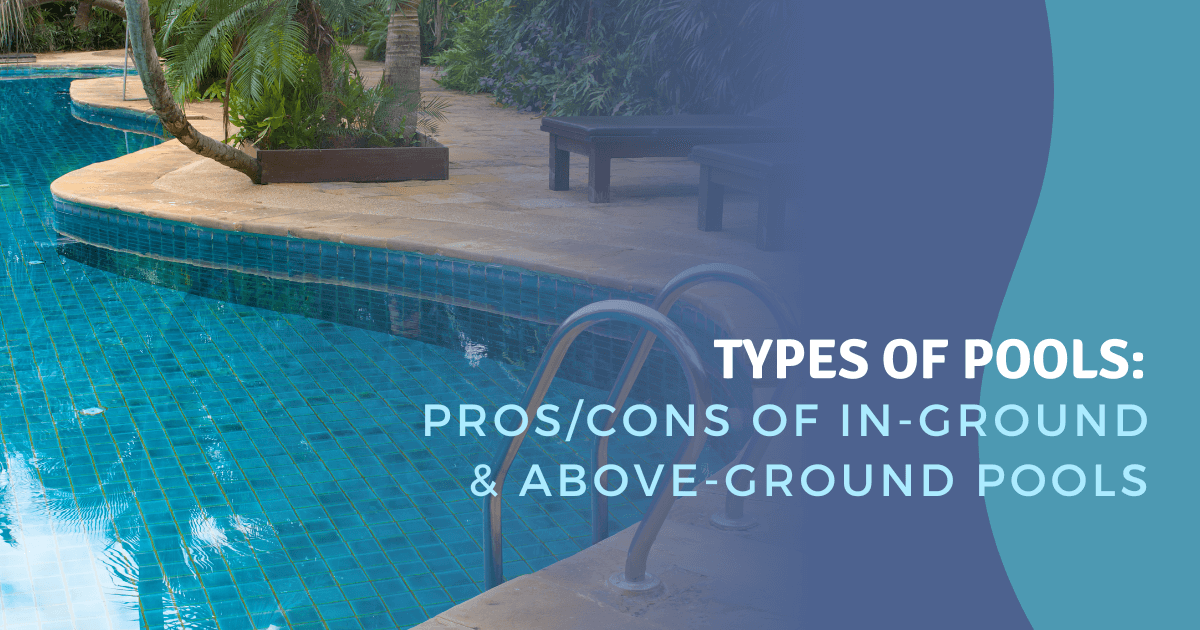 Adding a pool to the backyard is an excellent investment for people because pools often increase home value by creating a resort-style oasis in the privacy of one's backyard. Homes with swimming pools come in many shapes and sizes, but the most significant decision is choosing between above-ground and in-ground options.
Above-ground pools are much like they sound. The pool is a semi-permanent structure constructed on the grass, patio, or another hard surface; some have decks built around them, and others serve as standalone structures. In-ground pools are a little different since they involve excavation, are built flush with the landscape and can be constructed in various styles.
Building a home pool is a big decision and one that shouldn't be taken lightly. Before going forward with pool construction, homeowners should learn about the differences, including price, installation process, maintenance, durability, and value. Keep reading to learn what you need to know to decide between an in-ground pool and an above-ground pool.
Cost of the Pool
When preparing to build a pool, it's essential to understand exact price tag will drastically vary since there are many ways pools can be customized outside of deciding between buying an above-ground or an in-ground pool.
Generally speaking, in-ground pools are usually more expensive, starting at about $30,000, whereas above-ground pools start at about $2,000. Owners also need to remember that there are other costs involved with constructing a pool, outside of purchasing the product itself, depending on the features selected and required architecture. Then fences, ladders, pool alarms, and other details will need to be factored in.
Determining the best option will depend upon the value a homeowner places on a pool and how long they plan to be in their house. In-ground pools typically come with lifetime warranties, whereas above-ground pools have a lifespan of about seven to 15 years. In this respect, in-ground pools maintain longevity in terms of value.
However, if the house isn't one's "forever" house, other factors, such as the ROI of a pool, should be considered.
Value of the Pool
Many buyers wonder, "does a pool add value to the home?" In warm-weather communities, backyard swimming pools are on the "must-have" list for many homebuyers. In order to ensure a quick sale for the best price, either type of pool can be a high-ROI home improvement project. However, homeowners who install in-ground pools may see a slight increase in home value, which benefits its long-term value. In contrast, above-ground pools don't hold their value but offer the most significant savings in upfront costs, installation, and lifetime maintenance. For both types of pools, the actual value is found in the lifestyle benefits homeowners gain for themselves and their guests.
In terms of value, in-ground pools have a longer lifespan, better durability, the ability to have a higher degree of customization, and the opportunity to create a yard aesthetic where the pool is the focal point. They also offer space for many more people, meaning they can accommodate larger groups of people (e.g., pool parties) to enjoy the pool simultaneously.
Above-ground pools can still offer the same level of enjoyment as in-ground pools. For people who want a pool but don't know they're going to stay in the exact location, investing in a more temporary pool, such as an above-ground one, makes it easier to afford while obtaining value.
Installation Process of the Pool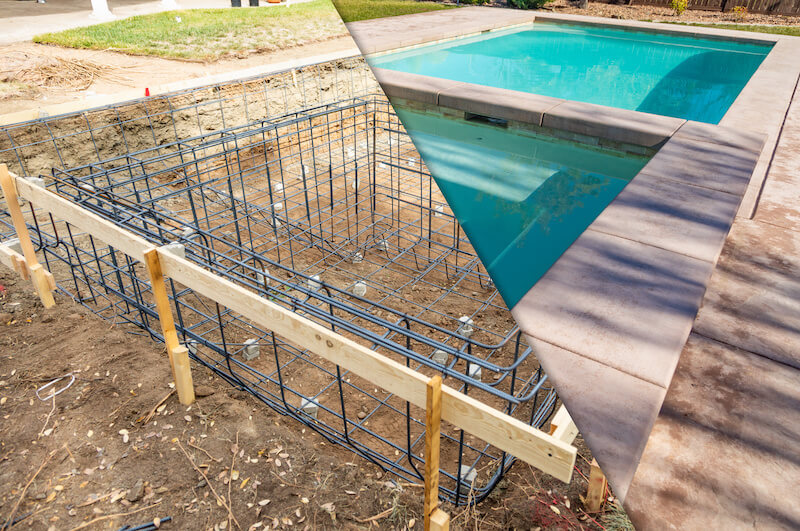 The installation time for both pools will also vary, but above-ground pools are more manageable and less time-consuming to install. The primary requirement has a location where the ground is level. Once a location is identified, and any leveling that needs to be done is completed, homeowners can start enjoying their pool within a couple of days. If leveling is needed, it may add several days to the project.
In-ground pools require deep digging, which can be complicated depending upon the makeup of the ground. Factors that can affect how long construction takes are bedrock, underground water, or other obstructions, but it takes about six to eight weeks to build for most pools. Large construction equipment is involved, so access to the future pool is necessary, which is difficult for some properties to do or gets complicated moving the equipment in. Since it's a permanent structure, there are likely zoning laws involved.
Pool Customization Options
Above-ground pools have a degree of customization, although it can be somewhat limited. Liners can be customized, but no other major features can be added. These pools are no-frills pools, but for many people, the idea of a less expensive pool option still delivers great fun and checks off the required boxes for the lifestyle they seek. Easy modifications can be done with above-ground pools, such as heaters or lighting.
In contrast, in-ground pools offer a high degree of customization. Researching design tips for backyard pools can help owners choose from different shapes, sizes, finishes, and accessories. Stylish features such as waterfalls, hot tubs, spas, fire features, and waterslides can be integrated with the design to increase the enjoyment factor and overall value. Decorative options such as flower planters, grottos, and tanning ledges are also good possibilities to create a fantastic pool atmosphere.
Maintenance & Durability of the Pool
A vital factor to consider when deciding between an above-ground and in-ground pool is its maintenance, durability, and wear and tear.
The primary reason above-ground pools are temporary is that they are exposed to weather elements and other environmental factors that contribute to wear and tear. However, homeowners who invest time and effort in the maintenance of an above-ground pool can maximize the limited lifespan of these pools.
Since in-ground pools are a permanent structure, they'll last forever with the proper maintenance and care. Homeowners who envision themselves enjoying a pool for the long-term without reinvesting in a new pool down the road will find in-ground pools more appealing. However, they do require more maintenance than above-ground pools do. Also, repairs can be costly, but a good warranty (usually offered with in-ground pools) offsets this expense.
Two Pool Styles, No Wrong Choices
People who love the pool lifestyle have plenty of options. When deciding the correct type of pool for their homes, owners should factor in their property's landscape, budget, and local zoning laws or regulations. While in-ground pools have more customization options and better resale value, the lower cost barrier and easier installation process make above-ground pools the right choice for many buyers. Assess your needs and use the information above to decide which will work best for you.