Can I Live in a 55+ Community? 4 Rules About Who Can Live in Active Adult Communities
Posted by Marcus Larrea on Wednesday, July 6, 2022 at 12:11 PM
By Marcus Larrea / July 6, 2022
Comment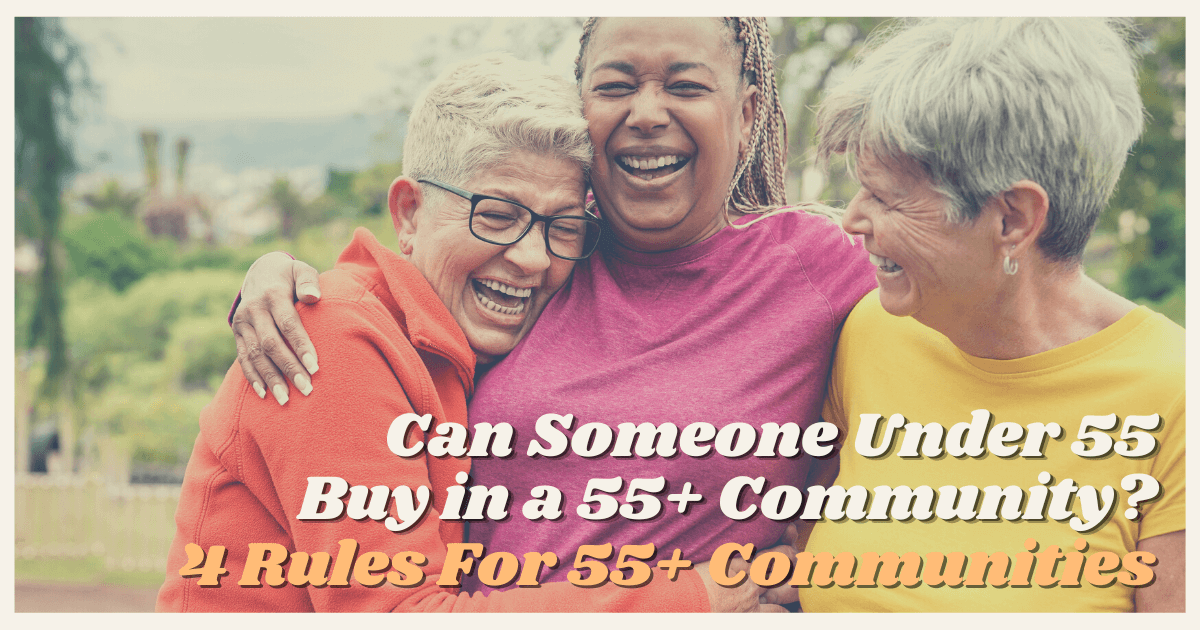 Are you looking to downsize, live in a place where school districts aren't a consideration, or want easy access to amazing amenities? For many, a 55+ community home fits the bill. In addition to the above features, these neighborhoods typically offer low-maintenance properties and social opportunities.
While this lifestyle is desirable for many people, it's not for everyone. Before buying a home in a 55+ community, it's essential to consider if this type of neighborhood will fulfill your desired lifestyle. Here are the rules and requirements of living in a 55+ community.
Can Someone Younger Than 55 Live in a 55+ Community?
Most 55+ communities require residents to be at least 55 years of age, but it doesn't mean that other members of a household who aren't 55 are prohibited from living in the home. There are usually age minimums of 40 to 50 years for spouses and 18 years for children if they meet certain eligibility rules. In cases where an individual is almost 55, they may also be granted eligibility to live in a 55+ community.
Many home buyers wonder if age restrictions prevent their grandchildren or younger people from visiting them. While it's rare for communities to allow residents under 18, visits are permitted. Some communities limit visits to one to two weeks, while others may allow up to two to three months.
Before investing in a home in an active adult community, always carefully look at the development's bylaws. Interested buyers should speak to an experienced real estate agent specializing in active adult community properties with intimate knowledge about specific local communities.
A 55+ Community Is Not an Assisted Living Community
It's common for people to be confused about what a 55+ community is. They are often referred to as "active adult communities" because they are for people without assisted living needs.
Assisted living is a good option for those who face difficulties performing daily tasks and other activities. This lifestyle empowers them to live independently, with a level of help, such as assisting them with meals, housekeeping duties, self-care, or keeping track of medications. Senior living communities offer a higher level of care and ensure residents are well taken care of, regardless of their health status or physical abilities.
Residents of 55+ communities can enjoy a resort-style experience as they enter the later stages of life. They are, however, expected to manage their care needs. There are no facilities or personnel onsite in 55+ communities to help those who need assisted living. They offer convenient self-access to resources where residents can obtain medical care, buy groceries, or enjoy restaurants and other activities.
The 80/20 Rule & HOPA
The Housing for Older Persons Act of 1995, often referred to as HOPA, is also known as the "80/20 rule" of housing, meaning at least 80% of the people living in an age-restricted community must include at least one person 55 or older. The community is also required to show an intent to provide housing for people who are 55 or older.
These requirements don't necessarily mean the other 20% of people buying houses can be under 55. What it does allow are exceptions for those permitted to live in the community, along with their 55-or-older household family member or companion. For instance, a couple buys a home, and one homeowner is 60 years of age while the other is 50. If the older person passes away, the 20% rule allows the surviving person to continue to live in the community.
It's essential to always understand an individual development's restrictions regarding age and residency. This way, there are never any surprises regarding a community's age eligibility rules if circumstances change.
Renting Out a Home in a 55+ Community
Many people who reach the 55 age and older range often prefer to become snowbirds and spend winters in warmer climates. This is perhaps especially true for those who can work remotely. Due to few restrictions, homeowners can live in their "vacation" destination for extended periods and return to their primary residence at other times of the year.
These homeowners aim to rent their homes when they aren't present to help offset housing costs and pay for their desired lifestyle. The challenge is that the 55 age restriction severely limits the pool of renters they can attract.
While most communities prefer their residents don't rent their homes because they are designed around a social lifestyle, it doesn't always mean owners can't rent their properties. If allowed, 55+ community homeowners will be restricted to eligible renters. However, most active adult communities frown upon the practice and might impose certain other boundaries to discourage rentals.
Is Living the 55+ Community Lifestyle the Right Choice For You?
Many home seekers find the overall lifestyle and incredible amenities in 55+ communities appealing. However, these communities aren't for everyone. Those who buy in these communities are often happy with their choice as long as they go into the purchase understanding what they gain and what they might lose. That being the case, it's vital for anyone considering buying a home in an active adult community to weigh the pros and cons, including a thorough understanding of the community's rules and requirements.