August Real Estate Market Update
Posted by Marcus Larrea on Thursday, September 9, 2021 at 10:49 AM
By Marcus Larrea / September 9, 2021
Comment
Both good news and bad news for local home sellers... Is buyer demand finally dropping?
The data from the month of August is in and you do not want to miss this month's local Southwest Florida Real Estate market update.
Hi, it's Marcus Larrea, the team lead at Palm Paradise Real Estate and today I am here at our soon to be completed office expansion, which will provide more room for our expanding team with updated state of the art technology as part of our initiative to continuously improve our customer experience.
Today, I will be sharing with you the latest sales numbers so you can stay on top of what is happening in our local housing market in Lee and Collier Counties.
During the month of August in Lee County we saw 1,336 single family homes close which is down just over 7% from this time last year. In Collier County, there were 540 single family homes that closed down almost 18% compared to August last year. The median sale price for single family homes has also begun to flatten out in both counties over the last 2-3 months if you look at the data from June, July and now August. The raw data can be found on our market update blog posts for each month on our website if you'd like to go back and take a look.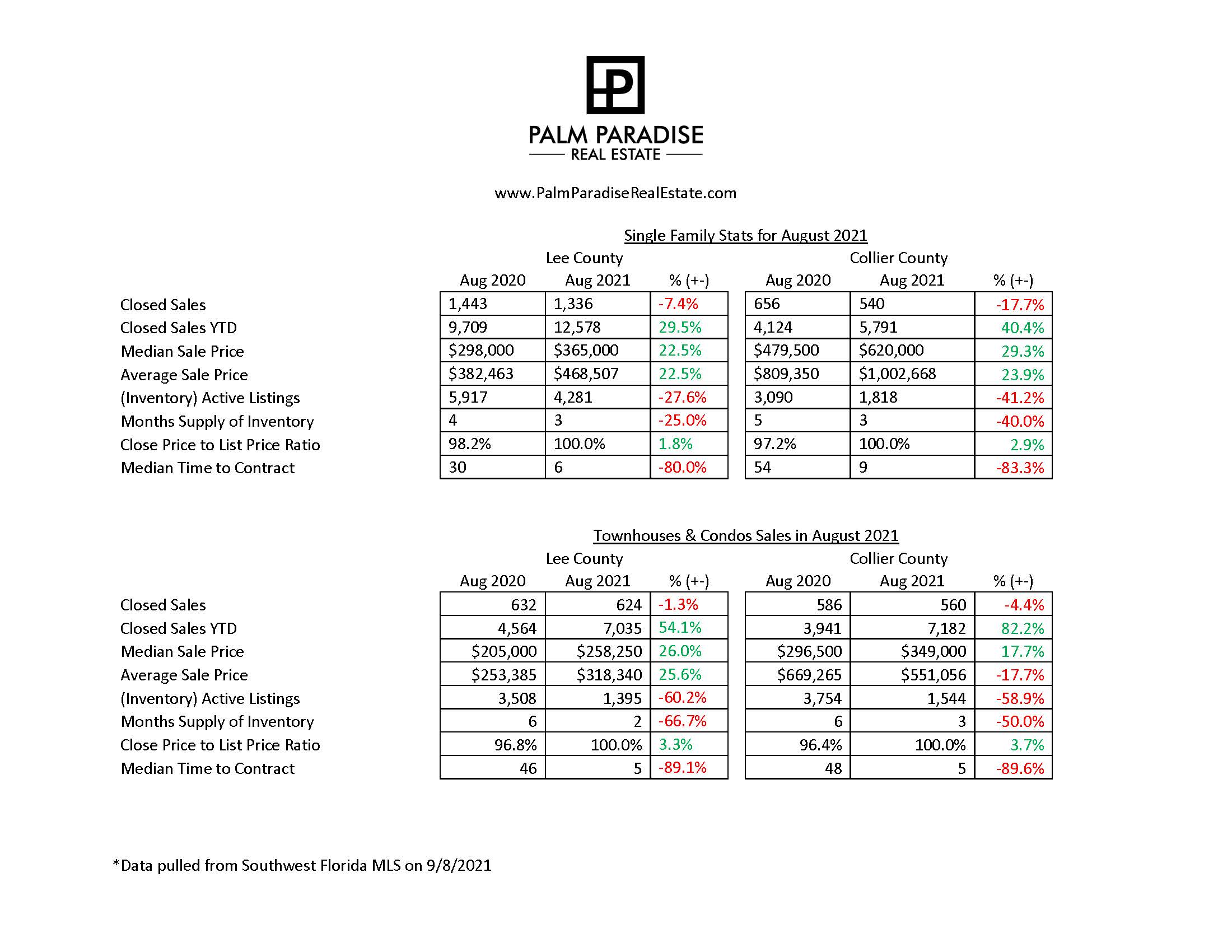 So is buyer demand dropping? Are buyers who have been waiting on the sideline finally starting to see the beginning signs of the market turning towards a crash? Not so fast... they will likely be disappointed. Economists and experts are not predicting a crash like 2008.
The crash of 2008 was initiated primarily by bad lending practices along with a boom in new construction creating too much inventory. What we are seeing today is different. Lending policies have tightened up quite a bit to avoid those same issues from 2008 and in Southwest Florida we are seeing many more cash purchases. Also, as mentioned in previous updates, unlike 2008 we have a massive shortage of inventory both locally and nationally in large part created by the massive halt of construction during the period after the crash of 2008. Couple that with our increase in population along with record low interest rates and we have the supply and demand issue that we are experiencing today.
Speaking of interest rates, rates are expected to rise as we head into 2022. If you're a buyer looking to finance, this could be a very important factor for you to consider in making your decision to buy now or later. Did you know that for every 1% the mortgage rates increase your purchasing power decreases by 9-11% if your financing? That means if you're looking to finance a $400,000 home in today's market, you will be looking at a $360,000 home next year if rates increase by a point which many experts are predicting.
So while we may be seeing a slowdown, which is completely normal in Southwest Florida as we head into fall, we do not expect prices to be dropping significantly anytime soon.
For home sellers, the sky is not falling because inventory is not growing and the balance between supply and demand has not changed that much despite the slight sales decline.
The data backs this up because both single family homes and condos and townhomes across both Lee County and Collier County are still selling very quickly and for top of the market prices. Last month, the list price to close price ratio was still at or above 100% in all housing categories in both counties while median time to contract was between 5-9 days.
These are uncommonly low numbers and they tell us that home buyers are still aggressively looking to purchase properties in our area. Multiple offers and bidding wars are still very much a part of our local market.
Having helped over 260 families buy or sell this year through the month of August, we are extremely tuned into the local real estate market.
If you have any questions about the real estate market or if you would like to discuss what it takes to achieve the best possible results in your home sale or purchase this year, I invite you to reach out to one of our experienced team members at PalmParadiseRealEstate.com or give us a call at 239-349-2487.
Thank you.