Backyard Oasis Ideas: Design the Perfect Backyard Pool
Posted by Marcus Larrea on Wednesday, March 15, 2023 at 12:45 PM
By Marcus Larrea / March 15, 2023
Comment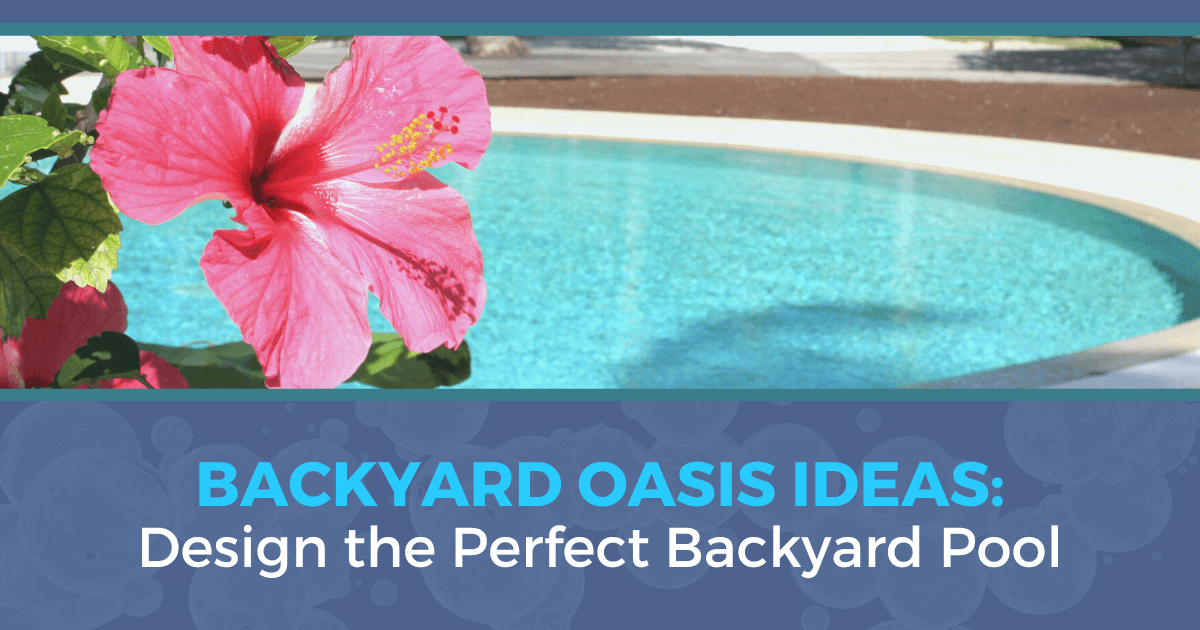 A backyard pool can add value to a home for many reasons. It can be a great place to relieve stress, get some exercise, and entertain guests. With so many fantastic uses, it's no wonder swimming pool homes are always in high demand.
There are many factors to consider when designing a pool. Choosing an ideal pool shape that fits the landscape and the user's primary wants and needs are central factors. However, other installations such as foliage, water features, and decking surrounds should be considered when designing or renovating a backyard pool. Keep reading to learn about four innovative ways you can design the backyard pool of your dreams.
Pools Come In All Shapes & Sizes: What's Best For Your Backyard?
There are no limits to the possible shapes that a backyard pool can embrace. Configurations can be traditional, irregular, or sharp and modern, so owners will need to work with both the space they have and the land's natural slope when choosing a pool.
Those planning to use the area for a specific purpose, such as exercise, may opt for lap pools, while those wanting a peaceful and relaxing vibe might go for an infinity pool. Owners hoping to make a personal statement might go bold with a custom-built pool.
Learning about local regulations and neighborhood rules is one of the crucial first steps to building a pool. Some HOAs might only allow in-ground pools, while others might not want the weeks of construction disrupting neighbors and only permit above-ground models.
With the rules and restrictions in mind, pool shapes that are popular today include:
Traditional Rectangular
Oval or Round Shapes
Kidney-Shaped
Figure-8 Shaped
L-Shaped
Novelty & Custom Shapes
From there, it's time to consider the placement based on sun exposure, whether an integrated or separate spa is desired, landscaping, and other critical features for modern backyard pools.
Landscaping Can Make Your Yard a Private Paradise
Landscaping around a pool will depend on the climate and the types of trees, plants, and flowers that flourish naturally in the region. Sun, rain, and irrigation options can limit the possibilities or provide an array of options for homeowners.
The most common landscaping plans for pool areas promote a lush tropical feel and typically incorporate palms, ferns, and colorful blooming flowers. While the best varieties depend on the climate, some hardy breeds of ferns, hostas, hibiscus, and palms can tolerate freezing temperatures.
Those residing in dry climates that don't get much rain or who want to curb water use can enhance their pool's landscaping with the design principles of xeriscaping. In essence, xeriscaping aspires to minimize or eliminate the need for irrigation in landscaping. This is an attractive option for those looking to add special touches around the pool without breaking the bank or dealing with upkeep or frequent watering.
Add some elevated boulders around the pool's edge with natural or artificial boulders. Most pool suppliers have 'mock' rocks that can be put up in sheets, and some even come with built-in speakers that can connect to Bluetooth devices or smart home hubs. Boost poolside comfort by incorporating a cabana, sail shade, or an open-air pool house for a finished result that tops many 5-star resorts.
Add Flair With Unique Water Features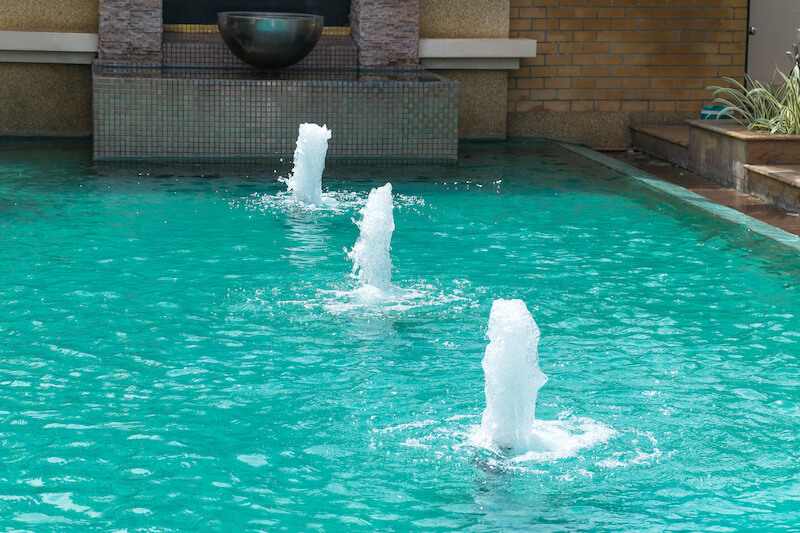 Water features like flowing fountains, bubblers, clever lighting, and cascading waterfalls establish a greater sense of serenity and beauty around any backyard pool. Ornamental fountains are visually intriguing when incorporated with the landscaping. Bubbler fountains are growing in popularity and are striking accents for tanning ledges and first entry steps.
Imagine arcs of flowing water drenching the patio and pool area with strategically installed deck jets. Jet features can become showstoppers when infused with stunning LED lighting that serves as a nighttime attraction on its own. The most desirable pool LED systems are automated and allow for remote changing of colors, heights, movements, and pre-set cycles.
Waterfall features are one of the most common elements of a backyard pool's landscaping. Rock ledges and walls with flowing water or rain curtains along a pool's edge can be refreshing and exciting for users and stimulating to the senses. As a bonus, these 'shower' installations offer a quick way to rinse off before entering the pool.
Build a Deck Around Above Ground Pools For Easy Access
Yes! It's possible to add a deck to an above-ground pool or a half-sunken one, and users will find it much easier to navigate in and out of the water and enjoy poolside activities. Sinking an above-ground pool partially into the soil or surrounding it with a deck can change the appearance and appeal of the setting.
A key benefit of having a surrounding deck for an above-ground pool is that it allows owners to easily include safety features like pool covers and safety railings and steps. They also allow designers and builders to even out sloped surfaces without major ground excavation or alterations. These installations might save homeowners substantially on landscaping costs and pool fencing.
Decks can be crafted of water-resistant pre-treated wood or slip-resistant composite materials that offer unlimited design options. Wraparounds of stone complement the decking and allow the pool to blend into the surroundings while making other visual elements pop. Homeowners wanting a simple deck might be able to complete a DIY pool deck installation with a few essential tools and construction skills.
Add a Cabana for Lounging
Having a pool can be great fun, but it's also nice to enjoy one without getting wet, and that's where a cabana comes in. A cabana is a great way to provide shade, extra seating, and even a changing area for guests. With comfortable chairs and cushions, a cabana can be the perfect place to relax and spend time with family and friends. It's also great for hosting barbeques or simply taking in some sun without getting too hot. To make it even more special, you can add some outdoor lighting fixtures or an outdoor kitchen to your cabana. This will create a luxurious area for entertaining or just lounging around near the pool.
Creating a cabana near your pool is an excellent way to make use of the space in and around your backyard. With some creative ideas and careful planning, you can design a beautiful outdoor space that will be great for social gatherings or simply enjoying nature in peace. Whatever you decide, a personal cabana is sure to give your backyard an extra touch of luxury and fun.
Use These Tips to Design a Resort-Style Pool at Home
Make the backyard a popular place to gather, entertain and relax amid a private spot that's all your own with clever design techniques. Choose natural materials, opt for native plants and landscaping, and include a few water features to maximize the experience of having a backyard pool just steps from home.