4 Best Boating Communities in Naples: Set Sail From Your Backyard!
Posted by Marcus Larrea on Thursday, July 13, 2023 at 11:33:34 AM
By Marcus Larrea / July 13, 2023
Comment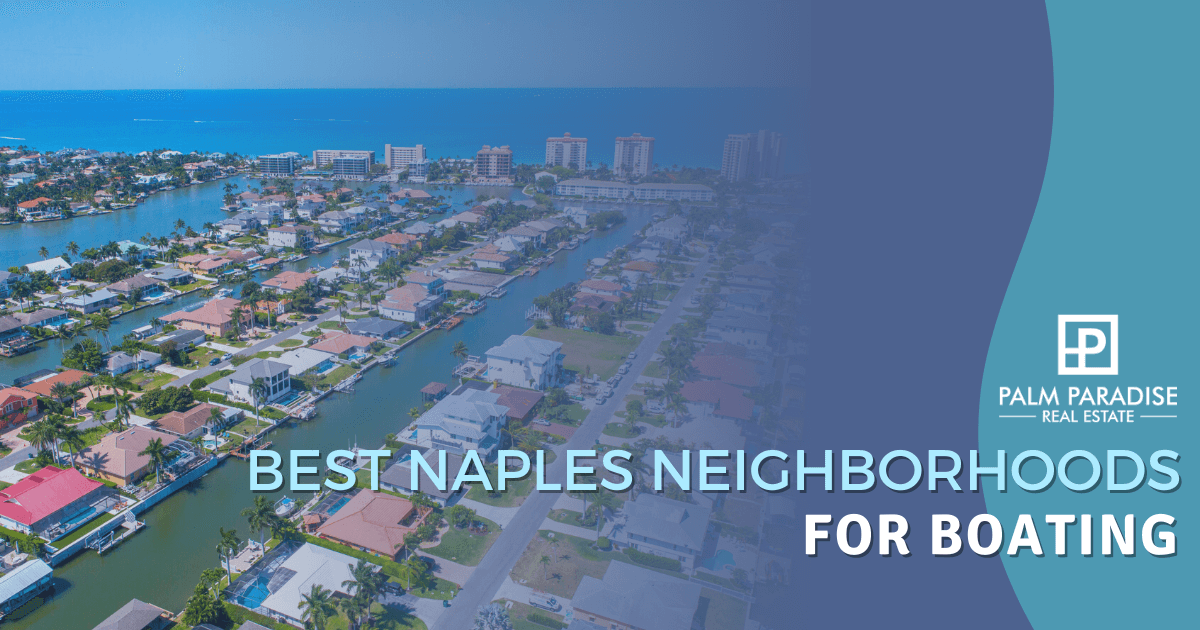 The best boating communities in the city of Naples make it a prime destination! These neighborhoods elegantly combine the splendor of high-end real estate with the thrill of everyday boating adventures. Naples homes with boat docks, backyard canals, and on-site marinas are just a few of the above-and-beyond amenities you'll uncover. Whether you're a seasoned seafarer or a brand-new boater, get ready to find your ideal waterfront home in one of the best boating neighborhoods in Naples.
Royal Harbor
Nestled on the shimmering waters of Naples Bay, the Royal Harbor neighborhood presents a picturesque symphony of stunning views and seamless access to downtown Naples. Flanked by Highway 41 to the north, Sandpiper Street to the east, and the tranquil Halderman Creek to the south, Royal Harbor majestically rises as a sanctuary for boating enthusiasts.
With most properties generally between $2 million and $5 million, this waterfront haven is one of the most expensive neighborhoods in Naples. The most luxurious residences comfortably exceed the $10 million mark, offering unparalleled extravagance, panoramic views, and deep-water docks.
The boating lifestyle is central to Royal Harbor's allure, with residents frequently seen cruising the calm waters of Naples Bay or adventuring to the Gulf of Mexico via the conveniently located Gordon's Pass. To enhance the nautical experience, notable amenities like the Naples Sailing & Yacht Club, Wolcott Marine, and Old Naples Seaport offer boaters a blend of convenience, luxury, and community spirit.
Buyers are encouraged to research water depth before purchasing. In some areas, the water is too shallow to accommodate deep-draft boats. However, most canal-front homes in Royal Harbor can safely dock shallow-draft vessels.
Port Royal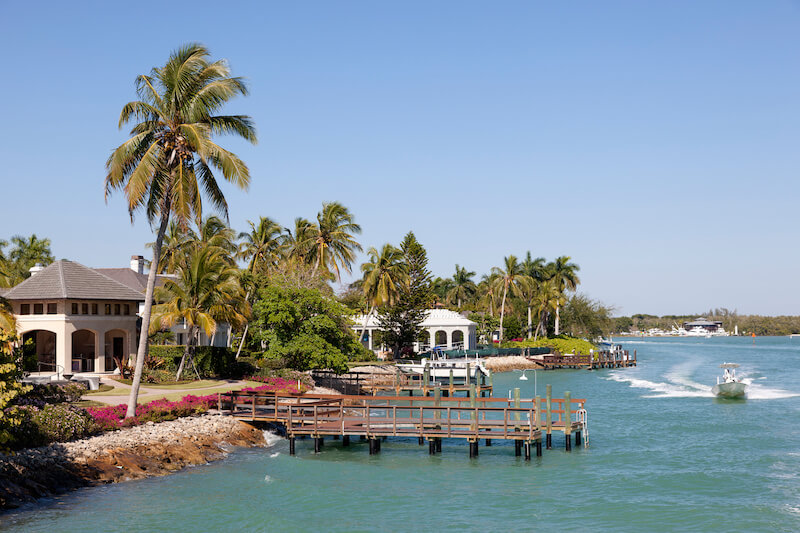 Port Royal, a jewel nestled south of downtown, is widely recognized as one of the best neighborhoods in Naples. A lattice of canals winds its way through the community, providing nearly every home with the luxury of waterfront privileges and creating a picturesque setting that's both tranquil and captivating.
A notable perk of owning a home in Port Royal is exclusive access to the esteemed Port Royal Club. This private haven is a hub of amenities, containing a private beach, a world-class restaurant, a sparkling pool, and social and recreational offerings. The community is almost entirely enveloped by water, further enhancing the unique privacy it provides residents.
Boating enthusiasts find the Port Royal neighborhood particularly appealing for its prime location and top-notch facilities. The community boasts the enviable position of being the closest to Gordon's Pass, the gateway to the expansive and breathtaking Gulf of Mexico, making it a boater's dream. Its network of deep-water canals can safely accommodate recreational watercraft of various sizes. The cost of real estate in Port Royal reflects the high value of this convenience, with homes typically priced between $10 million and $35 million.
Park Shore
Spanning a significant portion of Naples, Park Shore is one of the city's largest neighborhoods, encompassing over 600 single-family homes, a few condominiums, and various shopping areas, creating a vibrant and dynamic community. This sprawling neighborhood is adjoined by the breathtaking Gulf of Mexico to the west, providing many residents with the luxury of a leisurely stroll to the beach. At the same time, its eastern inhabitants enjoy enviable access to the serene Inner Doctor Bay.
Given its grand scale, homes for sale in Park Shore display a broad spectrum of property types, styles, and prices. Single-family homes generally range from $1 million to an impressive $10 million, offering a diverse collection of properties. For those seeking the convenience of condo living, options span from around $500,000 to $1 million, providing an array of choices for those drawn to the unique allure of the Park Shore lifestyle.
The Park Shore neighborhood presents a delightful fusion of accessibility and convenient services for boaters. The tranquil waters of Venetian Bay and Inner Doctor Bay form the neighborhood's nautical heart, offering residents easy boating access to the mesmerizing expanses of the Gulf of Mexico.
Complementing this accessibility is a range of top-notch boating services. Park Shore Marina & Boat Rentals, for instance, offers various boating solutions for seasoned sailors and occasional boaters, while the prestigious Venetian Bay Yacht Club adds an extra layer of luxury and exclusivity to the neighborhood's boating scene.
Conners
The Conners neighborhood is an idyllic haven with several fantastic perks for boaters. Set between Vanderbilt Drive and the Vanderbilt Channel, this neighborhood showcases a unique arrangement where canals grace both sides of every street. This distinctive feature makes Conners a truly coveted neighborhood for boat owners, with the convenience of water access right at their doorstep.
Homes for sale in Conners typically start at around $2 million and extend to an impressive $10 million. Private canals flow like blue ribbons through the neighborhood, accentuating the sense of peace and privacy, while backyard pools offer residents a cool respite under the Florida sun. The architectural landscape is dominated by neo-Mediterranean aesthetics, lending Conners an old-world charm that perfectly complements its modern amenities and waterfront luxuries.
Find a Boater's Paradise in Naples
From the waterfront tranquility of Royal Harbor, the exquisite privacy of Port Royal, to the dynamic vibrance of Park Shore, and the charming allure of Conners, all of Naples' best boating communities carve out their unique identity in Southwestern Florida. What unites them is their common thread of offering unparalleled waterfront lifestyles, making them the go-to destinations for discerning boaters in search of their dream homes. If you love boating, these fantastic waterfront neighborhoods in Naples have the locations and amenities you need to spend more time on the water.