4 Places to Take Your Boat Near Naples: Cruise to Beaches, Shops & Restaurants
Posted by Marcus Larrea on Wednesday, July 19, 2023 at 1:25 PM
By Marcus Larrea / July 19, 2023
Comment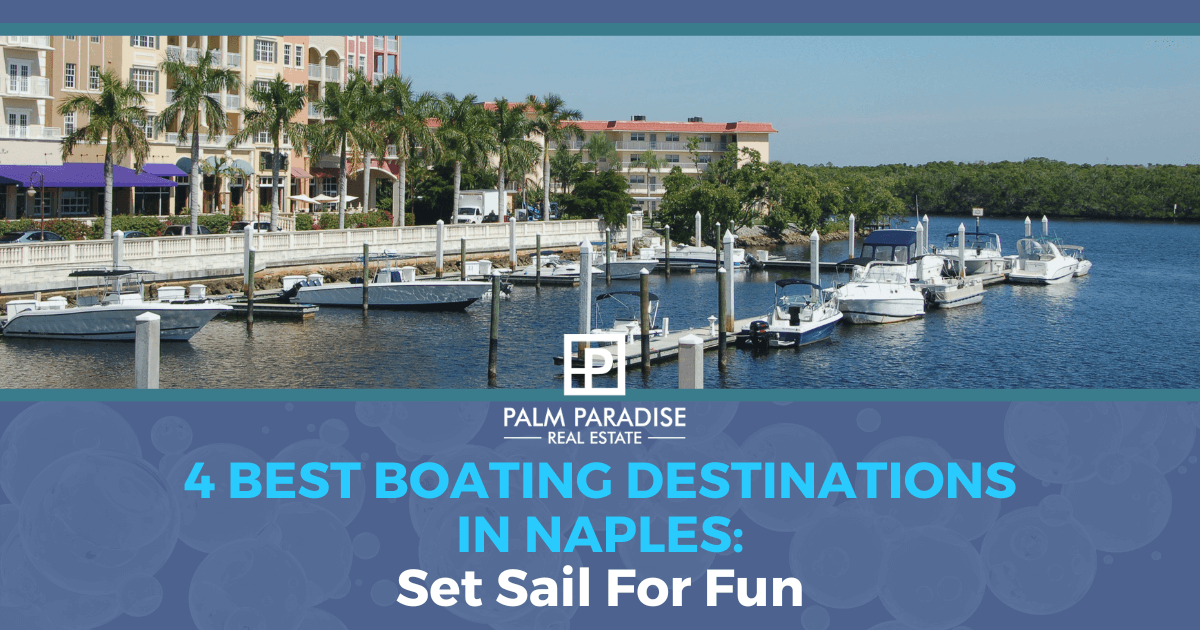 If you're looking for a waterfront city to support your love of boating, few places offer as many fantastic opportunities as the city of Naples, FL, to get out on the water. Naples is a stand-out community in Southwest Florida for its pristine beaches, upscale living, and one-of-a-kind lifestyle that revolves around the water. Boating enthusiasts moving to Naples will discover an extensive waterway network of canals, bays, and rivers that allow for new boating adventures every day. Set your course for the best boating destinations near Naples and discover why this city is a haven for nautical fun.
Sail Along Naples Bay to Keewaydin Island
Only accessible by boat, Keewaydin Island is likely the best-kept secret near Naples! This eight-mile stretch of barrier island presents an idyllic escape from bustling city life. One of the best spots to visit in the Naples area, the journey to this Collier County island involves a tranquil southward sail along Naples Bay, a voyage as picturesque as the destination itself. If you don't own a boat in Naples, the island is also catered by several sightseeing boats and a water taxi service that departs from Marco Island.
What truly sets Keewaydin Island apart is its largely untouched, undeveloped nature. This raw beauty creates an inviting environment for those seeking a true getaway. Be sure to come well-prepared for the trip, as there are no conventional amenities like shops or facilities on the island. However, a floating restaurant frequently anchors on the island's east side. Affectionately known as a "burger barge," they serve burgers, ice cream, and cold drinks.
Keewaydin Island is one of the best places to boat to because you can really make a day of it here. The relaxing trip takes about 30–40 minutes, depending on where you leave from in Naples. Those living in the Port Royal community, one of the best neighborhoods in Naples, have incredibly convenient access to Keewaydin, making it easy to explore its many bays, inlets, and secret beaches.
Tin City: One of the Best Places for Waterfront Shopping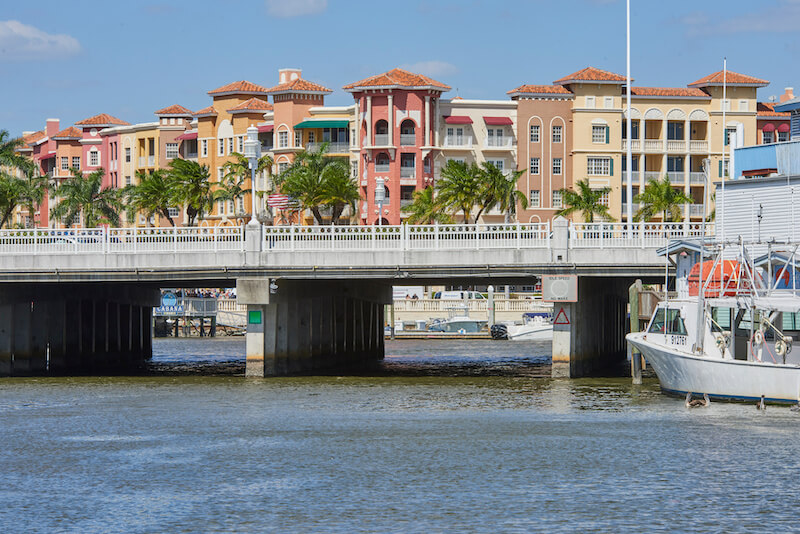 Tin City Waterfront Shops is a boating hotspot in the heart of town. Nestled on the bay in downtown Naples, Tin City's strategic location makes it easily accessible by boat from numerous communities, including the Royal Harbor neighborhood.
The centerpiece of this attraction is a vibrant collection of specialty shops offering an eclectic mix of local arts, crafts, and unique finds that celebrate the spirit of Florida. Numerous restaurants offering an array of delicious cuisine and stunning water views promise an unforgettable dining experience. From quick bites to local seafood, Tin City's restaurants are as diverse as they are delightful.
The exploration doesn't stop on land, as Tin City is a hub for numerous boat charters. These charters whisk you off on unforgettable sightseeing boat tours—you'll be treated to a unique perspective of Naples and the Gulf of Mexico.
Tin City has a few wet slips available on a first-come, first-serve basis. If these docking spaces are occupied, boaters don't need to worry. The Naples City Dock, approximately one mile from Tin City, provides more than 80 slips and can accommodate watercraft up to 60 feet.
The Dock at Crayton Cove: A Can't-Miss Restaurant When Visiting Naples
The Dock at Crayton Cove restaurant brings boating and food together in the best possible way. Situated in the heart of downtown Naples, just off the cul-de-sac at 12th Avenue, this delightful eatery is a must-visit location for Naples boaters.
Arriving at The Dock couldn't be simpler. No need for reservations—just dock your boat at one of the first-come, first-serve slips and step right in. The menu, infused with a seafood-driven philosophy, offers a variety of locally caught fish and premium international catches prepared to perfection. They also offer non-seafood options such as steak frites, jerk chicken, and burgers. The culinary adventure continues after the food, as The Dock complements its menu with a thoughtful selection of island-inspired cocktails, local beer, and fine wines.
For a mid-day delicacy, stop by The Dock during Happy Hour, held every day in the summer from 3 to 6 p.m. Enjoy $10 signature cocktails, $6 house wine, and $5 draft beers paired with bar bites such as Korean-style pork ribs, Bavarian pretzels, fish skewers, and hush puppies. Every Monday through Thursday, The Dock also serves $2 oysters.
The Dock's central location also provides an added advantage for boaters. Its proximity to the Naples City Dock and the Naples Yacht Club allows convenient access, making it a natural pitstop during a day out on the waters around Naples.
Port of the Islands: A Hideaway in the Everglades
Sail to a Naples staycation at Port of the Island Resort! Situated a mere 20 miles on land from downtown Naples, just outside the picturesque Collier-Seminole State Park, Port of The Islands Resort serves as a remarkable boating destination for memorable overnight stays. Reachable via a serene boat ride, Port of the Islands Resort beckons Naples residents to explore Florida's most iconic ecosystems like never before.
With a fully equipped marina, docking your boat at the resort is seamless. The resort's architectural landscape is thoughtfully woven into the surroundings, featuring 42 cottages that echo the charm of the Florida Everglades and provide idyllic basecamps for your natural escapades.
The resort organizes unique excursions like manatee sighting tours and guided birding hikes, perfect for nature lovers. Thrill-seekers can explore the region's terrain through the resort's cycling trails or embark on a memorable fishing trip, experiencing the region's rich biodiversity up close.
Onsite, you'll find a host of amenities designed to make the experience a true vacation. Indulge in culinary delights at the resort's restaurant and bar, cool off in the swimming pool, or keep up with your fitness routine at the gym. For a relaxed evening, visit the social center featuring a pool table for some friendly competition. Plus, the well-stocked ship store ensures all boating essentials are just a stone's throw away.
Drop an Anchor In Naples, Uncover Countless Boating Destinations
Naples is a city where the love for boating is woven into the fabric of the community. From the untouched serenity of Keewaydin Island to the vibrant energy of Tin City Waterfront Shops, the gourmet appeal of The Dock at Crayton Cove, and the adventure-rich Port of The Islands Resort, Naples is one of Florida's top communities catering to a wide range of boating desires. These unique boating destinations, each with its distinctive charm, underpin the city's allure as an idyllic place for boating enthusiasts looking to spend more time doing what they love on the water in Naples.