8 Best Neighborhoods in St Petersburg: Where to Live in St Pete [2023]
Posted by Marcus Larrea on Thursday, December 1, 2022 at 2:31:06 PM
By Marcus Larrea / December 1, 2022
Comment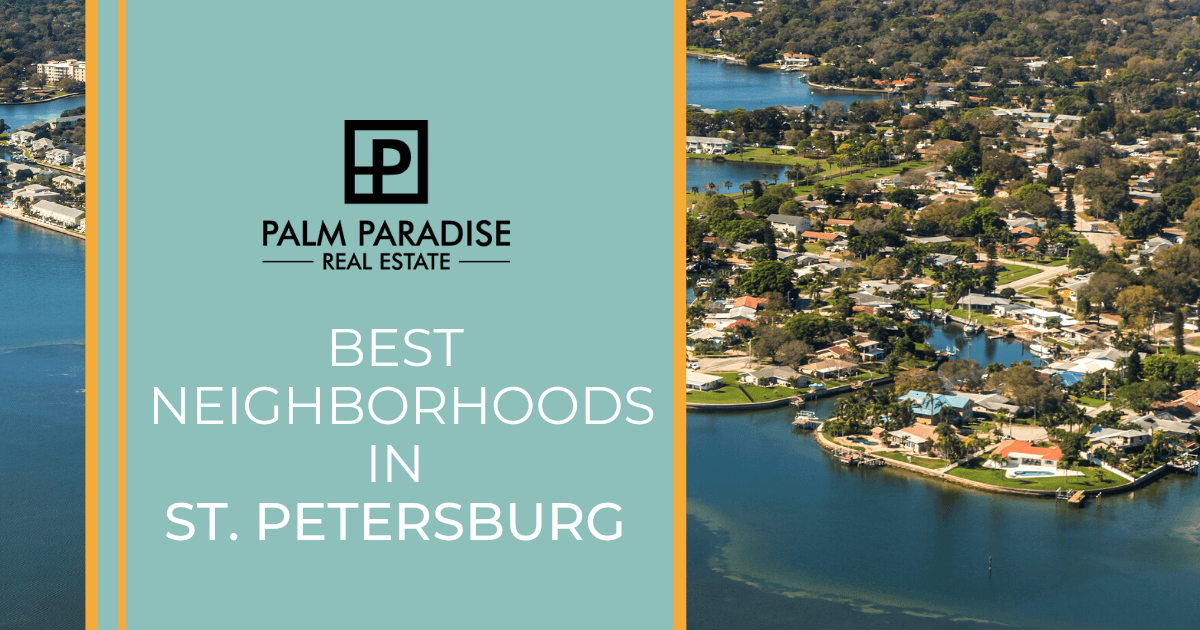 Located on the Pinellas peninsula, the coastal city of St. Petersburg is just off the Gulf of Mexico and part of the Tampa Bay Metropolitan area. With over 270,000 residents, it is the fifth-largest city in Florida and has grown increasingly popular in recent years. Many qualities make moving to St. Petersburg attractive, including award-winning beaches and a healthy job market. While St. Petersburg is a booming city, one of its most unique aspects is its distinctive neighborhoods, from its thriving Downtown to its more residential areas. Learn more about some of the best neighborhoods in St. Petersburg.
Historic Roser Park
Located south of Downtown St. Petersburg, Historic Roser Park has a rich heritage dating back to 1911, when Charles Martin Roser and his wife Helen moved to St. Petersburg from Ohio. Roser, a land developer, established many Florida building projects, including hotels and hospitals. He then set his sights on neighborhood development, including Historic Roser Park, the first residential subdivision created outside Downtown St. Petersburg. It was an early "streetcar neighborhood," connecting suburban residents to the bustling downtown area. It was designated a U.S. historic district in 1998 and is home to some of the most beautiful condos in St. Petersburg.
Today, Historic Roser Park is a beautiful, idyllic neighborhood best known for its tree-lined streets, historic homes, and neighborhood amenities. Situated south of the vibrant downtown area, Roser Park is adjacent to Booker Creek and lies east of Martin Luther King Street. Roser Park is home to over 146 historic buildings just a short distance from the University of South Florida's St. Petersburg campus. Residents will find many coffee shops, restaurants, and notable sites in a highly walkable neighborhood. One of the area's most popular restaurants is The Library, inspired by the George Peabody Library.
Historic Roser Park Amenities
Bayfront Health St. Petersburg
John Hopkin's All Children's Hospital
Crab House (Seafood Restaurant)
Wild Blue Seafood
Big C's Chopped BBQ
Community Cafe
Downtown St. Petersburg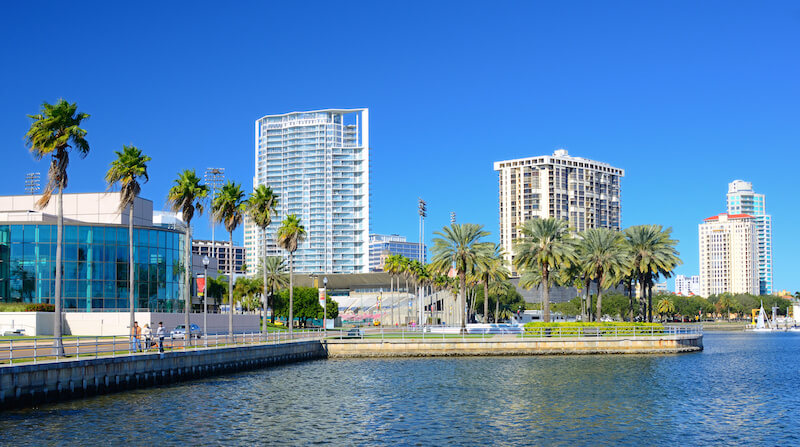 Situated in the heart of St. Petersburg, Downtown St. Petersburg is one of the city's most vibrant neighborhoods. With world-class museums, award-winning beaches, a fantastic foodie scene, and bustling nightlife, Downtown St. Petersburg is indeed a thriving area. Nestled along the Gulf of Mexico, Downtown St. Petersburg is much more than a beachfront neighborhood.
Downtown is home to some of Florida's most fantastic arts and cultural sites, including the Dali Museum, the Museum of Fine Arts, and the Mahaffey Theatre. Along with its top-notch beaches and fabulous museums, Downtown St. Petersburg is a racing hub, as it's the home of the Grand Prix of St. Petersburg, the race that kicks off the IndyCar season every year.
Downtown St. Petersburg is a dynamic neighborhood with many shops and restaurants, especially on the waterfront. There's a diverse combination of local cuisine, fine-dining restaurants, and casual establishments. Diners will find various food options, from waterfront bars and craft breweries to multiple cuisines, including fresh seafood, American casual, fine dining, Japanese, Mexican, Chinese, Italian, and more.
Downtown St. Petersburg Amenities
Sundial St. Pete Shopping Mall
St. Pete Brewing Company
Sea Salt (Seafood Restaurant)
Williams Park
South Straub Park
St. Pete Pier
BellaBrava
Bacchus Wine Bistro
Historic Kenwood
Located less than 10 minutes west of Downtown St. Petersburg, Historic Kenwood is an established neighborhood with a rich history and a vast array of architectural styles. Like Roser Park, Historic Kenwood is one of the oldest neighborhoods in St. Petersburg and one of the first residential suburban neighborhoods beyond the downtown area. Founded in 1912, Kenwood encompasses 375 acres and has over 2,200 historic buildings. While Historic Kenwood's homes are in various architectural styles, one of the most prevalent styles is bungalow, both one-story and two-story, nestled along the picturesque, tree-lined streets. Historic Kenwood is also home to many of St. Petersburg's townhomes for sale.
Historic Kenwood is a highly sought-after neighborhood with abundant green spaces, restaurants, coffee shops, and museums. There are several parks for residents, including Kenwood Dog Park for pet owners and scenic green spaces like Seminole Park. In addition to its abundant green spaces, Historic Kenwood is home to some of the area's best museums, including Imagine Museum: Contemporary Glass Art, Duncan McClellan Gallery, and Zen Glass Studio.
While Historic Kenwood is prized as a highly walkable, residential neighborhood, its proximity to Downtown St. Petersburg and some of the area's major highways make it an ideal community for commuters. It is also the home of the St. Petersburg Fairgrounds.
Historic Kenwood Amenities
Kenwood Dog Park
Seminole Park
Casita Taqueria
Cappy's Pizza
Black Crow Coffee Co Grand Central District
3 Daughters Brewing
Bula Kava Bar & Coffee House
Coquina Key
Situated just 10 minutes southeast of Downtown St. Petersburg, Coquina Key is a residential neighborhood located on the Gulf of Mexico's coastline on the lower portion of Pinellas Point. Home to some of the area's most beautiful parks and oceanfront property, Coquina Key, also known as The Friendly Island, is a tight-knit community with pristine homes and tree-lined streets. With a population of just over 2,300 residents, Coquina Key is one of the area's smaller neighborhoods. It is the perfect location for water recreation activities, including boating, deepsea fishing, kayaking, sailing, and more.
Coquina Key is the home base for many marine-based establishments, such as the Waterside Yacht Club and Tampa Bay Eco Charters. In addition, there is an array of playgrounds, dog parks, and walking trails for residents.
Along with its coastlines and green spaces, one of the most appealing aspects of Coquina is its prime waterfront location—buying a home in Coquina Key will likely necessitate purchasing some beach house necessities. Not only is it a short distance to Downtown St. Petersburg, but Coquina Key is also a peninsula connected to the mainland only by a road, making it an ideal neighborhood for ocean lovers.
Coquina Key Amenities
Waterside Yacht Club
Architectural Mall
Tampa Bay Eco Charters
Bird Island Observation
Coquina Key Charters
Bus lines on Lewis Boulevard & 4th Street S
Edgemoor
In northern St. Petersburg, Edgemoor is a quiet neighborhood just 10 minutes from Downtown. With around 4,000 residents, Edgemoor is more suburban than some of the surrounding areas, yet it offers many amenities for residents and visitors alike. Puryear Park is the heart of the community, home to the nation's only Jai Alai court, a kayak launch, picnic areas, tennis courts, and racquetball areas. The park also has a nearby pond, which draws in many species of birds, making it a perfect place for birdwatching and outdoor enthusiasts. In addition to its beautiful green spaces, Edgemoor also has many golf courses, dog parks, and playgrounds.
Situated along Highway 92, Edgemoor is a peaceful neighborhood and provides commuters with easy access to Downtown St. Petersburg and other major cities, including Tampa and Clearwater.
Edgemoor Amenities
Puryear Park
Muddy Water Kava
Hungry Howie's Pizza
Salty J's
Thai-Am Restaurant
Wunder Farms - Organic Community Gardens
Albert Tate Roberts Soccer Fields
Bay Area Pelican Rugby Football Club
Snell Isle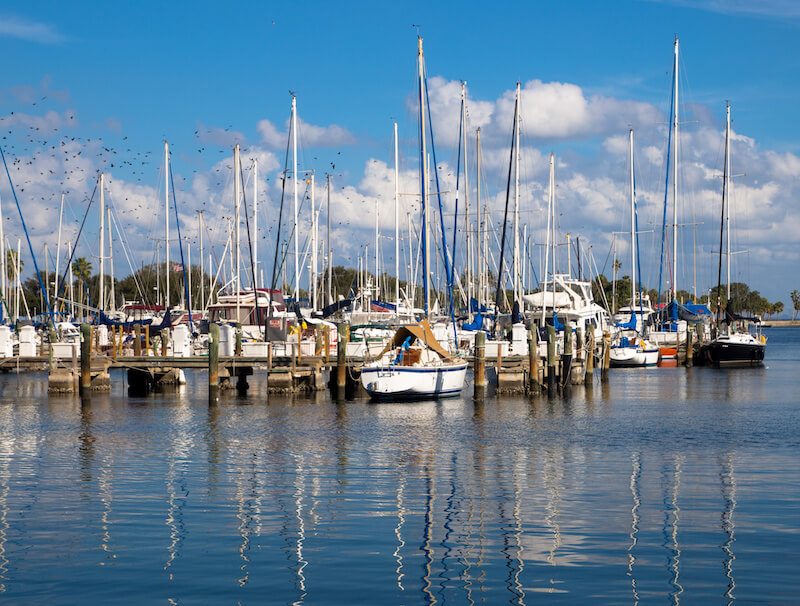 Located about seven minutes northeast of Downtown St. Petersburg, Snell Isle is a historic neighborhood along the coastline. Home to bayous, golf courses, and waterfront, residents are just steps away from the area's nature and green spaces. Established in the 1920s by C. Perry Snell, the area was originally mangroves near Coffee Pot Bayou. His goal was to create a community that would attract buyers from all over the country. Today, Snell Isle is a beautiful residential area with sprawling estates and many of St. Petersburg's waterfront homes. The site is surrounded by two popular nature spaces: Coffee Pot Bayou and Smacks Bayou, giving Snell Isle a more lush feel.
Snell Isle is home to some of the area's best golf courses, including Vinoy Golf Club, a beautiful 18-hole golf course. It's also a popular launch point for many water-based activities, including kayaking, canoeing, boating, and more. When buying in Snell Isle, be sure to ask any questions about buying waterfront property that you may have.
Snell Isle Amenities
Snell Island Harbor
The St. Petersburg Yacht Club - Snell Isle Marina
Vinoy Golf Club
C. Perry Snell Memorial
St. Petersburg Woman's Club
Sunset Ballroom
Bayway Isles
Along the southernmost point of the Pinellas Peninsula, Bayway Isles comprises two islands and is ideally situated along the Gulf of Mexico. With only a couple hundred homes, Bayway Isles is a quiet residential area that St. Petersburg residents highly covet. Bayway Isles is home to educational facilities like Eckerd College and beautiful nature parks. It's also the setting for Fort DeSoto Park, a hot spot for camping, hiking, birdwatching, kayaking, and boating.
Located just 10 minutes from Downtown St. Petersburg, Bayway Isles feels almost a world away. While Downtown is a thriving, vibrant area, Bayway Isles is a more peaceful, serene area where residents can easily access some of the area's best water recreational activities and some of St. Petersburg's luxury homes for sale.
Bayway Isles Amenities
Easy Access to Pinellas Bayway & Highway 682
Point Brittany Residents Club
Bayway Country Store and Butcher Shoppe
Isla Del Sol Yacht & Country Club
Eckerd College
Historic Old Northeast
Like Roser Park and Kenwood, Historic Old Northeast is an established, lively neighborhood with a rich, deep-seated history. With around 24,000 residents, Historic Old Northeast is one of the largest neighborhoods. It's also one of the closest to Downtown St. Petersburg, located less than two miles away from the downtown district. In addition to its size, Historic Old Northeast also holds the distinct honor of housing over 3,000 historic buildings within its borders. With its brick streets, granite curbs, and mature trees, Historic Old Northeast is undeniably a charming, established residential area.
The area has various amenities, including beautiful city parks, theaters, and beaches. It's also a popular destination for water enthusiasts, making it an ideal location for kayaking, sailing, swimming, boating, and more.
Historic Old Northeast Amenities
Flora Wylie Park
North Shore Park
Vinoy Park
North Shore Aquatic Complex
Great Explorations Children's Museum
Gizella Kopsick Palm Arboretum
400 Beach Seafood & Tap House
Living in St. Petersburg, Florida
St. Petersburg is a vibrant city with much to offer its residents. Whether buyers are looking for a quieter, more residential neighborhood or a historically significant community, St. Petersburg has a neighborhood that suits nearly every buyer's taste. The beauty doesn't come at a high cost either—the cost of living in St. Petersburg is on par with the national average. For those considering relocating to the area, St. Petersburg neighborhoods are best experienced first-hand and explored with open eyes.