A Local's Guide to the 8 Best Naples Florida Parks Near Your Neighborhood [2023]
Posted by Marcus Larrea on Wednesday, December 21, 2022 at 1:24 PM
By Marcus Larrea / December 21, 2022
Comment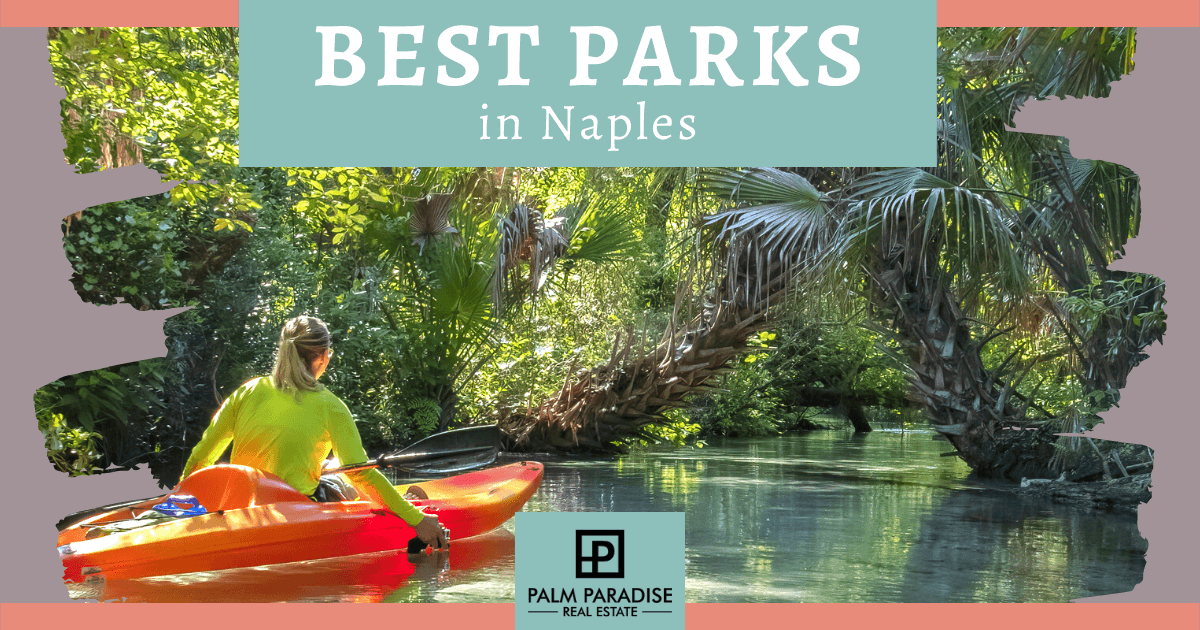 Naples is a vibrant city in southwest Florida. It's known for its luxe shopping areas, pristine beaches, and the robust Naples real estate market. The area is also a popular place to spend time outdoors, whether watching the dolphins or doing some fishing. Its location on the Gulf of Mexico helps make it memorable, contributing to the numerous parks in the area. Keep reading to learn all about the best neighborhood parks in Naples.
Naples Botanical Garden
Naples Botanical Garden Amenities
Exploring the Chabraja Visitor Center
Irma's Garden
Kathryn's Garden
Lea Asian Garden
Kapnick Brazilian Garden
Kapnick Caribbean Graden
Scott Florida Garden
The Preserve
The Water Garden
The Naples Botanical Garden is perhaps one of the best experiences because of the beautiful exhibits and careful attention to detail. This is an excellent place to visit for those seeking relaxation or to enjoy the creative nature space. The park is focused on the conservation of both plants and native species. Much of the work they do here is to support the natural health of the region. There is also a vital educational component to the work they do. This aims to help support the overall health of nature in Naples itself.
Those planning a visit here will find beauty and tranquility throughout the gardens, both inside and out. It was founded in 1993, spanning some 170 acres of open space, all of which is located about three miles from the city's heart.
Each is an area different in what it offers based on the plants and habitats created. Each section provides educational material for visitors for a firsthand experience.
Cambier Park
Cambier Park Amenities
Little League sports teams
Shuffleboard courts
Playground
Bandshell
Tennis courts
Cambier Park is a community park located near Olde Naples. It is located just to the sound of 5th Avenue South and spans 12.84 acres of land, including a large amount of green space. The park was named after William Cambier, a long-time engineer responsible for much of its development. The park is a community park by all rights in that various activities take place here, including concerts and performances on the weekends, each with a different style to offer. Visitors come Sundays to sit and listen to music from jazz to big band on the lawn.
The park is also home to the Greater Naples Girls Little League Team, which were National Champions. In addition to this, the park offers shuffleboard courts, bocce courts, a bandshell, basketball courts, a children's playground, ample green space, a covered pavilion, and a tennis center. It is also home to Norris Community Center, which is open Monday through Friday. The community center features a dance studio, conference rooms, two meeting rooms, an auditorium space, and an art gallery, among other features. It hosts various types of programs and classes for people of all ages. Amazing neighborhood amenities like Cambier Park make the homes for sale in Olde Naples among the most desirable in the city.
Delnor-Wiggins Pass State Park
Delnor-Wiggins Pass State Park Amenities
Turkey Bay
Gulf of Mexico access
Fishing piers
Cocohatchee River
Delnor-Wiggins Pass State Park is a true treasure in the area. It's one of the most recognized pristine stretches of beaches in the state. This is also one of the largest and most frequented parks in the area. Sometimes during tourism season, the park is closed due to too many visitors. It's a popular location for many reasons, including the direct access to the Gulf of Mexico and the many activities available. Visitors typically spend time on the sand in the sun, paddle boarding, bird watching, hiking, or kayaking. There are some piers for fishing as well, especially towards the northern areas of the beach.
For boaters, Turkey Bay is a direct location for launching a boat into this area. This also leads boaters down Cocohatchee River that takes them out into the gulf. It is well worth it to spend some time on one of the hikes in the area, too. That provides visitors with the ability to explore the waterways and wetlands in this area. Much of the barrier island is undeveloped, which offers an excellent way to see nature at its finest. This is an accessible park with a canoe and kayak launch, picnic area, boat ramp, and shower station. There is also a concession area and a restaurant.
Audubon Corkscrew Swamp Sanctuary
Audubon Corkscrew Swamp Sanctuary
Visitor center
Boardwalk trail
Multiple swamp biomes
Wildlife viewing
The Everglades is one of the most exciting ecosystems in this area. In Naples, people can explore this unique biome at Corkscrew Swamp Sanctuary. The remote, naturally developed area is famous for its rugged beauty. The best way to view it is along the 2.25-mile boardwalk and adventure path. This will take visitors through pine flatwoods that lead into a wet prairie. From there, visitors will experience a marsh area before they come upon a bald cypress forest. This is the largest old-growth cypress forest on the continent.
For those coming for the first time, there's much to see. The sanctuary is home to otters, white-tailed deer, numerous turtles, and some alligators as well. It is often possible to see these animals in their natural habitat, which can be pretty mesmerizing. Look up to see the songbirds and the raptors that call this area home. Visitors can explore the Corkscrew Swamp Sanctuary visitors center and the nature store. These areas provide educational material and some fun gifts to take home. The location also sponsors various experiences throughout the year, including the Ghost Orchid bloom, which blooms for 101 days in the summer to fall months.
Collier-Seminole State Park
Collier-Seminole State Park Amenities
Campsites
Tamiami Trail
Mangrove swamps
Park programs
Canoe rentals
Yet another essential park near Naples is Collier-Seminole State Park. It is an excellent place to visit for those that love nature. It's also a popular camping location. Because of the diversity here, this park is a perfect choice for those who want to experience Everglade ecology upfront. The park, located on Tamiami Trail, is home to one of the most extensive mangrove swamps in the world. The park is available for camping, hiking, and rentals with reservations required.
Why visit? This is a 7,271-acre park. It is home to numerous types of wildlife, including some endangered animals. It's also home to vegetation and animals that are only found in this area of the Everglades. This provides people with a way to see what the Everglades ecosystem is really like. Park programs are available throughout the year. There are campground sites available with water, electricity, and a grill for use. RV campers will find it easy to use. Canoe rentals, a boat ramp, and numerous trails are also available here.
Finding the Ideal Park in Naples, FL Is Easy to Do
Spending time outdoors is relatively easy in Naples since there are so many options. In addition to these sprawling parks, Naples residents have many neighborhood playgrounds and walking trails to choose from. For those planning on moving to Naples, knowing where to find a great outdoor park near their new neighborhood is essential. With so many gardens and natural areas to explore, it's always easy to have fun outside in Naples.