5 Best Parks in St. Petersburg FL: Explore Vinoy Park, Weedon Island & More
Posted by Marcus Larrea on Thursday, August 24, 2023 at 12:08:13 PM
By Marcus Larrea / August 24, 2023
Comment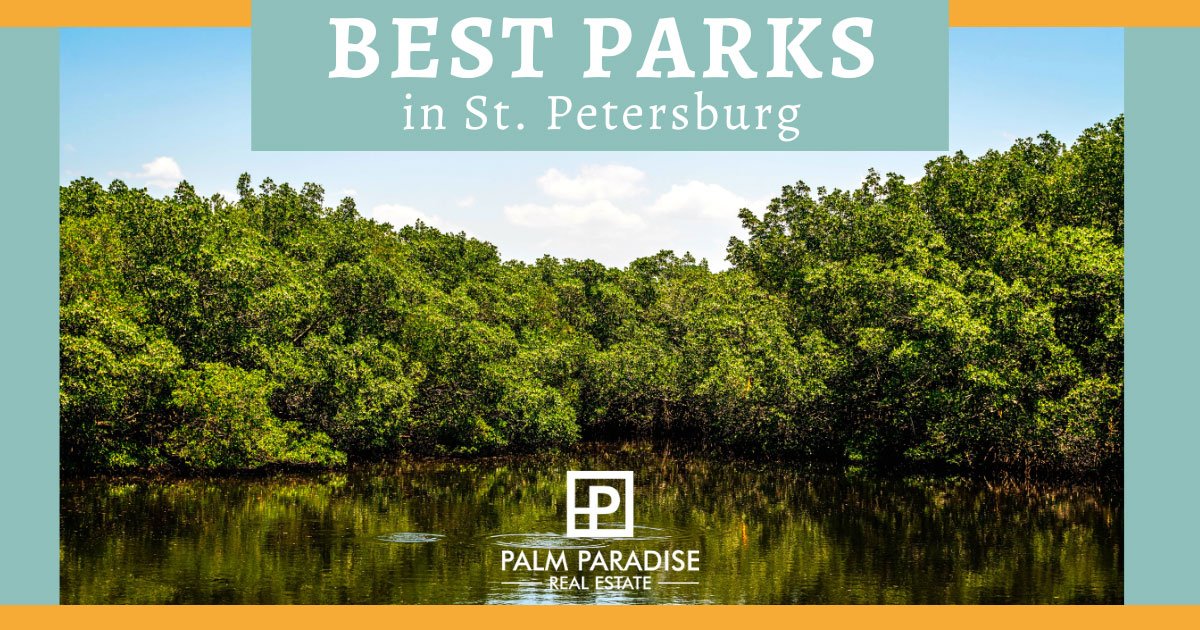 The city of St. Petersburg, Florida, renowned for its vibrant cultural scene and coastal allure, is home to pockets of tranquility that cater to a diverse array of interests. From waterfront oases to botanical retreats, these green spaces are excellent ways to enjoy the outdoors. If you're a current resident, moving to St. Petersburg, or one of the countless annual visitors to this Floridian paradise, these great parks must be on your to-do list.
Weedon Island Preserve
Weedon Island Preserve is a unique natural oasis situated along the bay in northeastern St. Petersburg; the Preserve is adjacent to the Harbor Isle neighborhood and Riviera Bay. Covering 3,190 acres, the expansive preserve has several important functions, including being a renowned birding and fishing destination; an important historical site; and serving as a natural floodplain that reduces storm surges and protects nearby developments. Recreational opportunities include hiking, paddling, and fishing.
Weedon Island Preserve has six trails, including two wheelchair-accessible boardwalk trails. A highlight is walking to the 45-foot-tall observation tower, where you get panoramic views of the bay, St. Petersburg, and the city of Tampa. Paddling is also popular, and the preserve has a designated four-mile paddling trail that weaves through mangroves. The launch is adjacent to the fishing pier, and kayak and canoe rentals are available onsite. Keep your eyes open because this area is one of the best places to see manatees in Florida year-round!
Across from the southern tip of the Weedon Island Preserve, visitors can glimpse the shores of the Venetian Isles neighborhood, which is the setting for some of the most spectacular waterfront homes in St. Petersburg.
If you want to fish, head to the fishing pier, where you may hook snook, sheepshead, or sea trout. The pier is also an excellent place to spot dolphins. Finally, don't miss the cultural and natural history center. The free center has interactive exhibits, offers workshops, and has a massive 1,100-year-old wooden canoe on display. Note that dogs are not permitted anywhere in the preserve.
Weedon Island Preserve Additional Information
Address: 1800 Weedon Drive NE, St. Petersburg, FL 33702
Hours: 7:00 a.m. to 15 minutes before sunset (exact closing time posted at entrance daily), year-round
Vinoy Park
In downtown St. Petersburg, the 11.6-acre Vinoy Park is one of the city's most popular destinations. It offers stunning views of Tampa Bay and the pier, making it an ideal spot for both various outdoor activities and special events. The park's large open spaces are perfect for picnics, sunbathing, and playing frisbee, while the multi-use paved paths are popular with walkers, runners, bicyclists, and roller skaters. Thanks to its waterfront location, Vinoy Park is especially popular at sunset.
Unsurprisingly, the park also serves as a popular venue for concerts, festivals, and other events throughout the year. With its postcard-worthy sunsets, it's not uncommon to see photographers taking pictures here or even witness a small wedding. Vinoy Park's location in the heart of one of St. Petersburg's most walkable neighborhoods makes it a popular destination any time of day.
While Vinoy Park's paths are pet-friendly, make sure to keep your furry friends on a leash at all times. Also keep in mind that the park is a hotspot for large events, which means that it's often a busy place during festivals or concerts.
Vinoy Park Additional Information
Address: 701 Bayshore Drive NE, St. Petersburg, FL 33701
Hours: 30 minutes before sunrise to 11:00 p.m., year-round
Lake Vista Park
Lake Vista Park is a traditional park offering something for everyone. There's a playground, lighted sports fields and tennis courts, a skate park, a community pool, a recreation center, a dog park, picnic pavilions, and trails—all in the heart of the Greater Pinellas Point neighborhood. One of the park's most unique features is the outdoor exercise zone, the city's first of its kind. Another unique first for the park is its revolutionary inclusive We-Go swing, an ADA-accessible swing designed with both standard and wheelchair access.
Of course, the lake itself is a major highlight. Dog-friendly trails encircle the lake, offering a picturesque place to get some exercise. Within the park is also an off-leash dog park, with two separate areas for small and large dogs.
The recreation center offers a variety of classes and programs for all ages. There's an indoor gym, pickleball courts, before and after-school care, tutoring, and more. At the outdoor pool, visitors enjoy several water slides and a climbing wall, plus can take swimming lessons or aquatic fitness classes.
Lake Vista Park Additional Information
Address: 1401 62nd Avevenue S, St. Petersburg, FL 33705
Hours: 30 minutes before sunrise to 30 minutes after sunset
Sawgrass Lake Park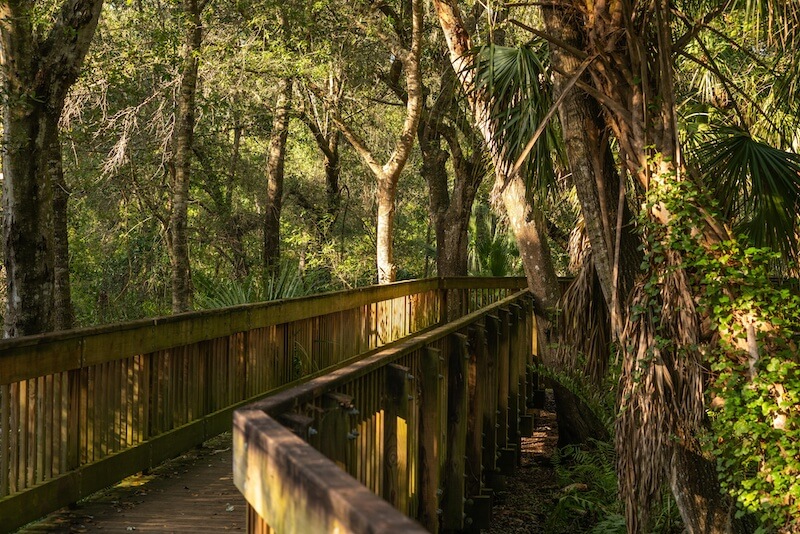 A few miles inland from Weedon Island Preserve in the heart of St. Pete's Meadowlawn neighborhood, Sawgrass Lake Park is a serene 400-acre urban oasis. It protects one of Florida's largest maple swamps while offering various outdoor activities. The park's crown jewel is Sawgrass Lake itself, which is technically a sawgrass marsh that provides valuable habitat for numerous birds, fish, and marine wildlife. A one-mile elevated boardwalk hiking trail leads to an observation tower overlooking the lake. Keep an eye out for turtles, alligators, and a variety of birds like egrets and ospreys. Don't forget your binoculars!
In addition to the boardwalk trails, there are a few other smaller dirt trails in Sawgrass Lake Park. While dogs are not permitted on the boardwalks, leashed dogs are welcome on the other trails and sidewalks. There's also a picnic shelter and the Anderson Environmental Education Center, offering a nice selection of exhibits and guided nature tours. Adjacent to it, you'll also find a butterfly garden and a traditional garden with seating.
Sawgrass Lake Park Additional Information
Address: 7400 25th Street N, St. Petersburg, FL 33702
Hours: 7:00 a.m. to sunset, year-round
Boyd Hill Nature Preserve
Hugging the shores of Lake Maggiore, Boyd Hill Nature Preserve encompasses over 245 acres and offers visitors the unique opportunity to explore Florida's native ecosystems. The preserve is located in the midst of highly sought-after communities in the city, including the Lakewood Estates neighborhood and Highland Oaks.
One of the most popular things to do here is walk or bike the network of trails. There's one main trail and five smaller loop trails that total about three miles and wind through the preserve's various habitats: pine flatwoods, swamp woodlands, willow marsh, and the lake. Several observation decks dot the trails, where you can spot resident wildlife species. You'll also notice the park's signature giant armadillos, made from old car parts.
The preserve is also home to the Lake Maggiore Environmental Education Center, offering nature classes, camps, and a gift shop. Especially unique among St. Pete parks, Boyd Hill has a campground: the Terry Tomalin Campground. Both traditional campsites and cabins are available. Another unique feature at the preserve is the Pioneer Settlement. It functions as a living history museum, with late 1800s buildings, Civil War re-enactments, and period-themed events and festivals.
Boyd Hill Nature Preserve Additional Information
Address: 1101 Country Club Way S, St. Petersburg, FL 33705
Hours: Closed on Mondays year-round; 9:00 a.m.–6:00 p.m. during winter, 9:00 a.m.–7:00 p.m. during summer
The Gorgeous Parks of St. Petersburg
St. Petersburg's parks serve as serene respites that seamlessly integrate with the city's dynamic spirit. Their distinct character and carefully curated features provide residents and visitors alike with a range of options to unwind and engage with the outdoors, and their locations amongst some of St. Petersburg's best neighborhoods further enhance their appeal. The city's parks invite everyone to experience the solace and beauty that can be found across the urban tapestry of this captivating Floridian city.