6 Best Walking, Hiking, & Biking Trails in St. Petersburg, FL
Posted by Marcus Larrea on Wednesday, September 13, 2023 at 11:15:10 AM
By Marcus Larrea / September 13, 2023
Comment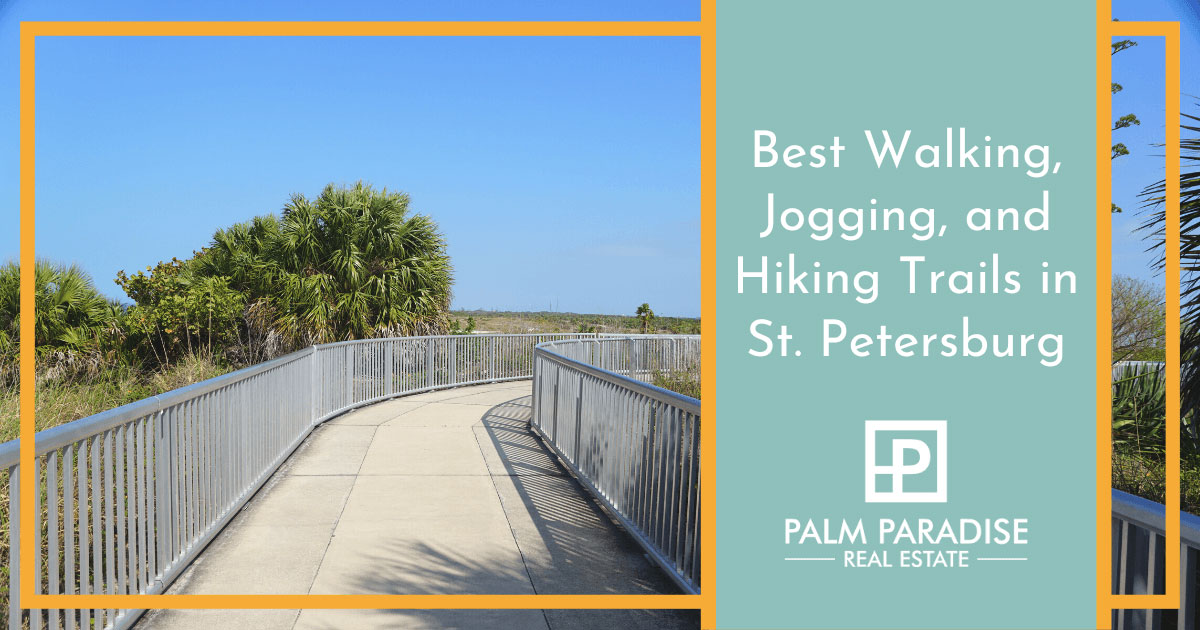 There's no state better for outdoor recreation than Florida, and the city of St. Petersburg is here to prove it. There are dozens of miles of trails to explore across nature preserves, parks, and even through the city itself. The best St. Petersburg trails offer a variety of terrain and opportunities to explore the beautiful sights of Southwest Florida.
If you're looking for somewhere to get outside and enjoy the scenery, lace up your shoes and try one of these great trails in St. Petersburg, Florida:
Weedon Island Preserve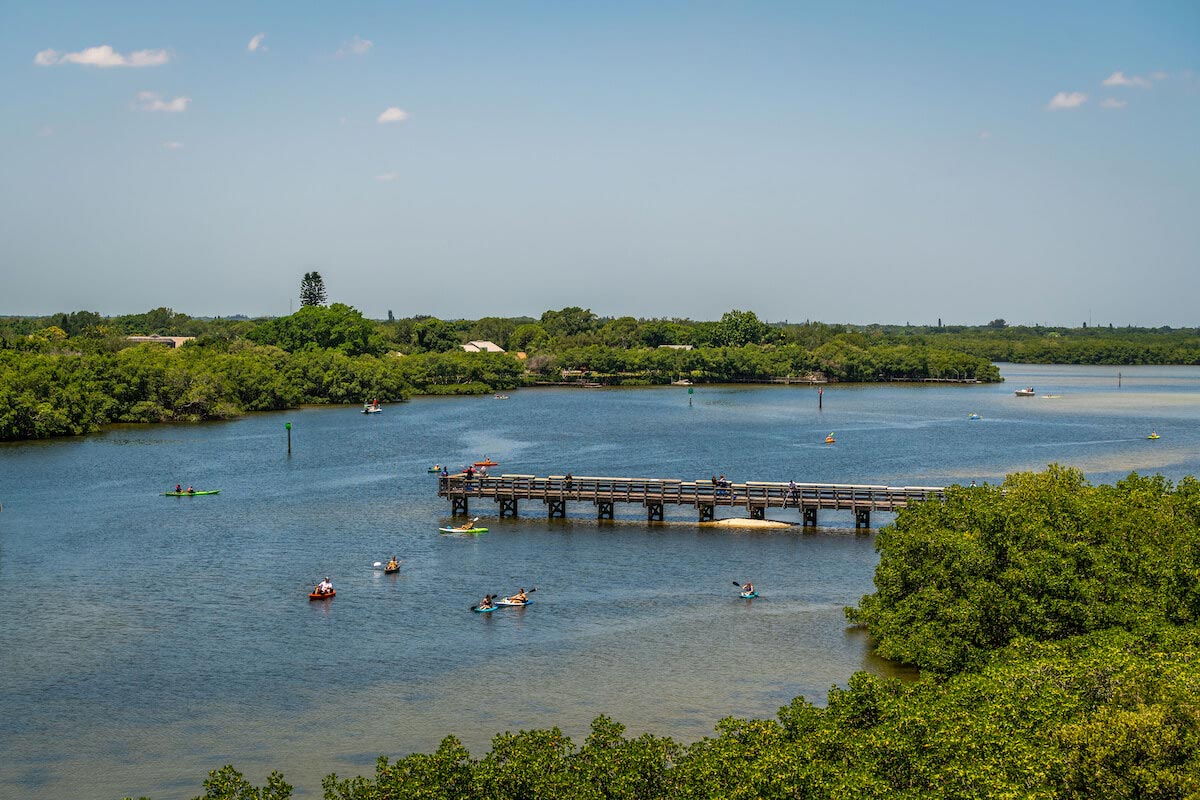 Weedon Island Preserve covers over 3,190 acres, so there's plenty of space to explore. There are nearly 5 miles of boardwalks and trails, plus two self-guided paddling trails.
The Boy Scout loop winds through a maze of mangrove trees and waterways, giving walkers plenty of shade. There's a quarter-mile and a three-quarter-mile loop available. Keep an eye out for the names painted on the bridges—each was named by the Bout Scouts that maintain them.
At the other end of the trail system, near the Cultural and Natural History Center, there's a 0.8-mile boardwalk loop through the mangroves that has an additional trail to reach a 45-foot-tall observation tower. Out in the distance, you'll be able to see the skyline of St. Petersburg. The three-quarter-mile Riviera Trail loop is also at this end of the system.
The Upland Trail leads from the Center to the Bay Boardwalk, which has observation decks over ponds and coves. It's an excellent trail for birding. Between the Bay Boardwalk and the Boy Scout Trail is the Lookout Point Trail, an out-and-back trail that will net you a full mile of hiking. At the lookout point is a picnic bench and a view over Tampa Bay.
These trails are popular year-round for birding, hiking, and running. Due to the sensitive nature of the local wildlife, though, dogs aren't permitted on the trails. Two miles of the boardwalks and paved trails are ADA-accessible, and at the Education Center, you can check out a backpack kit with activities and field guides. Don't forget to bring insect repellent—it's recommended in the more shaded areas.
Boyd Hill Nature Preserve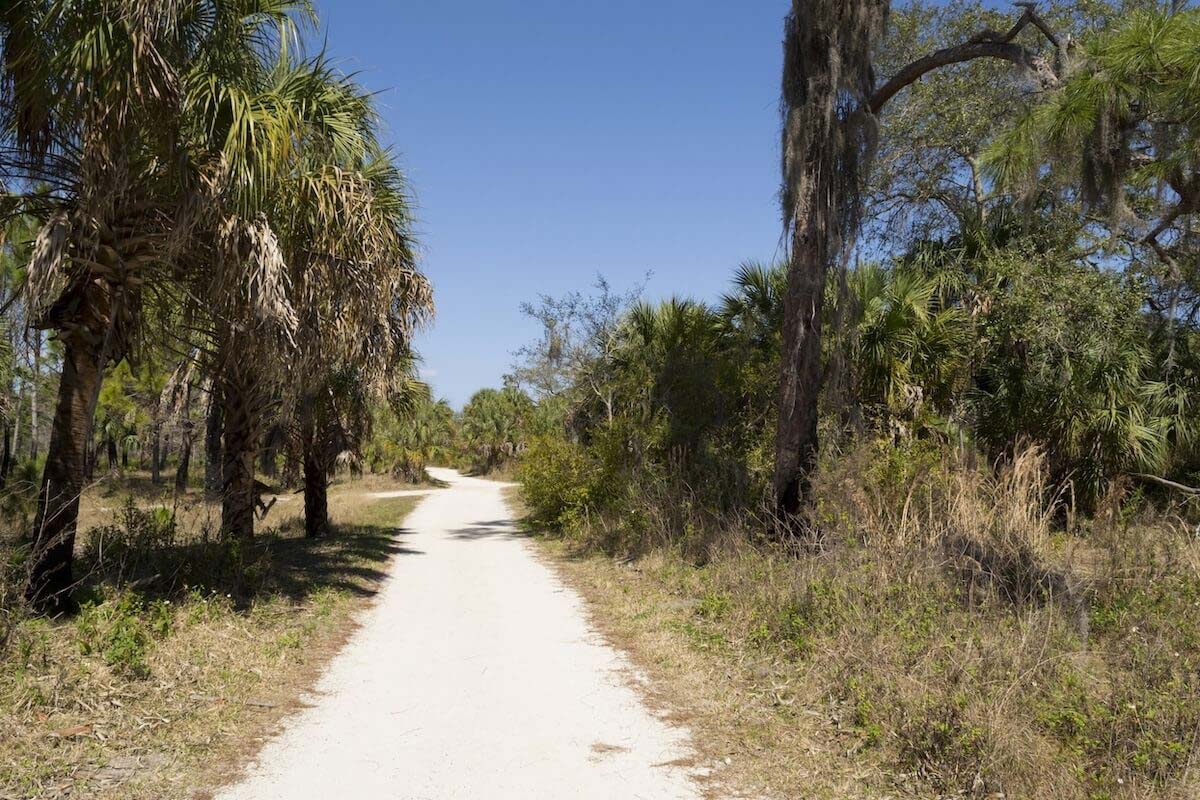 Boyd Hill Nature Preserve, located along Lake Maggiore, was originally a zoo and botanical garden. Over the decades, it's become a showcase of diverse natural habitats and tropical landscapes. Don't forget to pick up a field guide at the entrance kiosk and keep an eye out for interesting wildlife, plus a number of sculptures on the trails near the southern entrance.
There's a main trail and quite a few side trails, so the length of your hike is truly up to you.
Main Trail: 0.82 miles
Center Loop: 1.2 miles
Lakeside Trail: 0.75 miles
Uplands Trail: 0.6 miles
Sand Scrub Trail: 0.32 miles
Field Mouse Trail: 0.26 miles
Field Loop: 0.25 miles
Pine Flatwoods Trail: 0.2 miles
Live Oak Path: 0.15 miles
Canal Trail: 0.12 miles
Wax Myrtle Pond Loop: 0.12 miles
Old Bridge Trail: 0.09 miles
Armadillo Trail: 0.11 miles
Wildflower Loop: 0.27 miles
Coyote Run: 0.16 miles
Fern Trail: 0.13 miles
Saytor Trail: 0.37 miles
Campground Loop: 1.04 miles
In addition to the trails, the Terry Tomalin primitive campground is open to the public Friday–Sunday, and Lake Maggiore Environmental Education Center has interactive exhibits and seasonal camps and classes. The Pinellas Pioneer Settlement is a living history museum with several historic buildings, a blacksmith shop, nature camps, and more.
There's a $3 admission fee to this popular St. Petersburg park ($1.50 for ages 3–16). Most of the trails are paved, and almost all of them are wheelchair-accessible. In addition, there are several water stations throughout the park. There's a designated bike path where bikers can share the trail, but due to sensitive wildlife, dogs are not permitted.
Brooker Creek Preserve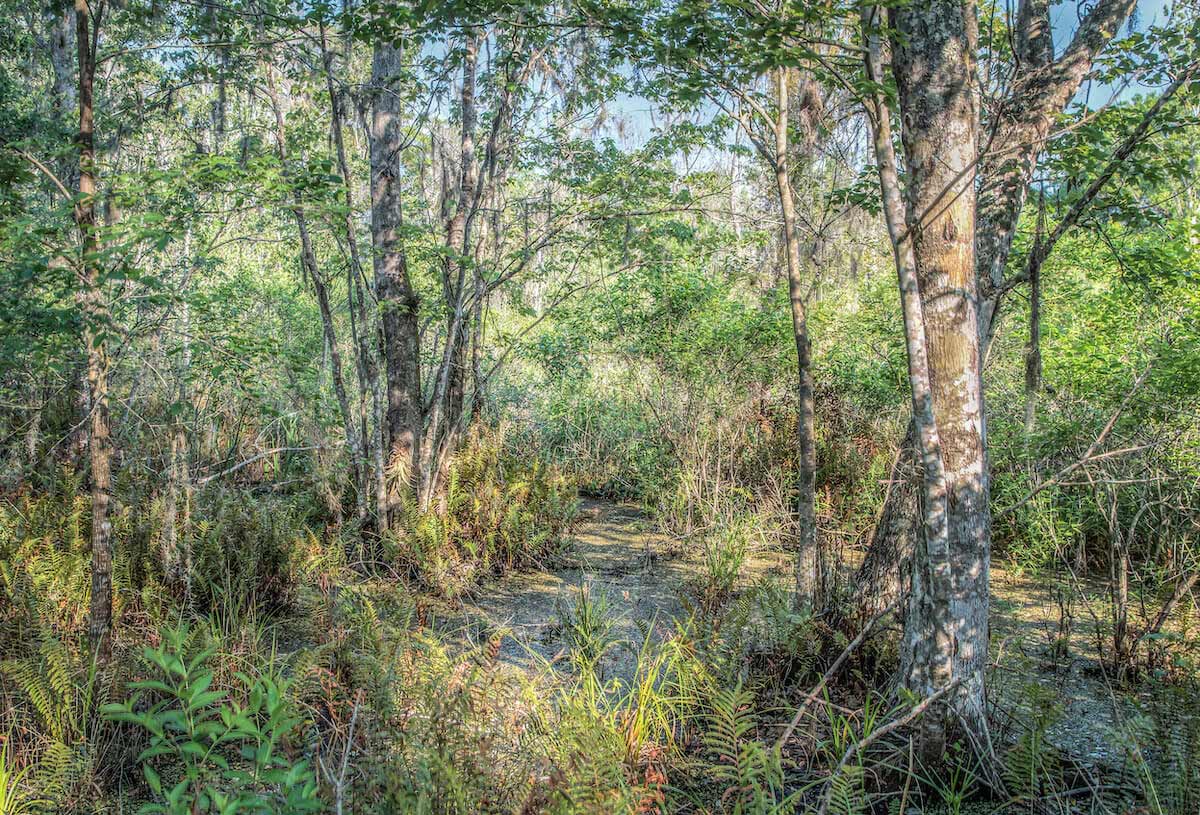 Brooker Creek Preserve offers visitors an opportunity to explore nearly five miles of hiking trails and nine miles of equestrian trails.
For hikers, the upland trails lead visitors through picturesque oak hammocks and pine flatwoods, where they can observe signs of prescribed fires and potentially spot deer, turkeys, and gopher tortoises. Extensive boardwalk sections traverse forested wetlands, providing visitors with a cooler environment to watch wading birds, mosquito fish, and other wetland creatures. It's recommended to bring drinking water, sunscreen, a hat, and insect repellent for a more comfortable experience.
Horse owners can take advantage of the preserve's two equestrian trails, which wind through pinelands and open fields. The trails are natural paths maintained through periodic mowing. Note that hitching posts, paddocks, guided horse activities, and water aren't provided—be prepared to bring everything you need to keep your horse comfortable.
Whether visitors are interested in hiking or riding, they will find something for them at Brooker Creek Preserve. With its natural beauty and plenty of outdoor activities, the preserve is a great spot to spend the day.
Fort DeSoto Park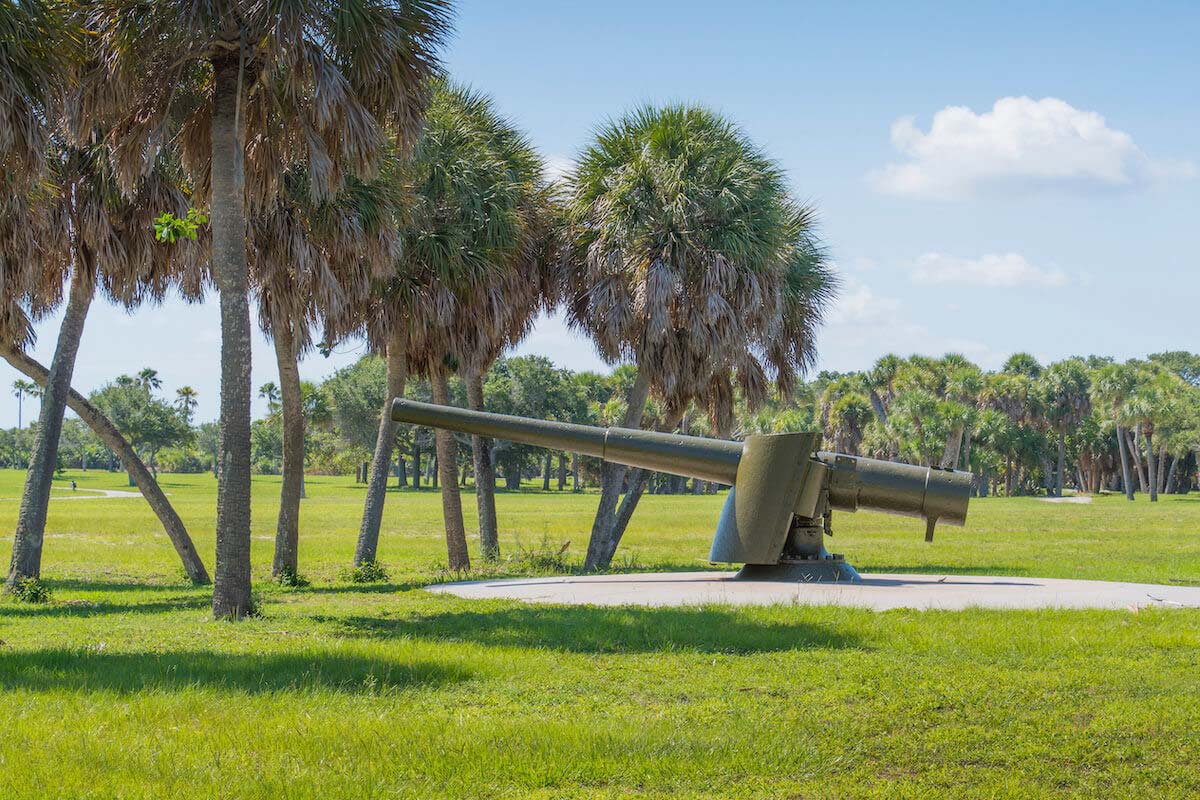 Fort DeSoto Park is a coastal ecosystem that offers a variety of engaging trails, from accessible paths to more exploratory routes with historical sites and birding opportunities.
The Arrowhead Nature Trail is a 1.4-mile network of interpretive trails, taking visitors through coastal habitats along Mullet Key Bayou and providing insight into salt-dependent plant life. You can pick up a map at the ranger station near the campground and an interpretive guide at the kiosk near the trailhead. It's easy to accidentally walk in circles, so there's a numbered sequence to follow on the signage.
The Barrier Free Trail is 0.4 miles long and wide enough for two wheelchairs to pass, with six touch-activated speakers offering an enhanced experience. It's a fantastic place to find birds such as the belted kingfisher, egrets, and herons. Mosquito repellent is highly recommended for this trail, and the gravel surface might call for sturdy shoes. If you're taking a break, there are restrooms, picnic tables, and drinking water at the trailhead.
The Soldier's Hole Trail provides a 2-mile hike through Florida's three mangrove varieties, with views of Bunce's Pass. Pick up an interpretive brochure from the box at the gate. Sunscreen, sturdy shoes, and insect repellent are recommended. Keep an eye out for dolphins, manatees, and horseshoe crabs!
The Fort De Soto Island Park trail system spans the entire offshore key, featuring remnants of military history, two piers, beaches, picnic areas, camping spots, bicycling trails, a kayak route, and a ferry to Egmont Key State Park. Bike and fishing rentals are available. The trail is also part of the Great Florida Birding Trail, a network of over 500 locations safeguarding bird habitats. With stunning vistas of Tampa Bay, this park has something for everyone.
Egmont Key National Wildlife Refuge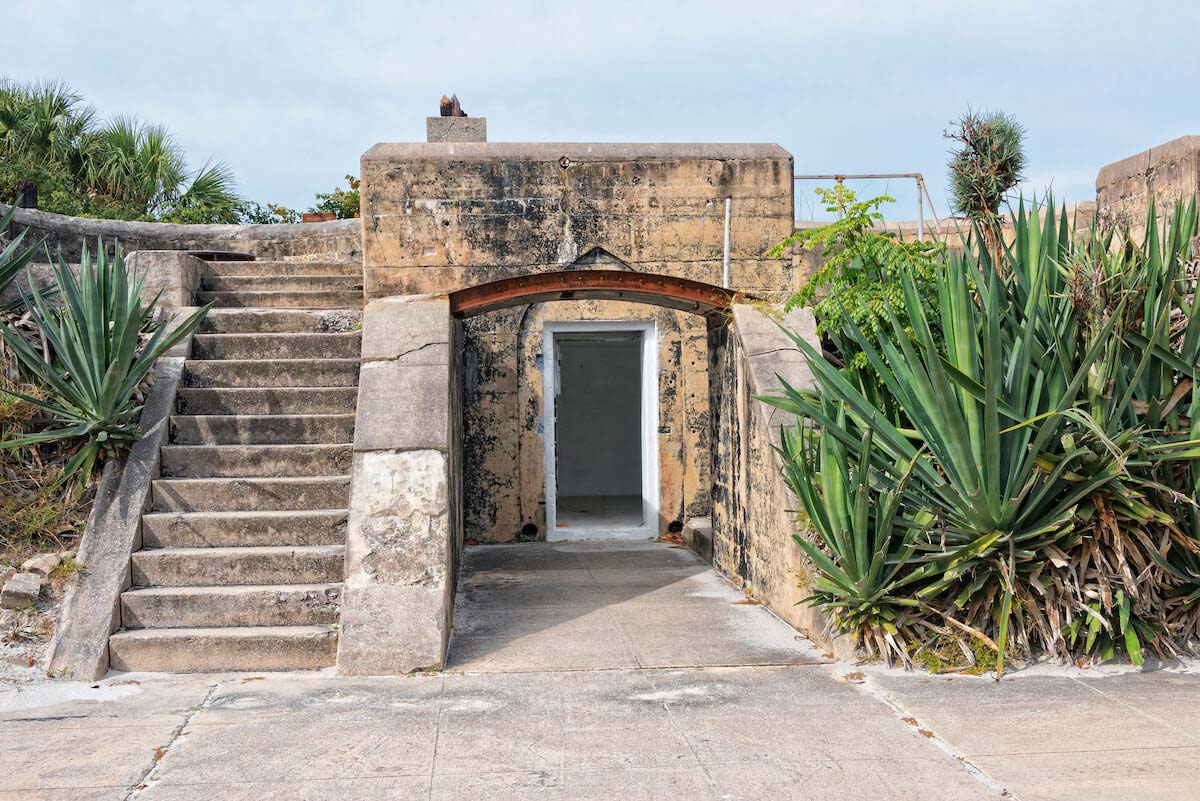 Egmont Key National Wildlife Refuge is a remote island off the coast of Tampa Bay that offers a tranquil escape for visitors. This unique island, only accessible by ferry via Fort DeSoto Park, has been transformed from a Civil War refugee camp to a thriving bird rookery.
During the Civil War, it served as a vital outpost for the Union Blockading Squadron, a refuge for Confederate defectors, and a post for captured Seminoles. Today, visitors can explore its rich history and indulge in activities like swimming, fishing, wildlife observation, and picnicking.
The island is home to a historic lighthouse that was constructed in 1848 and Fort Dade, which was active until 1923. Visitors can explore the island's trails, including 6 miles of historic pathways lined with brick, to discover gopher tortoises, Florida box turtles, and hummingbirds. At the island's southern tip, a shorebird refuge provides visitors with the chance to observe a variety of seabirds.
Due to its remote location, it's important to remember to bring your own food, water, and sunscreen when visiting. There are no stores or sources of potable water on the island. If you're looking for a peaceful getaway, though, Egmont Key State Park is the perfect destination.
North Bay National Recreation Trail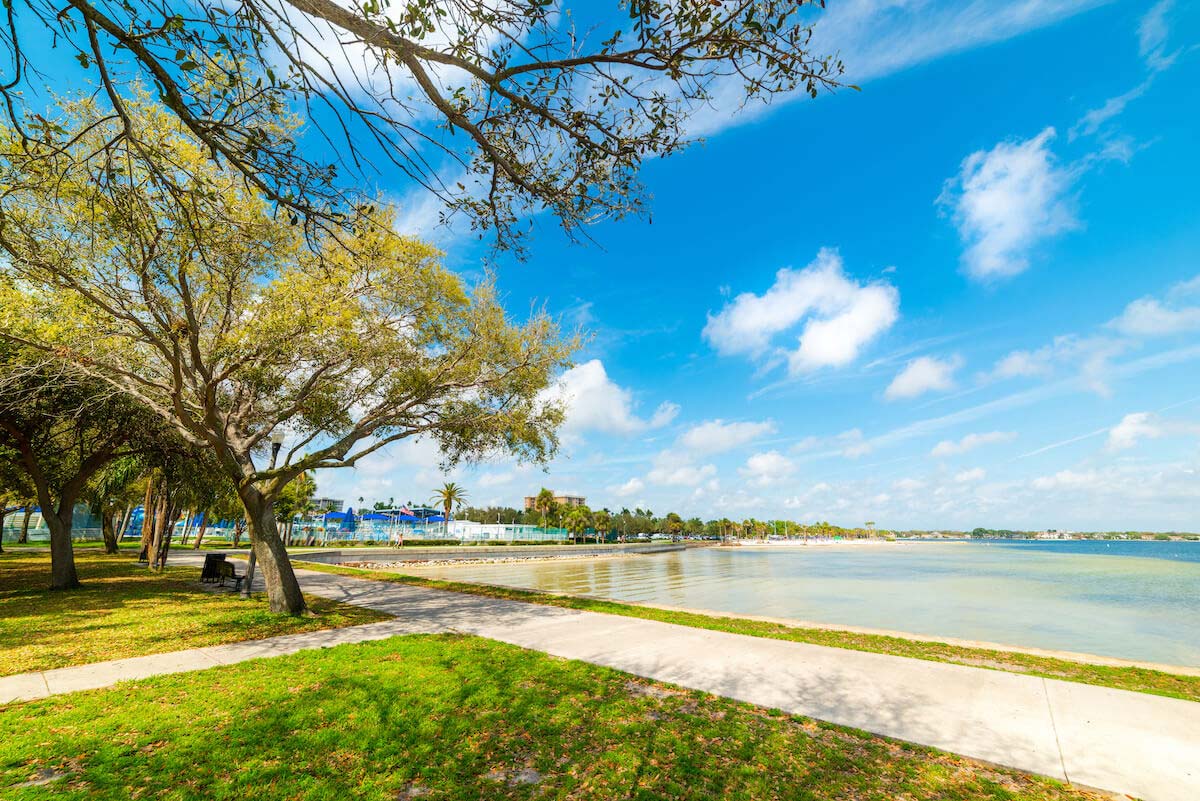 The North Bay Trail is an extension of the Pinellas Trail, extending from Demens Landing to Rio Vista Park in downtown St. Petersburg. This trail offers an array of activities for fitness and outdoor enthusiasts alike. Along the route, users will find various access points such as parks, Vinoy Park, Coffee Pot Park, and Rio Vista Park, all of which serve as trailheads.
There are several points of interest along the trail. Vinoy Park is home to major events like the Festival of States, Taste of Pinellas, Independence Day Celebration, and RibFest. Vista Point has the Centennial Sundial, an interactive granite sundial built to commemorate the Centennial celebration of St. Petersburg's waterfront parks system.
Along the trail, users will find multiple fitness facilities like the North Shore Pool and a small beach with paddle sport launch facilities. Fishing is also popular in this area.
The North Bay Trail runs alongside Coffee Pot Bayou, known for its manatee sightings, and leads to Coffee Pot Park. This park offers various amenities such as a boat ramp, playground, picnic areas, and bicycle parking. Further north, the trail follows the east side of First Street North, connecting with the Island Loop Trail at 62nd Avenue North.
Currently, the North Bay Trail terminates at Rio Vista Park, which is in development and includes a paddle sport launch facility. Future plans for the trail include an extension to the Gandy Boulevard area, the County's Progress Energy Trail, and access to Weedon Island Preserve.
Explore the Best Trails in St. Petersburg, FL
With its many nature preserves, parks, and trails, one thing's for sure: living in St. Petersburg, Florida, is an outdoor enthusiast's paradise. Whether you're looking for a leisurely stroll or a challenging run, there is something for everyone. From the trails of Brooker Creek Preserve to the pristine beaches of Egmont Key National Wildlife Refuge, there is no shortage of exciting outdoor activities. The hiking trails in St. Petersburg are an ideal destination for anyone looking to explore the beauty of Southwest Florida.