5 Thrilling Things to Do on the Gulf of Mexico in Naples
Posted by Marcus Larrea on Friday, December 3, 2021 at 2:10 PM
By Marcus Larrea / December 3, 2021
Comment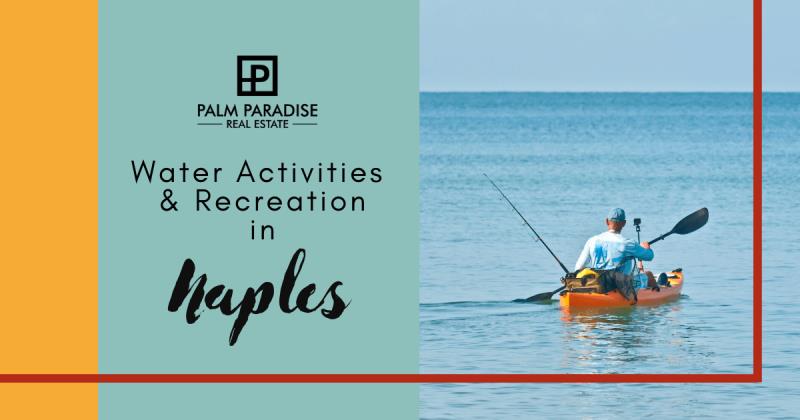 Naples, Florida, is a beautiful city known for upscale shopping venues, unique state parks, popular golfing courses, and access to gorgeous stretches of coast on the Gulf of Mexico.
From sunbathing on those famous "sugar" sand beaches to spending the day fishing, there are many fun things to do on the Gulf of Mexico in Naples. Both full-time residents and tourists there to enjoy the picturesque Florida summers have a wide variety of water activities at their fingertips.
The Naples community provides a stunning setting for water activities like parasailing, kayaking, and even surfing, among many others. Keep reading to learn about the best Gulf of Mexico activities in Naples, Florida.
Parasail Above the Gulf of Mexico
Parasailing is a recreational water activity for those who enjoy heights and exciting thrills. This activity involves a person or group of people towed behind a boat while a specially designed wing resembling a parachute pulls you into the air.
Parasailing isn't for the faint of heart, but if you want to get spectacular views and see the Gulf of Mexico from a bird's-eye-view, then no activity can compare. From your seat in the sky, you can see wildlife like fish, dolphins, manatees, and tropical birds and the sparkling waters that lap up to the white-sand beaches.
Parasailing adventures in Naples typically cover about an hour for the trip out, the parasailing flight, and the journey back to shore. You can also usually add on additional benefits like photography for an extra cost, and the average price of parasailing is around $100.
Companies will also have policies regarding those who aren't permitted to parasail, like young children or people with specific medical conditions, so make sure to read up on the guidelines before you show up for your adventure to avoid any issues.
Say "Hi" to a Manatee in the Gulf of Mexico
The Gulf of Mexico is one of the few homes left for manatees, also known as sea cows. These slow-moving and gentle aquatic giants are marine mammals like dolphins and are critical to the ecosystem. While no longer considered endangered species, they are still categorized as threatened.
These majestic creatures are incredible to observe safely in their natural habitat, and Naples has some of the best manatee tours in the state.
There are a few different ways to observe manatees. You can catch them eating or coming to the surface to breathe as you walk on the beaches or boardwalks, rent kayaks or canoes to paddle in bays where they tend to group, or you can book specialty tours that take you to well-known spots.
Similar to whale-watching, there's no guarantee that a manatee will be spotted on a tour, but the captains and tour guides are exceptional when it comes to finding natural habitats and environments where manatees will eat, sleep, and play.
Pricing for Naples manatee tours will range depending on the duration you want to spend out on the boat, but prepare to spend around $50-$100 for adults and $30-$60 for children.
Try Surfing on the Gulf of Mexico
When thinking about surfing, many people's minds automatically turn to the West Coast and the Pacific Ocean, not Florida and the Gulf of Mexico. However, surfing is becoming more and more popular in different areas of the world, and the Gulf of Mexico in Naples is no exception.
Options for surfing or skimboarding in Naples range from equipment rentals to classes for all ages. You can take your kids or the whole family to a training lesson and learn how to surf just like the locals do. These types of classes develop the fundamental skills of surfing and give you and your family or friends confidence on a board no matter where you go.
Group lessons and private lessons will have different costs, and the company you pick will also provide different pricing rates, so make sure to contact companies and get their rates before showing up. They will also have specific locations where classes are held, so check to see your destination before signing up.
If you already know the ropes and want to rent equipment, then you'll find that surfing can be done at virtually any of the beaches in Naples. The best breaks are usually going to be located in northern Naples. Make sure to check surfing guides before picking a destination to see where the best waves are, and always remember to check local weather before heading out. Never surf in unsafe conditions.
Race Jet Skis on the Gulf of Mexico
For those who want a little more freedom when picking their course but don't want the labor-intensive kayaking or canoeing activities, try jet ski rentals.
In addition to picking your paths, you can sign up for jet ski tours to take you out to see the wild dolphins. Naples provides one of the best locations for dolphin watching, and when you get out there on a jet ski, you'll feel like you belong in one of the pods.
Just like with manatee tours, there is never a guarantee of dolphin sightings, but even without seeing the playful creatures, you'll get a beautiful time on the coastline and enjoy your jet ski adventure.
Costs will vary depending on the company, so call ahead or look up rates before booking a tour.
Fish from Your Kayak on the Gulf of Mexico
Kayaking is a great way to get out into nature and explore the natural beauty of the Gulf of Mexico and Florida Everglades without a formal tour. In a kayak, you have the control to pick your destinations and durations, and you can also get in some great cardio exercise on water features in the best parks in Naples.
In addition to the possible birding and other wildlife settings, kayaking can help you explore the flora of the Everglades like Mangrove trees and swamps, and there's a new water kayaking activity on the rise.
Kayak fishing in Naples is a water sport taking Southeast Florida anglers by storm. Fishing from a kayak is inexpensive, accessible, and easy for those who don't have much experience. Renting or chartering boats for fishing can be incredibly expensive, sometimes up to $20,000 for the boat, gear, towing, gas, and insurance. On the other hand, kayak rentals and all the fishing gear required are only around $1,000.
You can use kayaks for both shallow and deep-sea fishing, but make sure to stay close enough to shore to get back safely. After all, it's your strength that powers the kayak.
Using a kayak can also help you get to areas that aren't reachable by boats, such as shallows, tree groves, and up small rivers or tributaries.
Enjoy the Gulf of Mexico in Naples
While the area may be best known for Naples luxury homes and excellent golf course communities, the Gulf of Mexico is one of Southeast Florida's greatest amenities. The Gulf of Mexico provides a near-endless list of outdoor activities in Naples. If you're in town, make sure to check out some of these different Naples activities you can enjoy on the Gulf of Mexico.