Find Jobs in Cape Coral FL: 2023 Economic Guide & Work Opportunities
Posted by Marcus Larrea on Tuesday, January 3, 2023 at 5:50 AM
By Marcus Larrea / January 3, 2023
Comment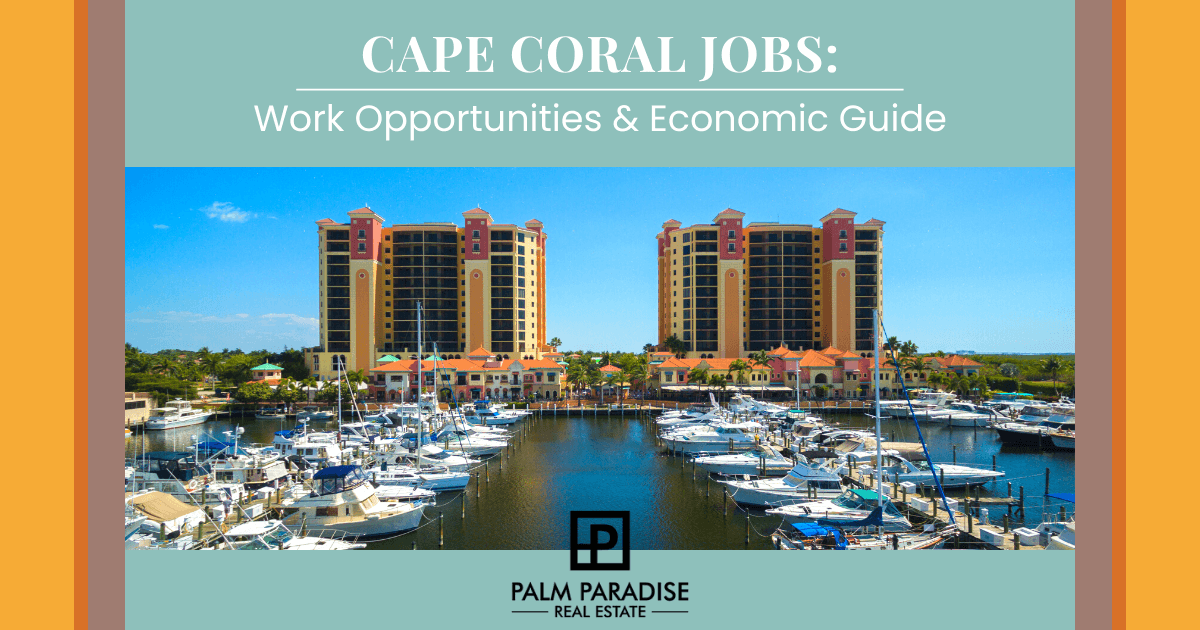 Founded in 1957 as a planned development, the Cape Coral community carries the nickname "Venice of America." The moniker came from the neighborhood having more boat-worthy waterways than anywhere else. As part of the Sunshine State, the main draws involve blue skies, beaches, and warm weather. Homebuyers searching for waterfront homes or scenic golf course homes may have better luck finding their dream property in this region.
However, before relocating to any city, it's wise to research the area's economic background. Understanding the major employers and industries can help determine if moving to Cape Coral is the best choice. Keep reading to learn about the economy in Cape Coral, Florida.
Cape Coral's Top Employers

One of the first characteristics to consider about a new community is the top employers. The largest employers within Cape Coral are nonprofit and government agencies.
The Lee County School District is the largest local employer, with about 2,485 workers. The organization provides public school instruction for around 95,600 students throughout Lee County.
Lee Memorial Health System is a not-for-profit hospital group that controls the second-largest payroll in the area. As part of the combined Gulf Coast Medical Center, they have about 2,562 employees working in several regional facilities.
The community's third-largest employer is the City of Cape Coral, with 1,362 on staff. Like most local governments, they provide many services, including public parks, police, public works, and economic development.
Those working within the medical field may want to check for opportunities with the Lee County VA Health Care Center. Around 530 people report to work within those facilities.
The largest private employers within the area are all retail-related. Publix Super Market is the largest grocery store employer in the area with 1,258 and have eight stores spread through the community. Additionally, Sam's Club and Walmart combine for about 887 people on local staff. The companies have supercenters and smaller neighborhood stores offering opportunities for employment in the community.
Additional Large Companies in Cape Coral
Home Depot
Gulf Coast Village
Target
Cape Coral Charter Schools
Lowe's Home Improvement Center
Cape Coral Economy Facts & Figures
With about 200,000 residents, Cape Coral is a reasonably large community. Perhaps more importantly, the area is experiencing a boom in residents, including a 26% increase since 2010. The metro region has more than 760,000 residents total. However, compared to other similarly sized cities, the income required to live comfortably is much lower.
The cost of living in Cape Coral is only about 3.9% more expensive than the average US community. However, the expense levels are not the same across all bills. New residents can expect to pay about 5% more for food, 17.3% more for healthcare, and 10.1% more for transportation. Housing costs are about the same as the national average, and utility costs are slightly more affordable.
Studio apartments within the city average about $921 a month, slightly lower than the national average. Homebuyers can expect to pay a median price of about $291,000, only slightly cheaper than in the typical US city.
Household income in Cape Coral is about $54,000, a bit lower than the US average of $58,000.
On par with the population increase, future job growth will reach more than 41%, much higher than the 34% national prediction.
By occupation, the highest salaries in the community belong to STEM fields. Many architects and engineers average $66,000 each year, followed by computer and math positions at approximately $62,000. General science-related positions can expect about $60,000 in Cape Coral. Health practitioners and law enforcement positions make an estimated $53,000 per year.
The unemployment rate in Cape Coral is 4.6%.
Cape Coral Industries
One final analysis that must occur before a relocation effort is researching the most important industries within a community. Much like the largest employers in a region, the most prominent sectors within a city can also contribute to the area's character. Whether new residents are searching for jobs or economic opportunities, selecting a metro with a matching business landscape will provide them with the most options. Cape Coral has around 9,000 businesses spread through several economic sectors.
While not the largest industry, Cape Coral has biotech opportunities through Ecological Laboratories, Inc. In addition to the above hospitals, Florida Cancer Specialists & Research Institute also has facilities and jobs in town. WooBamboo! has its corporate headquarters in the city, featuring environmentally friendly dental products.
The largest industry in Cape Coral by occupation is retail trade, with around 16% of residents earning a living this way. Healthcare and social assistance is a close second with 15.3%, which is a few points higher than the US average of 13.8%. Around 8.8% of the local population labor in construction, a figure only a little higher than the 6.2% working in this sector across the country.
Accommodation and food service ranks number 4 with 8.5%, just above the national equivalent of 7.4%. Administrative, support, and waste management services combine to take the 5th spot with 6.8%, followed closely by education careers at 6.3%.
Top Industries in Cape Coral
Office and Administrative Support
Food Preparations and Service
Sales (Excluding Retail)
Construction and Extraction
Transportation and Material Moving
Healthcare and Technical Occupations
Installation, Maintenance, and Repair
Retail Salespersons
Consider Calling Cape Coral Home
Most people moving to Florida do so for the local beauty. On the other hand, researching the industrial landscape cannot be the only consideration. The truth is, Cape Coral has a great combination of growing opportunities, sunny beaches, and a lower cost of living.