4 Condo Interior Design Ideas That Make the Most of Your Space
Posted by Marcus Larrea on Tuesday, January 4, 2022 at 9:06 AM
By Marcus Larrea / January 4, 2022
Comment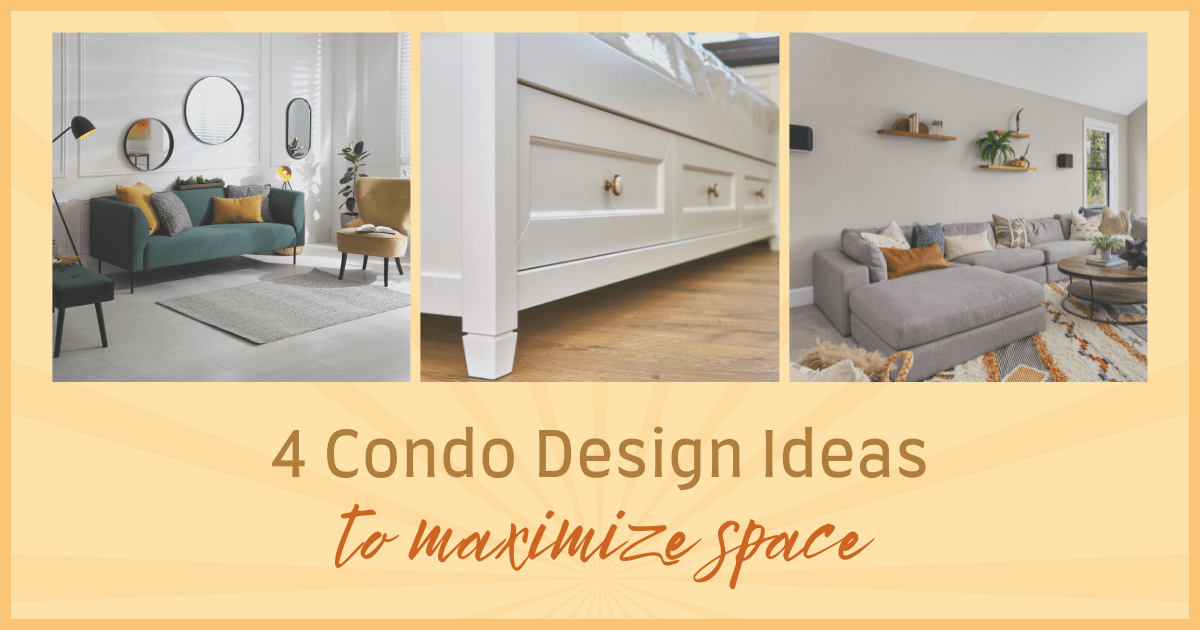 Typically, residential condos are smaller than the average single-family home, posing a few challenges concerning space. When designing a condo that dreams are made of, there are a few ways to make the available space feel and look larger than it is. Keep reading for four condo design tips that can help buyers and owners maximize their condo space during the decor and design phase.
Pick the Right Colors
Paint colors can make a room feel smaller or larger, and light or pale colors allow walls to recede visually, making rooms look bigger than they are. If white walls aren't preferred, lighter hues such as lavenders, grays, and greens with blue undertones could be optimal. Look for those with cool color temperature and low intensity.
Some condo owners paint their walls and ceiling the same color in enclosed rooms like bathrooms and bedrooms. This approach allows the eye to travel around spaces freely instead of having breaks in contrast, which can make rooms feel smaller. One doesn't need to know how to paint a room like a pro to work magic in their abode with a strategic palette.
The use of mirrors in the home can easily brighten up dark rooms and give the illusion of additional square footage. However, strategies concerning size, placement, and frame choice are more effective in achieving this goal. A rule of thumb is that larger, oversized mirrors are best for spatial enhancement in condos. Other light-bouncing surfaces, such as glass tables or glossy finishes, can also aid this effect.
Mirrors to increase the sense of visual space should have simple frames and be situated centrally at eye level. The effects of mirrors can be amplified by strategic lighting installations that boost brightness in rooms while adding dimension.
Clear Away Clutter with Hidden Storage
Nothing makes rooms feel smaller than clutter, but there are several clever ways to hide away and organize knickknacks and other items less frequently used that owners want to keep handy. From shelving and drawers to fold-away furniture, here are some ideas about where to create hidden storage in a condo.
Consider benches or coffee tables with hidden storage under the top. These are excellent in living rooms for extra seating and serve as a footrest. They can be used in hallways or at the foot of a bed to store pillows, extra sheets, or any items that clutter the space. Consider investing in a Murphy-style wall bed that folds away into the wall when not in use. A second option is to get a base for the bed with pull-out drawers.
Condo owners can add more storage space by turning an accent wall into a storage zone by adding shelving units. These can be used for books, extra cookware, photo displays, or plant holders. More storage can be enjoyed by taking advantage of any space under stairwells, where shelves can be added or additional cabinets for goods like pet supplies, seasonal clothing, or anything that should be tucked away. Some creative owners even turn their stairway steps into pull-out drawers for more hidden hideaways. One of the benefits of buying vs. renting a condo is that owners have more freedom to renovate.
Use the Condo's Vertical Space Wisely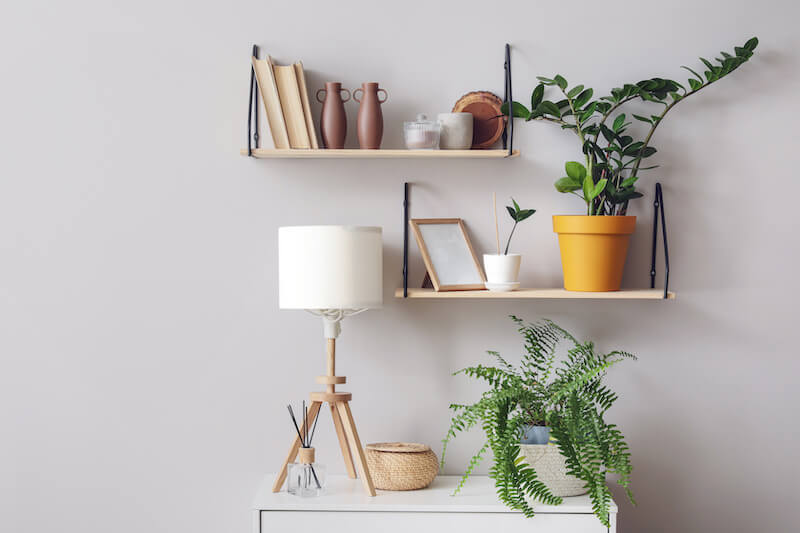 We've discussed shelving along walls, but installing a full-wall bookcase in the living room takes the eye from floor to ceiling, making the room seem taller, and it can showcase a variety of items owners want to display. A built-in ladder will allow easy access to the top shelves if they're out of reach.
No space for a full dining table? Look at fold-up tables with drop leaves and folding chairs that can be hung on the wall above them. Take advantage of the top of kitchen cabinets to store items like paper towels and small kitchen appliances.
Garages are notorious for clutter, but there can still be room for vehicles with vertical storage cabinets or a DIY ceiling sliding storage system that frees up floor space. Don't forget laundry rooms, where a flip-down shelf can serve for folding clothes. A slim behind-the-door shelving system can hold detergents and other laundry goods. These are even more convenient when built into an existing wall.
Don't Be Afraid to Use Large Furniture & Accent Pieces
While using large furnishings and decorative items might make the condo feel smaller, there are exceptions when they become focal pieces. For example, one large sectional sofa can create a cozy environment, while multiple chairs and a couch take up more floor space and look cluttered. It is worth considering investing in a sofa with a fold-away bed that can serve as guest sleeping quarters or as a hang-out spot on marathon movie nights.
An oversized rug can bring a cramped room together, and the inclusion of small ones can separate zones, such as establishing a side office in the living room or dining area. Oversized artwork can become a wall's centerpiece and add charm to the condo while making the room feel larger.
If a pantry is in the kitchen, make the most out of it with extra shelves and over-the-door hanging baskets to store spices or cleaners and free up cabinet space. There are wall mounts that go from floor to ceiling, and it's a relatively simple DIY project for most.
Your Dream Condo Is Waiting For You
With these easy tips, finding some extra storage space in a condo isn't as challenging as it may initially seem. Many useful items like furniture, rugs, and supplies can be found at specialty stores, big-box retailers, and even resale shops. There are plenty of simple do-it-yourself projects that can provide extra places to hide things to reduce clutter.
Of course, plenty of local remodeling contractors can assist with more complex projects like build-ins and custom shelving projects. Before signing a contract for their services, be sure to check reviews and references for any outside contractors under consideration. Make sure any planned additions don't infringe on what the condo association is responsible for.