December Real Estate Market Update
Posted by Marcus Larrea on Tuesday, December 7, 2021 at 3:26 PM
By Marcus Larrea / December 7, 2021
Comment
The Southwest Florida Real Estate Market continues to outpace the rest of the country...
...and how will our local real estate market perform in 2022?
Hi, it's Marcus Larrea with Palm Paradise Real Estate and I'll give you those answers shortly but first let's check out how the month of November performed across Southwest Florida.
November's numbers come in across the board fairly flat from September. Single family homes, townhomes and condos all continue to sell very quickly with limited inventory as we remain in a sellers' market.
Inventory has stayed even at a time when we have historically seen inventory increase from October to November each year over the last decade with the exception of 2020. This is interesting to note as some people selling choose to list prior to the holidays to avoid competition from other sellers during our seasonal months of January to April when inventory for the year typically peaks.
Due to the supply issues that we continue to face across the country and especially in our local market, we have yet another month to month increase in both median and average sale price for single family homes in both Lee and Collier Counties.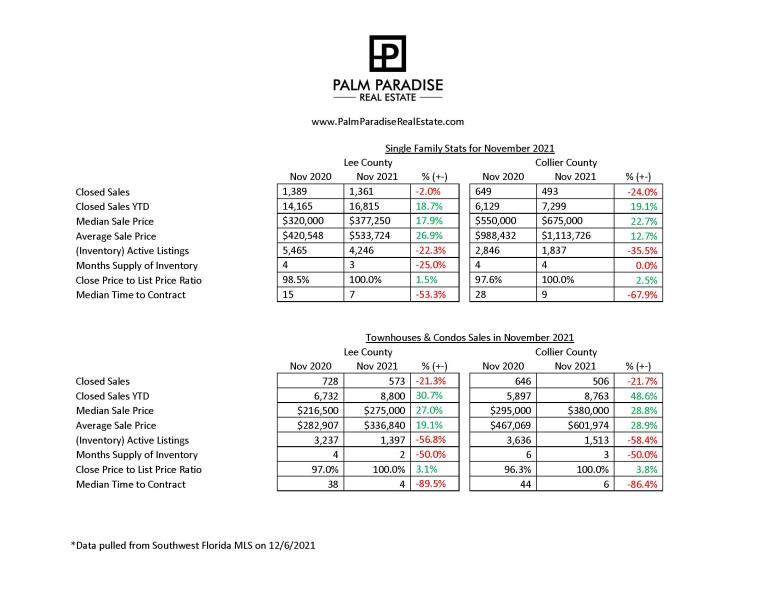 The price increases in Southwest Florida are amongst the top in the country. According to the Federal Housing Finance Agency Price Index which released its Q3 top 100 price study, U.S. home prices rose an average of 18.5% year over year in the third quarter. Florida had 8 metro areas come in above the national average in the top 100 ranking.
The Cape Coral - Fort Myers market, which also includes Naples, came in at #2 in the country with an astounding 34.7% year over year price increase.
The Tampa – St. Petersburg – Clearwater market came in at #10 with a 25.2% year over year increase.
You can view where the other top Florida markets finished below:
Florida Metros Ranked in FHFA's Q3 Top 100 Price Study
2. Cape Coral-Fort Myers: 34.7% year-over-year; 9.8% quarter-over-quarter
8. North Port-Sarasota-Bradenton: 25.6% year-over-year; 6.6% quarter-over-quarter
9. West Palm Beach-Boca Raton-Boynton Beach: 25.5% year-over-year; 5.7% quarter-over-quarter
10. Tampa-St. Petersburg-Clearwater: 25.2% year-over-year; 6.5% quarter-over-quarter
15. Jacksonville: 23.3% year-over-year; 9.1% quarter-over-quarter
17. Fort Lauderdale-Pompano Beach-Sunrise: 22.4% year-over-year; 6.5% quarter-over-quarter
24. Miami-Miami Beach-Kendall: 21.2% year-over-year; 5.4% quarter-over-quarter
28. Orlando-Kissimmee-Sanford: 20.5% year-over-year; 6.3% quarter-over-quarter
*FHFA calculates housing prices using seasonally adjusted, purchase-only data from Fannie Mae and Freddie Mac.
2021 has turned out to be a hot year for the real estate market across the country, in Florida, and especially in Southwest Florida. Will we see these trends carry over into 2022 locally as many other parts of the country have begun to see a slowdown?
My prediction for 2022 is that we will begin to see the market normalize a bit more towards pre-pandemic conditions. It will not be a record year like 2021. However, it will still be an excellent year for property values as prices will continue to increase across Southwest Florida while inventory and supply chain issues still pose a problem. Many experts expect interest rates to climb above 4% in 2022 but this will not be enough to bring prices down.
The outlook for 2022 will continue to give us a competitive market in which both buyers and sellers will want to work with an experienced, innovative team equipped with the latest market data to give them an advantage.
The Palm Paradise Real Estate Team will have closed over 440 transactions in 2021 in markets across Southwest Florida including, Marco Island, Naples, Bonita Springs, Estero, Fort Myers and the surrounding beaches, Cape Coral, Clearwater, St. Petersburg and the Tampa areas.
Our team is prepared and ready for you when you need us. If we can be of any service to you and your real estate needs, please reach out to one of our team members at www.PalmParadiseRealEstate.com or give us a call at 239-349-2487.
From our family at Palm Paradise Real Estate to yours, we wish you a happy holiday season and may you have a joyful and healthy New Year as we head into 2022.