Driving and Commute Times in Naples, FL
Posted by Marcus Larrea on Thursday, August 12, 2021 at 11:41 AM
By Marcus Larrea / August 12, 2021
Comment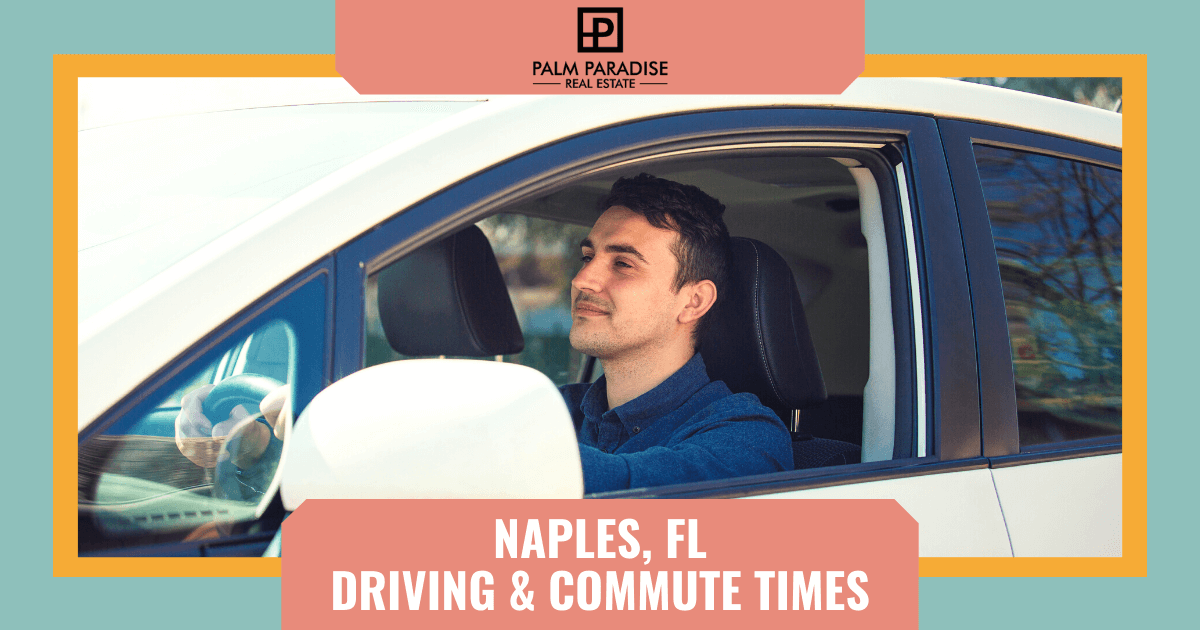 Anyone looking to buy one of the highly sought-after waterfront homes and condos in Naples is sure to be curious about driving in their new city. Whether they are moving to Naples seasonally or full-time, driving in the area is easy. With only a few major roads and free parking, those who purchase property in Naples will fall in love with their new, commute-friendly city. Read on to become an expert at driving in Naples.
Get to Know Your Major Roads
When driving in Naples, residents will find themselves mostly using Interstate 75 to get around. Running north and south, Interstate 75 has plenty of exits that allow residents to navigate from one city area to another with ease. This interstate is also used by those traveling throughout the state, so residents need to be mindful of possible tourism traffic when commuting on this major road.
Another major road is Tamiami Trail, which is U.S. Highway 41. This roadway allows residents to avoid taking Interstate 75. While it does have a high-velocity speed limit, the highway isn't used as frequently as the interstate. This means residents are less likely to encounter other cars or accidents.
Davis Boulevard is the largest road running through the heart of Naples. Residents can use this roadway to access schools, grocery stores, entertainment, and much more. Since it is the largest local road in the city, it can become quite congested at times. However, it is the fastest way to get from point A to point B when just using surface streets.
What to Expect During Rush Hour
Rush hour in Naples is comparable to busy commute periods in other U.S. cities. Morning rush typically occurs between 6:30 a.m. to 8:30 a.m., while evening rush begins around 4:00 p.m. and ends just after 6:00 p.m.
The downside of only having a few major roads is that they become congested quickly. Residents should expect to add at least 15 minutes to their normal commute during rush hour. Some days, it is possible to see a 30-minute delay in getting to or from work.
Drivers in the area should remember that many of the roads are being used by those traveling across state lines. These drivers might be unaware of the exits and are likely to become frustrated while sitting in bumper-to-bumper traffic. Residents must remain vigilant while driving during peak tourism seasons.
Parking
For the most part, parking in Naples is completely free. This is a wonderful bonus that helps keep the cost of living in Naples relatively low. This does also mean that free parking can be hard to come by during the summer months. Since many tourists come to Naples, they take advantage of the free parking just like residents.
The city of Naples does offer resident parking permits, which allows locals to access more parking spots. These spots are reserved solely for residents, which can be helpful during a busy tourist season. Additionally, the parking permits allow residents to access the beach and boat ramps for free. Those who do not have a resident permit can expect to pay $4 to $8 per day to park at the beach or utilize the area's many boat launches.
In the downtown area, there are metered parking spots that are available for use. Most require coins, but the city is currently working on accepting credit cards at all meters. The current rate for metered parking is $0.25 for 20 minutes.
Other Helpful Things to Know
Naples is incredibly close to the iconic Alligator Alley. Florida is home to about 1.3 million alligators, and many of these reptiles live in the wetlands surrounding the section of I-75 that runs east and west across the most southern part of the state.
When driving in Alligator Alley, drivers are likely to encounter an alligator (or two) on the road. Drivers need to remain calm when they see an alligator blocking the road. They should stop quickly but never swerve. Swerving can cause an accident and put the driver at fault.
Additionally, it's important to avoid hitting the alligator at all costs. These animals are protected by Florida law. Injuring or killing an alligator is a punishable offense. Drivers can be cited up to a $2,500 fine and even serve up to three days in jail.
Furthermore, drivers in Naples should follow the speed limit. In Alligator Alley, state troopers are consistently monitoring drivers' speeds. If a driver exceeds the speed limit by 10 MPH or more, they will be pulled over and cited. The police are also monitoring speeds on local roadways and will provide tickets to those who are speeding.
Cruise From the City to the Coast in Naples
For the most part, driving in Naples is simple. While it is a larger city in Florida, it is one of the easier areas to navigate. After learning the three major roads and securing a resident's parking permit, those new to the city will fall in love with their new location every day. Naples offers more than easy driving opportunities. It also has some of the world's best beaches, shopping, dining, and entertainment. Whatever draws residents to the area, they are sure to love it even more once they realize how easy it is to get from point A to B. Of all the cities in Florida, Naples is truly one of the best places to call home.
Want to know how to get around Naples without a personal vehicle? Check out our Naples Public Transportation Guide.