7 High-ROI, Energy-Efficient Home Upgrades That Boost a Home's Value
Posted by Marcus Larrea on Friday, April 29, 2022 at 11:05 AM
By Marcus Larrea / April 29, 2022
Comment
As the world's citizens become increasingly aware of the damage being done to the planet—largely due to electricity-fueling resources—the demand for energy-efficient homes has grown.
Concerning getting a good return on investment (ROI) with energy-efficient upgrades, consider the most typical buyer today. The predominant demographic buying homes today are millennials, according to the National Association of Realtors. Here are seven tech-savvy and environmentally conscious energy-efficient renovations that can save owners money now and appeal to potential buyers in the future.
For informational purposes only. Always consult with a licensed real estate professional before proceeding with any real estate transaction.
Smart Hub + Smart Appliance = Big Savings & Great ROI
Technology is in demand with modern home buyers, and installing a smart hub and a few essential appliances and systems can curb energy bills. These 'smart homes' are in demand, and many home shoppers are looking for a dwelling that's wired up and ready to go upon move-in. Some top energy-saving smart appliances recommended by Energy Star include:
Air conditioners
Ovens & ranges
Refrigerators
Dishwashers
Home security systems
Lighting installations
Because they are energy-efficient, may have automatic sensors, and can be controlled remotely, it's easy to cut back on usage for the most commonly employed devices in the home.
Energy-Efficient Water Systems: Savings On Demand
Tankless water heaters take up minimal space and produce hot water on demand within seconds. This means no more paying electrical for a large, space-hogging tank to keep water constantly warm.
Smart outdoor sprinkler systems with automated options, sensors, and smart app abilities can save owners big time on water use and bills, another feature buyers appreciate.
Low-flow showerheads and other water conservation fixtures are a staple of sustainable home construction. Swapping out a toilet for a low-flow version can save around 20% per flush with the same or better performance, and upgrading the showerhead can reduce water consumption by up to 40%.
Energy-Efficient Heating and Cooling Systems
The Department of Energy estimates that over 40% of utility costs result from heating and cooling use. Smart thermostats are a great start to creating a more energy-efficient heating and cooling system. Standard models allow for time control and temperature settings, but the smart models are optimal. These are generally very affordable, and most models today can be hooked up to a smart hub device and controlled via Internet-connected apps.
Or, owners can take the plunge and invest in an entire energy-efficient HVAC system, which is a good idea if selling is coming soon, as buyers appreciate new major systems under warranty that also cut costs. Air conditioners installed in homes just 15 years ago are, by today's standards, considered energy inefficient for multiple reasons. Energy standards were different 15 years ago, and air conditioners become less efficient as they age. An older air conditioner will work harder and do its job less efficiently than an air conditioner that is brand new. Installing a new air conditioner can reduce a home's energy bills by hundreds of dollars over time.
Solar Panels: A Good Investment for Homes & the Planet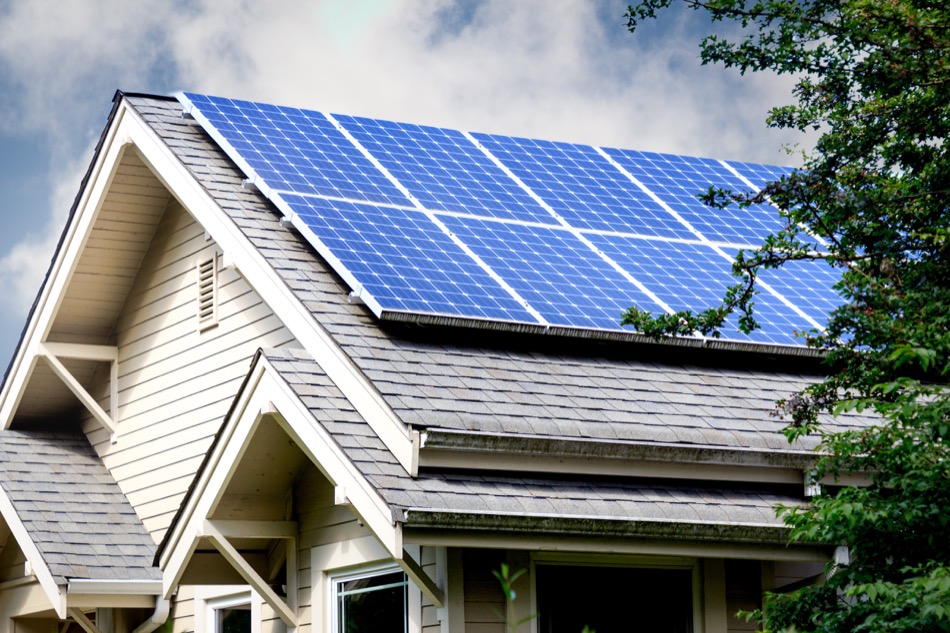 Depending on the structure's size, solar panels can be a significant investment, but it's one that more buyers are looking for. Installations of passive or solar energy sources can seriously reduce energy expenses and eliminate them with the right system. Sometimes, solar panels can even make the homeowner money by selling electricity back to the grid. With Florida's sunny weather, this is a great option.
On average, solar panel installation costs around $11,000–$15,000 in Florida before federal and local tax credits, which can save thousands of dollars. Even better, some programs may even pay for the entire system for qualified owners. Solar panels also typically recoup about 85% of their value upon resale.
Homeowners hoping to install solar panels should do the following before making the commitment:
Understand the rebates available to make it easier to calculate the true cost of installing solar panels.
Work with a reputable solar panel contractor to ensure the installation is done right.
Read the entire contract and warranty before signing.
Interview multiple potential solar panel contractors before making the final decision about whom to hire.
Window Replacement, Energy Efficiency, and ROI
Cut Florida cooling bills by a third when upgrading single-pane windows and by almost 20% when replacing dual-panes. Windows with dual panes and special coatings can help maintain indoor comfort levels with less use of the heating and cooling system. They keep air leaks at bay, and there's less need to worry about cracks.
While costly, Consumer Reports estimates around 70% ROI for window upgrades. Energy Star claims owners can save approximately 12% on their energy bills with energy-efficient windows, doors, and skylights as another incentive to invest. This is especially important in Florida, as the heating and cooling savings get higher the farther south the home is.
Improving Insulation Keeps Energy Inside
Improving insulation is another excellent home upgrade that can make a home more energy-efficient. The best way to tell whether a home has the proper insulation in the attic is to check the floor joists. If the floor joists are visible, then there is likely not enough insulation in the attic. If the floor joists have been covered by the insulation and can no longer be seen, then there may be enough insulation already in the attic.
Homeowners who are installing better insulation should consult with a contractor to ensure the work is done correctly. If the insulation is installed in a way that it covers ventilation holes in the attic, it can lead to moisture problems and may even cause mold or mildew to grow.
Steel Entry Doors Pull Double-Duty
Installing a steel front door on the home is an inexpensive high-ROI change that can improve a home's energy efficiency. Steel entry doors are typically insulated in their core, which prevents energy from leaking out of the home. On cold winter days, the steel door may prevent warm air in the home from escaping. On hot summer days, the door may help keep cool air in the home, thus maintaining a cooler temperature in the house.
In addition to these energy-efficient features, the steel door has another advantage: improving a home's curb appeal, which can make a home more attractive to homebuyers and may even help the home sell faster.
Those who buy a good quality door and work with a real estate professional can help make the door a more effective home improvement overall. Homeowners can determine if they need a new door by inspecting their current door to see if it is drafty, poorly fitted in the frame, or warped.
Considering Upgrading to an Energy-Efficient Home?
If you are thinking about selling a home soon and want to make the sale more appealing for potential buyers by making energy-efficient upgrades, consider which of the items on this list may be within your budget. If you're not planning on selling soon, still consider them; the sooner an energy-efficient upgrade is made, the sooner it starts saving money. If you'd like to look into more options, here are more high-ROI home improvements you may be interested in.
For informational purposes only. Always consult with a licensed real estate professional before proceeding with any real estate transaction.