February 2022 Real Estate Market Update
Posted by Marcus Larrea on Wednesday, February 9, 2022 at 10:06 AM
By Marcus Larrea / February 9, 2022
Comment
The Fed met last month and are expected to raise interest rates faster than initially predicted.
What does that mean for buyers and sellers in this market? Plus an interesting fact regarding financed homes across the United States.
Hi, it's Marcus Larrea, team lead of the Palm Paradise Team in Southwest Florida. As we wrap up the first month of 2022, we continue to see trends from last year continue. Prices have never been higher and inventory continues to be an issue across Southwest Florida.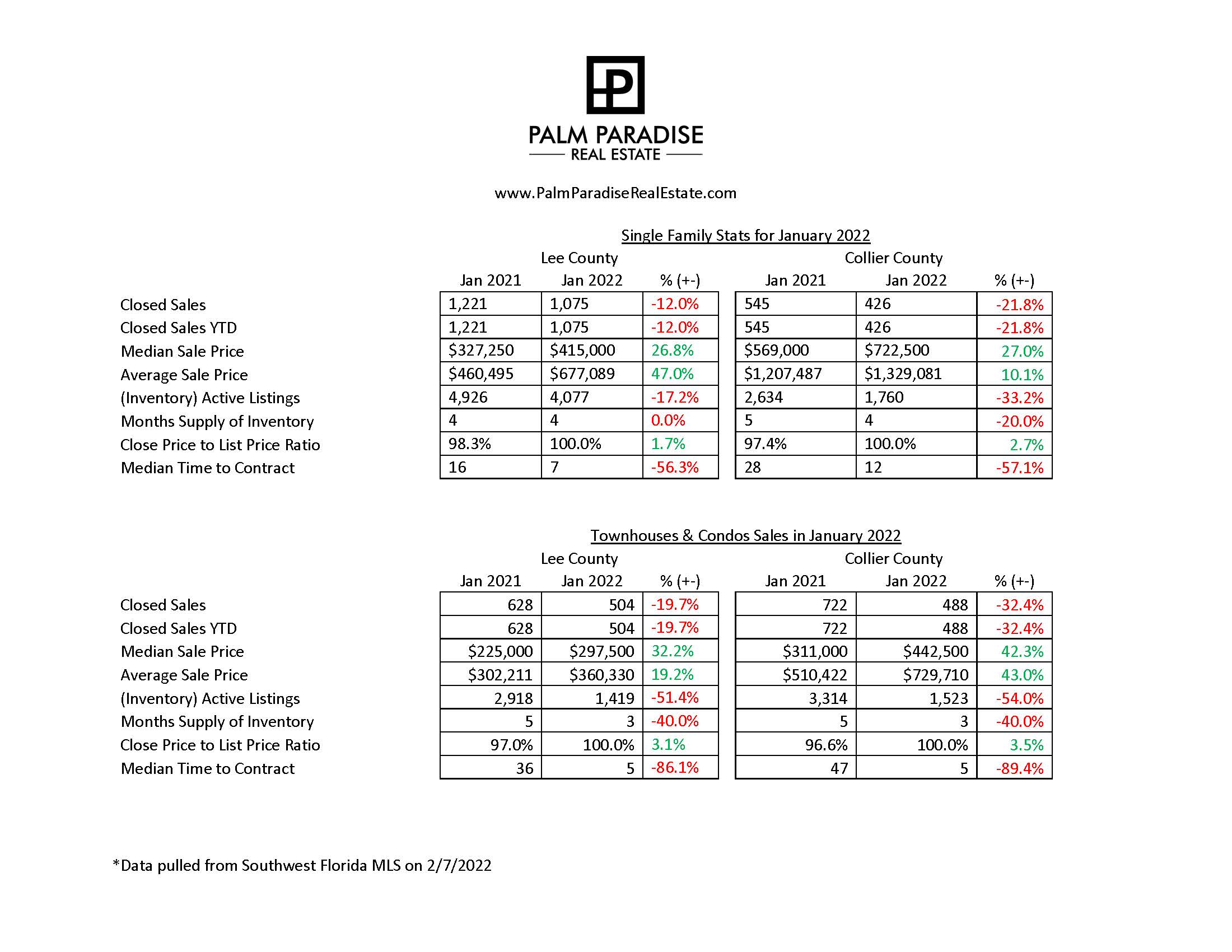 The median single family home value for Lee County in January was $415,000 while in Collier County, the median single family sale price was $722,500. Both counties are up 27% from January of last year.
The median sale price for townhomes and condos in both counties have increased even more than single family homes. In Lee County, the median sale price of townhomes and condos has increased by over 32% since January 2021, up to $297,500. The price increases are even greater in Collier County as the median sale price for townhomes and condos is up to $442,500, up over 42% from last year!
Inventory numbers in both counties also remain exceptionally low for this time of year across both counties. Lee County single family home inventory is down 17% from last year while townhome and condo inventory is down 51%! In Collier County single family home inventory is down 33% from January last year and townhome and condo inventory is down 54%.
As expressed by the numbers I just shared with you, supply and demand remains to be a big issue across Southwest Florida. You can take a look at the detailed Lee and Collier County numbers for the month of January on the link in the video description.
Another factor many people are looking at as to how prices will be affected are interest rates. Last month the Fed met and Powell announced that "The committee is of a mind to raise the federal funds rate at the March meeting assuming conditions are appropriate for doing so." He even would not rule out a 50 basis point rate hike. Regardless of how fast or when hikes happen, the general consensus amongst experts is that rate hikes will happen this year and we could see rates around 4% by the end of the year. These hikes will have a major impact on buying power and those looking to wait out the market for a downturn could be disappointed as our market will continue to thrive due to the supply and demand issues we will continue to face for the foreseeable future. Any potential savings in waiting for prices to drop would most likely be negated by increased interest rates.
For those homeowners currently with mortgages, you may be sitting on a good amount equity if you purchased over a year ago. According to Attom Data Solutions, home price increases have left 42% of homeowners in an equity rich position of having their home value be at least double the amount of their remaining loan balance. This number is up from 30% at this time last year.
Last year we helped 315 Families purchase their home and 116 families sell their home. This means we are very in tune with the new market conditions of which we have never seen before. Our team members are trained and have the experience needed to navigate this challenging market effectively.
It all comes down to strategy.
For home sellers, it is important to remember to that how your home is prepared, priced, and marketed makes a huge difference in the quality and amount of offers you receive. That's not all though... Once the offers come in, it's time to negotiate. Strategic and powerful negotiating is what drives the price up to its max price.
The question for sellers is not "Will my house sell?" but "How can I sell my house for the highest amount possible?"
Generating the most interest and the best offers on any home requires far more than a "For Sale" sign and photos. It is important to bridge the gap between the homes current condition and its future condition, and make it easier for prospective buyers to envision themselves living in the property through recommended cost effective updates, staging, and other professional marketing strategies.
For buyers, purchasing a home in today's market will also require a very strategic approach. I cannot tell you how many calls we receive from buyers facing the same issue. They have been working with an agent for months and every time they submit an offer they lose out. They are feeling discouraged and frustrated. As we ask more questions it becomes more clear that there is no strategy in place for them. Even though we are in competitive market that requires patience and understanding from buyers, you still need to have a strategy in place. Knowing the right questions to ask listing agents and finding out information about sellers' true motives for selling is crucial in winning offers especially in today's market. By asking the right questions we can predict how high competing offers will be, how much the home may ultimately sell for, the terms that will be most attractive to the seller, and any other special circumstances that may help you win a multiple offer situation.
At the end of the day, whether buying or selling, leveraging the right strategies and expertise is what will make the difference for you and your family in achieving your real estate goals.
If you'd like to discuss your upcoming real estate needs, you can reach any of our experienced team members at PalmParadiseRealEstate.com or give us a call at 239-349-2487.
Thanks for watching.