What Is Fort Myers Known For? 5 Fun Facts You Didn't Know About Fort Myers
Posted by Marcus Larrea on Monday, March 7, 2022 at 1:48 PM
By Marcus Larrea / March 7, 2022
Comment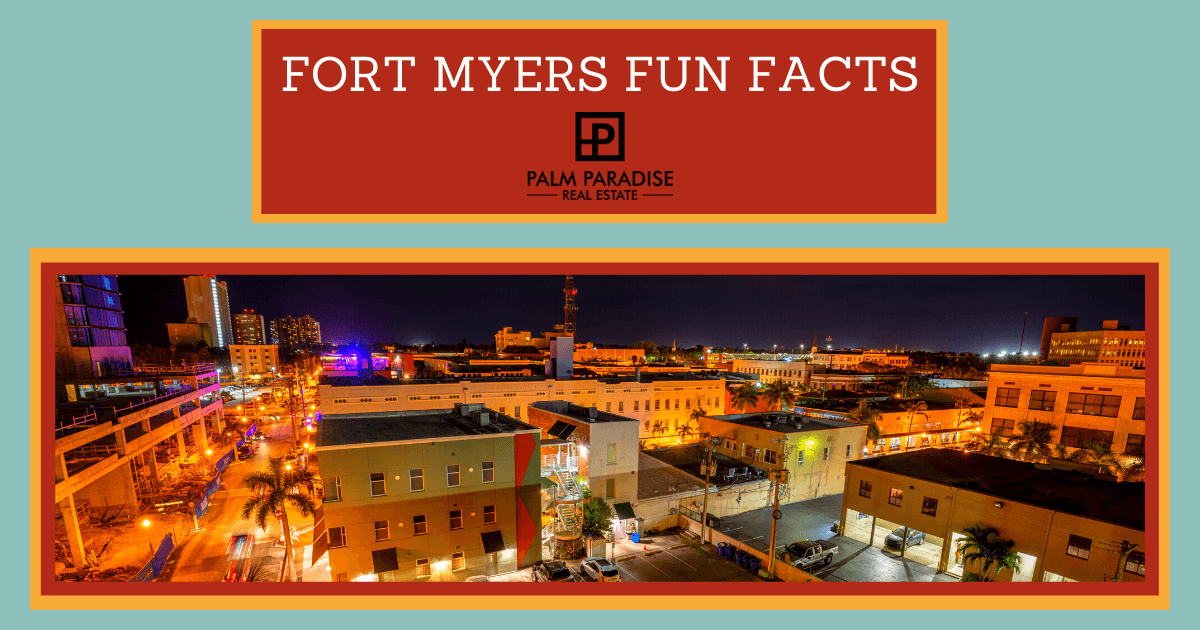 The city of Fort Myers, Florida, is one the fastest growing cities in America, and it takes the top spot for growing jobs and a strong economy. This sunny city is a great place to retire based on residents' happiness, the city's desirability, and affordable housing options. Currently, more than 80,000 people call this vibrant community home, while there are thousands of snowbirds who seasonally inhabit timeshares and Fort Myers condos every winter. However, back in 1876, Fort Myers was occupied by a mere 10 families! With that information disclosed, let's keep exploring more fun facts about Fort Myers, Florida.
Welcome to the City of Sunshine!
Fort Myers has more sunshine hours than any other city in Florida and even surpasses Key West. On average, locals and visitors enjoy around 271 sunny days per year in Fort Myers, while the U.S. average is just 205 sunny days. It's no surprise that Fort Myers waterfront homes line the beaches, occupied by those eager to have fun in the sun almost any day of the year.
Thomas Edison Lived Here Part-Time
Fort Myers first received the gift of electric lighting in 1898, thanks to its famous part-time resident, Thomas Edison. Inventor of the light bulb and more than 1,000 other patented inventions, Edison was revered by many but unpopular with some locals who were upset about the lights keeping their cattle awake at night.
Learn more about his history in the community at the Edison & Ford Winter Estates museum, and take time to visit the other historic buildings and sites here. The botanical gardens are stunning, and this is where the largest banyan tree specimen flourishes. This gift from industrialist Harvey Firestone has an aerial with an astonishing circumference of over 400 feet!
One of Fort Myers' first beautification projects was conceived by Edison and his wife in 1907. Along with others in the community, the couple planted several royal palm trees along McGregor Boulevard. Today, the project still thrives with around 2,000 trees in place, which is why Fort Myers is nicknamed the "City of Palms."
Fort Myers' Name Has a Romantic Backstory
Fort Myers was once known as a small fort town called Fort Harvey, and the city got its modern name as an unorthodox engagement present and wedding gift. In 1850, General David E. Twiggs was the commander of Fort Harvey along the Caloosahatchee River. General Twiggs' daughter Marion fell passionately in love with one of her father's staff officers, Abraham C. Myers.
Soon, the couple was engaged, and Twiggs was so pleased about the impending union that he changed the town's name to Fort Myers in honor of his soon-to-be son-in-law. The couple married in 1853 and went on to have a prolific future together in the community that carried their surname.
Fort Myers Is a Shelling Mecca
Shelling is such a popular activity in Fort Myers that it's one of the few cities in the world where there are actually jobs that allow people to make a living as shelling charter captains! Shelling charters in Fort Myers take people to the best shell-seeking places, and guides help explorers identify their treasures along the way.
The beaches and isles of Fort Myers are on a shallow water plateau that collects shells on a natural shelf that flows to the shoreline. It's the location along the Gulf of Mexico that makes Fort Myers a shelling mecca boasting more shell varieties than any other spot in North America.
The Bailey-Matthews National Shell Museum is one of a kind. In fact, it's the only museum in the U.S. solely devoted to shells and the mollusks that create them. Visitors looking for things to do in Fort Myers can explore the museum's massive collection of shells and mollusk specimens or take a guided tour. Tours are led by a world-renowned malacologist and two marine biologists who teach visitors all about these amazing natural wonders.
Tarpon Fishing Started in Fort Myers
The sport of tarpon fishing is purported to have originated in the late 1880s in Southwest Florida's Pine Island Sound and is one of the most prized catches in the world. Those who live in Fort Myers have the opportunity to catch one of these fighting fish all along Florida's ocean waters. However, the sea opening of Cayo Costa at Boca Grand Pass toward Gasparilla Island is respectfully considered the "Tarpon Fishing Capital of the World."
Tarpon are also known as the "Silver King," and they are well known for their impressive acrobatics at the end of a line, as they can jump as high as 10 feet out of the water while viciously shaking and wrenching their bodies. Amid this fishing mecca, one can find the world's smallest fishing museum at Jensen's Marina. Increase the chances of landing a tarpon by hiring a local fishing guide or deep-sea charter.
Fort Myers Has a Pirate Past
The Captiva community and Sanibel were popular hideaways and landing locations for pirates, including Blackbeard, Lafitte, and José Gaspar, a.k.a Gasparilla, documenting their visits starting in the 1700s. The most notorious and enduring pirate in the Fort Myers area was Gasparilla, who considered Pine Island Sound his primary home base for 38 years. The legendary pirate and his crew attacked more than 400 ships in the Gulf of Mexico and had his headquarters situated on Sanibel Island. Reportedly, he buried his booty on what is known today as Gasparilla Island.
Instead of being taken prisoner in 1821 by the U.S. Navy, the legendary pirate placed anchor chains around his body and drowned himself in the Gulf. Perhaps this is why Cayo Pelau is believed to be haunted by Gaspar and his pirates, who are still protecting their loot hidden there today.
Need a Feather in Your Cap?
The S.A. Feather Factory is one of Fort Myers' most unusual businesses and one of the most enduring. This family-owned purveyor has been in business for four generations since it was established in 1906. Open to the public, this wholesale exotic feather retailer serves major industries. Their biggest claim to fame is making feather boas and headdresses for Las Vegas showgirls and for making many of the decorations that adorn floats and revelers at Mardi Gras in New Orleans. This fancy feather factory is the place to find that unusual rainbow ostrich feather—or any other exotic bird—for your hat or accessories.
Find More Fun Facts in Fort Myers For Yourself
Whether you're a full-time resident here or take respite as a seasonal visitor or vacationer in one of the townhomes, rental apartments, or Fort Myers golf course homes, adventures await. There are dozens of unique sights and less-known facts to be discovered right here in Fort Myers.