4 Fort Myers Neighborhoods with Amazing Waterfront Views
Posted by Marcus Larrea on Tuesday, February 8, 2022 at 10:47 AM
By Marcus Larrea / February 8, 2022
Comment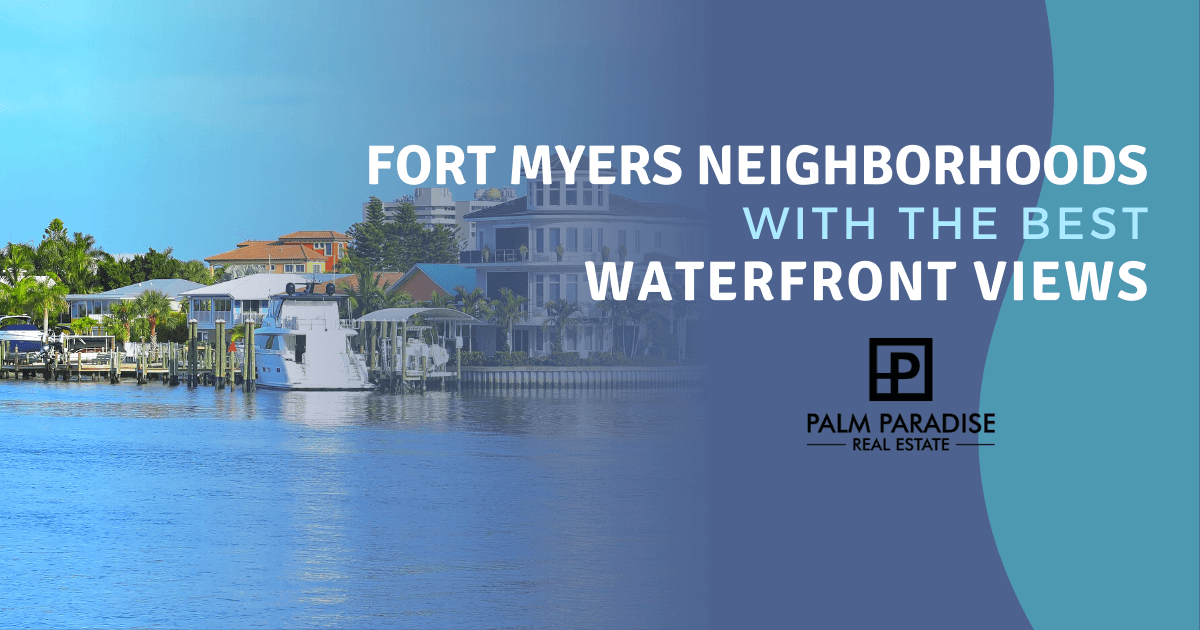 Living on the Florida waterfront offers impressive views of the sunshine state's natural beauty and quick access to sandy beaches, beautiful islands, and the gorgeous Gulf of Mexico. Best of all, the boating season in Southwestern Florida never ends due to the state's warm climate. Keep reading to discover four neighborhoods with Fort Myers waterfront homes that offer some of Florida's best waterfront views.
Jonathan Harbour
The Jonathan Harbour neighborhood is a private gated community located on the secluded Connie Mack Island, featuring gorgeous waterfront homes starting in the $700s, generous community amenities, and quick access to Fort Myers' marinas, restaurants, and shopping centers.
Each of Jonathan Harbour's large luxury homes and townhomes offers a unique waterfront view of Punta Rossa Cove or one of Connie Mack Island's two lakes, and most feature private docks. Most of Punta Rossa Cove outside Jonathan Harbour remains undeveloped, which means the neighborhood's 69 homes offer a rare look at Florida's undisturbed natural beauty. The cove is popular among manatees and other Florida wildlife, including plenty of fish.
The community offers numerous amenities, including a private marina, a community pool, tennis and pickleball courts, a guest apartment, and a clubhouse that allows private reservations. It also features an exercise room.
Beyond Jonathan Harbour's entrance lies Port Sanibel Marina, an Old Florida-style marina boasting various amenities, including water access fueling, a ship store, and canoe and kayak rentals. The Lighthouse Waterfront Restaurant is just next door. This dockside restaurant features a 160-degree outdoor porch overlooking the marina and a menu offering local favorites like gator tail, seafood, and sandwiches. The Sanibel Outlets offer even more restaurants and retailers just five minutes away.
Waters Edge
Settled on the banks of the Caloosahatchee River, the gated Waters Edge community contains seven distinctive neighborhoods, breathtaking lakeside views, and impressive waterfront amenities.
Waters Edge consists of over 200 homes across seven waterfront neighborhoods. The community offers mid-rise condos ranging from 1,600 to 1,800 square feet in Harbor Place, Harbor Place Vistas, and Seabreeze Lofts. Meanwhile, Waters Edge I, II, III, and IV feature attached villas and single-family homes starting at 1,100 square feet. Most homes throughout Waters Edge provide two to three bedrooms and two to three bathrooms. Although some of the community's larger residences can cost over $2 million, smaller homes typically start in the high $200s.
Although Waters Edge rests on the banks of the Caloosahatchee, the community's private freshwater lake is the real star of the show. Most homes in Waters Edge boast lakefront views, and many residences have private piers on the lake.
Waters Edge provides various amenities, including a 600-foot private fishing pier on the Caloosahatchee, a private beach, a riverside park, two heated swimming pools, two tennis courts, and the Peppertree Pointe Marina. The marina can accommodate up to 36 boats and offers a launching ramp, with access to the Gulf of Mexico just 15 minutes away. Additionally, Waters Edge holds monthly waterfront dinner parties to encourage community engagement.
McGregor Isles
The McGregor Isles community lies just minutes north of where the Cape Coral Bridge passes over the Caloosahatchee River. This unique waterfront community features over 150 single-family homes, an extensive canal system that leads to the river, and a voluntary homeowner's association membership.
Although most of McGregor Isles' midsize homes trace their roots to the mid-1960s and early 1970s, recent years have brought more renovations and new construction homes to the private neighborhood. Most homes have three to four bedrooms, two to three bathrooms, and spectacular waterfront views of the canals. Although landlocked homes typically start in the $300s, the neighborhood's waterfront homes can range from the mid $500s to over $2 million.
Canals run throughout McGregor Isles, with many homes outfitted with private piers. The community's waterways can accommodate most boats with a draft less than 36 inches due to the system's 4.5-foot average depth. Through the canal system, it's possible to access the Caloosahatchee River and the Gulf of Mexico.
McGregor Isles also offers a voluntary homeowner's association to benefit the community. For $120 annually, the HOA provides various services, including lawn maintenance, neighborhood improvement projects, and special events.
Catalpa Cove
The gated Catalpa Cove community comprises 79 single-family homes with access to private lighted docks and other impressive riverside amenities. Three small lakes and canals provide gorgeous waterfront views in the secluded Iona neighborhood.
Catalpa Cove features custom-built estate-style homes ranging from 2,800 to 5,000 square feet. Most homes have three to four bedrooms and two to five bathrooms. While some of the smaller homes can sell for approximately $500,000, many homes in the community are usually worth well over $1 million.
Although not every home comes with a waterfront view, each offers a private deeded dock on one of the neighborhood's canals. Catalpa Cove's canals provide deep water access to the Caloosahatchee River, from which it's possible to access the Gulf of Mexico.
The waterfront community also provides facilities for recreation on land, including a playground, tennis courts, and a barbecue area. These amenities are near the neighborhood's entrance on Catalpa Cove Drive.
Living on Florida's Waterfront
From boating and fishing to sunbathing and tennis, there are endless activities to do on Florida's waterfront. With year-round warm weather, Fort Myers has some of the best waterfront neighborhoods in Florida, featuring breathtaking waterfront views, deep water access, and impressive amenities for recreation, dining, and more.