Things to Do in Fort Myers: Fun Ideas For This Weekend in Fort Myers
Posted by Marcus Larrea on Monday, January 24, 2022 at 11:54 AM
By Marcus Larrea / January 24, 2022
Comment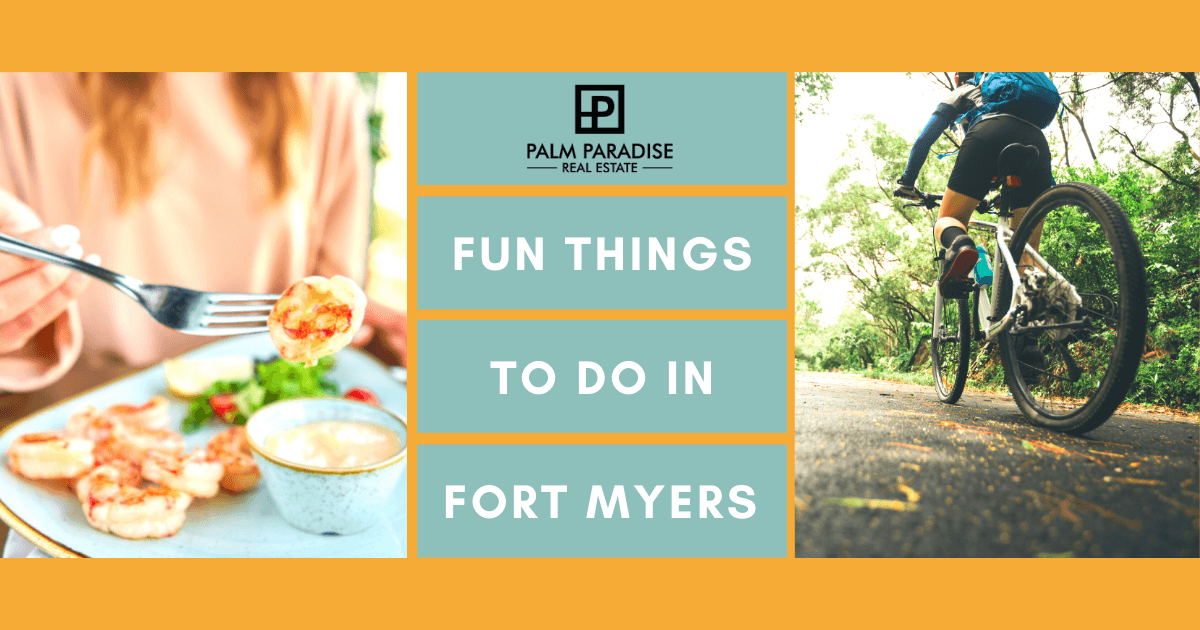 Fort Myers, Florida, is packed with things to do and places to see. It's noted for its beaches and shopping, along with some of the best food in the region. It's possible to spend some time getting pampered at a local spa or on a boat fishing in the deep waters. This range of activities is one of the core reasons many seek out homes in Fort Myers, along with famously pleasant Florida weather. This Southwest Florida city offers everything from waterfront properties for boating enthusiasts to upscale condos for dedicated urbanites and plentiful amenities and activities to satisfy every lifestyle. Keep reading to discover some of the best things to do in Fort Myers, FL.
Fort Myers Outdoor Adventures
With excellent weather throughout the year, outdoor adventure awaits. Outdoor activities popular in Fort Myers include many opportunities to enjoy the water, deep forests, and open green spaces. Here are some outstanding outdoor activities to enjoy.
Fort Myers Parks
Popular Fort Myers Parks
Buckingham Community Park
Centennial Park
Caloosahatchee Creeks Preserve
Estero Bay Preserve State Park
The city has numerous parks, playgrounds, and natural areas. Buckingham Community Park is a good option for those seeking a place to catch a baseball or football game. There's a large playground here, too. Centennial Park is another fantastic option, as there's a large pavilion, a playground, and several art installations along the walking paths.
For more of a natural experience, explore Caloosahatchee Creeks Preserve, where it's possible to walk along a raised boardwalk right through the marshes or canoe down Popash Creek. For those who are after an adventure, the Estero Bay Preserve State Park is the place to be. It's a 10,000-acre aquatic nature preserve with small islands, inlets, and waterways offering nature hikes and opportunities to observe wildlife in their natural habitat.
Fort Myers Beaches and Water Recreation
Fort Myers Water Recreation Destinations
Lovers Key State Park
Bunche Beach
Crescent Beach Family Park
Snook Bight Marina
The best way to enjoy the water in Fort Myers is to visit one of the beaches, such as Lovers Key State Park, Bunche Beach, or Crescent Beach Family Park. It's possible to play in the sand, kayak, fish, or even see manatees in these areas. Renting a boat is an excellent way to explore the waterfront. There are several boat rental companies in the area, especially near Snook Bight Marina. Pontoons are a favorite option, though larger sailboats are typically available as well. It's possible to spend the day catching snook, tarpon, redfish, and spotted seatrout in the waters just off the shoreline.
Fort Myers Hiking & Biking Trails
Popular Fort Myers Trails
Caloosahatchee Regional Park trails
Babcock Ranch Footprints Trail
John Yarbrough Linear Park Trail
Many of the parks in Fort Myers offer walking and biking paths, from easy, manicured trails to wild hikes. Caloosahatchee Regional Park offers over 20 miles of hikes, with paths for both biking and horseback riding. Another exciting experience is Babcock Ranch Footprints Trail. Hikers get to follow old forest roads for a more challenging hike. The John Yarbrough Linear Park Trail is another fun experience offering walking and biking trails along more of a flat surface, though some off-path biking is possible.
These are just a few examples of the numerous types of outdoor adventures possible in and around Fort Myers. Deep exploration of the area's marshes, forested areas, and the water itself are also options, especially for seasoned travelers looking for a new experience.
Fort Myers Shopping
Fort Myers Shopping Destinations
Bell Tower
Santini Farmers Market
Miromar Outlets
Shangri-La Springs
Bailey's General Store
Arts for ACT Gallery
The Franklin Shops on First Street
Looking for fun things to do in the city? Enjoy some shopping and sightseeing. Several shopping centers are available in the area and nearby, including Bell Tower. It's an open-air center with a Williams-Sonoma, Sunglass Hut, Bath and Body Works, and numerous other national retailers. Over in the nearby town of Fort Myers Beach is Santini Farmers Market, which sells some of the freshest produce and arts and crafts from local artisans. Other nearby shopping centers include Miromar Outlets and Shangri-La Springs, located in the Estero community and the city of Bonita Springs, respectively. These luxury shopping centers are perfect for finding specialty stores and big brands.
For those looking for some tried-and-true shops, check out Bailey's General Store on Sanibel Island or head to the Arts for ACT Gallery to explore some of the best artisan-made items for sale. Also in the Downtown Fort Myers neighborhood is The Franklin Shops on First Street. There's always something new here in this eclectic collection of 100+ stores.
Fort Myers Restaurants
Popular Fort Myers Restaurants
Cape Cod Fish Company
Salty Papa's Shrimp House
Harold's
Mario's Italian Meat Market
Osteria Celli
KJ's Steakhouse
Roadhouse Café
Wisteria Tea Room & Café
Love Boat Ice Cream
It's easy to find a good meal here, especially for those who love seafood. Cape Cod Fish Company is known for its American cuisine and some of the freshest seafood available. Another noted seafood location is Salty Papa's Shrimp House, which offers Cajun- and Creole-inspired seafood dishes.
For a bit of elegance for that special meal out, consider Harold's, a French-American fusion restaurant noted for its tasty and beautiful dishes. For Italian, a few options exist, including Mario's Italian Meat Market (with prepared meals) or Osteria Celli, a Tuscan- and Central-Italy-inspired location.
For a good steak, consider KJ's Steakhouse, which is also known for its full bar. Roadhouse Café is another steakhouse with live music from time to time. For a simple lunch, stop in at Wisteria Tea Room & Café. It's noted for its freshly made soups. Love Boat Ice Cream may be the ideal place to stop for those looking for a sweet treat on a hot day.
Arts & Culture in Fort Myers
Fort Myers has a long history in the arts. It's easy to find culturally inspired activities and events in the area and numerous performances from local groups, theater production houses, and some of the local schools.
Museums
Popular Fort Myers Museums
Southwest Florida Museum of History
Edison and Ford Winters Estates
IMAG History and Science Center
Bailey-Matthews National Shell Museum
Edison and Ford Winters Estates
In Downtown Fort Myers, the Southwest Florida Museum of History is an excellent place to visit for those looking to learn the history of the area. It has exhibits from prehistoric Florida through recent events. It's also just down the street from the Edison and Ford Winters Estates, which are some of the best places to learn about Thomas Edison and Henry Ford. The IMAG History and Science Center is an excellent, interactive museum focused on educating science lovers. Over on Sanibel Island, the Bailey-Matthews National Shell Museum is a fun exploration.
Art Galleries
Popular Fort Myers Art Galleries
Alliance for the Arts
Bob Rauschenberg Gallery at FSW
Vino's Picasso
DAAS CO-OP Art Gallery & Gifts
Sidney & Bernie Davis Art Center
Fort Myers is a city rich in culture, and that includes numerous art galleries. Start at the Alliance for the Arts. There are many pieces of art on display as well as items to purchase. Additionally, the location offers onsite art classes, outdoor events, and entertainment throughout the year. The Bob Rauschenberg Gallery at FSW is another worthy experience. This fine art gallery commentates the work of the artist, as well as other local artists in the area. Spend an hour or so touring this beautiful gallery to see various pieces by the famed artist.
Numerous other art galleries are located nearby, including Vino's Picasso, DAAS CO-OP Art Gallery & Gifts, and the Sidney & Bernie Davis Art Center. Each offers exhibits, some of which change every quarter.
Dance & Theatre
Fort Myers Dance & Theatre Opportunities
Fort Myers Community Concert Association
Barbara B. Mann Performing Arts Hall
Broadway Palm Dinner Theatre
Florida Rep
There are a few must-see locations in the city for those who want to get out and see a fun show. The Fort Myers Community Concert Association often has several performances throughout the year. There are concerts and other performances at the Barbara B. Mann Performing Arts Hall located onsite. Another fun evening out is at the Broadway Palm Dinner Theatre. It typically features comedy and shows from Broadway. Not only are those in attendance able to catch a fun show, but there's also a buffet included with the experience.
Florida Rep is another sensational experience. This is a first-class theater service in the region, with numerous theatrical performances throughout the year. Various plays, comedy shows, and other forms of theater take place here.
Keep in mind that these are just a few of the cultural experiences in the area. Many local festivals host events throughout the year perfect for those celebrating a specific culture or ethnicity. There are also numerous other options available to explore up and down the coastline. Be sure to check their list of shows taking place as these change every week.
Fort Myers Nightlife
Fort Myers Nightlife Destinations
City Tavern
Keys Bar & Grille
Buster's Sports Tavern
Society in Bell Towers
Cigar Bar Live
Fort Myers Brewing Company
World of Beer
Millennial Brewing Company
There are several local bars and clubs worth exploring for those who want to get out and have some fun. City Tavern is one of the most recognized. It's in the downtown area and typically has live bands or music each week. The Keys Bar & Grille is another option for those looking for a sports bar-style experience. Buster's Sports Tavern is another sports bar, but it's a bit different. It's very welcoming to all age groups. It is the type of place to visit, grab a pizza, and watch the big game.
Society in Bell Towers is the next level of fun in nightlife. It offers a contemporary vibe with a good menu of American cuisine. It also has live music each day of the week and has dancing in its rooftop lounge.
Other locations to check out include Cigar Bar Live, where there are often live bands and music. Or, for those that love a good, fresh brew, choose from one of several locations such as Fort Myers Brewing Company, World of Beer, or Millennial Brewing Company, all located near the city's downtown area.
Finding Things to Do in Fort Myers Is Easy
Fort Myers is known for its quality of life and affordability, especially when compared to other big cities. It's a vibrant community with plenty to do and see no matter what interests a person has. From exploring the open water and beaches to taking in a fantastic meal and a locally brewed beer, there are plenty of exciting opportunities in the city. More so, it is close to many other attractions in the southern area of Florida, making it possible to always have something to do.