What Is a Gated Community? Pros & Cons of Living in Gated Communities
Posted by Marcus Larrea on Monday, February 13, 2023 at 12:44:01 PM
By Marcus Larrea / February 13, 2023
Comment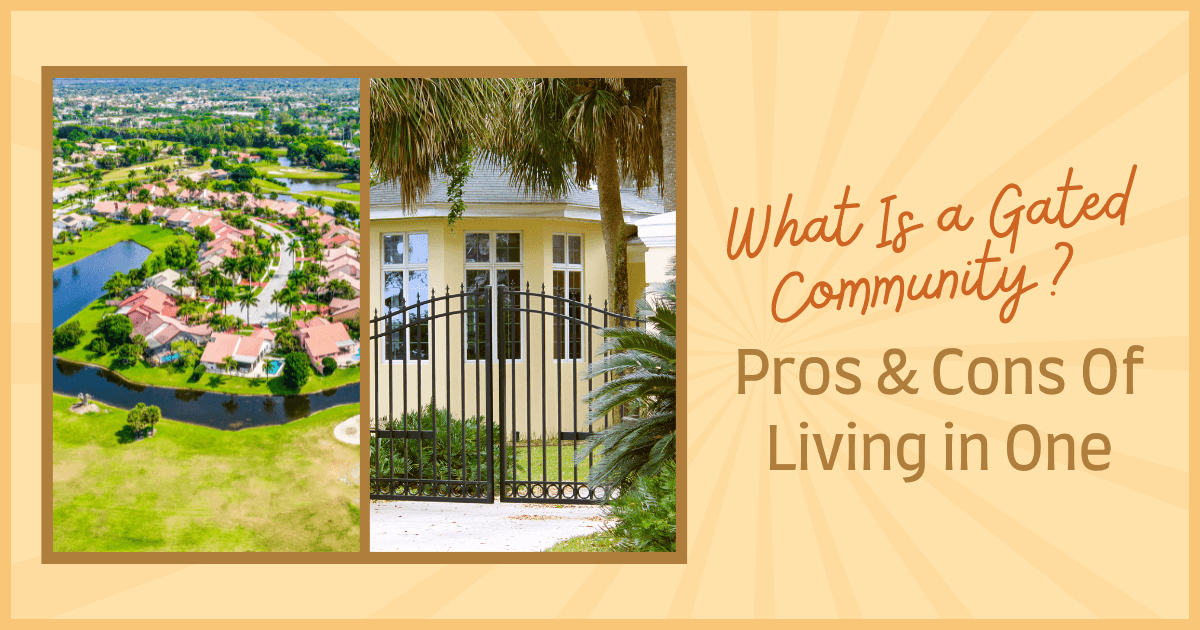 Roughly 11 million U.S. homes are located inside gated communities. They're more common in southern and western states. California, Texas, Georgia, Florida, and British Columbia have comparatively large numbers of these communities. Gated housing developments have recently become more prevalent in some regions for a number of reasons, including sustainability and cost reduction. Consequently, it's not unusual to come across gated community homes when browsing residential real estate. Read on to learn the definition of a gated community while discovering the significant pros and cons.
What is a Gated Community?
A gated community is a group of homes with a gated entrance. A security guard or automated system opens the gate for authorized residents. People may use identification cards to gain access. Visitors and contractors can only enter the area after receiving permission from a resident. These neighborhoods usually have homeowners' associations that maintain streets, enforce various rules and provide certain amenities. Gated communities vary in some ways, but they typically have three things in common:
Residential buildings
A homeowners' association
Restricted street access
Gated residential developments come in two forms: manned and unmanned. Gated developments can be found all across the country—from the waterfront to the mountains and from urban settings to the most rural expanses—but the main distinction among them is their manned or unmanned status.
Gated neighborhoods often come to be when real estate development companies purchase unoccupied land. They create plans and carefully determine the locations of dwellings, streets, and common areas before starting construction. One company may build every home rather than selling vacant lots for individual buyers to develop. A particularly large planned neighborhood, known as a master-planned community, can be gated (manned or unmanned) or ungated.
Pros & Cons of Gated Communities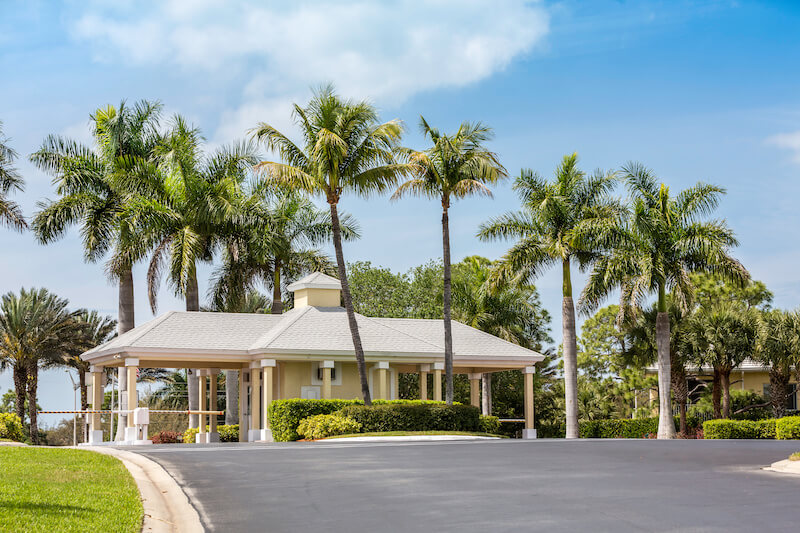 These housing developments offer benefits and drawbacks that homebuyers shouldn't overlook. Gated community benefits include recreational amenities, well-maintained infrastructure, and a tranquil atmosphere. Homeowners don't have to put up with solicitors or heavy traffic. On the other hand, gated access makes it harder to invite guests. Residents frequently face higher living expenses as well. They generally spend more money on housing, association fees, and transportation. Homeowners also need to follow relatively strict HOA rules.
Advantages of Gated Communities
These neighborhoods have the potential to deliver a higher quality of life. Gates, surveillance cameras, and fences enhance security while improving privacy. Residents don't have salespeople or other unwanted visitors knocking on their doors. Increased security results in less traffic: motorists need permission to gain access, so they don't enter a gated development out of curiosity or by accident. This reduces noise and air pollution while preventing collisions.
Gated communities usually supply plenty of private amenities. Residents can conveniently access pools, clubhouses, sports fields, golf courses, or playgrounds. Many developments maintain fitness centers with modern exercise equipment. A homeowners' association might schedule fun events as well. Thanks to these activities and common areas, some people find it easier to meet and befriend neighbors in a gated community. This is particularly true when the amenities attract residents who share a favorite pastime, such as golf.
The HOAs in gated developments enforce rules that benefit homeowners in multiple ways. They preserve the neighborhood's appearance and property values by forbidding overgrown lawns, defunct vehicles, and flashy paint colors. This increases the likelihood that home resale values will rise over time. The rules also shield residents from excessive noise. For instance, they can prevent neighbors from holding frequent yard sales or parking large commercial vehicles in their driveways.
Drawbacks of Gated Communities
At the same time, these housing developments aren't ideal for every homebuyer. One of the major disadvantages of gated communities is that they don't always provide convenient access to stores and restaurants. They also make it more difficult to receive deliveries from these businesses. A homeowner may need to open the gate for a delivery vehicle or call the guard booth to give permission. Likewise, it becomes harder to obtain home services from contractors. Service providers may face time restrictions, entrance delays, and gate fees.
As a result, contractors often charge more when they serve residents of gated neighborhoods. Homeowners also face several other extra costs. The HOA has to maintain common areas, security systems, and streets. It may need to employ security guards as well. Residents must pay for all of these services in their HOA fees. However, they don't have to spend large sums to put in their own swimming pools or automatic gates. Homes in these developments generally cost more than equivalent dwellings located elsewhere.
Although HOA rules protect property values and limit outdoor clutter, they can be controversial. Some people gladly follow them, while others face problems when they customize their homes or adopt new hobbies. A community's policies might not allow home-based businesses, recreational vehicles, clotheslines, or solar panels. Associations may regulate exterior paint colors and the height of lawn grass. Rules have the potential to create extra expenses, such as the cost of renting off-site storage space for an RV.
Deciding Where to Live
After evaluating these gated community pros and cons—and the pros and cons of the HOAs that more than likely oversee them—it's essential to realize that every development differs. Fees, prices, housing options, rules, and amenities vary. Many buyers succeed in locating communities that accommodate their needs and lifestyles. Nonetheless, some individuals find non-gated townhouses or single-family homes more suitable. These properties offer greater flexibility at a lower cost. To some extent, the best choice depends on personal priorities and preferences.