High-Rise vs. Low-Rise Condos: Which is the Best Option for Your Next Condo?
Posted by Marcus Larrea on Tuesday, April 4, 2023 at 10:49 AM
By Marcus Larrea / April 4, 2023
Comment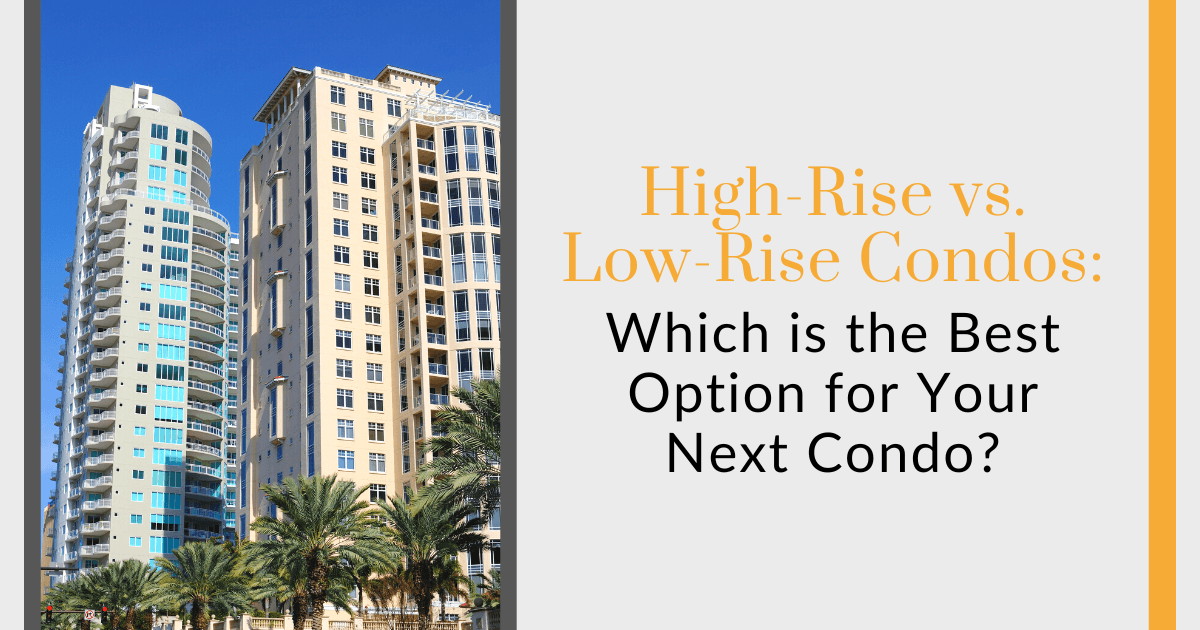 Buyers looking to purchase a condo may not realize how drastically different complexes can be in size, design, and layout. A condo's style can directly impact a lifestyle, so it's a good idea for home seekers to consider what they envision and focus on touring properties that can offer them the type of life they desire.
Condominiums are essentially separated into different categories determined by a building's height and the number of units per floor. Additionally, government entities such as cities, counties, or states may have classifications for condo structures, which may vary slightly. Two common categories designated for condos are "high-rise" and "low-rise." Before investing, buyers need to understand the differences between high-rise and low-rise condos and the type of lifestyle they can expect as residents.
What Defines a High-Rise vs. a Low-Rise?
Distinguishing the differences between what exactly defines a high-rise condo vs. a low-rise condo is very straightforward. Essentially, it comes down to the size of the buildings located in the complex or on the plot of land.
High-rise condos typically start at 10 stories high, and it's very common for modern structures to be much taller—even as high as 131 stories up in the sky. Often located in downtown and urban areas, high-rise condos are also increasingly being erected in coastal regions. Most high-rise structures offer residents elevators and other conveniences inside the building or in smaller structures on the property. Parking will vary, but complexes may offer ground-floor under-building parking, a garage, or open outdoor parking. Prices on these units run from moderate to luxury, depending on the location, views, and amenities.
Low-rise condos are typically one to nine stories high and offer more units per floor when contrasted with high-rises. These buildings and complexes are in urban or other residential areas. Building designs are usually simple and sometimes provide an elevator, but smaller complexes usually have staircases. For convenience, low-rise condo properties usually offer residents open carports or detached parking in a separate garage structure. Low-rise condos range from basic to luxury and are priced accordingly.
Get Unparalleled Views in a High-Rise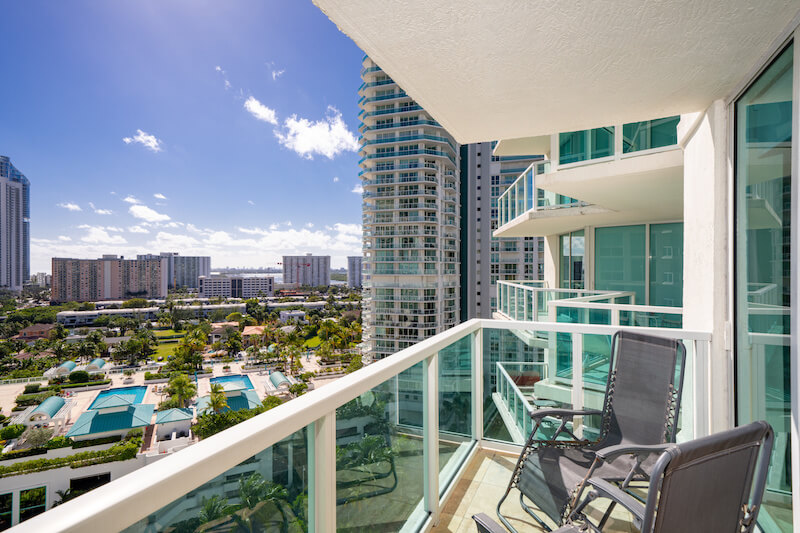 One of the best benefits of living in a high-rise condo is the unparalleled views. Urban dwellers enjoy a pristine view of their city's skyline and downtown cityscape. At the same time, coastal residents appreciate living in high-rise condos with fantastic water views and sun-kissed beaches from their windows and balconies. Either way, the views in these buildings allow residents to fully enjoy the prime locations they tend to be built in—not to mention that high-rise condos get fresher air due to being far above traffic and other pollutants.
Aside from the incredible views and desirable locations, living in a high-rise condo has numerous advantages, including living in proximity to transportation, easier commutes, and enjoying vacation-destination-type amenities. Additional advantages include on-site conveniences, such as shops, cafes, fitness centers, security, pools, hot tubs, or other leisure amenities. Another benefit of living in a high-rise is that owners on higher floors generally hear less street noise. When owners are ready to move, high-rises typically have solid resale values, making these residencies a good investment.
Low-Rise Living Also Has Benefits
While high-rise units are desirable, buying a low-rise condominium is also an excellent decision for many homebuyers due to the numerous advantages of these smaller buildings and property complexes. For starters, owners can enjoy a maintenance-free home because this service comes with the purchase. Units are also typically closer to the street, making it convenient for residents when carrying groceries or other packages. Low-rise condo buyers can also sidestep the unique challenges of moving into a high-rise condo. Low-rise condo living also offers a less "city" vibe, and people living in these communities often have plenty of green spaces, such as gardens, ponds, walking trails, and other natural backdrops.
Other advantages include fewer units, which is terrific for people who want to enjoy a quieter lifestyle. On average, low-rise condos have just six to 30 units per building, which means they offer a quieter environment due to buildings being smaller or more widely spaced. This intimate atmosphere allows residents to get to know their neighbors or enjoy more privacy, further adding to the lifestyle appeal since they can enjoy the best of both worlds.
While some low-rises are in cities, most are in suburban areas, ideal for homeowners who want easy access to big-city amenities without the typically higher cost of living in those locations. Low-rise condos are usually lower priced than high-rises and may come with smaller monthly or annual maintenance fees, which is great for buyers seeking to stay within a specific budget. Like their high-rise counterparts, low-rise condos also have excellent resale values.
Like Aspects of Both? Try a Mid-Rise Condo
If you can't decide between a high-rise condo and a low-rise condo, why not try your luck with a mid-rise condo? In contrast to their higher or lower counterparts, mid-rise condos offer residents the opportunity to experience aspects of both.
There is some discrepancy over how many floors a building needs to be considered a mid-rise, but the general consensus is five to 12 stories. Mid-rise condos typically include fewer units than high-rise buildings and often feature more amenities than low-rises. Residents are also likely to have access to a variety of common areas, such as fitness rooms, lobbies, and shared patios.
Because mid-rises typically have fewer units than high-rise condos, neighbors are more likely to become familiar with one another and form a sense of community that can be lost in massive high-rises. Mid-rises also have the advantage of lower wait times for elevators because fewer people live in the buildings.
Buyers Can't Go Wrong With the Condo Lifestyle
Whether a buyer's preference is a high-rise or low-rise condo, they can't go wrong with either option. Both housing types offer distinct advantages, and homebuyers can select a unit based on their desired location, budget, and the kind of lifestyle they seek.