8 Home Improvement Projects That Yield a High Return on Investment
Posted by Marcus Larrea on Monday, May 10, 2021 at 10:00 AM
By Marcus Larrea / May 10, 2021
Comment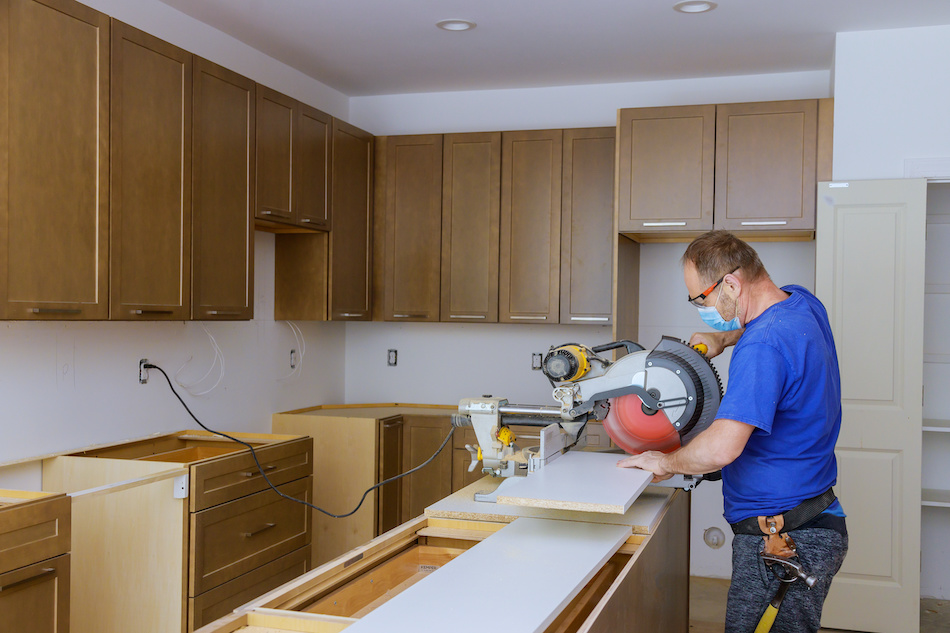 Renovations are a worthwhile investment if it makes the homeowner happy and comfortable. However, if looking to retain value or recoup some of the money spent, especially if selling the home is in the future, know which projects bring a better return. Here are several home improvement projects that yield a high ROI.
Upgrade the Front Door
First impressions are important, and front door replacements are one of the top improvements homeowners can make. It adds security, durability, and comes with low maintenance—and can even improve your home's energy efficiency. Steel doors are widely popular and sought-after upgrades. A new door seems like an easy fix, but it almost always yields a 100% ROI.
Update to Hardwood Flooring
Hardwood flooring is one of the best upgrades a homeowner can make. While carpeting still has its place, nothing boosts appeal as fresh hardwood floors. According to Millionacres, 99% of real estate agents recommend that sellers install or refinish hardwood floors before putting their homes on the market. Some figures suggest hardwood adds 2.5% to the sales price because 54% of buyers are willing to pay more for hardwood.
Add a Stone Veneer
Tired of the vinyl siding look? Why not add a stone veneer to the home's entryway? This is a huge upgrade in terms of curb appeal. It also gets a strong return, about 95%.
Replace the Garage Door
Garage doors bring a good return on the money spent and add nice curb appeal. For removing an old door and installing a new one, homeowners who are reusing existing motorized garage door openers can get a strong return. They are looking at about a 95% ROI.
Give the Kitchen a Minor Remodel
Kitchens are typically the heart of any home. People cook, eat, and gather together near the kitchen. Major kitchen remodels don't yield the same type of return they used to, but minor refreshes still go a long way towards adding function and appeal to any home. Minor kitchen remodeling projects to consider investing in include new appliances, new sink/faucets, resurfacing cabinets (with updated hardware), painting walls, and installing new lighting, new flooring, and new countertops. Most minor projects recoup about 80% of the money spent.
Refresh the Bathroom
Along with kitchens, bathrooms are one of the top areas potential buyers will scrutinize. A simple upgrade to the sink, faucets, and vanity can give a completely new look. New lighting can add a significant appeal. Replace old tired floors with one of these types of flooring. How much can be recouped depends on the type of upgrade, the scope of the project, and money spent.
Install New Windows
Homeowners who look to replace their worn windows with new ones net about 70% of their return. Not only are newer model windows more energy-efficient, but they also add a great look. Comfort, beauty, and cost savings are wrapped up nicely in one singular upgrade.
Smart Features Are a Smart Decision
Smart features will typically bring a strong return as they are consistently one of the top features home buyers seek when looking to purchase a home. Great smart upgrades include:
Thermostats
Washers and dryers
Refrigerators
Dishwashers
LED lighting
Home security features
How much of an ROI these bring will vary, but rest assured, they'll add more overall appeal and may trump some other improvements simply because of the convenience and efficiency they bring.
Get the Best Return on Investment with Home Improvements
Before spending excessive amounts of money on home improvements, know which renovations are worth the investment and which ones aren't. Many upgrades don't yield the return hoped. It's a good idea to research the value of potential improvements by region before spending the money to complete them.