Maximizing Your Waterfront Property's Value: How to Get the Most Bang for Your Buck
Posted by Marcus Larrea on Thursday, June 15, 2023 at 10:16 AM
By Marcus Larrea / June 15, 2023
Comment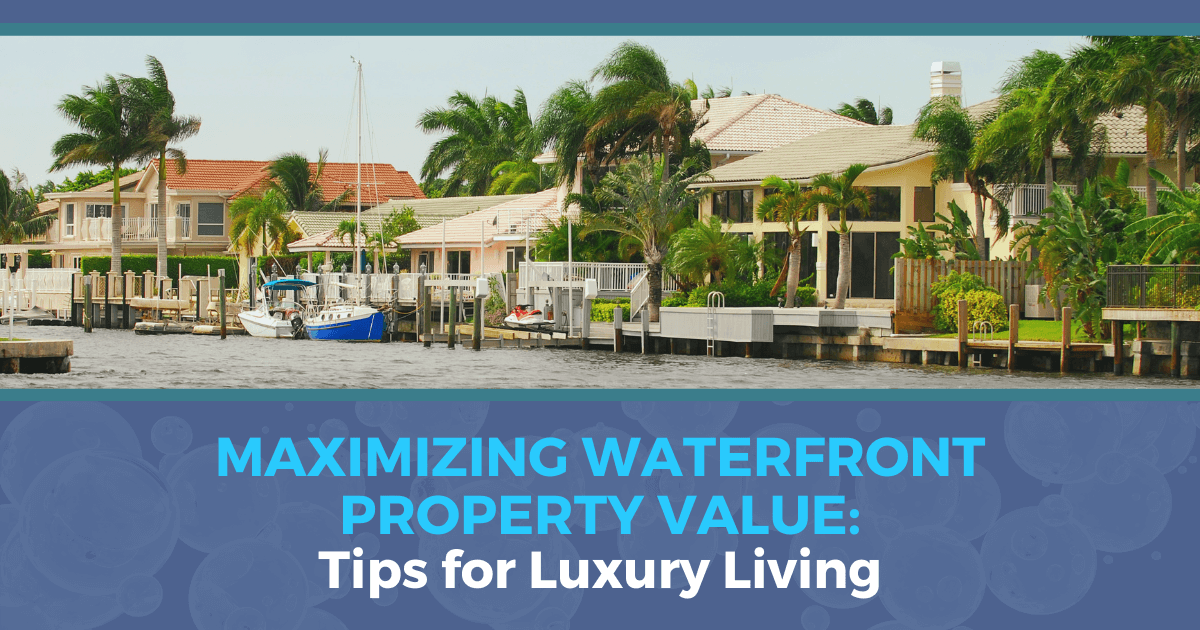 When it comes to luxury living, there's nothing quite like what waterfront homes offer. The serene views, the calming sound of waves, the easy access to the water, and the opportunity for various waterside activities make it an ideal choice for those seeking a truly lavish lifestyle.
However, simply buying a luxury waterfront home is not enough. To truly make the most out of this exquisite living experience, homeowners should take a few key steps. By following these tips and tricks, homeowners can ensure their luxury waterfront home becomes the ultimate haven of relaxation and enjoyment.
A Private Dock or Boat Slip Enhances the Luxury Waterfront Lifestyle
Those who want to maximize their waterfront luxury home experience should add a private dock or boat slip. These desirable additions not only enhance the aesthetic appeal of a property but offer unmatched convenience and quick access to the water. Imagine stepping out of your home and onto your very own dock, ready to embark on a boating adventure or relax by the water's edge. With a private dock or boat slip, the waterfront lifestyle becomes effortlessly accessible.
Having an existing properly permitted dock is a big plus for buyers, as it eliminates the hassle of obtaining permits and ensures compliance with local regulations. It also adds significant value to a waterfront home purchase, making it more attractive to potential buyers in the future.
A private dock or boat slip offers a sense of exclusivity, allowing you to enjoy the water without relying on public access points or crowded marinas. You can invite friends and family over for a day on the boat or enjoy the tranquility of the waterfront in privacy.
In addition to convenience and increasing the home's value, a private dock or boat slip opens up a world of water recreation. Homeowners can easily launch their boats or personal watercraft whenever they please, enabling spontaneous trips to explore nearby islands, go fishing, or engage in water activities while embracing an active lifestyle. It also provides a convenient spot for swimming, sunbathing, and enjoying the beautiful views of the water.
Live in a Community with Additional Amenities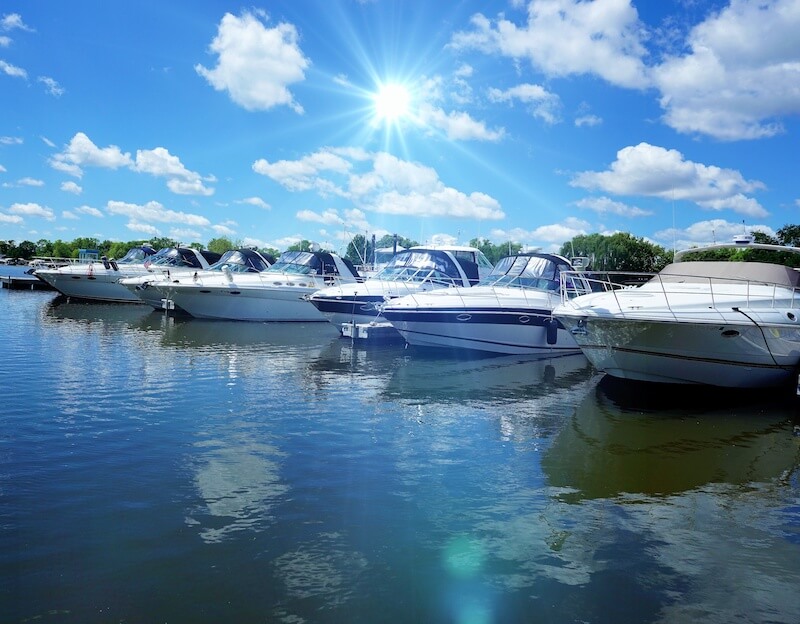 Enhance your waterfront living experience by residing in a community that offers an array of additional amenities. Many luxury waterfront homes are located in communities that provide exclusive access to amenities such as community-only marinas and clubhouses. These other community amenities increase a property's value and enhance one's overall lifestyle.
Living somewhere with a community-only marina can be a dream for boat enthusiasts. Imagine having direct access to your own boat slip and a place to store and maintain your watercraft. Whether they enjoy leisurely boat rides or are avid fishermen, having a community marina steps away from their homes will allow owners to make the most of their property on the water.
Clubhouses in waterfront communities offer residents a place to socialize, relax, and enjoy various recreational activities. These clubhouses often feature swimming pools, fitness centers, game rooms, and lounging areas.
The clubhouse becomes an extension of one's luxury waterfront home, providing additional spaces to entertain and enjoy the company of others. It also allows residents to connect with like-minded individuals who share their love for the water and the private lifestyle of waterfront living communities.
Living in a community with additional amenities is the key to getting the most out of your luxury waterfront home. Whether it's a community-only marina or a clubhouse with various recreational facilities, these amenities enhance one's waterfront living experience and provide them with opportunities to enjoy their surroundings to the fullest.
An Outdoor Living Space Can Maximize Your Water Views
Immerse yourself in the breathtaking beauty of your waterfront property by creating an outdoor living space that amplifies the mesmerizing views of the water and the great outdoors. When considering waterfront home design, it's crucial to think about the layout and arrangement in a way that ensures unimpeded views of the water. This can be achieved by strategically placing furniture and structures, such as pergolas or awnings, that provide shade and privacy without compromising the sightlines. By carefully planning outdoor areas, homeowners can maximize their water views and create a space where they are able to experience inspiration and relaxation.
In addition to ensuring beautiful water views, it's important to make it easy to spend lots of time in the area where the view is the best. This can be achieved by creating comfortable seating areas facing the water. Plush outdoor sofas, lounge chairs, and side tables for drinks and snacks can transform your outdoor space into a luxurious oasis. Consider incorporating elements like fire pits or outdoor heaters to extend the area's usability beyond the warmer months, allowing you to enjoy stunning water views year-round.
To further enhance an outdoor living space and maximize the enjoyment of waterfront views, homeowners should consider adding features like an outdoor kitchen or a dining area. Doing so will provide a functional space for entertaining guests and allow residents to enjoy delicious meals while surrounded by the beauty of nature. By incorporating elements like a barbecue grill, sink, and dining table, homeowners can seamlessly transition between indoor and outdoor living, making the most of their luxury waterfront home.
Beach Access Rights: Understand How You Can Use the Water
Whether you purchase a home with ocean views or a waterfront home near a lake or river, ensure you have unrestricted access to the water and beach areas. Deeded access is a crucial aspect to consider, as it guarantees your ability to make use of the waterfront. By checking for these rights, homeowners protect their ability to enjoy the water and gain valuable information about other parties with protected access. This knowledge can impact various aspects of the property, such as landscaping options, security measures, and even potential interactions with neighbors.
Having deeded access to the water and beach area allows owners to fully embrace the luxury and beauty of their waterfront property. It will enable them to engage in various activities, such as swimming, boating, fishing, or simply relaxing by the shore. However, homeowners may face limitations or restrictions when using their waterfront space without these rights.
Additionally, checking for water/beach access rights provides valuable information about other parties with protected access. This knowledge can be beneficial when it comes to property management and decision-making. For example, if multiple parties have access rights, owners may need to consider their presence when planning landscaping or security measures. It can also help to foster a sense of community and understanding among neighbors with access rights. By being aware of and respecting each other's rights, you can create a pleasant waterfront living experience for everyone involved.
Get the Most Out of Your Waterfront Home
These four ways to maximize the potential of a luxury waterfront property allow owners to make the most of their waterfront home and enjoy the benefits of living by the water, like the optimal views, the high return on investment, and the many waterfront activities they can enjoy year-round. With careful planning and attention to detail, homeowners can create an exceptional waterfront retreat that offers beauty and functionality.