4 Luxury Condo Design Tips: Interior Design Ideas For a More Luxurious Condo
Posted by Marcus Larrea on Tuesday, January 17, 2023 at 3:18:32 PM
By Marcus Larrea / January 17, 2023
Comment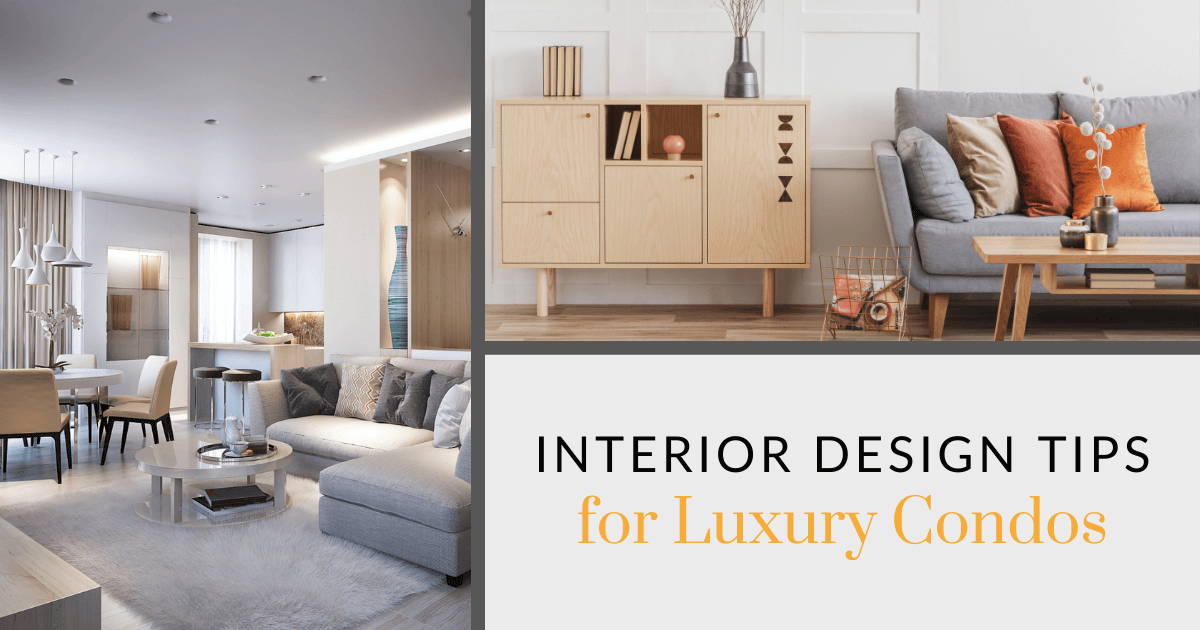 Buying a luxury condo comes with the opportunity for creative, unique, and innovative interior design ideas. Determining how the space will be used is just the beginning. It's also important to consider its aesthetic and how it makes one feel when living in the space. Design elements, from basics like flooring and lighting to accents and artwork, make a difference. Explore a variety of interior design ideas, especially for luxury condos.
Less is More
Over-the-top opulence comes and goes in design trends, but understated elegance stands the test of time. Design trends for luxury condos fluctuate like any other design field, from fashion to architecture. The "less is more" approach to interior design for luxury condos embraces the concept of "relaxed luxury." It's a design concept that steps away from bold trends like ornate fixtures, uncommon materials, and an abundance of high-end art pieces.
Understated elegance as a design concept for a luxury condo is more about clean lines, neutrals, and the practicality of living in a space that offers tranquility and beauty. Less-is-more doesn't have strict rules, making it an attractive and accessible design concept for a range of floor plans. Keeping a well-designed condo uncluttered by excessive accessories and ornate finishes can make the space feel more luxurious.
Embrace the less-is-more interior design theory by focusing on what matters most and considering how the space is used. Natural palettes and neutral tones are accented by materials that attract the eye but don't dominate the attention within the area. Solitary artwork can be all that's needed to enhance the elegance of a living room, while modern slab cabinets bring a minimalist feel to the kitchen with ease.
Draw Inspiration from Nature
Drawing inspiration from nature is a classic design element that can be done with understated elegance and utilizing sustainable resources if desired. The surrounding environment of the condo can inspire various natural features ideal for luxurious interior design. When drawing inspiration from nature, consider elements that reflect and enhance personal style, interests, and passions.
Stone is a popular natural element for interior design, especially high-end marble and granite slabs with stunning veins. However, designers have exceeded expectations and are taking things to the next level of luxury with unique stone elements in every condo room. Here are some special stones to use:
Geodes: Stunning tabletops crafted from large geodes create one-of-a-kind furniture art
Ice Blue Calcite: A slab of this eye-catching stone can be used for counter and table tops, bar counters, and wall panels—just remember to treat it with care, as calcite scratches easily
Purple Jade: An elegant purple jade slab can create a beautiful statement wall in an entranceway, bathroom, walk-in dressing room, or living area
Yellow Opal: Reflective and unique, opt for yellow opal accents on a vanity or as an art piece. Be careful using opal as material for countertops, however, as opal is known for being a softer stone that can crack easily
Sustainable materials like bamboo are another way to bring nature into the interior design, from durable flooring to accent details. Live edge countertops, shelves, and tabletops are one-of-a-kind, adding to the luxury of a room. Another option is Shou Sugi Ban, the Japanese technique for charring wood, usually cypress. It's not only durable but also waterproof, so it can be a great way to carry the natural elements into spaces like the bathroom.
Stay Up-to-Date on Condo Kitchen Trends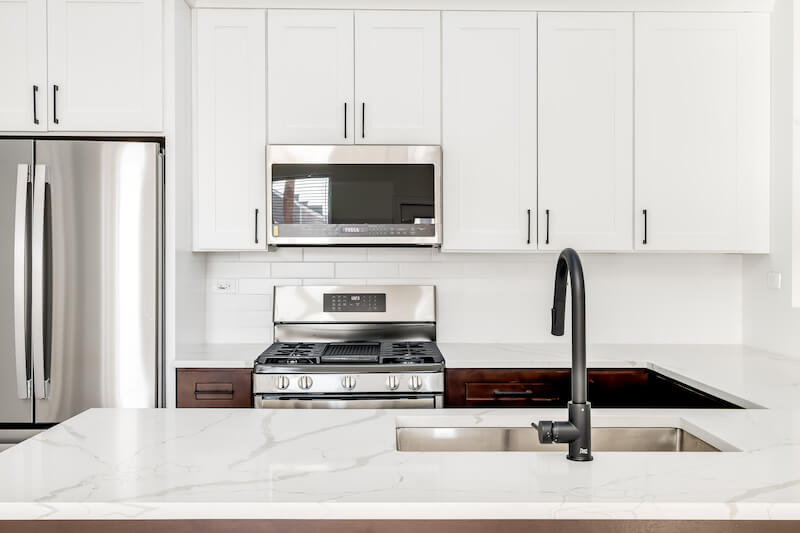 A well-designed kitchen can elevate any home, but in a luxury condo, this area has to stand out. The modern luxury condo kitchen typically features smooth lines, high-performance appliances, and a clean, uncluttered look. Keep this high-traffic space luxurious but also functional with these condo kitchen trends:
Custom cabinets that extend from floor to ceiling and feature smooth fronts—no handles, hardware, or trim. An additional benefit of this design is its tremendous amount of storage space
Built-in options like a warming drawer, wine storage, sound system, hidden trash/recycling, and a seamlessly built-in refrigerator enhance the kitchen space while adding functionality
High-performance appliances like a sub-zero refrigerator, convection oven, steam oven, commercial-grade stove, and extra-capacity dishwasher are luxury items any home chef will enjoy
An extra-large island with built-ins, a sink, and a cooktop is ideal for entertaining
Smart home tech that syncs with your favorite apps and other home automation devices
Choose Different Themes in Each Room
Elevate the interior design of a condo into high luxury with a cohesive theme. Different themes or styles for each room are a great way to express creativity, showcase collections, and incorporate personal interests into the decor. However, when choosing different themes for each room, keeping a cohesive thread is essential. Without that cohesion, the overall feel of the condo can become disjointed and chaotic.
What type of themed rooms can work, keeping the luxury feel of the condo? Consider:
Hollywood glam: Metallics, velvets, and a rich color palette in deep reds, golds, and classic black
Seaside cottage or beachy elegance: Airy, flowing materials, lighter woods, and tranquil sea colors at sunset
Industrial chic: Usually a combination of wood, metal, concrete, and exposed brick
Minimalist modern: May include actual Mid-Century modern furniture pieces and art with smart-tech, sleek lines and a neutral palette
Art deco: Mix and match collector pieces with modern reproductions to revive a style that's never truly gone out of style
Finding that cohesive point can be difficult when choosing a different theme for each room. It may be as simple as a single color found in each room, either as a primary color or as an accent. In addition, the colors for each room should complement each other, even if the themes are different. Having wildly contrasting colors can create a disconnect and deemphasize the luxurious feel.
Interior Design Ideas for Condos: Expansive and Unlimited
Interior decorating goes beyond choosing paint colors, accent fabrics, and unique artwork, and interior design for condos can be even more nuanced. The range of interior design ideas for luxury condos is as varied as the amenities their buildings offer. Condo buyers have many options for making the space truly personal and luxurious. From design techniques that highlight a more minimalistic approach to drawing inspiration from nature, embracing trends, and exploring different themes for each room, there are elements for every condo and its owners.
Fort Myers Luxury Condo Resources