July Real Estate Market Update
Posted by Marcus Larrea on Thursday, August 12, 2021 at 2:26 PM
By Marcus Larrea / August 12, 2021
1 Comment
Is our local real estate market finally seeing signs of slowing down? In this month's market update, I will be sharing with you our market outlook for the remainder of 2021.
Hi it's Marcus Larrea with Palm Paradise Real Estate and today I'm joining you from our latest gorgeous, new home construction closing in Town and River located on the water in Fort Myers, Florida.
If you have been watching our monthly market updates, you have heard that the last several months have produced a red-hot seller's market seeing month over month median sale price increases with an average of 3% or more! We have never seen the likes of this before with many of these sales being cash purchases. Homes have been selling for record high prices in a record amount of time.
But... will this change soon?
Having helped well over 220 families buy or sell homes in 2021 through the month of July, we are extremely tuned into the market and here is what I see happening.
The market is likely to level off a bit as we head into fall as kids get back to school. To be clear, this does not mean that we will be shifting from a seller's market to a buyer's market. Far from it in fact. It just means we may not continue to see record high sale prices month after month for the remainder of the year. At some point the market has to start leveling off and I believe we have just about reached that point.
But what does that mean in practical terms?
Houses may take a bit longer to sell and when I say a bit longer, I mean maybe 2 weeks or so instead of a week or less.
We will hopefully start to see more inventory hit the market as we approach our seasonal months in January through April, though not by much.
Bidding wars will still be around, but just won't be as prevalent and frantic.
Housing prices may still continue to increase but not at the drastic rate they have been increasing thus far this year.
The data already shows this happening as we move into the second half of summer. A great way to gauge market performance is by looking at how many houses are closing each month compared to the same month last year due to the seasonality of our market.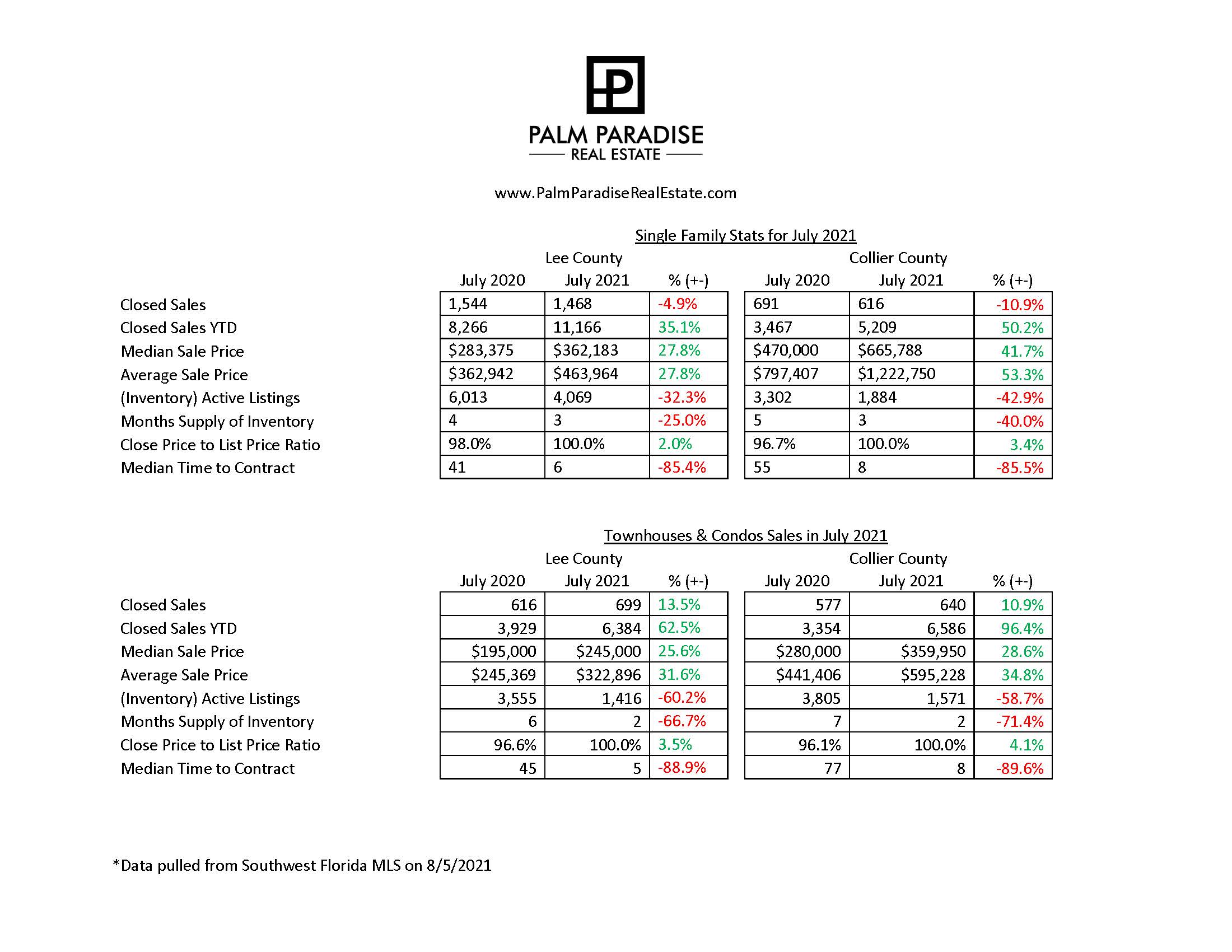 July was the first month this year in which our market had less than a double-digit percentage increase in the number of homes closed across the market. In fact, we actually had a slight decrease in the percentage of single-family homes closed from July of 2020 to July of 2021. In Lee County there were 4.9% less closings of single-family homes in July of 2021 than in July of last year while Collier County saw a decrease of 10.9% during the same time period.
Condos and townhomes still saw double digit increases in the number of closings in both Lee and Collier Counties.
However, inventory continues to drop more and more which could be a small part of the reason we are seeing less homes sold. Our local housing inventory across Lee and Collier Counties has not been this low since 2011-2012.
At the same time, local median home sale price increases are starting to level off. For single family homes in Collier County during May 2021 we saw a 44.8% median home sale price increase compared to May of 2020. In June we saw a 40% median home sale price increase from the previous year. Finally in July 2021, we saw a 41.7% median home sale price increase compared to 2020.
For Lee County, there is a clear drop in price increases from June to July. In year over year numbers from June 2020 to June 2021 we saw a 36.9% increase in median home sale price while in July year over year we saw a 27.8% median sale price increase. A difference of nearly 10%
Do you see a slight leveling off taking place here?
The sky is not falling for home sellers though. It's important to remember that interest rates are still extremely low and inventory is still dropping... There is still a housing shortage.
So, what does this all mean for home sellers and buyers?
For Home Sellers
This means that home sellers can expect to be in a strong position throughout the remainder of the year and as we head into our season during the winter months of early 2022. Particularly for those that have leveraged the most effective selling strategies.
To be frank, in a seller's market like this, houses are likely to continue to sell at or above asking price. But there is a difference between selling your house for more than you expected and selling your house for the absolute maximum price. This is a huge risk sellers face in our current market as many sellers are starting to price their homes without a clear strategy. Leaving money on the table because they did not leverage the optimal pricing, marketing and negotiating strategies. We make sure our clients have every advantage possible so their home sells for the highest price, and they don't have to wonder if they left money on the table.
For Home Buyers
Last month alone we helped over 20 families purchase homes in this highly competitive market. It all comes down to, again, the right strategies that are working in this fast paced market and true expertise.
If you'd like to enjoy the best results possible in your upcoming home sale or purchase, I invite you to reach out to myself or one of our team members at www.PalmParadiseRealEstate.com or give us a call at 239-349-2487.