June Real Estate Market Update
Posted by Marcus Larrea on Thursday, July 8, 2021 at 6:26 AM
By Marcus Larrea / July 8, 2021
Comment
Halfway through the year and all sorts of records are being broken in our real estate market across Southwest Florida! When will home price increases start to slow down?
Hi, it's Marcus Larrea with Palm Paradise Real Estate and if you are keeping up with the real estate market in Southwest Florida, you do not want to miss this update!
We are now halfway through 2021 and we have seen a record number of homes sold across Southwest Florida. Through June, there have been approximately 27,174 homes sold in our MLS. That's 51% more homes sold than the previous best in the last decade when 17,993 units sold through June in 2015!
Median single family home prices in both Lee and Collier Counties continue to increase through June, up 37% from June last year in Lee County and up 40% from June last year in Collier County.
So, what is causing this seller's market to keep gaining momentum? And why do home values continue to climb?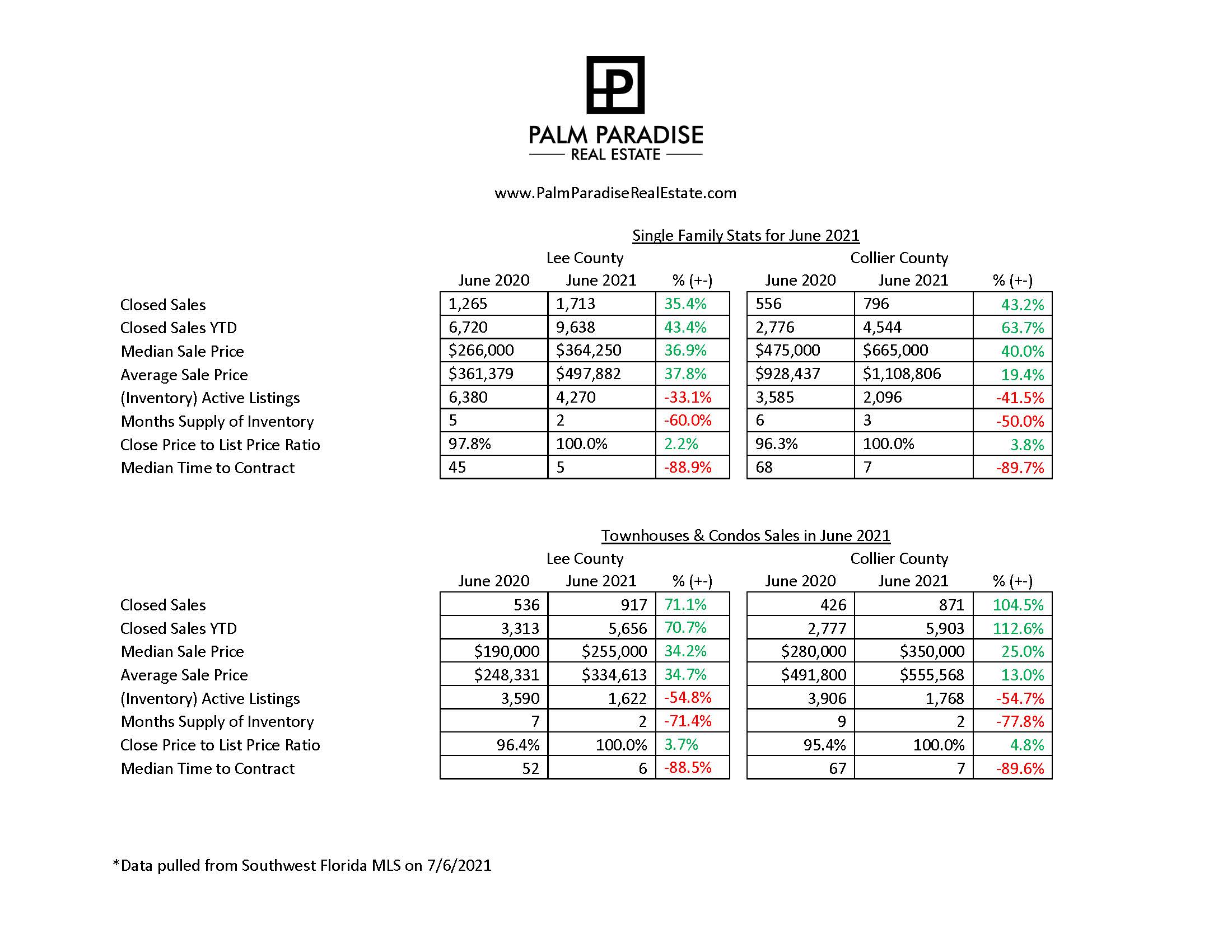 In past videos I've discussed the key drivers for this seller's market:
Low interest rates
Low housing inventory caused primarily by a housing development hangover from 2009
Both of the above factors further amplified, by many of the factors revolving around COVID.
But, there is yet another factor influencing median home values across Southwest Florida.
Another reason we're seeing values increase so much is due to inflation. There's no doubt about whether our economy is experiencing serious inflation right now. The debate is about whether we're going to see Hyper-inflation. Even though home values are at record highs, many buyers are concerned that they'll be even higher in the future, due to inflation.
I wouldn't presume to make any long term macro-economic predictions. But, I do believe it's safe to say that local home values are going to remain very high throughout 2021, especially as many buyers look to take advantage of the low interest rates before they start climbing to fight off inflation.
So what does this all mean for home sellers and buyers?
For home sellers, it is safe to assume that your home will sell at a premium right now and sell fast. This is true, to a certain extent. Market conditions are prime for a high value sale but it is not guaranteed you are maximizing your potential earnings. Positioning, pricing, and a marketing strategy geared for current market conditions are key and experience in this market matters.
Here on the Palm Paradise Team, we have completed well over 300 transactions in the last 12 months, split between both buy sides and sell sides giving us the experience and up to date market knowledge needed in this market to help our customers win. Choosing the right team with the right strategy makes all the difference in maximizing the value of your home when selling.
For home buyers in this market, success also depends on strategy.
This year alone, the Palm Paradise Team has helped nearly 200 families beat out the competition to go under contract or close on a home to live their unique Florida lifestyle.
In almost every case we were up against a bidding war. But, because we are highly in-tune with the market and because we know how to ask the right questions, we have been able to help our customers come out on top, time and time again.
If you'd like to discuss selling or buying a home in this unprecedented, fast-moving market, I invite you to reach out to myself or one of our team members at www.PalmParadiseRealEstate.com or give us a call at 239-349-2487.
Thank you so much!