March 2020 SWFL Real Estate Market Update
Posted by Marcus Larrea on Wednesday, April 8, 2020 at 3:49 PM
By Marcus Larrea / April 8, 2020
Comment
In the changing times we are all traveling through together, one question I am constantly asked is "What is the real estate market going to do?"
? Hi, I'm Marcus Larrea with Palm Paradise Real Estate, and while I can't predict what the real estate market will do, I can share how the real estate market has performed in the last 30 days.
Personally, our sales at Palm Paradise Real Estate are up 122% from March of 2019 to March of 2020. Here is how the rest of the real estate market is doing through the first month of the COVID-19 Pandemic in Southwest Florida.
March was a fairly strong month for both Lee and Collier County markets. Low interest rates and inventory at near all-time lows keep prices up and buyer demand strong. View here for a look at the detailed numbers: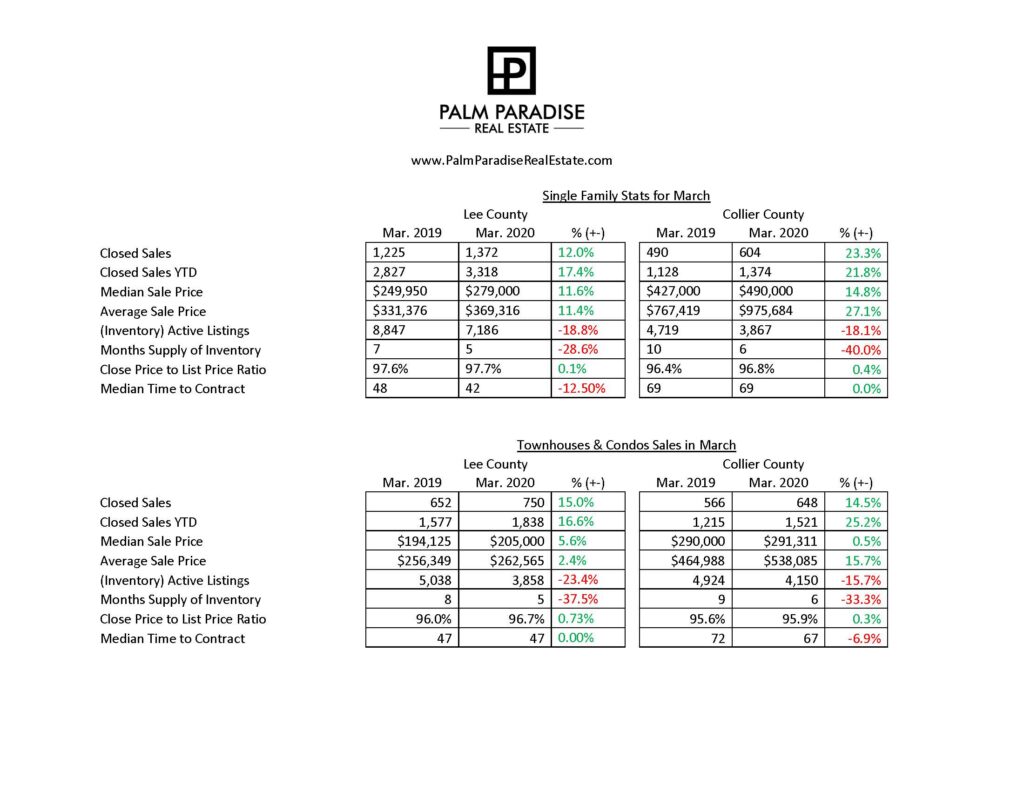 One thing we noticed is months supply of inventory has dropped considerably compared to March of last year and even compared to February. Months supply of inventory is how long it would take to sell all of the current inventory given the current pace of home sales. The general rule of thumb is If months supply of inventory is below 6 months, you are in a sellers' market, if months supply of inventory is above 6 months, you are in a buyers' market. Currently we have 5-6 months supply of inventory across Lee and Collier counties down an average of 34% from March 2019. The reason for this could be that many sellers are hesitating to put their homes on the market due to the pandemic.
However, based on the numbers and the law of supply and demand, now is actually a great time to list with inventory so low and buyer demand still steady.
What is Palm Paradise Real Estate doing to accommodate buyers and sellers that still have a need during these changing times? Buyers and sellers can utilize our real estate services from the comfort of their own home.
For Buyers, we offer virtual tours, electronic signing, and can even connect you with a title company that can perform remote closings. For Sellers we offer Facetime or Zoom seller consultations, virtual staging services, and 3D virtual tours. Reach out to us and see how we can help you with your real estate needs without leaving the comfort of your own home. ?
If there is anything we can do to support you personally or if you have any questions about the market, do not hesitate to reach out to one of our team members at Palm Paradise Real Estate.