May 2022 Real Estate Market Update
Posted by Marcus Larrea on Tuesday, May 10, 2022 at 2:22 PM
By Marcus Larrea / May 10, 2022
Comment
The real estate market across Southwest Florida has to be starting to show signs of a slowdown right?
What does the Chief Economist at the National Association of Realtors say about the market and this "most unique" recession we may be in for?
Hi it's Marcus Larrea, Team Lead at Palm Paradise Real Estate and we have the latest market data from April.
Think the market in Southwest Florida is seeing signs of a slowdown along with many parts of rest of the country? The data shows otherwise.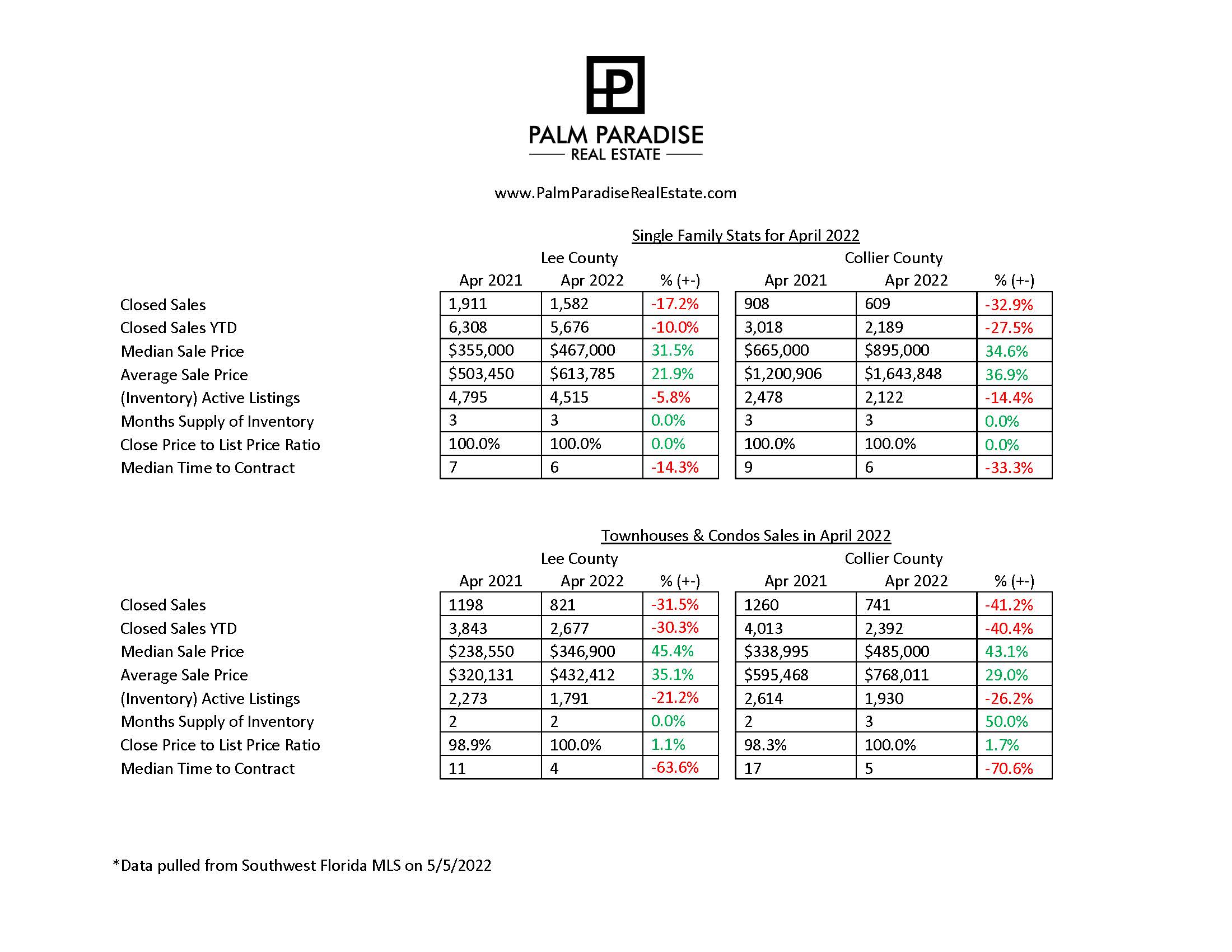 In April, we saw the median sale price for single family homes increase by almost 10% in one month from March to April in Lee County… and in Collier County that month to month median price increase for single family homes was about 11%!
Inventory remains to be a problem as we continue to see more homes being sold than new homes being listed or built across Southwest Florida.

Median time to contract remains steady at 4-6 days, just enough time for sellers to show the property, review, and accepts offers.

A few studies performed recently by Florida Gulf Coast University, Florida Atlantic University, and the University of Alabama revealed that Florida can expect to see a prolonged hot real estate market even as other parts of the country continue to cool.
As I have been mentioning for the last several months, all three studies cited high demand and low inventory across Florida as the primary reason why Florida's real estate prices will continue to increase while other parts of the country begin to cool off. The research also pointed to future population growth as additional fuel to the supply and demand issue.

So even with rising interest rates reducing the number of home buyers in the market, it will not be enough to reverse the trend of rising home prices across Florida.

As for the country as a whole, we are not headed towards a market crash as we saw in 2008. The Chief Economist of the National Realtor Association, Lawrence Yun, stated that "It's a highly unusual recession in the sense that job openings are sky-high. So even if there's a recession, it looks like job creation will continue, which is important for the healthy market." He predicted that the number of home sales nationally will fall by 9% this year and that the national average for home prices will rise 8%. But again, Florida is expected above those averages.
With all of this being said, the best time to buy or sell is when YOU feel it is the right time. We are here to inform you with the data, support you, and help you through the process when that time comes.

If there is anything we can do to support you with buying or selling a home, or if you have any questions about the market in general, please reach out to one of our amazing team members at PalmParadiseRealEstate.com or give us a call at 239-349-2487.

Thanks for watching!