May Real Estate Market Update
Posted by Marcus Larrea on Thursday, June 10, 2021 at 6:03 AM
By Marcus Larrea / June 10, 2021
2 Comments
When will the housing market crash???
Hi it's Marcus Larrea with Palm Paradise Real Estate. Let's take a look at the Southwest Florida real estate market for the month of May!
So when will the housing market crash? It seems to be a question many people are asking. However, it is just not in the forecast. And here's why...
We are not dealing with an issue in the housing market. We are dealing with a lack of supply.
Vice president and chief economist at Freddie Mac released a statement recently saying:
"The main driver of the housing shortfall has been the long term decline in the construction of single-family homes. That decline has resulted in the decrease in supply of entry-level single-family homes or "starter homes."
There is no bigger issue than the lack of available inventory across the country.
PER THE CENSUS...
In the last decade we saw just 6.5 million new single-family homes built.
In the decades PRIOR, we saw well over 10 million new homes.
The problem is that the amount of housing in the country is not keeping up with population growth. A big reason we saw such a steep decrease of new homes built in the last decade had to do with the hangover from the housing crash of 2008 and builders being hit very hard during that time.
As we look at the market stats and year-over-year comparisons, do not be fooled by headlines that say there is a spike of new listings as they are simply comparing to this time last year when we were in the early days of the pandemic and in lockdown where people were pulling homes from the market.
We must take a deeper dive to truly understand that what we are seeing is far from a spike in new listings.
Locally, we have seen 40% fewer active listings than we typically have seen this time of year compared to past year and we are seeing record months for home sales in both Lee and Collier County housing markets.
We saw yet another record month in May with 2,530 homes sold in Lee County and 1,760 homes sold in Collier County.
So far this year we have closed a total of 10,650 sales in Lee County and 8,701 sales in Collier County.
Total closed sales in Lee and Collier Counties are up 38% compared to the previous 5 year average!
Median Sale price has gone up 39% year over year for Lee County Single Family homes and in Collier County, Median Sale Price for Single Family homes has gone up a whopping 45% from May of 2020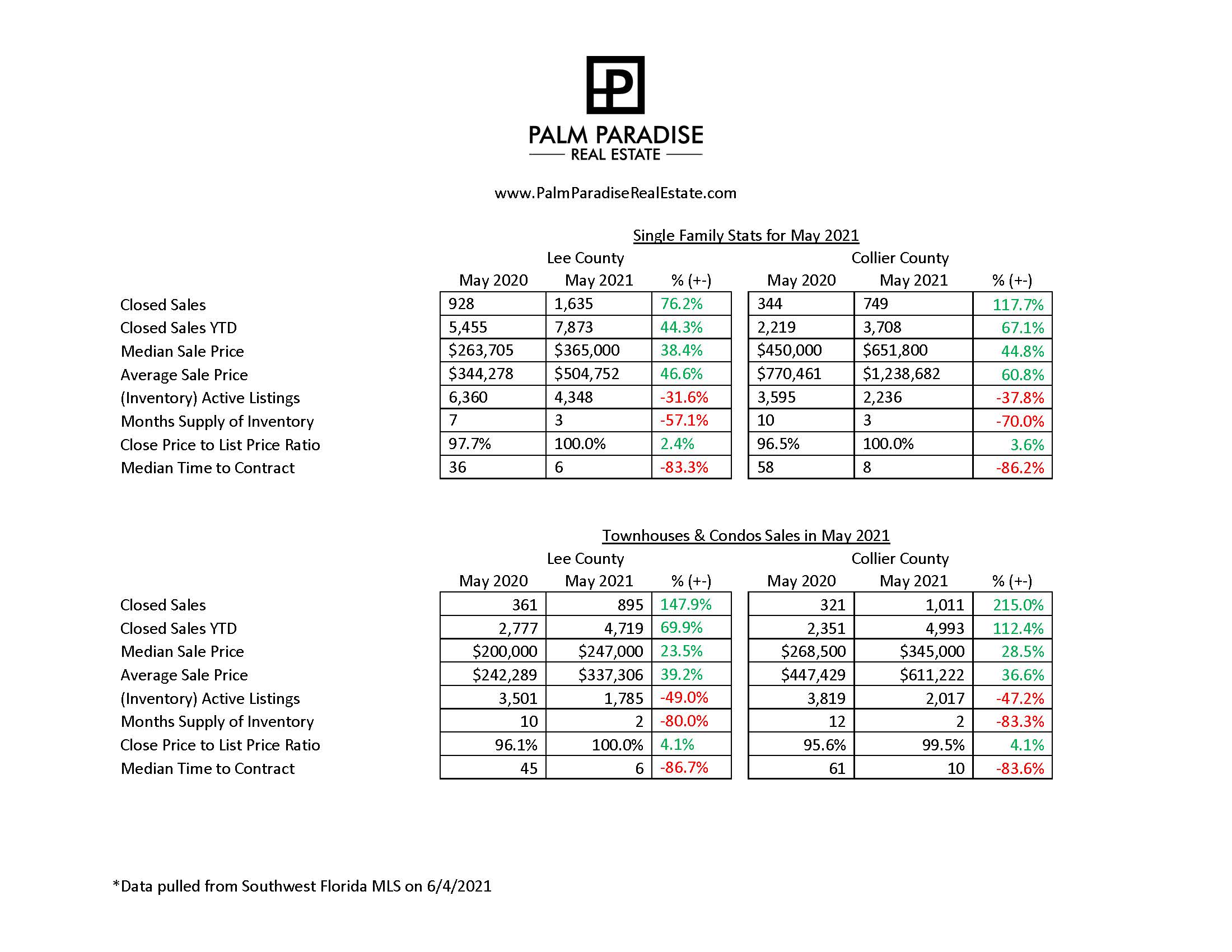 There are other factors that have further affected the housing supply...
Low inventory keeps many potential sellers from listing out of fear that they will have no where to go
Building costs have increased dramatically further slowing new construction homes coming to market
And many potential sellers have been fearful of COVID
The Chief economist at the National Association of Realtors simply states:
"This is not a bubble it is simply a lack of supply."
So the big question is... When will we see new listings come to market? A survey of economists predict that we may see more new listings in the second half of the year as people become more comfortable and confident.
Interest rates remain low with The average interest-rate since January 2021 being about 3.1%. Although rates have seen a slight increase, rates remain extremely low. But it's likely we may continue to see rates rise as the market improves.
To sum it all up, we have never seen a stronger sellers market and there has never been a better time to sell. However, There are reports of sellers leaving tens of thousands of dollars on the table with this rapidly changing market.
This market is also challenging for Homebuyers, especially for those looking to take advantage of low interest rates and purchase with various forms of financing. Those that are financing are struggling to compete with an abundance of cash buyers in our local market.
So if you are thinking of SELLING OR BUYING or if you have any questions about navigating today's complex, fast paced market as bidding wars persist, home values continue to increase, and interest rates remain low... Now more than ever is the time to partner with an experienced agent on the Palm Paradise Team.
Feel free to call, text, email or visit our website at www.PalmParadiseRealEstate.com to speak with one of our team members waiting to help you.