6 Affordable Cape Coral Neighborhoods: Waterside Living For Less
Posted by Marcus Larrea on Wednesday, September 14, 2022 at 1:09 PM
By Marcus Larrea / September 14, 2022
Comment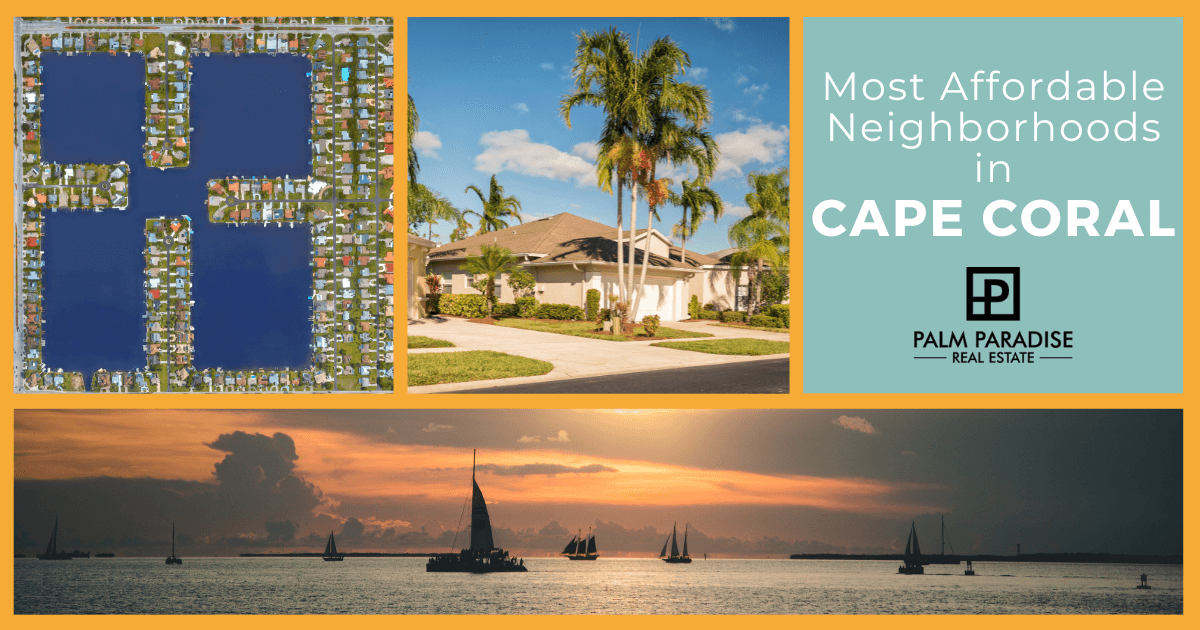 The city of Cape Coral is known for its hundreds of miles of freshwater canals, award-winning golf courses, and over 300 acres of preserved land that houses a wide array of wildlife. In addition to its desirable landscape, the city is home to many restaurants, shops, and amenities. As such, Cape Coral real estate is some of the most desirable in Lee County.
The high quality of life paired with Cape Coral's low median home prices makes it easy to find luxury-style living at affordable prices. People moving to Cape Coral have many sought-after communities to choose from, and all of them come with their own unique charm. Learn where to get the best homes for low prices in Cape Coral.
Emerald Cove
Located in southwest Cape Coral, Emerald Cove homes are located in a beautiful gated community containing 101 single-family homes. Many of these properties are located on the beautiful Weatherly Lake. These homes are privy to breathtaking views and phenomenal sunsets.
Weatherly Lake connects to Seven Lakes Chain, the city's most extensive freshwater canal system. Emerald Cove's proximity to this canal system gives water-loving residents endless opportunities for aquatic activities, including fishing, boating, jet skiing, and kayaking.
There is plenty to love about the community outside its outdoor amenities. The neighborhood offers residents a community pool, a neighborhood beach, and its own fishing pier. The area is just a 15-minute drive to downtown Cape Coral, which contains several local hotspots: The Dek Bar, Monkey Bar Steak & Seafood, and Jungle Bird Tiki.
Homes in the area are aesthetically consistent. Most are two-story stucco villas with up to three bedrooms and multiple bathrooms. Home prices in the area are reasonable considering all the neighborhood offers. Most properties are priced between $200,000 and $500,000.
Homeowners' association fees are similarly affordable, with most fees being less than $200 per year. These fees cover everyday expenses like trash, road maintenance, a reserve, and community events and activities for the tight-knit neighborhood.
Emerald Cove Amenities
Circle K
Starland
McMotorSports
Strausser BMX Sports Complex
Dollar General
Tropical Smoothie Cafe
Jason's Deli
Gator Circle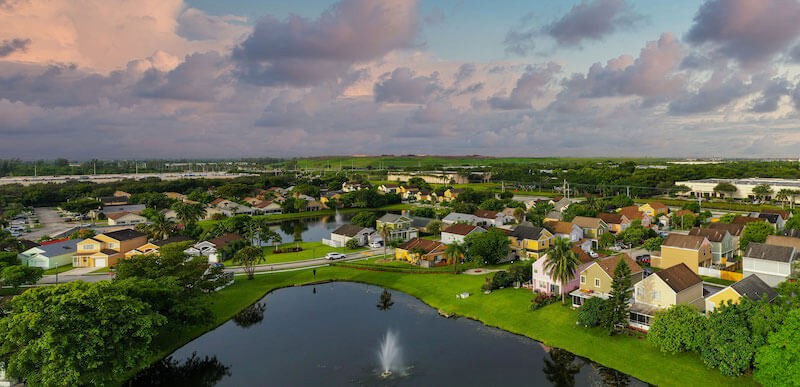 Gator Circle is a growing community in northeast Cape Coral, home to a tightly-knit neighborhood of single-family homes. The neighborhood is 15 minutes from the city of Fort Myers and 20 minutes from the Bonita Springs area. Major nearby thoroughfares include Durden Parkway and Garden Boulevard.
The neighborhood is affordable despite its desirability. Most homes for sale in Gator Circle are priced between $250,000 and $400,000. The neighborhood is filled with single-family ranch homes, offering attached garages and up to four bedrooms. There are no homeowners' association fees in Gator Circle.
Properties in the neighborhood are on quarter-acre lots and offer sprawling frontage and private backyards. Interior features include gleaming hardwoods, soaring ceilings, and spacious open floor plans.
The neighborhood is also near plenty of restaurants and hot spots. Famous Corner Flavors of Puerto Rico and Joe Daddy's Pizza are both a short drive away. Just down the road is downtown Fort Myers and all the fantastic dining and drinking opportunities on First Street. Enjoy waterfront views at Oxbow Bar & Grill or a relaxing drink with friends at the Downtown Social House, a garden bar inspired by New York City.
Gator Circle Amenities
Pine Lakes Country Club
Del Tura Golf & Country Club
Good Measure Soap Kitchen
Lowes Home Improvement
Target
Coral Oaks Golf Course
Palmetto Pines Country Club
Palmetto Pines Country Club is an excellent neighborhood in central Cape Coral. The community is ideally located between Florida State Road 78 and Veterans Parkway, so there are plenty of dining, shopping, and attraction options.
Some of the most popular shopping destinations in the community are the nearby Kohl's, Sam's Club, and Farmer Joe's Fresh Market. Residents can also have a blast at the Tropical Breeze Fun Park or Sun Splash Waterpark.
Palmetto Pines homes for sale come at a wide range of price points. There are plenty of properties selling between $300,000 and $500,000. These budget-friendly homes offer interiors up to 2,000 square feet, two to three bedrooms, and multiple bathrooms.
Properties here come in various architectural styles, including Spanish Revival and Ranch. Exteriors are stucco, with many homes boasting Spanish-tiled roofs and sprawling frontage. Lawns are meticulously landscaped, and driveways are spacious.
In addition to being just steps away from the Palmetto Pines Golf Course, homes include features like swimming pools, fire pits, and barbecue grills. No homeowners' association fees are associated with the Palmetto Pines Country Club.
Palmetto Pines Country Club Amenities
Wawa
House of Omelets
Hurricane Grill & Wings
Crunch Fitness
Shamrock Lakes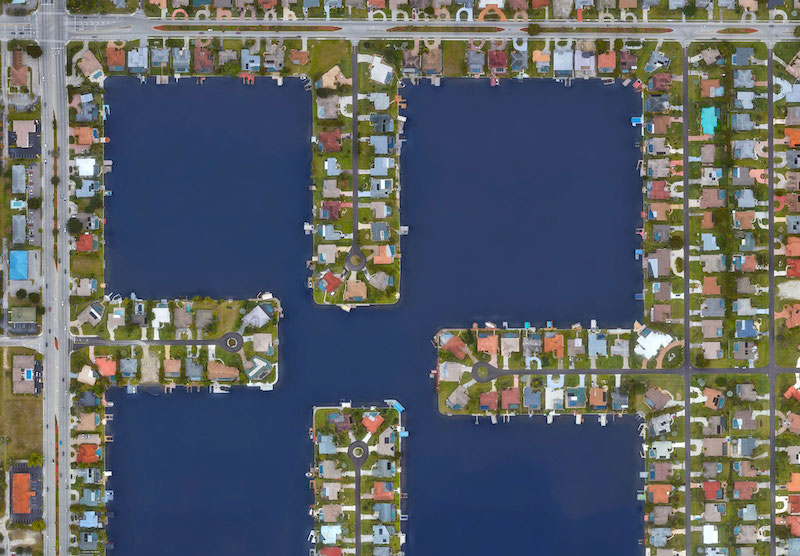 Shamrock Lakes is a neighborhood in southeast Cape Coral, just 15 minutes from downtown. The neighborhood is near Florida State Road 78, making it an excellent choice for commuters.
Like Emerald Cove, Shamrock Lakes is also part of the Seven Lakes Chain. Residents here have front-door access to miles of freshwater activities, including swimming, tubing, boating, and excellent fishing.
There is no shortage of storefronts and restaurants close to Shamrock Lakes. The Twisted Lobster is a casual marine-themed seafood spot, while nearby Cafe YOU is an Australian-inspired eatery with small bites and a cozy atmosphere.
Shamrock Lakes is home to a grid of single-family homes with front-row access to the beautiful Shamrock Lake. In addition to gorgeous waterfront views, these homes have access to breathtaking sunsets that can be seen over the lake. Shamrock Lakes homes are affordable, and prices range from $300,000 to $700,000.
Shamrock Lakes Homeowners Association manages the community with responsibility for organizing activities and events for the community. There are no fees due, and joining the association is not a condition of homeownership.
Shamrock Lakes Amenities
Cultural Park Theatre
Rincon Cubano of Cape Coral
Leone's Italian Market & Pizzeria
Cape Coral Pet Vet
Hunter's Run Golf Club
Saratoga Lake Park
Trafalgar Woods
Trafalgar Woods is a popular, established neighborhood in west Cape Coral, just south of Pine Island Road; it's also considered among the best neighborhoods in Cape Coral! Trafalgar abuts the Matlacha Pass National Wildlife Refuge on its western edge, with the water just beyond, and South Chiquita Boulevard borders the western side of Trafalgar and Veterans Memorial Parkway to the south and west.
Trafalgar and Heatherwood Lakes are bordering communities dotted with small bodies of water and characterized by single-family homes and modern apartment complexes, and apartment and condo buildings are a blend of low- and high-rises. Homes for sale in Trafalgar Woods list from the $700s.
Newer homes, built since 2000, dominate the Trafalgar Woods neighborhood, but a smattering of charming older homes date to around the mid-1970s. However, the community feels fresh and new and offers its residents the ambiance of a well-established neighborhood.
Canals and small ponds are much in evidence in the westernmost section of the neighborhood. Homes to the east tend to be situated on streets laid out in a more regular grid pattern, but canals also add charm to this section. The large and popular Cape Coral Sports Complex occupies a prominent site near the heart of the community, as does Fellowship Park. The Strausser BMX Sports Complex is just one block beyond the neighborhood's east boundary.
Trafalgar Woods Amenities
Torched Bar & Grill
Paradise Bar & Grill
Smokin' Pot Food Truck
Tony & Ada's Coffee
El Gran Toco Loco Food Truck
Miceli's Restaurant
Village of Entrada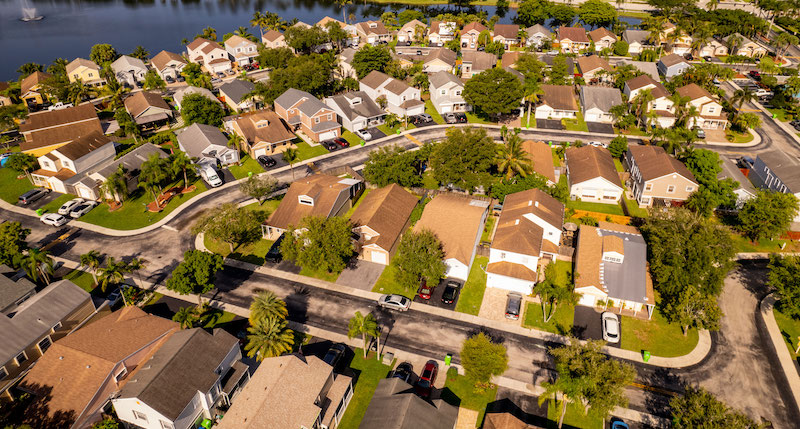 The gated community of Entrada will have a total of 721 homes set amidst a network of sparkling lakes and protected nature preserves. National developer D.R. Horton designed Entrada as a peaceful enclave that offers the best of urban Cape Coral living while highlighting the natural beauty and atmosphere of southwest Florida.
Homes for sale in Entrada typically range from three to five bedrooms, and listings start in the mid-$300s and top out around $700,000. In one of the most popular areas of Greater Fort Myers, Entrada is located in northeast Cape Coral, off del Prado Boulevard N, and just west of US-41. Residents will enjoy easy access to newer retail centers and proximity to deep-water marinas and beaches. Public and charter schools are also nearby.
This part of Florida is known for its sunny days and plentiful recreational facilities, as well as its fresh seafood restaurants, ample outdoor trails, historic sites, and vibrant business climate. Entrada features a community center with pools, tennis, pickleball, bocce ball courts, and a well-equipped outdoor playground. There is a complete fitness center with a separate exercise studio, and multi-purpose function rooms with a catering kitchen, all for exclusive use by community residents.
Village of Entrada Amenities
Del Prado Shopping Center
Beef 'O'Brady's Neighborhood Pub
Publix Super Market in Shoppes at North Cape
Cameron's British Food
Applebee's Grill
Jet's Pizza
Bang For Your Buck Real Estate in Cape Coral
Cape Coral is one of the most affordable cities in Lee County. The city's beautiful weather, scenic surroundings, and affordable cost of living make it an excellent option for prospective residents.
While it may seem impossible to find waterfront homes for less than $1,000,000, it's the norm in these beautiful Cape Coral neighborhoods. These communities offer accessible home prices alongside beautiful scenery, sought-after amenities, and wonderfully tight-knit communities that rival even the most expensive neighborhoods in Cape Coral.