6 Most Affordable Fort Myers Neighborhoods: Beautiful Homes in Your Budget
Posted by Marcus Larrea on Tuesday, September 27, 2022 at 11:15 AM
By Marcus Larrea / September 27, 2022
Comment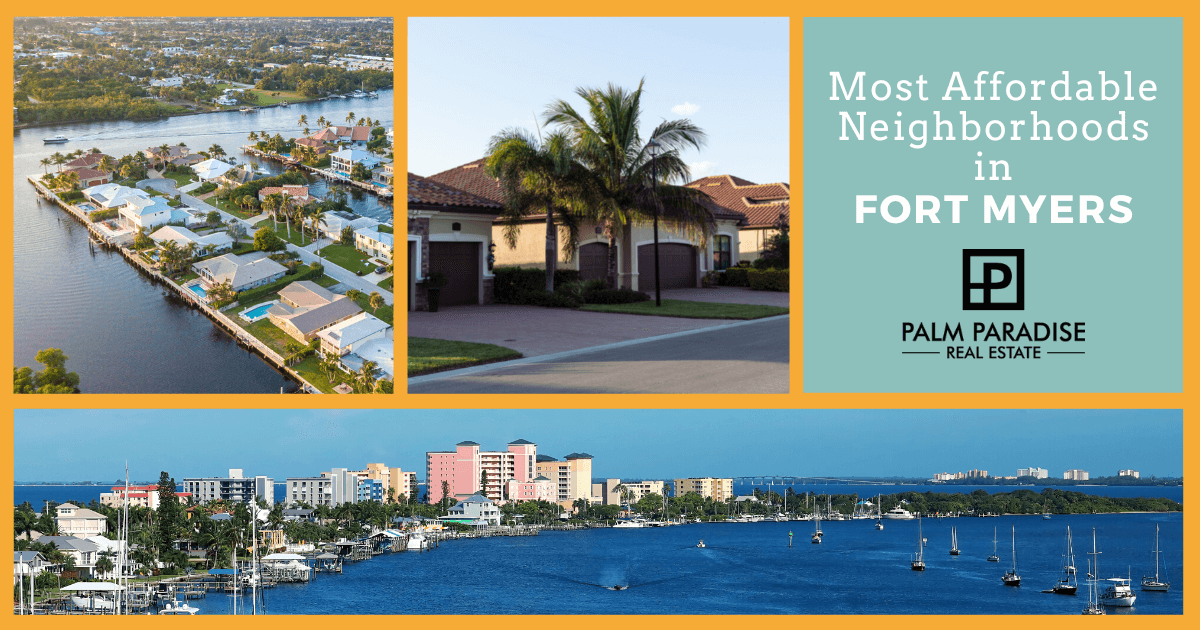 Considering a move to Fort Myers? This exciting city offers the best that Southwest Florida has to offer. Its world-class beaches, riverside recreation areas, and award-winning golf courses all help keep the Fort Myers real estate market in high demand.
The idea of living in such a sought-after city might bring dollar signs to mind, but soon-to-be residents don't have to move to the most expensive neighborhoods in town to take advantage of fantastic local amenities. The most affordable communities in Fort Myers provide luxe perks like waterfront views, sparkling swimming pools, and convenient locations along with budget-friendly prices.
Plantation Preserve
Plantation Preserve is a small but mighty community located in the heart of Lee County. The community was designed and constructed by D.R. Horton Homes, a reputable builder ranked #1 in the country by Builder Magazine.
Construction in the neighborhood began in 2003 and was completed in 2005, resulting in close to 150 single-family homes. Plantation Preserve homes for sale are affordable for the area, typically selling in the $300,000s and $400,000s.
Homes are spacious, with many interiors offering up to 2,000 square feet of living space, two to three bedrooms, multiple bathrooms, and attached two-car garages. Outdoor spaces are well-maintained and professionally landscaped. Backyards boast features like swimming pools, oversized lanai porches, and views of the 6.5-acre lake in the neighborhood's center.
One of the best things about living in Plantation Preserve is the abundance of natural landscaping. The community is bordered on one side by a local nature preserve. Several wildlife species, including bald eagles, white egrets, and blue herons, call this preserve home. This makes for some great bird-watching for residents!
Despite the neighborhood's quiet and peaceful atmosphere, there's plenty of opportunity for fun and adventure. Plantation Preserve Golf Course and Club is a beautiful course on West Broward Boulevard, costing residents $85 or less per game. Down the street, Offshore Hunter Fishing Charters hosts onshore and offshore deep sea fishing trips.
Plantation Preserve Amenities
Swimming Pool
Cabanas
Publix
Kohl's
Target
Just Spoons Café
La Brasa Plantation
Timberwalk at Three Oaks
Timberwalk at Three Oaks, also known as just Timberwalk, is a beautiful and walkable community off Three Oaks Parkway in Lee County. The community is convenient to Interstate 75 and U.S. Route 41 and is less than twenty minutes from Bonita Springs and downtown Fort Myers.
Timberwalk real estate listings come at a wide range of prices, starting at $250,000 and capping at around $400,000. These affordable housing options offer spacious interiors of up to 2,000 square feet. Most properties boast between three and four bedrooms and up to three bathrooms.
Property exteriors are quintessential southern Florida, with stucco siding, Spanish-tiled roofs, and brick paver driveways. Backyards are private, often fenced-in, and offer screened-in lanais, swimming pools, fire pits, and barbecues.
Shopping is a popular pastime for residents of Timberwalk, and Gulf Coast Town Center and Coconut Point Mall are roughly ten minutes away. These shopping plazas are popular with residents and offer well-known stores like American Eagle, Apple, Dillard's, and J.Crew.
After shopping, residents can return home and walk to one of the nearby restaurants. Cheddar's Scratch Kitchen serves Southern comfort food on University Plaza Drive. Nearby, Blue Water Beach Grill offers classic American fare in an outdoor waterfront pavilion.
Timberwalk at Three Oaks Amenities
Clubhouse
Swimming Pool
Picnic Area
Swimming Pool
Fitness Center
Bike Paths
Three Oaks Park
Mirror Lakes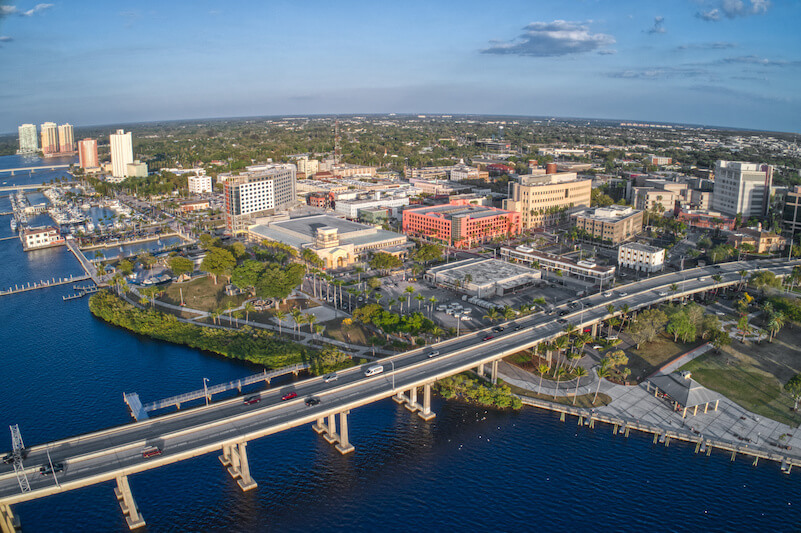 Mirror Lakes is an immaculately constructed community located at the heart of Fort Myers. The neighborhood is off Lee Boulevard and is under thirty minutes away from major commuting cities like Estero and Cape Coral.
The community is bustling, with Lee Boulevard being home to several local cafes and eateries within walking distance of residents. Popular walkable options include Gandules Grill, a cozy restaurant offering unique and authentic Puerto Rican dishes, and Mugs n Jugs, a casual restaurant with pub food and a full bar.
Mirror Lakes is also fifteen minutes from the Fort Myers River District, a shopping plaza in downtown Fort Myers. Filled with top-rated dining, independent boutiques, and famous fitness studios, this area is great for spending a date night or taking a stroll on a weekend morning.
Homes for sale in Mirror Lakes come in various floor plans. All properties have at least two bathrooms, and models come in three-, four-, and five-bedroom plans. Sales prices for these properties are in the $300,000s and $400,000s, making them accessible for various budgets.
Lakes, canals, and other bodies of water are dotted throughout the neighborhood, placing many properties on the waterfront. This makes for beautiful sunset views and excellent fishing opportunities directly from residents' backyards.
Mirror Lakes Amenities
Playground
Hiking and Biking Trails
Conservation Land
Public Storage
Cypress Lake Estates
Cypress Lake Estates is an active community in southern Lee County for residents 55 and over. The neighborhood is well-maintained, with mature and professional landscaping and wide, winding streets.
The neighborhood backs up to the Cypress Lake Country Club Golf Course, the oldest private club in Fort Myers. While the club was built before 1960, it is continuously updated so members can enjoy a top-of-the-line facility. In addition to its eighteen holes, the club offers a driving range and pro shop.
Several other golf clubs are near the neighborhood—namely, Palm Beach National Golf & Country Club, Wycliffe Golf & Country Club, and Forest Oaks Golf Club—making the community a dream for lovers of the sport.
Cypress Lake Estates is also within a short walk of several schools, markets, and specialty shops. Lovers Key and Lighthouse Beach are less than fifteen minutes away by car.
While many neighborhoods abutting golf courses can exceed average home prices, it is not that way here. Homes in Cypress Lake Estates range in price from $150,000 to $400,000. Property types vary, with condominiums, townhomes, and single-family homes available in the community.
Cypress Lake Estates Amenities
Bonefish Grill
Trader Joe's
ALDI
Whole Foods Market
Marshall's
Delicias Cuban Bakery
Walmart
San Carlos Park
San Carlos Park is a census-designated section of southern Fort Myers, offering great homes at affordable prices. San Carlos Park is one of the largest neighborhoods on this list, which covers roughly five square miles and is home to more than 18,000 residents. Its convenient location makes it an excellent option for commuters, with Cape Coral and Bonita Springs just minutes away via U.S. Route 41.
The community offers excellent amenities for residents, one of the most popular being the Karl Drews Community Center. This facility invites residents to swim in the heated pool, have a picnic in the adjacent park, or take advantage of one of the many other features the community center offers.
San Carlos Golf & Country Club is also located in San Carlos Park. This semi-private golf club was designed by John E. Conner, an architect behind several of the beautiful and award-winning courses in the area. San Carlos Golf & Country Club offers year-round playtime on its championship-winning course.
San Carlos Park real estate prices typically range between the $400,000s and $500,000s, although some outlines may exceed $700,000. Most homes offer between 1,500 and 2,500 square feet of living space, up to four bedrooms, and multiple bathrooms.
San Carlos Park Amenities
Sunshine Ace Hardware
Planet Fitness
Palm City Brewing Company
Restaurant Depot
San Carlos Park
Nauti Parrot Oasis
Skate Park
Cottage Point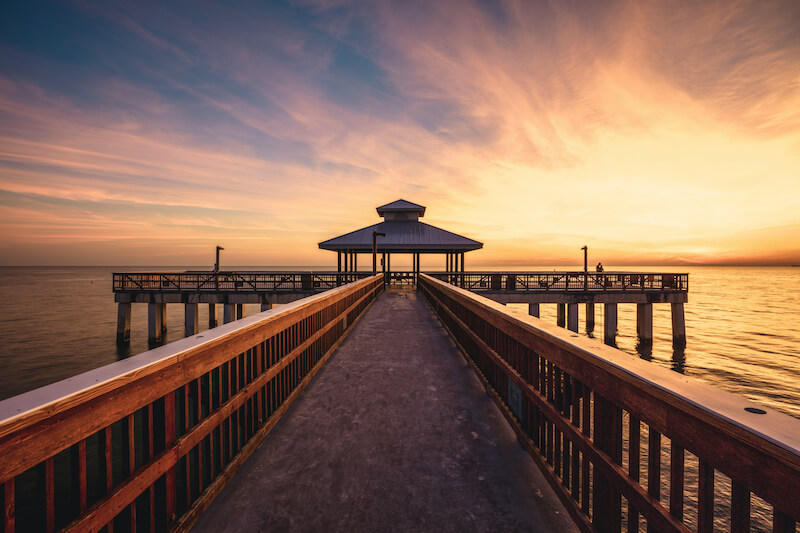 Cottage Point is a beautiful and well-established community in southern Fort Myers. The development is broken into separate enclaves, some areas being traditional neighborhoods and others being 55+ communities.
Residents of Cottage Point have direct access to U.S. Route 41, and the community is less than thirty minutes from nearby Sanibel and Coral Cove. Other landmarks, like the Gulf Coast Town Center, Coconut Point Mall, and Florida Gulf Coast University, are all less than fifteen minutes away by car.
The community itself is home to the Sanibel Outlets, a Lee County outlet mall containing over forty stores. Some outlet stores in the plaza include Polo Ralph Lauren, Nike, Coach, and Crocs.
Cottage Point homes for sale are typically priced in the $100,000s and $200,000s, making it one of the most affordable communities on this list. Homes are quaint and cozy, with gleaming hardwoods, custom fireplaces, and central air conditioning. Properties are typically one-level, with one to two bedrooms and bathrooms.
Cottage Point Amenities
Community Pool
Sport Courts
Fitness Center
Clubhouse
Shell Point Golf Club
Buster's Sports Tavern
McGregor Grill
Get More House For Your Dollar in Fort Myers
It's no coincidence that many of the most affordable communities in Lee County are also some of the best neighborhoods in Fort Myers. Offering a variety of atmospheres, a low cost of living, and fantastic amenities at accessible prices, Fort Myers promises an invaluable quality of life.