Get the Best Bang for Your Buck at these Affordable Naples Neighborhoods
Posted by Marcus Larrea on Wednesday, September 22, 2021 at 1:15 PM
By Marcus Larrea / September 22, 2021
Comment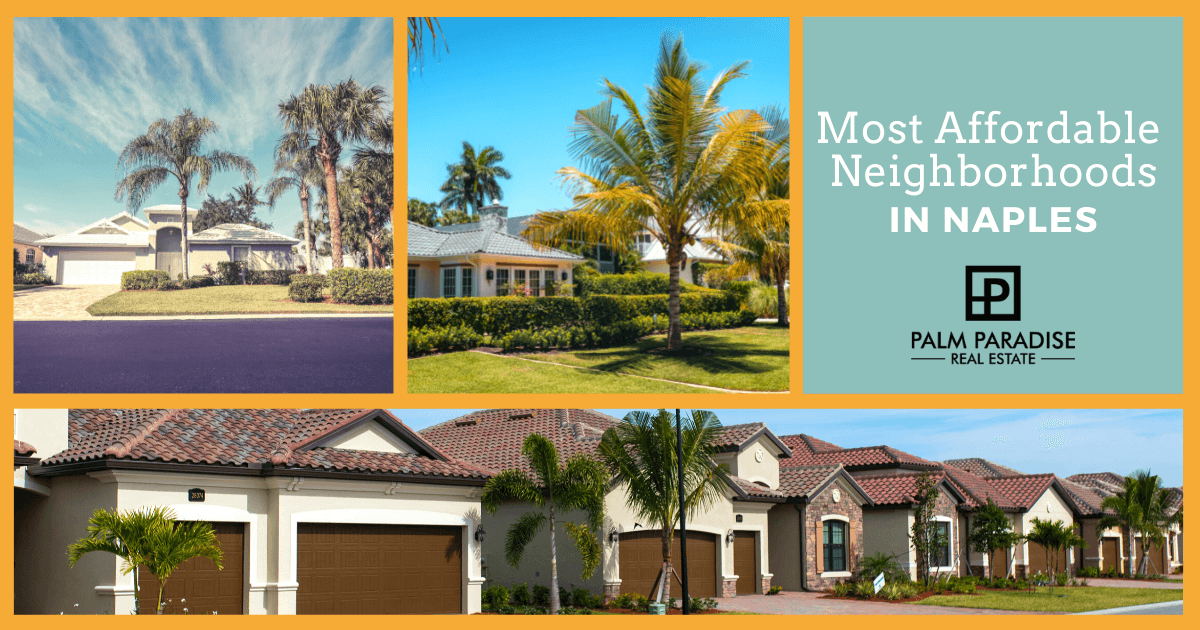 The city of Naples is one of the most beautiful parts of southwest Florida, with gorgeous beaches and a sophisticated and exciting downtown. However, living in Naples can also be pretty expensive! Still, would-be Naples residents hoping to live on a budget shouldn't despair. Read on to discover eight affordable neighborhoods in Naples, Florida.
Royal Wood
Royal Wood Amenities
18-hole golf course
Club fitness center
Seven heated pools/spas
14 tennis courts
Card-playing and interest groups
Regular events like trivia night and Bingo
Those who enjoy the idea of living in the Golf Capital of the World will feel right at home in the Naples neighborhood of Royal Wood. Built in 1988, the community includes six condo villages and 144 single-family homes. Each cluster of homes within Royal Wood has its own community center, housing a pool, fitness center, and hosting community events. Every property comes with a golf membership, allowing access to the gorgeous 168-acre 18-hole golf course and clubhouse. Home and condo prices start in the low-to-mid 200,000s and reach up to half a million dollars or more. Most have two or three bedrooms and two bathrooms.
Located in the southern part of Naples, Royal Wood is ideally located just off US-41/Tamiami Trail, allowing easy access up the gulf coast and across the Everglades to Miami. The nearby Tamiami corridor is also home to extensive amounts of shopping, restaurants, and other necessities. A Publix supermarket is just a short drive away, and residents can enjoy dining at spots including the Peruvian restaurant and pisco bar Lima and the Foxboro Sports Tavern.
Palm River
Palm River Amenities
Oversized lots
Mature plant growth landscaping
Varied home styles from Key West to modern-contemporary
Optional membership to nearby La Playa Golf Course
Located toward the northern end of Naples near the city of Bonita Springs, the Palm River neighborhood is another of the area's most affordable communities. Condos here have at least two beds and two baths and tend to sell from the low 200,000s to the mid 300,000s. Single-family houses are much larger, with as many as five bedrooms and six bathrooms, ranging from the high six figures to over a million dollars. Palm River's homes were mainly built from the 1970s to the 1990s. The community's central location between US-41/Tamiami Trail and I-75 makes driving around Naples and commuting to work a breeze, with most residents spending just 15 to 30 minutes getting to work each day. While there may be fewer amenities than other Naples communities, Palm River also has lower HOA fees and fewer restrictions than most Naples neighborhoods and is one of Naples' oldest communities.
Palm River residents have easy access to many different shopping, dining, and nightlife options. Just outside the community, restaurants include Fernandez the Bull Cuban Cafe and casual pubs like Rusty's Raw Bar & Grill and Bone Hook Brewing Company. In addition, residents can shop at nearby stores like Target, Walmart, Sam's Club, and Publix, all within just a few minutes of the neighborhood. It's also just a short drive to the water, with Wiggins Pass Beach just over three miles away.
Heritage Greens
Heritage Greens Amenities
18-hole Arrowhead golf course with preferred resident tee times
Golf pro shop
Community clubhouse
Fitness center, pool, and spa
Tennis court
As another affordable Naples golf community, the Heritage Greens neighborhood offers residents access to the popular Arrowhead golf course, designed by Gordon Lewis, and a full pro shop. About 350 homes in total are located within the community. Of these, 180 are golf villas. The area also has 163 single-family homes, with up to five bedrooms and three bathrooms. Home prices vary widely depending on the specific location, floorplan, and features, but range between the low 200,000s and low 600,000s, with median prices in the 300,000s. Even non-golfers will have plenty to do at Heritage Greens. The community has a clubhouse with a pool, spa, fitness center, tennis courts, and picnic areas near the beautifully landscaped golf course.
Just a short distance from the intersection of I-75 and Immokalee Road, Heritage Greens is also close to a sizable number of shopping and dining hotspots. A small shopping center located just outside the community is home to Off the Bone BBQ and Ribhouse, Thai Udon Cafe, and Felipe's Mexican Taqueria. Residents can also grab a drink at Brooks Grill and Tavern, and grocery shopping is easy at a nearby Publix, Walmart, or Sprouts Farmers Market.
Naples Bath and Tennis
Naples Bath and Tennis Amenities
Views of nature preserve and 20 acres of natural lakes
37 championship Har-Tru tennis courts
33,000 square foot clubhouse
Fitness center
Heated pool and spa
The Naples Bath and Tennis community is a perfect choice for those looking for an affordable neighborhood with excellent tennis and spa amenities. This beautifully landscaped, 160-acre central Naples community was mostly built between the mid-1970s and 1990s. It contains homes big and small, with 1-bedroom condos as small as 700 square feet, or more than 6,000-square-foot single-family homes as big as four beds, four baths. This wide variety in homes also means a wide price range, with an average in the mid 200,000s. Residents have access to high-end tennis facilities, with more than three dozen championship Har-Tru courts, in addition to a hard court. The Naples Bath and Tennis neighborhood also includes a massive community center, fitness center, spa with a sauna, steam room, and spa services.
The neighborhood's central Naples location means lots of dining, shopping, and attractions are only a short distance away. Naples Bath and Tennis is located next to the Naples Airport, close to several country clubs and the Naples Zoo at Caribbean Gardens. Local restaurants located just outside the community include Spanky's Speakeasy and Dylan's Drafthouse. It's also just a short drive to the extensive restaurants and shopping options along nearby US-41/Tamiami Trail.
Lakewood
Lakewood Amenities
Durable concrete block construction homes
Community clubhouse
Two lakes with connecting waterways
Central location convenient to downtown and beaches
The Lakewood neighborhood comprises 179 single-family homes located in East Naples. The 2–4 bedroom homes with 1–3 bathrooms typically sell from the mid 200,000s to the mid 400,000s. These modestly sized homes range from less than a thousand square feet up to the high 2,000s. The community was built with insect-proof and hurricane-safe concrete block construction, which is also fireproof and helps save energy. While there are few amenities other than a community clubhouse, HOA fees are also generally lower than in other Naples communities.
Residents of Lakewood enjoy the benefits of their central location, just a few miles from both the Gulf of Mexico and downtown Naples. A tremendous number of restaurants are located along US-41/Tamiami Trail, from local spots like Twisted Sheep Pizza and Brew to national favorites like Sonic and Starbucks. There are also easy options for everyday shopping along Davis Boulevard, with a nearby Publix and Home Depot.
Leawood Lakes
Leawood Lakes Amenities
Community pool and sundeck with chairs and pool furnishings
Cabana facilities
Underground utilities
Lush community landscaping
One of Naples' newer affordable developments, the Leawood Lakes neighborhood, was mainly built in the mid-2000s. Nearly 200 single-family homes are located within the neighborhood, less than five miles from both the beach and Old Naples. Houses within the community are fairly similar, with between 2 and 4 bedrooms and 2 to 3 bathrooms. Prices are correspondingly similar, generally selling between 200,000 and 300,000, with most somewhere close to the middle of that range. Residents can enjoy a community pool with a sundeck, chairs, and cabana facilities. HOA fees are quite low compared to many other Naples communities. In addition, underground utilities preserve the beautiful lake views offered by some homes in the development.
Leawood Lakes is conveniently located for shopping, just down the street from both Publix and Aldi supermarkets. Residents also can grab a drink at the nearby Naples Beach Brewery, breakfast at First Watch, or dinner at Taco Lindo. The neighborhood is conveniently located just a short drive from I-75, providing easy access to destinations up the coast or across the state.
Heritage Bay
Heritage Bay Amenities
27-hole golf course
27,000 square foot clubhouse
Six community pools
Fitness center
Tennis and pickleball courts
Casual and fine dining options within the community
The Heritage Bay neighborhood is a beautiful North Naples community perfect for homeowners looking for tons of amenities. This golf community is centered around a 27-hole scenic golf course designed by Jed Azinger and Gordon Lewis. Just 20% of Heritage Bay's more than 700 acres is built upon, leaving the rest to showcase the beautiful natural environment of southwest Florida.
Amenities include a massive Tuscan-inspired clubhouse featuring a fine dining restaurant and a casual bar and grill. Outside, residents enjoy the main community pool and tiki bar, or one of the five smaller pools spread throughout the complex. There's also an 8,000-square-foot fitness center, complete with exercise classes and spa services. Golf membership is included with all Heritage Bay properties, but those interested in other sports can also take advantage of on-site tennis and pickleball courts. Both single-family homes and condos are available in the community, with between 2 and 5 bedrooms and 2-3 bathrooms. Condos tend to sell in the 200,000s, while detached homes are worth high six-figures up to close to a million dollars.
Heritage Bay's location in northeastern Naples allows easy access to the preserved natural area of the region, including the Corkscrew Swamp Sanctuary. In addition, restaurants like The Warehouse and Poached are located just a short drive away, and a nearby Publix makes everyday shopping quick and easy.
Riviera Golf Estates
Riviera Golf Estates Amenities
Naples gated community with 24-hour security
18-hole Arnold Palmer-designed golf course
Community pool
Community clubhouse
Fitness center
Tennis, bocce ball, and shuffleboard courts
Riviera Golf Estates is an age-restricted, 55+ active adult community in Naples, one of the first of its kind in the Naples area when construction began in the late 1980s. Residents enjoy a wide variety of amenities, most prominently an intimate, just over 4,000-yard golf course designed by the legendary Arnold Palmer. Riviera Golf Estates also includes a community pool and areas for sports like tennis, bocce ball, and shuffleboard. Plus, residents can rest easy with 24-hour security. Single-family homes, manufactured homes, and condos are available within the community, all with 2-3 bedrooms and 2-4 bathrooms. Truly one of the most affordable Naples neighborhoods, prices here start as low as the mid 100,000s and can reach the mid 300,000s for updated or larger homes.
Riviera Golf Estates is located just off US-41/Tamiami Trail, making it a short drive to the Naples beaches and Old Naples. The Tamiami corridor is also packed with dining, shopping, and nightlife options. Nearby restaurants include DiJulio's and Texas Tony's Rib and Brewhouse. Daily shopping is also easy with quick access to Publix, CVS, and more within a few minutes' drive.
Find Your Perfect Home in Naples, Florida
While Naples may seem quite pricey at first glance, it's not necessary to pay an arm and a leg to live in this beautiful place. There are plenty of communities that offer quality homes and condos in Naples and varied amenities at affordable prices. Each has its own unique qualities, allowing those who move to Naples to decide on the perfect neighborhood to fit their needs, wants, and budget.