8 Most Expensive Cape Coral Neighborhoods: Discover Luxury Homes by the Water
Posted by Marcus Larrea on Monday, August 1, 2022 at 9:34 AM
By Marcus Larrea / August 1, 2022
Comment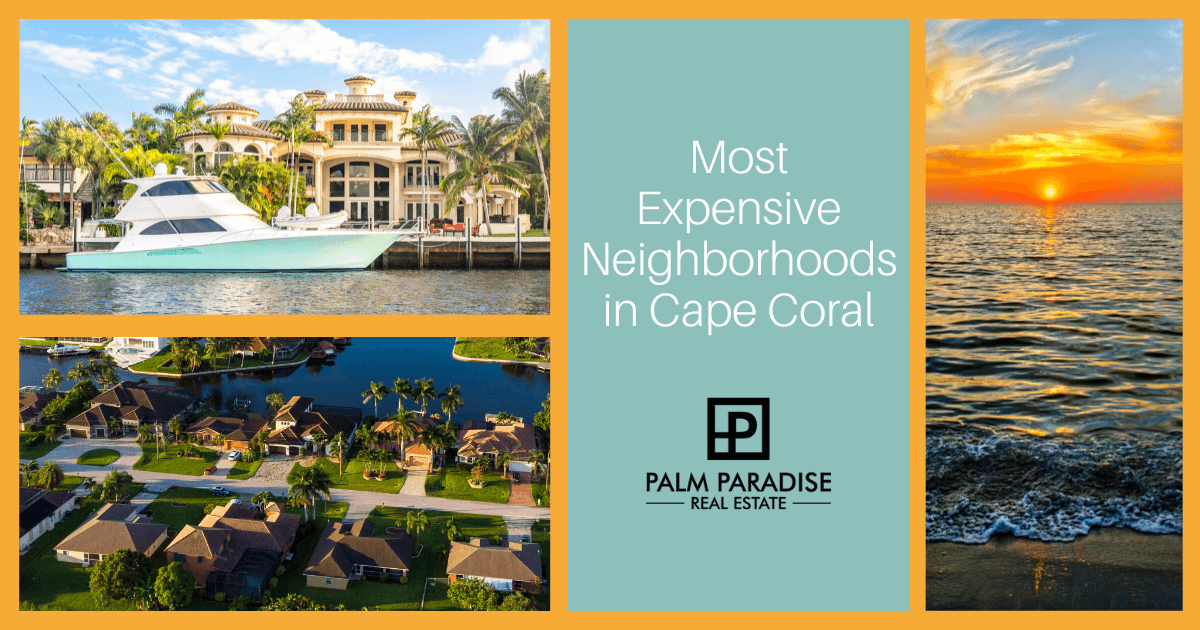 Situated on the Matalach Pass just off Florida's southwestern Gulf Coast, the city of Cape Coral promises luxury lifestyles all across town. With over 400 canals, award-winning beaches, and abundant outdoor activities, people moving to Cape Coral enjoy a highly desired quality of life. In particular, people who live in the most expensive neighborhoods in Cape Coral often enjoy beautiful waterfront views and easy access to golf courses.
Harbour Preserve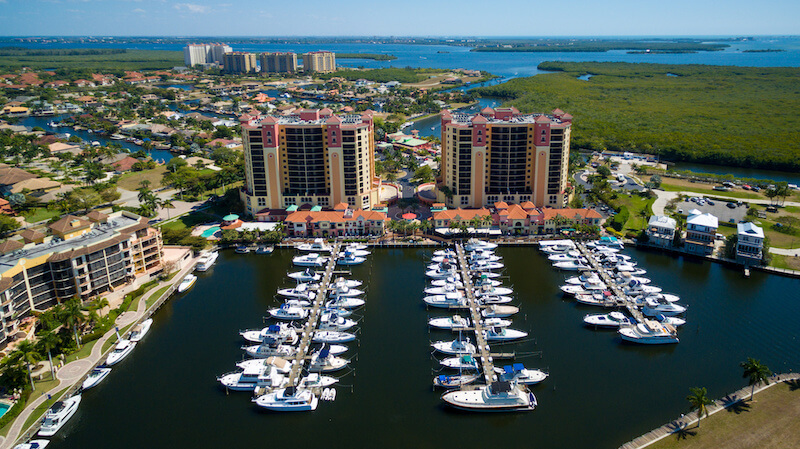 Located southwest of Downtown Cape Coral, Harbour Preserve is a stunning neighborhood in the heart of the Lee County yachting community. Harbor Preserve is in a desirable residential area divided into four gated enclaves within the coveted Cape Harbor community. Each estate is custom-built, featuring spectacular waterfront views and private deepwater docks on the property.
Harbour Preserve homes for sale typically range from 2,500 to 13,000 square feet, offering various options for prospective homeowners searching for a waterfront home. Prices generally fall in the low millions. These properties feature plenty of water frontage, with space for multiple yachts or boats. With direct Gulf access, seafarers can reach the Intracoastal Waterway in minutes.
Harbour Preserve is just a short distance from some of the area's best outdoor spaces. These include Matlacha Pass Aquatic Preserve, a local nature preserve popular for bird-watching and kayaking, and the Yacht Club Public Beach, one of southwest Cape Coral's most popular beaches. There are also many popular seafood and waterfront restaurants nearby.
Harbour Preserve Amenities
Matlacha Pass National Wildlife Refuge
Yacht Club Public Beach
Rumrunnersflorida
The Nauti Mermaid Dockside Bar & Grill
Camelot Park
Lobster Lady Seafood Market
Hermitage
Situated in the southernmost point of the Cape Coral-Fort Myers area, Hermitage was one of the first planned luxury communities in Cape Coral. Pristine landscaping, lush palm trees, and cobblestone streets help The Hermitage set the gold standard for planned communities in the Cape Coral area. Hermitage is one of Cape Coral's most prestigious waterfront communities, with 19 luxury estates nestled in guard-gated cul-du-sacs on brick-lined roads.
All of the homes for sale in Hermitage boast a waterfront lot equipped with private docks designed to house larger boats, sailboats, and yachts. Hermitage is an ideal community for sailors and boat enthusiasts since it's ideally located within Cape Coral's elaborate canal system, with direct access to the Gulf of Mexico.
Located just 15 minutes from Downtown Cape Coral, Hermitage is just a short distance from some of the area's best amenities, including the Yacht Club Public Beach, Rotary Park, numerous waterfront restaurants, and more. Hermitage is one of Cape Coral's most luxurious waterfront communities, with real estate prices typically ranging from $1,700,000 to over $3,000,000.
Hermitage Amenities
Rumrunners
Fathoms Restaurant & Bar
Camelot Park
Professional Yacht Cruising
Tarpon Point Marina
Pinchers
Direct Access to the Gulf of Mexico
Rose Garden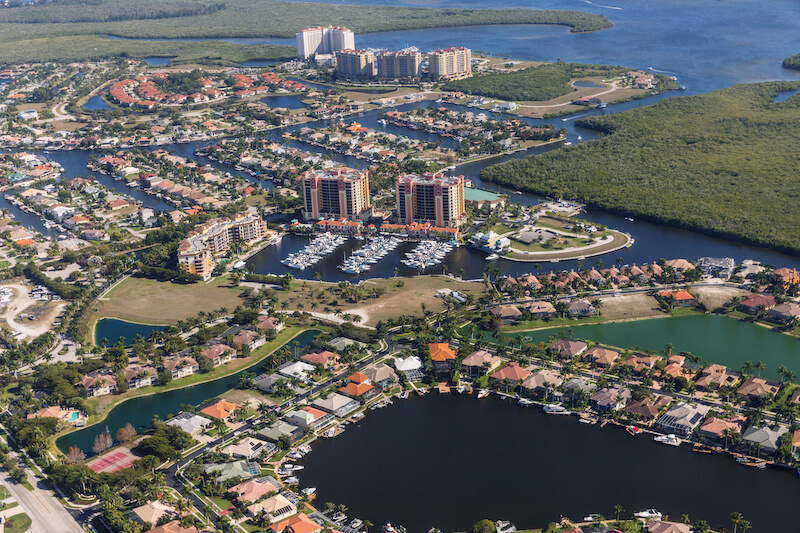 Nestled in the southernmost point of southwest Cape Coral, Rose Garden is a luxury community best known for its canal-front properties and beautiful homes. The Rose Garden neighborhood features a coveted location for boat enthusiasts, with numerous waterfront properties, wide canals, and direct access to the Gulf of Mexico. Rose Garden also borders many notable locations within southwest Cape Coral, including the Tarpon Point development, the Westin Resort at Tarpon Point, and Cape Coral's Rotary Park.
In addition to the highly coveted waterfront homes, inland homes in this prestigious Cape Coral community are also famous because of their proximity to Tarpon Point dining and shopping, parks, and events such as car and boat shows and fishing tournaments at the Tarpon Point Marina. Rotary Park, which contains walking trails, a butterfly garden, and a dog park, is located just across the street from Rose Garden. Real estate prices in this beautiful, highly sought-after community generally start at $675,000.
Rose Garden Amenities
Glover Bight Trail
Spa and Fitness Center at The Westin Cape Coral
Burrowing Owl Festival
Rotary Park Environmental Center
The Nauti Mermaid Dockside Bar & Grill
Tarpon Estates
Located near some of Cape Coral's most popular destinations, Tarpon Point is a highly desirable community in southwestern Cape Coral, just a short distance from the best beaches. These expensive homes have sweeping views of Southwest Florida's natural preserves and waterways and are near some of Cape Coral's best waterfront dining restaurants. As with many luxury communities in southwest Cape Coral, Tarpon Point is a gated community, providing additional privacy and security.
Tarpon Estates real estate comprises an eclectic blend of sprawling waterfront homes and high-rise luxury condominiums. Those who are seeking condos have the option of living in one of three high-rise condominium buildings with a variety of different layouts. Most floor plans feature three bedrooms, three-and-a-half bathrooms, and a two-car garage. The condos are also conveniently located near the marina. Many single-family homes are on the canals, giving homeowners direct access to the Gulf of Mexico. Real estate prices in this lively luxury community generally start at $520,000 to more than $700,000 for condominiums, with single-family properties often starting at $1,185,000.
Tarpon Estates Amenities
Destination Boat Clubs
Tarpon Point
Anchor Yacht Rentals
The Nauti Mermaid Dockside Bar & Grill
Pinchers
Direct Access to the Gulf of Mexico
Cape Harbour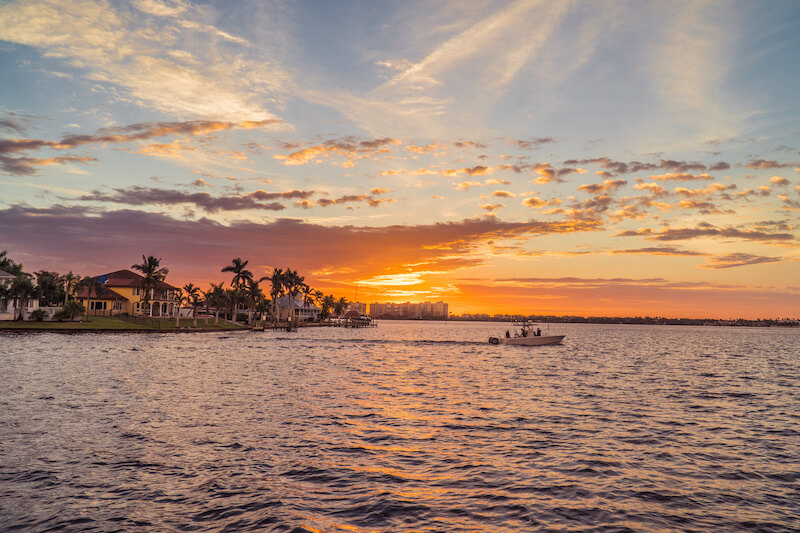 Set in southern Cape Coral, Cape Harbour is one of the area's premier yachting communities and one of the best neighborhoods for nearly every type of boater and maritime aficionado imaginable. The community's crown-jewel amenity is a waterfront commercial area with Cape Harbour restaurants, boutiques, a spa and salon, and an art gallery.
As one of the area's most vibrant luxury communities, Cape Harbor is a striking blend of residential and commercial properties, with a full-service marina and boat storage for the area's boats, yachts, and sailboats. In addition to the area's numerous restaurants and shops, Cape Harbour real estate has a variety of home styles, including high-rise condominiums, lakefront cottages, and waterfront villas—all with direct access to Cape Coral's elaborate canal system.
Within Cape Harbour, the community has three distinct enclaves, each offering a unique atmosphere and style. For those looking for condos, The Marina at Cape Harbour offers a collection of cosmopolitan waterfront high-rise condominiums right off the marina.
Harbour Pointe offers custom-designed estate homes for those searching for contemporary luxury, all of which feature unique architecture and designs. This part of the community is well-known for its excellent amenities, privacy, and waterfront homes and garden views. Harbour Preserves offers optimum seclusion on a private island neighborhood for those searching for tranquility. Homes in this desirable neighborhood typically start at $750,000.
Cape Harbour Amenities
Cape Coral Rowing Club
The French Press
Rumrunners
Cape Harbour Oyster Bar & Grill
Harbour View Gallery, LLC
Dockside Juicery
Fathoms Restaurant & Bar
Kismet Lakes
Also known as The Lakes, Kismet Lakes is a luxurious gated community set on 59 acres in northwest Cape Coral. Kismet Lakes is located off Kismet Parkway, just east of Old Burnt Store Road, south of the Burnt Store Marina, and north of the bustling Pine Island Road Corridor. It's just a short distance from some of the area's most desirable amenities, including marinas, golf courses, nature preserves, parks, restaurants, and shops.
Consisting of just 29 single-family homes, this intimate and upscale community is centered around two beautiful lakes, delivering its residents an unparalleled coastal lifestyle experience. Within the community, the Kismet Lakes homes are set on half-acre lots, with the architectural influences of traditional Key West homes and modern floor plans catered to Florida homeowners. Kismet Lakes was developed by South Seas Development, one of the area's leading community developers. Most homes have two or three bedrooms and generally range in price from $800,000 to the low millions.
Kismet Lakes Amenities
Coral Oaks Golf Course
Charlotte Harbor Preserve State Park North Cape Flats Trail
Yucca Pens Preserve
Seahawk Park
Northwest Softball Complex
Cape Royal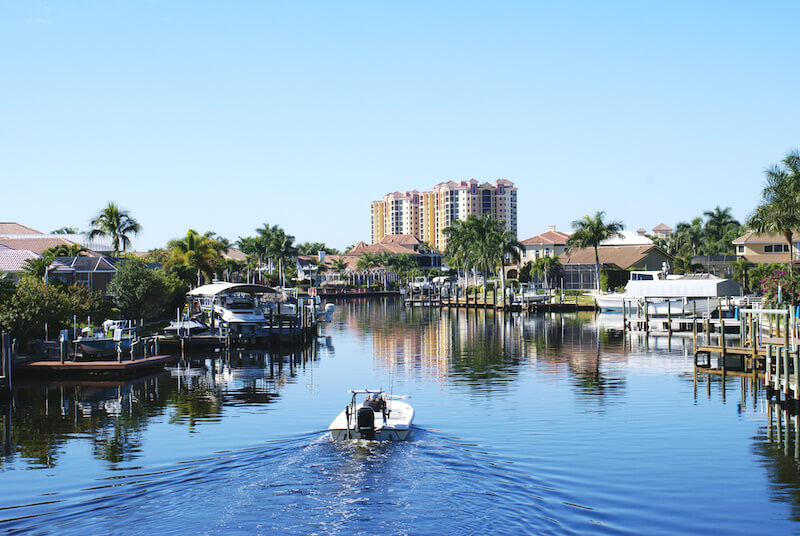 Located in the west-central region of Cape Coral, Cape Royal homes for sale comprise a one-of-a-kind gated community with beautiful villas, stunning golf courses, and spectacular lots with canal access. Cape Royal offers numerous properties, many of which overlook the lakes and are just a short distance from Cape Coral's network of canals leading to the Gulf of Mexico. These expensive homes have many sizes and layouts, with real estate prices usually ranging from $750,000 to $2,000,000.
One of the many features that sets this neighborhood apart is the Cape Royal Golf Club. It's a well-known golf-based luxury community in Cape Coral, boasting a 27-hole championship golf course, among other amenities. Better yet, residents have the option to play on the golf course without paying monthly fees. Developed by Engle Homes, Cape Royal features 22 lakes, offering unrivaled lakeside living for its residents. Additional features include a clubhouse, tennis courts, and a pro shop. Residents also enjoy easy access to many Cape Coral schools.
Cape Royal Amenities
EL Toro Mexican Bar & Grill
Coral Shores Shopping Mall
Jim Jeffers Park
Burnt Store Boat Access
Joe Stonis Park
Bubba's Roadhouse & Saloon
Yacht Club
Yacht Club is a highly desirable luxury community catered to boating enthusiasts and sailing lovers. Conveniently located on the Caloosahatchee River, Yacht Club was one of the city's earliest planned luxury communities, developed in the 1960s. Yacht Club real estate consists of vintage 1960s homes and contemporary upscale estates.
In addition to its versatile aesthetic, Yacht Club amenities include a pristine beach, a fishing pier, and an enclosed beach pavilion. This luxury community also has an exquisite ballroom, often utilized for weddings, special events, private parties, and more.
Yacht Club is located in southeastern Cape Coral, just 10 minutes from vibrant Downtown Cape Coral. This area hosts many events, including Sunset Celebration on the pier, featuring live music and arts and crafts activities. Yacht Club homes for sale come in numerous home styles, from condominiums to sprawling waterfront estates, with prices typically ranging from $200,000 to over $3,300,000.
Yacht Club Amenities
The Boathouse Tiki Bar & Grill
Cape Coral Yacht Club Boat Ramp
Yacht Club Public Beach
Cape Coral Yacht & Racquet
Yacht Club Park Fishing Pier
Luxury Living in Cape Coral's Most Expensive Neighborhoods
From waterfront estates to stunning luxury homes, Cape Coral offers a variety of popular neighborhoods. Whether residents want pristine golf courses or direct access to the canals, there is a community to satisfy anyone's taste for luxury living.