6 Most Expensive Neighborhoods in St Petersburg: Uncover Luxury, Waterfront Real Estate
Posted by Marcus Larrea on Monday, November 21, 2022 at 9:23 AM
By Marcus Larrea / November 21, 2022
Comment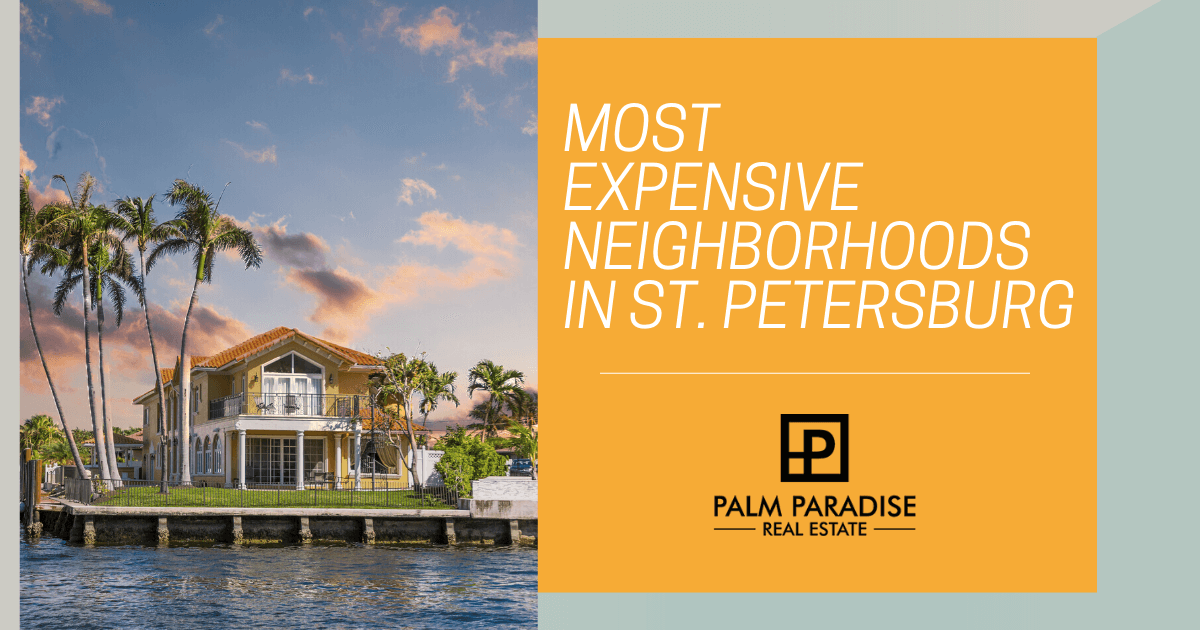 St. Petersburg, Florida, is as wonderful a place to live as it is to visit. If you're moving to St. Petersburg and looking for a luxurious lifestyle, high-end living, and everything that goes with it, you'll want to check out the most expensive neighborhoods in the city. These neighborhoods offer some of the best shopping, dining, and recreational opportunities in the area, all amid the most fabulous homes for sale in St. Petersburg. Before you search for your dream home in one of these luxury neighborhoods, consider what makes them so unique.
Tierra Verde
Tierra Verde is home to more than 3,500 residents. This census-designated place is a secluded island located at the entrance of Tampa Bay. It's connected to St. Petersburg via the Pinellas Bayway bridges.
Residents and visitors alike love Tierra Verde for its Fort De Soto Park. Fort De Soto Park has everything quintessential to southern Florida. It offers its visitors incredible beaches, waterfront campgrounds boasting electricity and running water, and miles upon miles of pedestrian and kayak trails. Tierra Verde also has a ferry that takes residents to nearby Egmont Key. There, residents can snorkel, birdwatch, and take in the historic ruins of Fort Dade.
With all that the neighborhood has to offer, it's not surprising that homes are expensive. It's rare to see single-family homes for sale in Tierra Verde listed below $1 million. It's also not uncommon to see properties costing as much as $10 million.
These opulent homes provide tons of high-end, sought-after features. Some properties are up to 7,000 square feet in interior living space and offer sprawling oversized lots with direct deepwater access. The real estate market in Tierra Verde also offers some of St. Petersburg's condos for sale, which list from the $400,000s.
Tierra Verde Amenities
Island Grille & Raw Bar
Billy's Stone Crab
Tony and Nello's Southern Italian Cuisine
Smuggler's Tavern
Sea Worthy Fish Bar
Pinellas National Wildlife Refuge
Tierra Verde Community Park
Causeway Isles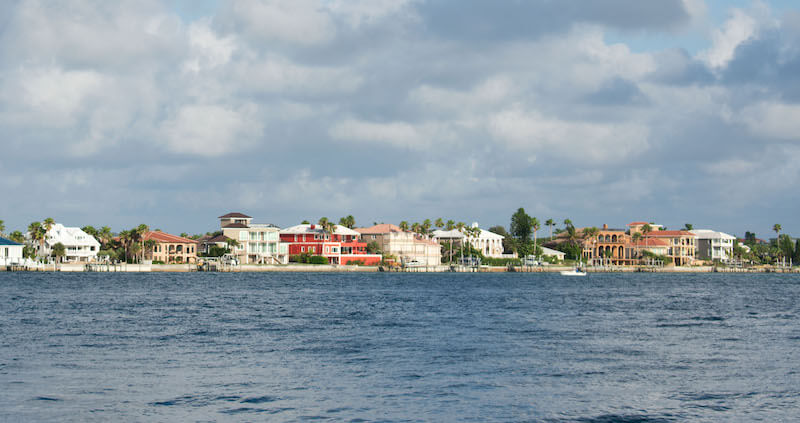 Causeway Isles is a scenic waterfront community with just under 2,000 residents. The neighborhood provides easy access to Treasure Island Causeway and booming Central Avenue. Major hubs Clearwater and Tampa are just over 30 minutes north and northeast, respectively.
The neighborhood features St. Petersburg waterfront homes, panoramic views, and unbeatable deepwater access. Residents only need to take a five-minute drive down Treasure Island Causeway to be dazzled by the bars, cafes, and restaurants lining nearby Treasure Island Beach.
Take in the views of crashing waves, boat traffic, and marine life while enjoying a burger at Skippy Joe's on the Beach, Foxy's Cafe, or Middle Grounds Grill. Those craving a local brew can hit Sea Dog Brewing Co or The Wheelhouse.
Homes in the neighborhood are elegant and grand, with unobstructed water views that provide residents with a front-row seat to passing dolphins and other marine life. Boating lovers will appreciate that homes in the neighborhood are minutes from the Gulf of Mexico.
Property prices start at $1.5 million and can cost upwards of $4 million. Most properties have three to five bedrooms, up to five bathrooms, and 3,000-plus square feet of living space.
Causeway Isles Amenities
Deep water access
Florida Orange Groves Winery
Neighborhood socials
Docks with built-in boat lifts
Snell Isle
Snell Isle is a densely populated neighborhood with just under 4,000 residents. Activity is centered around Snell Isle Boulevard, home to popular local haunts like Vinoy Golf Club—near St. Petersburg golf course homes—and the Snell Isle chapter of The St. Petersburg Yacht Club.
The Hough Campus of the Canterbury School of Florida is also located in Snell Isle. This school serves students attending pre-kindergarten through fourth grade.
Homes in the neighborhood are grand and luxurious, offering every amenity one would expect from a private Floridian isle. Single-family homes typically list from $1.3 million, and properties can exceed $13 million.
There is also a large volume of new construction homes in this neighborhood. These properties are luxurious, often located on the waterfront, and boast features like custom gourmet kitchens, 12-foot ceilings, and spacious walk-in closets. Homes typically feature more than 4,500 square feet of living space and upwards of five bedrooms.
Condos in Snell Isle are less expensive than their single-family counterparts but still surpass the $1 million mark. They typically offer less in terms of square footage, but what they lack in square footage, they make up for with features like private balconies and panoramic views.
Snell Isle Amenities
Sunken Gardens
St. Petersburg Woman's Club
Snell Island Harbor
Cloth & Paper
Historic Old Northeast
Historic Old Northeast is a lush and scenic neighborhood in St. Petersburg. Historic Old Northeast is a meticulously-landscaped neighborhood with plenty of gorgeous green spaces—North Shore Park, Vinoy Park, and Flora Wylie Park are just a few.
With a population of roughly 8,000 residents, Historic Old Northeast combines the charm of suburban living with the perks and amenities of city life. The neighborhood is a short drive or bus ride away from downtown St. Petersburg's local nightlife scene.
Homes in Historic Old Northeast come in various architectural styles, including Mediterranean, Spanish, and Bungalow. They are located on charming brick streets with aesthetic granite curbs. Many are new construction, built by well-reputed area builders, including Mobley Homes Custom and Canopy Builders LLC.
Homes in the neighborhood list from $1 million and regularly exceed the $6 million mark. Buyers receive gorgeous, meticulously-built homes with wraparound front porches, master suites with spacious walk-in closets, and custom kitchens containing high-end appliances.
Condos in the neighborhood are not significantly less expensive than single-family homes. Most units sell from $1–3 million and offer residents all the benefits of a luxury resort. The views from high-level units are also breathtaking, overlooking the local parks, St. Pete Pier, and downtown St. Petersburg.
Historic Old Northeast Amenities
Great Explorations Children's Museum
First Watch
Coffee Pot Bayou
Gizella Kopsick Palm Arboretum
Palladium Theater
Tropical Smoothie Café
Black Crow Coffee Shop
Downtown St. Petersburg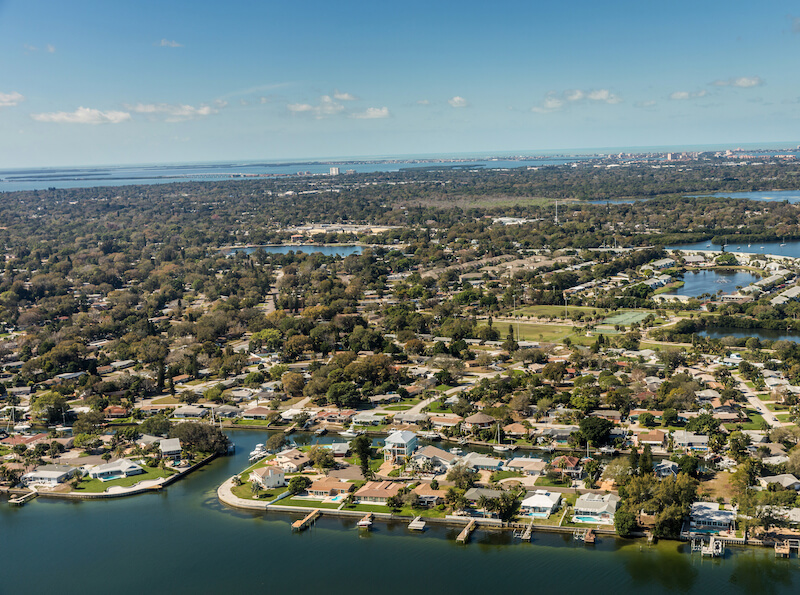 There is plenty of action in Causeway Isles and Tierra Verde. However, for prospective homebuyers looking to be at the center of all the activity, downtown St. Petersburg is the perfect neighborhood.
With nearly 20,000 residents, downtown St. Petersburg is a thriving melting pot of arts and entertainment. There are several opportunities for residents and visitors to enjoy what the local artists have created here.
St. Petersburg's eclectic and colorful murals lend a vibrance to the city that's unique and beautiful. For an immersive experience, head to Fairground St. Pete, a 15,000-square-foot gallery displaying art and technology exhibits by more than sixty local artists.
All this opportunity comes at a cost. Downtown St. Petersburg is one of the most sought-after destinations to purchase a home on the west coast of Florida. It is also home to some of the most expensive real estate in the city.
Home prices typically hover between $1–2 million for a townhome or condominium downtown. However, it's not uncommon to see luxurious single families or spacious penthouses selling for upwards of $6 million.
Downtown St. Petersburg Amenities
St. Pete Pier
Saturday Morning Market
Mirror Lake
Museum of the American Arts and Crafts Movement
Museum of Fine Arts
North Straub Park
400 Beach Seafood & Tap House
Parkshore Grill
Crescent Heights
Crescent Heights is a quaint neighborhood in St. Petersburg, home to more than 1,500 residents. The neighborhood is bordered by U.S. Route 92 and is a short drive from Coffee Pot Bayou and Tampa Bay. There are no schools within the neighborhood, but nearby St. Paul Catholic School and North Shore Elementary School are each less than five minutes away by car.
The neighborhood is considered walkable, and most residents are just a few steps from plenty of restaurants, coffee shops, and parks. Dr. Martin Luther King Jr. Street N borders Crescent Heights to the west and is lined with cafes and eateries like Trip's Diner, Blush Tea and Coffee, and Sunset Grille.
Unlike many other neighborhoods on this list, it's not uncommon to see real estate in Crescent Heights priced below the $1 million mark. Some properties list from $700,000.
Despite their relative affordability in terms of the cost of living in St. Petersburg, these homes include stunning open floor plans, soaring ceilings, and outdoor areas for entertaining family and friends. Most homes offer at least 3,000 square feet, up to five bedrooms, and multiple bathrooms.
Crescent Heights Amenities
Rollin' Oats Market
La Segunda
SOHO Juice Co.
7-Eleven
St. PetersBARK Natural Pet Market
BOTE St. Petersburg
Experience Luxury in St. Petersburg
From condos to penthouses to single-family homes and waterfront properties, there is something for everyone in St. Petersburg. There are plenty of excellent neighborhoods for prospective homebuyers searching for a high-end home in this vibrant and bustling city. And with all the waterfront homes in town, be sure to stock up on your beach house necessities!