Moving to Fort Myers: 11 Things to Love About Living in Fort Myers
Posted by Marcus Larrea on Tuesday, January 3, 2023 at 8:12 AM
By Marcus Larrea / January 3, 2023
Comment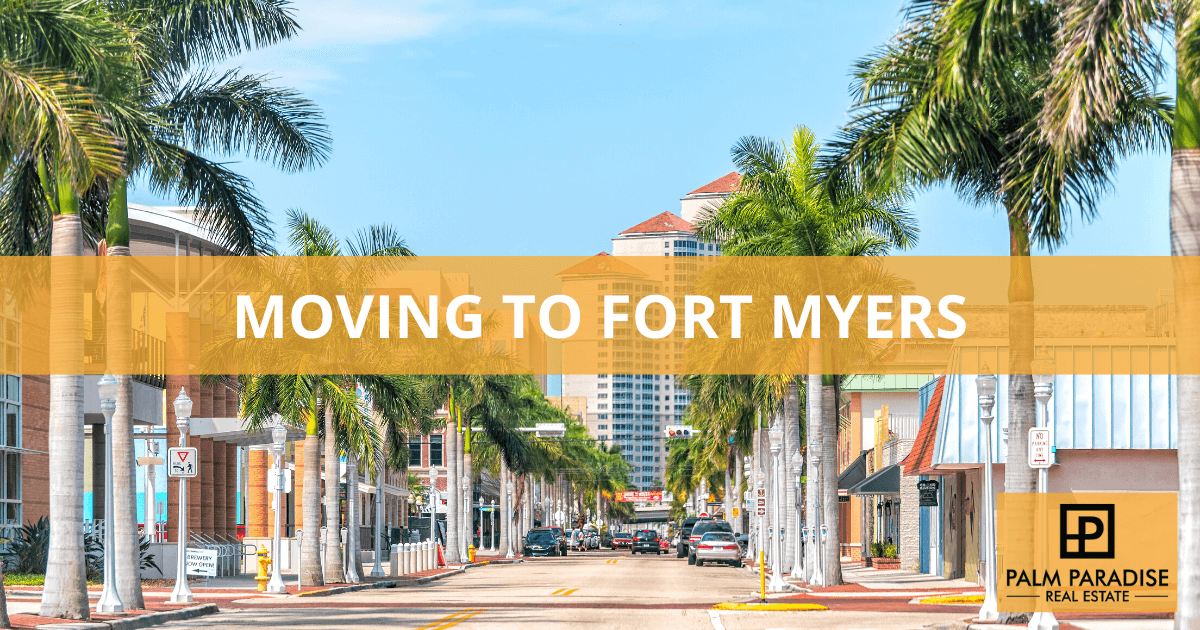 Living in Fort Myers, FL
In many ways, the city of Fort Myers remains a hidden gem in a state full of popular and well-known spots. Still, the incredible growth of recent years tells the tale of what it does have: an affordable cost of living, a beautiful natural environment and climate, a strong job market, and so much more. But like any big move, future residents of Fort Myers may have some questions about what life is like in the Southwest Florida area. Read on for a breakdown of the most important things to know for those thinking about moving to Fort Myers, Florida.
Cost of Living in Fort Myers
Depending on where future residents are coming from, Fort Myers might seem pricey or affordable—it's all relative. But the cost of living in Fort Myers is broadly in line with the national average for cost of living and somewhat below the average for Florida. Fort Myers residents can expect to pay more than average for healthcare, partly a reflection of the higher demand due to the area's older population. On the flip side, Fort Myers residents typically pay less for transportation and housing. Groceries, utilities, and other miscellaneous spending are similar to the national average.
Home prices in Fort Myers generally average close to $300,000. Median rents for studio and one-bedroom Fort Myers apartments typically start around $900 per month, with two bedrooms between $1,100 and $1,200, and three and four bedrooms at $1,500 or more per month. These numbers have increased in recent years as Fort Myers has seen dramatic population growth. However, they remain more affordable than many other popular Florida cities and towns. As with many coastal areas, prices increase closer to the Gulf and its waterfront homes, while eastern inland areas offer lower-cost homes. Local sales taxes are relatively low, though property taxes are among the highest in the state.
More information about cost of living in Fort Myers:
Fort Myers Job Market
The Fort Myers job market is strong and one of the significant drivers of the area's growth in recent years. Lee County has tended towards lower unemployment rates than the national average and is projected for faster job growth than the country at large as well. Some of Fort Myers' largest employers include:
Lee Memorial Health System
Lee County Schools/Lee County Government
Chicos
Fox Electronics
Florida Gulf Coast University
Arthrex
Hertz
Ritz-Carlton Naples
Tourism and hospitality employers make up a significant piece of Fort Myers' job market. Tens of thousands of visitors come to the area's beaches and resorts every year, requiring a substantial number of workers to operate and maintain these facilities as well as surrounding restaurants and other attractions. However, this hiring can be seasonal, peaking in the busiest tourist months.
More information about finding a job in Fort Myers:
Popular Industries in the Area
As can be seen from the area's top employers, a few key industries tend to dominate the Fort Myers job market. Local government and public schools employ a great deal of people maintaining services for three-quarters of a million Lee County residents. Hospitals, doctors, and other medical centers and companies also make up a large part of the Fort Myers economy. This is partly due to the high demand for health services both in Fort Myers and Florida broadly, thanks to the higher healthcare needs of older residents. As previously mentioned, hospitality is also a major local industry. Southwest Florida officials are also making efforts to lure more manufacturing, life sciences, logistics, IT, and financial services companies to the region as part of Fort Myers' key industries, further diversifying the job market. This widely varied group of industries provides employment opportunities for all education levels and skills.
Things To Do in Fort Myers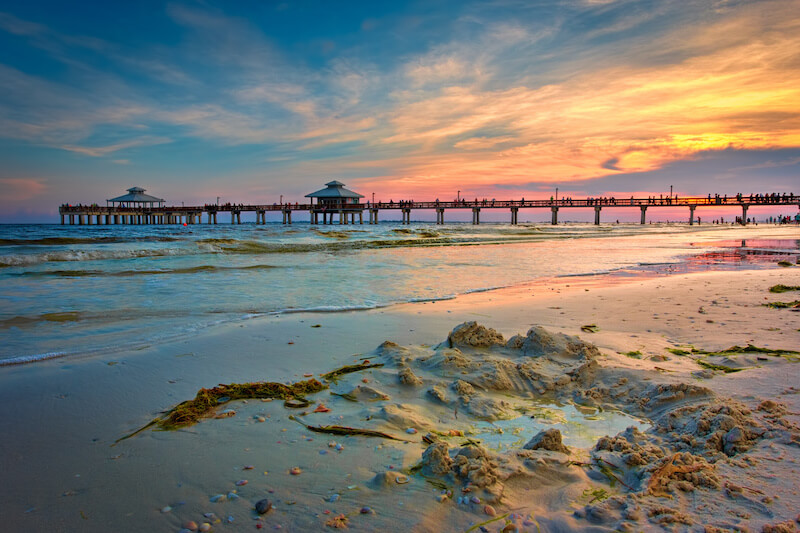 There's tons to do in and around Fort Myers, from the incredible beaches and other natural environments to the area's exciting food and nightlife scene. There's even history here, such as the Edison and Ford Winter Estates, where American icons Thomas Edison and Henry Ford came to escape cold temperatures up north.
Outdoor Activities
Few people come to the southwest Florida region without hitting up the area's famous Gulf beaches. There's no shortage of beaches near Fort Myers, including the highly popular Fort Myers Beach, the quieter, more secluded options on nearby Sanibel or Captiva islands, or the preserve areas of Lover's Key State Park. There are also plenty of opportunities to get out into the area's incredible natural environment, from the wetlands of Six Mile Cypress Slough Preserve to Manatee Park, a local warm-water refuge for manatees during the winter. Fans may even be able to catch a ballgame during the yearly Spring Training games held here by the Boston Red Sox and Minnesota Twins.
Restaurants, Breweries, and Bars
Foodies and cocktail enthusiasts will find a city to love in Fort Myers, thanks to its vibrant dining and bar scene. The nearby Gulf plays a major role in the Fort Myers food scene, supplying fresh, high-quality seafood for local menus. Some of the city's most acclaimed restaurants include The Veranda, Osteria Celli, and Blanc. Those looking for a more casual but equally beloved spot should check out Izzy's or Ford's Garage. Those who love a nice drink will enjoy a variety of breweries and distilleries in the area, like the Millennial Brewing Co. or Wicked Dolphin rum distillery in the nearby city of Cape Coral.
Nightlife
As might be expected, downtown Fort Myers tends to be the heart of the city's nightlife. A wide variety of spots are located on First Street between Cleveland Avenue and the Edison Bridge. Some of the most popular of these include The 86 Room and The Firestone Skybar. Downtown also hosts the popular monthly Art Walks and Music Walks, which take place on the first and third Fridays of the month, respectively. These events showcase local and regional artists in a free, outdoor community setting and are a favorite for people of all ages. Nearby Fort Myers Beach also offers many beachfront spots geared toward younger or rowdier crowds. People of all ages can get in on some nightlife excitement in Fort Myers at GameTime, a restaurant with video games for the kids and a bar with TVs for adults.
Fort Myers Climate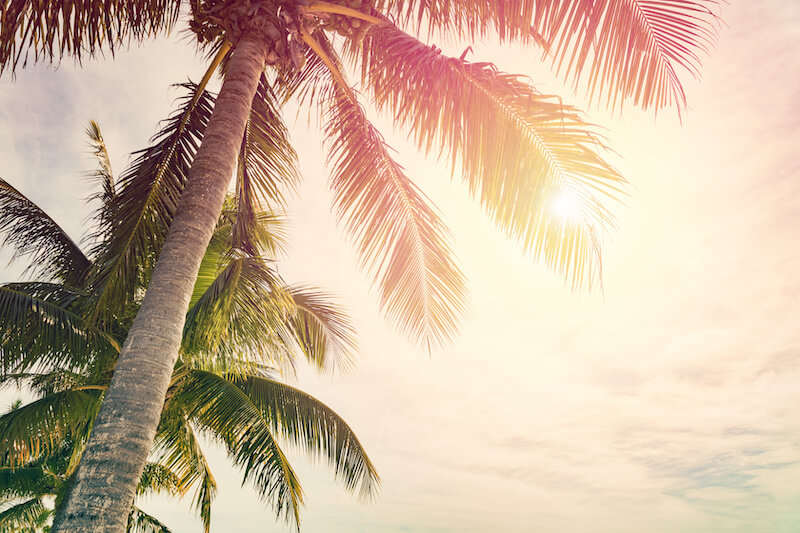 Florida is known for its warm, sunny climate, and Fort Myers is certainly no exception to this. The fall and spring tend to be the most pleasant times of the year, with temperatures in the high 70s to high 80s and relatively lower humidity and clear skies. Summers can be hot and muggy, with temperatures in the high 80s to low 90s and plenty of humidity. Like much of Florida, Fort Myers can see frequent thunderstorms in the summer months due to these conditions, meaning more cloudy days. Still, this is also the best time for swimming in Fort Myers, with local waters at their warmest. Winters generally see highs sink to the low to mid-70s, with the potential for some days in the 50s and 60s. For this reason, winters are an extremely popular time to visit Fort Myers and the southwest Florida area, as many residents of colder climates (known as "snowbirds") spend their winters here to escape the cold up north.
More information about the climate in Fort Myers:
Traffic in Fort Myers
Like many rapidly growing metro areas, Fort Myers deals with some traffic from time to time. As might be expected, roads are typically most congested during the morning rush period of 7 a.m. to 9 a.m. and the afternoon rush from 4 p.m. to 7 p.m. Luckily, Fort Myers commutes tend to be fairly short, with most drivers spending less than 25 minutes each way. This means most residents have commutes shorter than the national average of about 28 minutes. This is particularly notable considering the large distances covered by the Fort Myers area, nearly 30 miles in each direction from the Lehigh Acres community to Cape Coral to the city of Bonita Springs. However, traffic may worsen during the winter months as seasonal residents add thousands of additional cars to the road.
Parking rules vary throughout Fort Myers and its surrounding communities. The downtown area includes a variety of parking lots, parking garages, and timed street parking, which can be metered or unmetered. Neighborhood streets will have varying parking rules, especially those within communities with regulations set by an HOA or similar organization. The nearby Fort Myers Beach community offers similar paid parking options, including private and city-owned lots.
Alternative Routes
The Fort Myers area benefits from having two roughly parallel north-south freeways, Interstate 75 and US Highway 41. These can provide alternative travel routes if one is heavily congested. While Interstate 75 provides a typical, limited-access freeway, US Highway 41 is typically a surface road lined with businesses. Along with these two, other options include 6 Mile Cypress Parkway and McGregor Boulevard. Traveling east-west, drivers can utilize Daniels Parkway/Cypress Lake Drive, Summerlin Road, or Colonial Boulevard. These roads provide varied ways around the region if traffic slows a particular route.
More information about traffic in Fort Myers:
Public Transportation in Fort Myers
Fort Myers residents aren't always stuck behind the wheel when they need to get around. The city and surrounding Lee County offer a variety of other ways to get around, including the public transit service LeeTran. LeeTran operates more than 20 trolley and bus routes in an area between Fort Myers Beach, Collier County, the North Fort Myers community, and Lehigh Acres. Residents can use public transportation to get to popular beaches, throughout downtown, to the airport, and into the Cape Coral area. Buses cost $1.25 per trip, while trolleys cost just $0.50. There are also a variety of daily, weekly, monthly, and multi-trip passes that provide lower per-ride costs. Riders can pay fares in cash or via a reloadable TropiCard. Routes typically run from 5 a.m. to 9:45 p.m. Monday through Saturday, with more limited service on Sundays.
There are also various taxi and rideshare services like Uber and Lyft available throughout the Fort Myers area. Fares for these will depend on the type of vehicle, length of trip, and other factors, and availability may be limited in areas further from the core areas of town.
Fort Myers Schools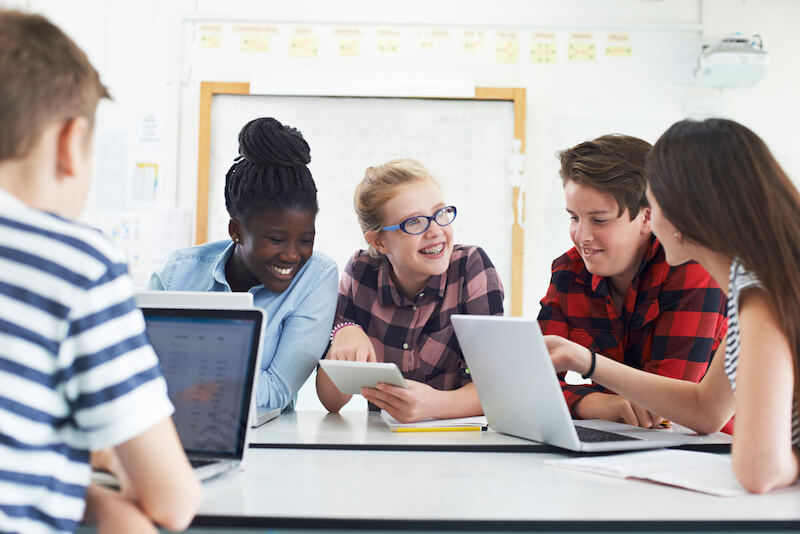 Public schools in Fort Myers are operated by Lee County Schools. The system educates more than 90,000 students from kindergarten through high school, making it the 32nd largest school district in the nation. Parents can take advantage of before and after school programs, nutritious breakfasts and lunches, school bus pickups, and more offered at more than 100 public school campuses throughout the county. In addition, both parents and students can take advantage of online portals to keep up to date on news about their schools.
Fort Myers residents who wish to send their children to private school also have many options, with around two dozen private schools in the area with more than 5,000 students enrolled. The majority of these are religiously affiliated. However, other options, including Montessori schools or other non-traditional education, are also available.
The area also has a noteworthy higher education presence as well. Fort Myers is home to three colleges and universities: Southwest Florida College, Florida Southwestern State University, and Florida Gulf Coast University. Of these, Southwest Florida College is by far the smallest, with less than a thousand enrolled students, compared to 15,000–16,000 at the other two schools.
Enjoying Life in the Heart of Southwest Florida
Fort Myers has attracted thousands of new people in recent years, and it's easy to see why. Many come for the gorgeous weather, modest cost of living, and booming economy, but find a unique city with amazing things to do and a strong community. While the real estate market may be competitive, a wide range of desirable homes are available, and more new listings come up every day. Future residents should keep this information in mind and, before they know it, they'll find themselves feeling at home in the City of Palms.