Naples Is The No. 1 Emerging Housing Market: 4 Ways to Invest While It's Hot
Posted by Marcus Larrea on Tuesday, February 22, 2022 at 10:54 AM
By Marcus Larrea / February 22, 2022
Comment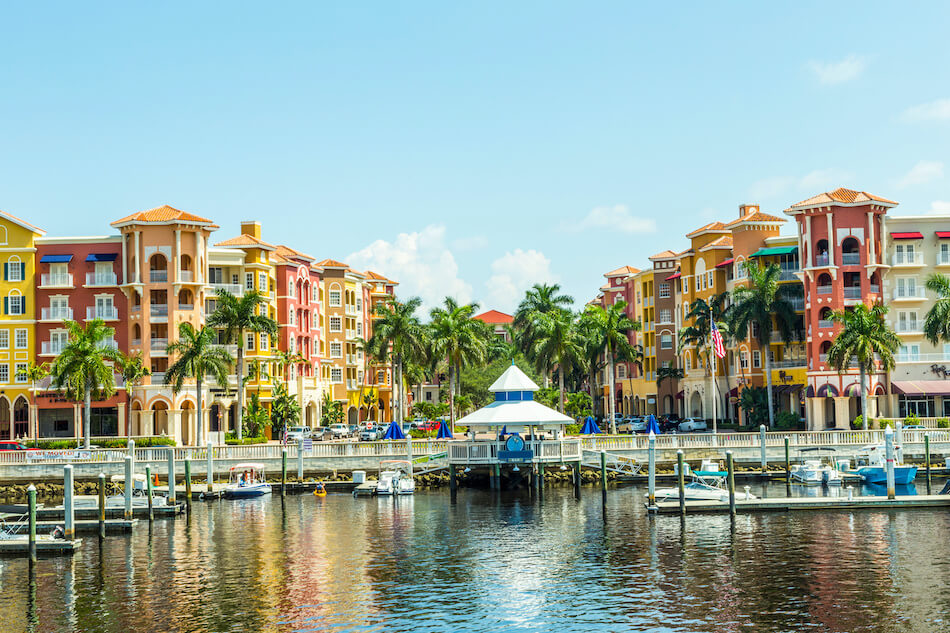 In exciting news for West Florida, the city of Naples was ranked as the number one emerging housing market on a recent index from the Wall Street Journal/Realtor.com. What's making Naples one of the hottest housing markets? Experts believe it's a combination of factors that caused 2021's 26% increase in home sales in Naples. With remote work on the rise, people want to live in a location where they can get great value for their price. With its pristine beaches, top-tier quality of life metrics, and luxury homes for sale, life in Naples is a year-round vacation. Looking to get in on the investor action? Here are four ways to get involved with the Number 1 Emerging Real Estate Market in America.
For informational purposes only. Always consult with a licensed real estate professional before proceeding with any real estate transaction.
Invest in a Naples Vacation Rental
People are moving to Naples in droves for their chance to live in paradise. If you've ever considered investing in a Naples short-term rental, now's one of the best times to do so. Naples has always been a top choice for tourists because of its beautiful beaches and sunny weather. Investing in a Naples vacation rental is a great way to make passive income that will only increase the longer you own it. Below, you'll find several reasons driving the popularity of vacation rentals in Naples.
Location, Location, Location!
Buying vacation homes is all about choosing the best location. You need to make sure it's located somewhere where there is a constant demand for short-term accommodations. As a highly desired vacation spot, Naples is one of the best places in the country to buy a vacation rental.
You can further optimize your location by researching the best neighborhoods in Naples. The hottest housing markets for vacation investors are along the beach, Old Naples, and within the many golf course communities in Naples. As you can imagine, these are some of the most desirable vacation destinations for people looking to find a luxurious basecamp near some of the most fun things to do in Naples. The better your location is, the more bookings you'll receive. When you have a low average vacancy rate, the more passive income you earn. When it comes to great locations, Naples has plenty of options.
Busy On-Seasons, Enjoyable Off-Seasons
When it comes to vacation properties, timing is everything. You want a place that will be busy during peak vacation seasons. On average, the busiest seasons for vacation rentals in Florida are the summer months and warm-weather holidays like Spring Break, Labor Day Weekend, and Fourth of July. Naples sees peak business during the seasons, meaning peak profits for owners.
For most parts of the country, vacation rental owners find that their property is un-use during the best times of the year. Therefore, they're stuck using it in less desirable seasons. Naples short-term rental owners don't have this problem. The less busy seasons for tourism still have gorgeous weather, making year-round use an option. Naples vacation rental owners can enjoy total vacation season profits and still get excellent personal use out of it.
Naples Property Management Companies Make Upkeep Easy
If you don't live in Naples but you want to own a vacation rental here, you might consider collaborating with a vacation rental management company. If you are an absentee owner, having a Naples property management company handle the day-to-day maintenance of your vacation rental is the best way to keep it in great shape. With multiple properties in Florida under their belt already, most Naples property management companies can give you all the advice and information you need about owning a short-term rental in Naples. A few services provided by vacation rental management companies include:
Cross-platform marketing services
On-demand, on-location maintenance support
Frequent cleanings
Guest experience management
Most property management companies charge a percentage of the nightly rate for their services. This fee typically ranges from 10-25%. In addition to their percentage fee, most companies also charge a one-time set-up fee or an annual maintenance fee. As an added perk, they also help you follow the IRS rules for renting out your home.
Build a Naples New Construction Home?
Naples is currently experiencing one of the hottest housing markets in the country. When the market is taking off like this, the future home price appreciation outlook is prime. If you've made financial plans for building a new home, consider doing so in Naples. Buying a new construction home is also an excellent way of investing in Naples' continuing growth, whether you're building to rent, or planning to live here for the foreseeable future.
There are several reasons why Naples new construction homes can gain value more rapidly than older homes. The biggest reason is that they start in pristine conditions, resulting in less depreciation over time. Additionally, new construction homes come with many features and amenities that aren't available in older homes. These can include top-of-the-line appliances, gourmet kitchens, and high-end finishes. Naples may not always be the top of the emerging markets in the country, but it's showing promises as a place to put down long-term roots. Investing in a Naples new construction home ensures you get all of the customizations you could dream of in an area that is likely to provide a significant return on investment.
Stake Your Claim With a Cash Offer
As one of the hottest housing markets, real estate is moving fast in Naples. If you're a buyer in a sellers market, consider making a cash offer on a home you love rather than getting caught up in a bidding war.
Making a cash offer for a home has many advantages, and doing so is a great way to get involved in Naples real estate.
When you make a cash offer, you're indicating to the seller that you're serious about buying the property. This can sometimes result in getting the seller to take your offer more quickly than they would if you were to make an offer contingent on the sale of your own home or other financing setbacks.
Additionally, by making a cash offer, you're eliminating the need for the seller to wait around for a mortgage to go through. This can speed up the process and make it more likely that the deal will succeed. Cash offers can keep you closer to the typical asking price when dealing with a competitive market.?
Lastly, making a cash offer usually indicates that you have already been pre-approved for a mortgage. This shows the seller that you're not making a risky offer.
Retire in Naples, Florida
Naples is a lovely place to retire. The weather is gorgeous year-round, and seniors enjoy an excellent quality of life here. If you're looking for the perfect place to retire, there's never been a better time to consider Naples.
There are many great reasons to retire in Florida. For starters, Florida is a tax-friendly state for retirees.
The Sunshine State offers several tax incentives. These incentives can make it more affordable to retire in Florida and enjoy all that the state offers.
One of the most significant tax perks for retirees is the homestead exemption. This exemption allows homeowners over the age of 65 to exempt a portion of their home's value from property taxes. The current law states that you're exempt from paying half of the first $50,000 of your property's assessed value.
Also, Florida has no state income tax. This means retirees don't have to make payments to the state on Social Security, pensions payouts, or withdrawals from other forms of retirement income. Furthermore, there's no inheritance tax or estate tax in Florida.
Within Florida, Naples has one of the most desirable lifestyles for retirees. Known as the Golf Capital of the World, Naples has somewhere around 90 golf courses. The year-round warm weather makes it easy to enjoy beach walks, nature exploration, and bike rides. The Naples lifestyle invites retirees to enjoy new activities, favorite pastimes, and affordable home prices.
Get Involved With America's Top Emerging Real Estate Market
Naples is the best of the best emerging real estate markets in America. The strong job market makes for a low unemployment rate, and price growth has established a competitive market. If you want to get involved in this growing and lucrative market, there are a few things you can do. You could invest in a Naples vacation rental, build a new construction home in Naples, or buy a home with cash. Whatever route you choose, it's important to remember that Naples is a great place to retire. So if you're looking for an area with plenty of investment potential and opportunities for retirees, look no further than Southwest Florida's crown jewel – Naples.
For informational purposes only. Always consult with a licensed real estate professional before proceeding with any real estate transaction.