Naples, Florida Public Transit: How to Get Around
Posted by Marcus Larrea on Thursday, August 19, 2021 at 7:18 AM
By Marcus Larrea / August 19, 2021
Comment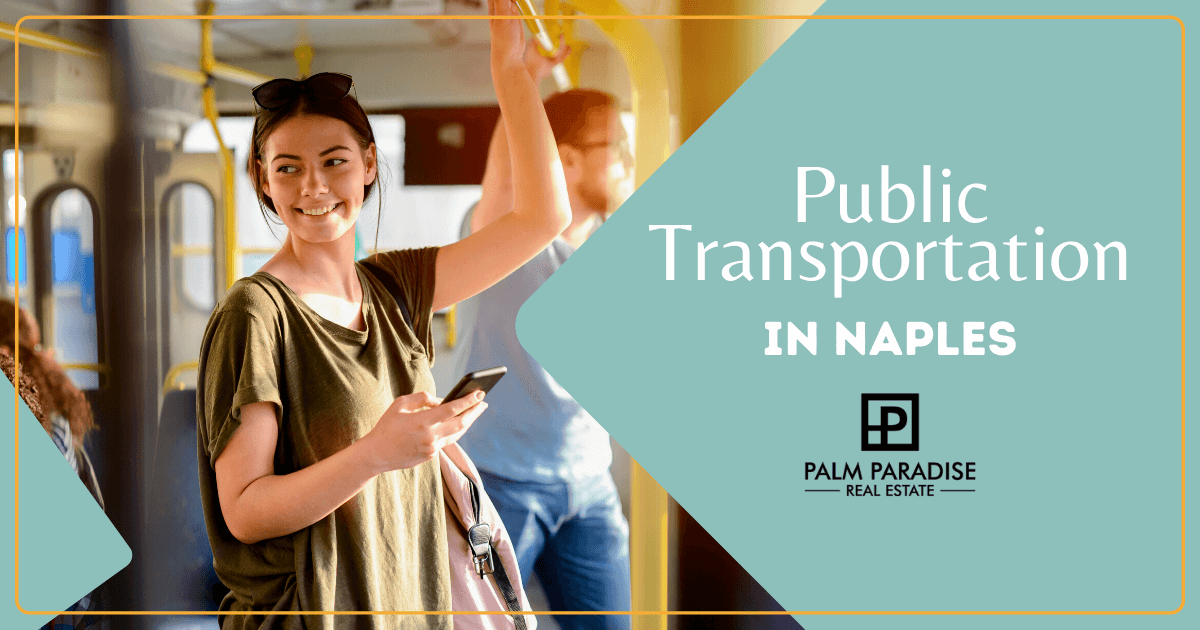 Thanks to the vast number of public transportation options available in the sunny Naples community, residents don't need to drive a personal vehicle to get to and from all of the fun things to do. Buses, bikes, water taxis, cab services, and even trolley services are available throughout the area, taking locals and visitors safely to and from their Naples destinations. Read on to learn more about public transportation options in Naples, Florida.
Collier Area Transit
Collier Area Transit (CAT) is a primary transit option for those wanting to traverse key areas in Collier County. Bus routes run daily, with stops varying depending on the time and day of the week. Ride passes can be purchased using the rideCAT app or via the Google Play Store. Each bus has an electronic farebox that accepts cash, mobile tickets, and reloadable smart cards.
Residents who lack access to transportation or are otherwise unable to use traditional public transit may qualify for the CATConnect paratransit door-to-door service. An application must be filled out and approved to use this public transport option. Transfers from other local communities may be eligible for paratransit services in Naples.
Collier Area Transit Additional Information
Phone: 239-252-7777
Hours: Daily 6 a.m.–8:45 p.m.
Fare: Adult one-way $2 / Day pass $3 / Marco Express $3 / Children under 5 FREE / Longer passes and discount rates available
Naples Bay Water Shuttle
Taking a ride on the Naples Bay Water Shuttle is an affordable way to have fun getting around the bay. One ticket is good for the whole day, and passengers can hop on and off at various locations along the coast. The water taxi stops at Naples City Dock, Tin City, Naples Bay Resort, and various other Bayfront restaurants and shops.
The water shuttle is called the Blue Pelican, and it makes a complete loop around Naples Bay. Guests can bring their own drinks on board, but glass containers, food, large strollers, and pets other than service animals are prohibited. Ask the captain if you'd like to stay on board for a full 45-minute sightseeing loop. Groups larger than six should make a reservation due to limited seating, and the Blue Pelican doesn't operate during certain weather conditions. If the weather seems questionable, call ahead to verify if the shuttle is running.
Naples Bay Water Shuttle Additional Information
Phone: 239-206-0160
Hours: Noon–7 p.m., though days and hours can vary; check the website for weekly operation days and an hourly schedule
Fare: $10 per person / Kids under 10 years $5
Bike Rental Services in Naples, FL
Thinking of renting a bike to get around the community more freely? Eco-friendly bike rentals along with scooter options are readily available.
Beach Bum Bike Rentals & Delivery
Beach Bum Bike Rentals & Delivery is one of the leading bike rental and shipping companies in South West Florida. Anyone wanting to ride around the city without the need for a personal vehicle should definitely consider Beach Bum's reliable bike rental and delivery services. Choose a model, enter a delivery date, and the team brings everything to the destination of the customer's choosing within the city limits. Customers can also pick up bikes without a reservation at Beach Bum's location in the Olde Naples neighborhood.
This company offers plenty of choices for riders of all ages. All rentals come with a safety helmet, basket, and bike lock. Tote beach goodies or shopping hauls with ease while taking in the scenery.
Beach Bum Bike Rentals & Delivery Additional Information
Phone: 239-207-6290
Pick up Hours: Sun–Mon 10 a.m.–2:00 p.m. / Deliveries Daily
Rates: Start at $20 for 1/2 day / $25 for first 24-hour day, $5 per additional day / $50 weekly
Glide Around Town with Slidr
The Slidr app offers free rides for those in need of a "last mile" push to their destination. Their vans, decked out with power-charging docks, internet, and eco-friendly motors, will come and pick up passengers for a quick A to B ride. Want something for a bit longer? Rent a bike or scooter with Slidr. The rentals are $1 to start, with each minute costing $0.10–$0.15, but riders can also get unlimited 30-minute rides for $14 per month. Download the app to find nearby scooters and bikes and scan their QR codes to unlock them.
Slidr Additional Information
Phone: 239-227-9042
Hours: Sun–Thurs 11 a.m.–9 p.m. / Fri–Sat 11 a.m.–10 p.m.
Rates: Van rides FREE / Bike and scooter rentals $1 plus $0.10–$0.15 per minute
Naples, Florida Top Taxi & Car Services
Getting from point A to point B is made simple by various taxi and car service providers that offer transportation for everything from airport transfers and luxury private auto rentals to cruise port transfers.
Taxi Pam & Car Service
Taxi Pam & Car Service operates in unison with all of the regional airports and cruise ports that serve southern Florida. The company also offers standard and luxurious vehicle transportation and private car services with professional drivers at the helm. Known for reliability and great rates, Taxi Pam is a solid choice.
Taxi Pam & Car Service Additional Information
Phone: 239-234-4343
Hours: Daily 24 Hours
RideNaples Airport Transport Service
RideNaples is the community's connection to the regional and local airports for a fraction of the costs associated with similar companies. They work with leisure travelers, private plane owners, and government entities. The company services airports including:
Fort Myers International Airport
Punta Gorda Airport
Ft. Lauderdale International Airport
Miami International Airport
RideNaples goes further with services that include private transport to the cruise ports in Fort Lauderdale and Miami for $125 per trip. Call 239-216-2435 for rates and availability with this pet-friendly transit option.
Vintage Trolley Tours
Take a narrated tour of the Naples community with a vintage trolley tour. As with the Naples Bay Water Shuttle, passengers pay one price for the tour and can board, depart, and re-board at their leisure. More than 100 interesting sights are featured with a guide telling the tales and history surrounding them. See and experience Naples in a unique and informative way with a vintage trolley day tour. Without getting off at any stops, the tour takes about an hour and forty-five minutes.
Vintage Trolley Tours Additional Information
Living in the Paradise Coast is a Ray of Sunshine All Year Long
Whatever makes one decide to move to Naples, living here is a pretty sweet scene. Being mobile without the need to own a car or spend a lot on fuel and insurance is rather easy due to the public transit options around town. Ready for fun things to do, great job opportunities, and a unique coastal way of life? Come check out all that Naples has to offer for locals and visitors alike.