Things to Do in Naples: Fun Ideas For This Weekend in Naples FL
Posted by Marcus Larrea on Thursday, January 27, 2022 at 7:40 AM
By Marcus Larrea / January 27, 2022
Comment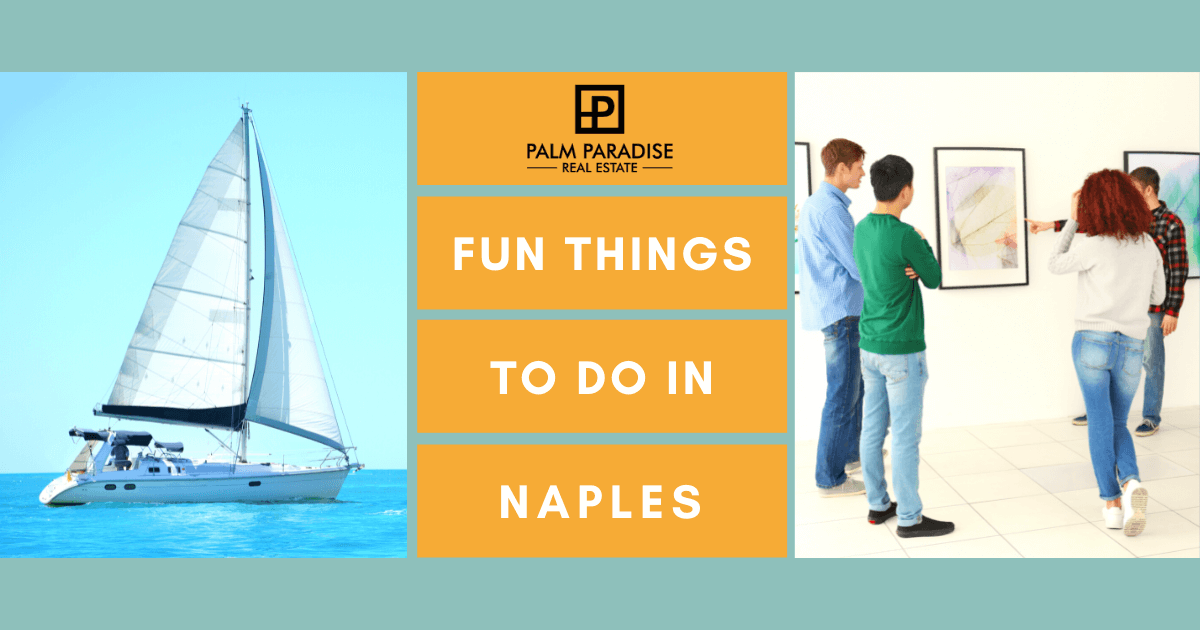 Located on the Gulf of Mexico, Naples is a large city of over 322,000 people. It's recognized for its vibrant lifestyle, including everything from fishing and golf to luxury shopping. Many visit the area to check out the wildlife, enjoy the calm waters along the white sand beaches, or spend some time at one of the area's parks. Those moving to Naples or looking for things to do while visiting are sure to find lots of experiences available. Take a look at a few of the opportunities present in and around the city of Naples, Florida.
Naples Outdoor Adventures
Naples has much to offer for those that love the outdoors. From large state parks to the open waters of the Gulf, there is often something fun outdoors to do. The weather is known for its year-round pleasant warmth, making it easy to spend time in the Florida sunshine. Here are a few of the many popular outdoor activities in Naples.
Naples Parks
Parks in Naples
Cambier Park
Baker Park
Freedom Park
Fleischmann Park
Lowdermilk Park
One thing Naples has a lot of is green space. It's one of the best areas for nature exploration. Big Cypress Swamp is an excellent example of this, offering 729,000 acres of protected swamp and marshland, much of which allows visitors to explore it firsthand by canoe or through hiking tours.
Sugden Regional Park lies alongside a freshwater lake with a beach. Sailing events take place here throughout the year on Avalon Lake. Paddle boats, fishing, and building sandcastles are popular activities here. In the Olde Naples neighborhood, Cambier Park is a fantastic choice for those looking for a traditional open green space. Live concerts free to the public are put on during the summer months. It's also home to tennis courts, shuffleboard courts, and a softball field.
Other popular parks in Naples include Audobon Corkscrew Swamp Sanctuary, Collier-Seminole State Park, and the Naples Botanical Garden.
Naples Beaches and Water Recreation
Natural Water Sources in Naples
Gulf of Mexico
Gordon River
Haldeman Creek
Naples Bay
Venetian Bay
The water is one of the treasures in Naples, with seemingly endless opportunities. One of the best beaches in the area is Delnor-Wiggins Pass State Park. It's a mile-long beach covered in white sand, perfect for swimming, snorkeling, and shelling. Naples Municipal Beach can be a bit more crowded, but with 10 miles of sand and the Naples Pier, it is one of the best locations for those who want to have direct access to the Gulf.
It's also easy to rent a boat or take a charter out onto the water to do some fantastic fishing. Local marinas make it easy enough to do some water skiing, surfing, and paddle boating throughout the area as well. Other fun water activities in Naples include the unique experience of seeing manatees, parasailing above the Gulf of Mexico, and racing jet skis!
Naples Hiking & Biking Trails
Trails in Naples
Gordon River Greenway
Crew Bird Rookery Swamp
Lake Avalon Loop
Clam Pass Boardwalk
Collier-Seminole Prairie Hammock Trail
One of the best ways to spend time enjoying the Florida weather is at one of the area's parks on a bike or doing some hiking on one of the excellent trails in Naples. Most community parks have paved walking trails. Baker Park is a good start. It has several running trails and a bike trail that takes users over and around the river.
The Gordon River Greenway is a special opportunity for hiking, taking hikers through mangroves along four accessible paths. The views are exceptional. For a more maintained path, consider the loop around Lake Avalon. It's an easy trail but worth it for the sights. For a more challenging experience, visit Vanderbilt Beach Park to do some walking along the sandy shores.
Outdoor adventures await throughout the year. Naples routinely has outdoor festivals to explore. Most neighborhoods also have smaller playgrounds to enjoy. There are also numerous activities up and down the coastline as well.
Naples Shopping
Shopping Centers in Naples
Waterside Shops
5th Avenue Shopping
Neapolitan Way Shopping Center
Third Street Mall
Naples Plaza
Coastland Center
Naples offers shopping for everyone, from luxury buyers to deal-seekers. Fifth Avenue South is easily the destination for those looking for boutiques and bigger brands in the heart of the city. Check out retailers such as White House Black Market, Sperry Topsider, and Chico's. Third Street South is another shopping district in the downtown area. It's within walking distance of Fifth Avenue South and offers additional upscale boutiques.
The Waterside Shops area is right off Route 41, home to retailers such as Michael Kors, Saks Fifth Avenue, and Free People, among others. Another upscale location is The Village Shops on Venetian Bay, a Neapolitan-style shopping area that's often considered a truly luxurious location.
Mercado is an open-air mall that's great for everyday shopping needs, including a Whole Foods location. A more typical shopping mall also to consider is Coastland Mall.
Naples Restaurants
Restaurants in Naples
Sails Restaurant
Osteria Tulia
Hob Nob
The Boathouse on Naples Bay
BrickTop's
The Rooster Food+Drink
Naples has a nice mixture of fine dining and casual restaurants. Some of the best experiences are those that are from locally owned locations. Osteria Tulia is an authentic Italian restaurant with food that feels like it's right out of Nonna's kitchen. For French cuisine, there may not be a better location than Bleu Provence. It's fancy and elegant and offers over 3,000 different wines to choose from to compliment the duck leg confit and moules-frites offered on the menu. Another must-try French restaurant is French Brasserie Rustique, which provides a more earthy menu. Choose to sit outside for a nice treat in the evening.
Naples also has many mouthwatering seafood restaurants, thanks to its location. Sea Salt is one of the most noted. It sits in the Third Street district and has a menu full of organic and sustainable dishes. Sails Restaurant is another seafood treasure, with a sunset menu that is exceptional.
Arts & Culture in Naples
Naples has a very long history, and with that comes a rich arts and culture experience. It's easy to see this in the architecture found on many of the buildings. Yet, the activities and events that take place here are extraordinary. Here are a few experiences to look into further.
Naples Museums
Museums in Naples
Naples Depot Museum
Naples Train Museum
Naples Historical Society
Golisano Childrens Museum of Naples
There are several excellent museums in Naples, starting with The Revs Institute. It's an educational museum dedicated to preserving, conserving, and restoring vehicles. The over 100 pristine vintage and classic vehicles here are an exciting find for car lovers. The Baker Museum is another location to check out, especially for those who love contemporary and modern art. This three-story museum has 17 galleries, an art library, traveling exhibits, and more; one of its standout exhibits is a set of four large-scale glass artworks by artist Dale Chihuly.
A trip to Palm Cottage is in order for anyone who wants to see Naples' history up close as this is one of the oldest homes in the area. It's filled with rare antiques, too. Other museums to check out include the Collier Museum at Government Center and the Naples Holocaust Museum.
Naples Art Galleries
Art Galleries in Naples
Native Visions Galleries
Leprince Fine Art
Quidley & Company Fine Art Gallery
Art on Fifth Ave Naples
Whether buying or simply admiring, art lovers will find many excellent galleries to explore in the area—there are over 100 art galleries in Naples to choose from, after all. Islamorada Art Gallery By Pasta is a good start for those who love abstract art that's vibrant and comes to life. A more luxurious and formal space is the Harmon-Meek Gallery. It's a family-owned and -managed gallery with a number of local artists. Yet another experience is Gallery One, a modern art gallery with beautiful paintings, sculptures, and pottery displays. The glass art displays are also quite mesmerizing. For those looking to make a purchase, Sheldon Fine Art offers some outstanding options, including local artisan pieces.
Dance & Theatre in Naples
Performing Arts in Naples
Naples Performing Arts Center
Gulfshore Playhouse
Naples Ballet & Company
Opera Naples
Naples Philharmonic
One of the premier locations for local shows and performances is the Philharmonic Center for the Arts. It hosts about 400 events most years, including everything from opera to music groups. It also hosts Broadway musicals, dance competitions, and various local group programs. It all takes place in an elegant 1,200-seat hall.
One of the best ways to enjoy a play of any type is to visit the Gulfshore Playhouse. There are often numerous events taking place here throughout the season, including both nationwide tours and local performers. The productions are noted for their stellar quality.
These are just some of the experiences in arts and culture in Naples. Be sure to look for local festivals, school performances, and the various community events that happen here. It all provides a bit of insight into the culture of this community.
Naples Nightlife
Bars & Clubs in Naples
Paddy Murphy's Irish Pub
Sidebar
Bambusa Bar & Grill
Blue Martini Lounge
Old Naples Pub
There's often something happening in Naples to enjoy, especially in the evenings. South Street is a good place to start. It often has numerous music nights along with open mic nights. It's also welcomed national recording artists to perform as well.
For a cigar and fine spirits lounge, visit Burn By Rocky Patel, located at Mercado. It's a hip night out with local DJs and dancing most evenings. For a true martini bar, check out Blue Martini in Mercado as well. There are live bands and a DJ that takes over at 11 p.m. each night.
In the downtown area, check out The Bevy, an al fresco dining experience with live music on the weekends. Tommy Bahama and Sea Salt, both restaurants in the area, also host live music and dancing each night of the week.
The Real Macaw has a tropical vibe, especially the tropical drinks it serves. The music is lively and happens each weekend night. For those who are looking for karaoke and open mic nights, check out Whiskey Park. There's also an axe-throwing competition here. A bit further from the tourist areas, this location is fun with live music three nights a week.
Explore the Fun Naples Has to Offer
Whether it is a fabulous cocktail overlooking the water or a trip deep into one of the mangroves, there is always something fun to do in Naples, FL. These are just a few suggestions as there are always new things happening, city and community-sponsored events, and various new restaurants and restaurants opening in the area. For many, the city has so much to do it could be hard to do it all in one visit.