October Real Estate Market Update
Posted by Marcus Larrea on Tuesday, November 9, 2021 at 7:59 AM
By Marcus Larrea / November 9, 2021
Comment
Will Florida have enough homes with borders reopening on November 8th? Where do Florida Metros rank on the most recent list of best places to retire? As we come close to the end of the year, is now a big opportunity for buyers?
All this and more in this month's market update.
Hi, its Marcus Larrea with Palm Paradise Real Estate.
While many parts of the country are seeing signs of the real estate market cooling down slightly, turning more towards a balanced market, there are still not many signs of a cool down in Florida. Southwest Florida especially remains one of the hottest markets in the nation and all forecasts point to it staying that way for the foreseeable future.
Median Sale price for single-family homes in Lee County saw about a 21% increase from October of 2020 and about a 2.5% increase from this September. Single-family homes in Collier County saw a 17% year over year increase and just under a 1% price increase from last month. Single-family inventory rose slightly (about 1%) in Lee County and stayed flat in Collier County. Inventory is still down greatly from this time last year.
What's interesting to see is that the townhome and condo market is now hotter than the single-family home market in Southwest Florida. Median sale price for townhomes and condos in Lee County is up over 26% from October 2020 while in Collier County the median sale price is up 25%. Inventory for townhomes and condos is down a whopping 60% from this time last year! You can take a look at the more detailed numbers below.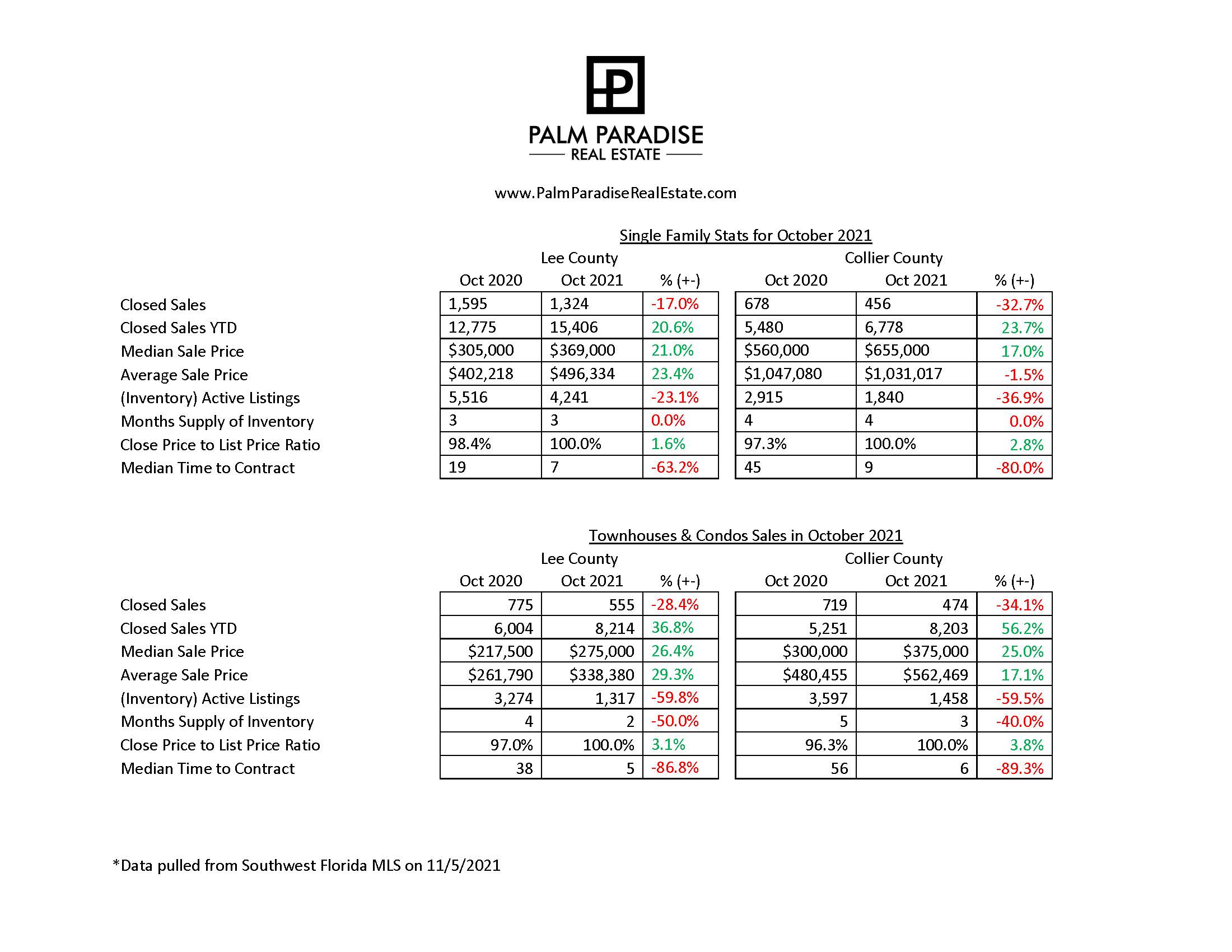 Price increases for single family homes are forcing many people to change their expectations and look at more affordable, smaller alternatives such as townhomes and condos. According to Freddie Mac, inventory for properties less than 1,400 square feet are at a 50-year low! Especially in Southwest Florida, many baby boomers looking to downsize as they retire are competing for these types of properties with millennials looking to buy their first home.
Speaking of retirement, U.S. News and World Report just listed its "Best Places to Retire" list for 2021-2022. Based on their latest research, 11 of the top 20 best metro areas to retire are located in Florida, while Southwest Florida has 4 metro areas in the top 10! Sarasota was listed as the #1 place to retire while Naples comes in at #2, Tampa at #6, and Fort Myers at #7.
Housing inventory will most likely continue to be an issue for the entire Florida housing market especially as international travel restrictions are lifted allowing foreign buyers back into the United States. CNBC recently listed Florida as the #1 destination for foreign buyers. It will be interesting to see what happens with all of these buyers, and seasonal renters, entering a Florida real estate market that has already grown exponentially over the last 2 years.
We have been in a fast-paced market and there are no signs of it slowing down much more in Southwest Florida. Season takes place in the winter months across Southwest Florida and with inventory already very low, and days on market steady around 5-9 days, we expect competition to become more intense again once season starts in January. Our population increases drastically during the winter months. Now through the end of the year may be an opportune time for buyers to buy before competition really steps up again in the beginning of the year. And not to forget, if you plan on financing, your buying power will most likely decrease as interest rates are expected to rise next year.
If you are trying to decide if now is a good time to buy or sell or if you have any questions about market conditions, feel free to reach out to one of our experienced team members at PalmParadiseRealEstate.com or give us a call at 239-349-2487.