September Real Estate Market Update
Posted by Marcus Larrea on Friday, October 8, 2021 at 7:41 AM
By Marcus Larrea / October 8, 2021
Comment
Four reasons why the housing prices will not fall and how the month of September performed all in this month's Southwest Florida Real Estate Market update.
Hi it's Marcus Larrea with Palm Paradise Real Estate and many people are questioning whether or not we are starting to see signs of the market cooling off. The answer to this question is yes but not in the way many people may be expecting it to be.
Over the last year we have seen home prices rise at an astronomical rate, rising an average of 3-4% each month! That rate of growth is unsustainable and we expected the market to slow down. However, a slow down in the market does not mean that prices will begin to drop and this is shown in the statistics for the month of September.
Median home prices in both Lee County and Collier County have remained fairly flat from August to September but we are still up 18% to 28% from last year depending on the county and property type. Average sale price from August to September has increased anywhere from 1.5% to 9.6% with the higher average price jumps taking place in Collier County.
Historically, Southwest Florida typically sees it's lowest inventory levels for the year around the months of August to October, so it makes sense that inventory is around the lowest levels of the year, which also happens to be the lowest levels of inventory since 2012.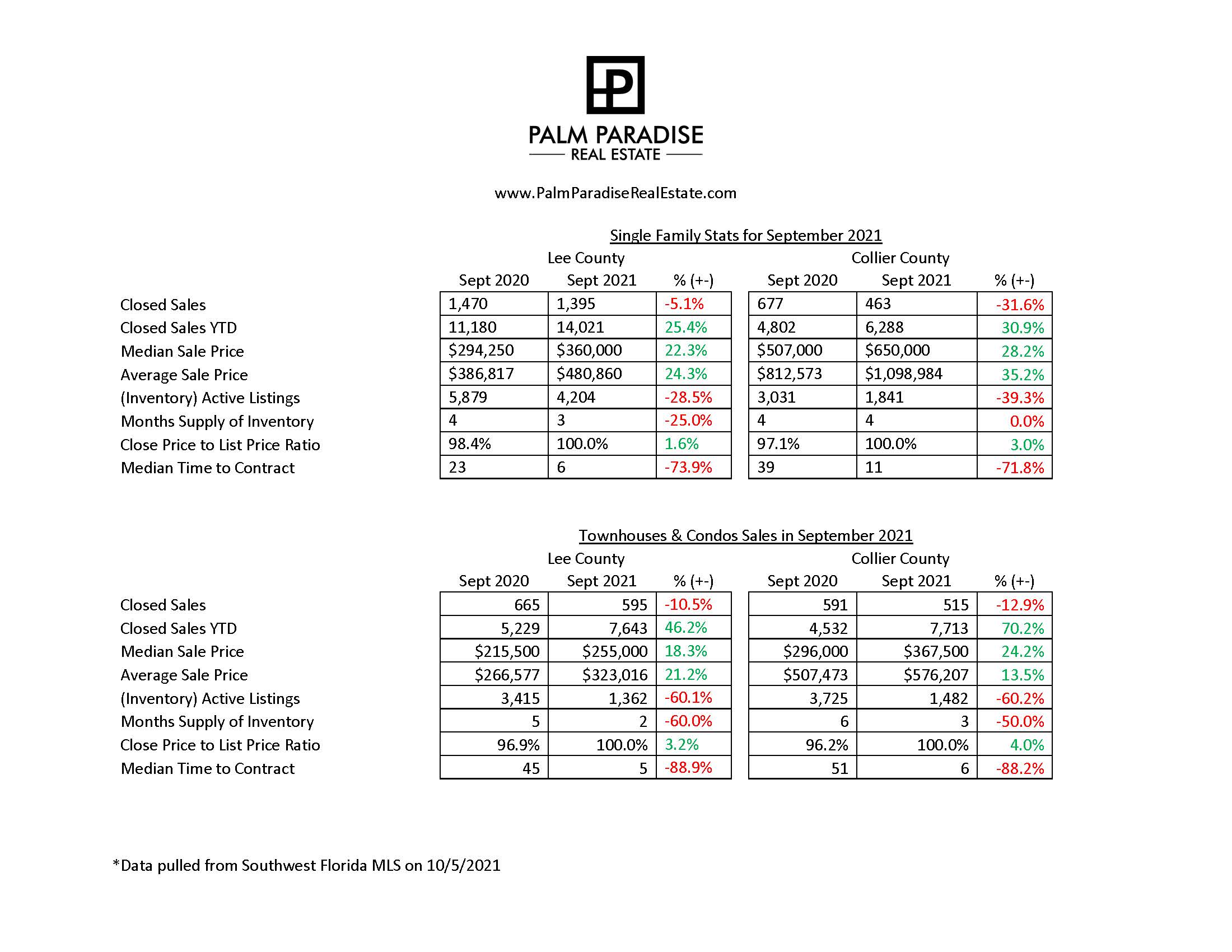 Speaking of low inventory, that kicks off the first of the 4 reasons we, along with several real estate experts and economists believe housing prices will not fall in the near future.
Latest reports from September show that the national housing shortage has actually increased to 5.24 million homes needed to come to market in order to catch up to demand. That's up 1.4 million homes from 2019. The fact that new home construction is at its slowest pace since 1995 is not helping the massive supply and demand issue we are facing both nationally and locally.
The second reason we will not be seeing lower home prices anytime soon is that we have a much stronger mortgage market than we did in 2006. Back then, about 1/3 of all mortgages required little to no documentation which allowed for many people to give inaccurate information about their finances. If you have taken a mortgage out on a home since the bubble burst, you know that lenders ask for documentation, and then they ask for more documentation to support the documentation.
The third reason is forbearance programs that allowed home owners to skip or make smaller monthly payments through the CARES Act. Well over half of all the homeowners in forbearance are back on track with their payments. The number of people in forbearance will continue to shrink through the end of the year. Banks are more willing to work with owners to keep them in their homes and restructure their loans due to the strong housing market and the rapid price appreciation that has taken place. Those that are unable to make their payments can easily sell and pay off their loans and enter the rental market.
The last reason we will not see home prices fall anytime soon, is Millennial home buyers, or about 32.5 million people between ages 27 – 33, will be looking to buy homes in the next 3 years. Couple this with many Baby Boomers retiring to Florida and it will be interesting to see how inventory can gain much ground on the demand anytime soon, especially in Florida.
As mentioned in previous recent updates, mortgage rates are expected to continue to rise and will be one of the primary contributors to slowing home price increases. If you are waiting to buy until home prices drop, you may also need to consider the increasing cost of borrowing money as rates rise. I mentioned last month that a 1% increase in mortgage rates can decrease your purchasing power by 9-11%. That is a big difference.
If you are trying to decide if now is a good time to buy or sell your home or if you have any questions about market conditions, feel free to reach out to one of our experienced team members at PalmParadiseRealEstate.com or give us a call at 239-349-2487.