Social Southwest Florida: March 2022 Edition
Posted by Marcus Larrea on Friday, February 25, 2022 at 10:37 AM
By Marcus Larrea / February 25, 2022
Comment
Break out your beer stein and don't forget to wear something green, March is here and we're feeling lucky to live in Southwest Florida. Hi, it's Marcus Larrea with Palm Paradise Real Estate and boy do we have a fun month of events ahead for you to attend all around Southwest Florida!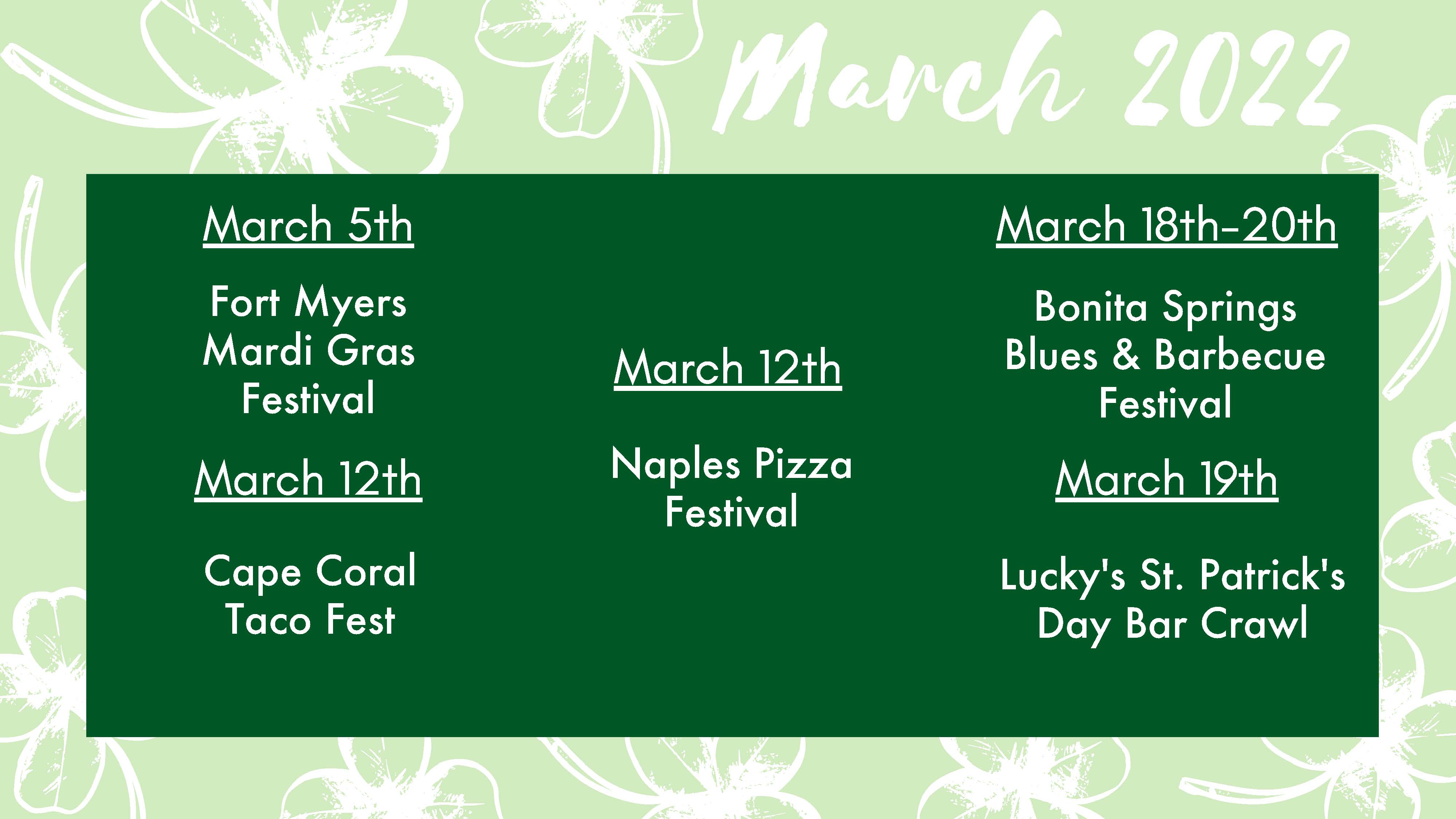 Kicking off the month in a festive way is the Fort Myers Mardi Gras Festival on Saturday, March 5th! Make your way to Centennial Park from 12pm to 9pm to enjoy authentic New Orleans style meals, live entertainment and local vendors all day long! With over 6 live bands scheduled and over ten different local food vendors, you and your family won't want to miss this event! General admission tickets are available for purchase online, and kids 12 and under enter for free!
Who said tacos are only celebrated on Tuesdays? Join us at Cape Coral's annual Taco Fest on Saturday, March 12th from 11am until 5pm at the German American Club of Cape Coral. With a wide variety of local restaurants and food vendors on-site, Taco Fest needs YOUR opinion on deciding which restaurant goes home with a variety of awards from Southwest Florida's "Most Creative" taco, to the "Most Traditional", to "People's Choice. This festival of food, beer and music will be fun for the whole family to enjoy! Ticket packages are available for purchase at the Taco Fest website!
Tacos not really your thing? No worries! Head on down to the Naples Italian American Club on the same date (Saturday, March 12th) from 12pm until 5pm for the Nation's Biggest Pizza Festival! This is the ultimate experience for all the pizza lovers in your family, with all of your favorite local restaurants as well as pizza vendors from all over the world on-site and ready to serve pies, hot and fresh. Sit back and enjoy a slice alongside live music, entertainment, beer and wine and fun activities for all ages! Tickets are available online!
Looking for more of a laid back vibe? Make sure to check out the Bonita Springs Blues & Barbecue Festival on Bonita Beach Road, starting Friday, March 18th through Sunday, March 20th from 11am until 10pm. Choose from a diverse menu of BBQ foods along with a strong selection of other dishes and vegetarian options with a variety of on-site beverage options while enjoying local and regional blues acts. In-between performances stroll through a marketplace of fine arts, crafts and curios from local vendors to shop. Admission is free for the whole family, and more information about the event can be obtained from their website!
Closing out March's events is probably the most recognized celebration of the month, St. Patrick's Day! Grab your green garb and join the luckiest bar crawl ever at the 5th Annual Lucky's St. Patrick Day Crawl in St. Petersburg, Florida on Saturday, March 19th. With over 3000 expected attendees, this bar crawl has everything! From exclusive drink specials, to amazing local food, 2 complimentary drinks or shots, a private after party, and even a one thousand dollar grand prize costume contest, you really might need the luck of the Irish to make it to the end of this crawl! Bar crawl locations, check-in time and tickets can be obtained from their website!
Personally, we feel lucky living in such a beautiful community as Southwest Florida, with so many fun local events to attend each month. It's our pleasure to be actively involved within our community and being able to share amazing events such as these with you. If you have any questions about the local real estate market or need help in buying or selling a home, we look forward to connecting with you! Click the link below to visit our website at www.PalmParadiseRealEstate.com and connect with one of our experienced team members, or follow us on our social media platforms to learn more about us! Thank you, and have a wonderful day!