Lowest Property Taxes in Pinellas County FL: 13 Cities with Low Tax Rates
Posted by Marcus Larrea on Monday, July 17, 2023 at 3:13:29 PM
By Marcus Larrea / July 17, 2023
Comment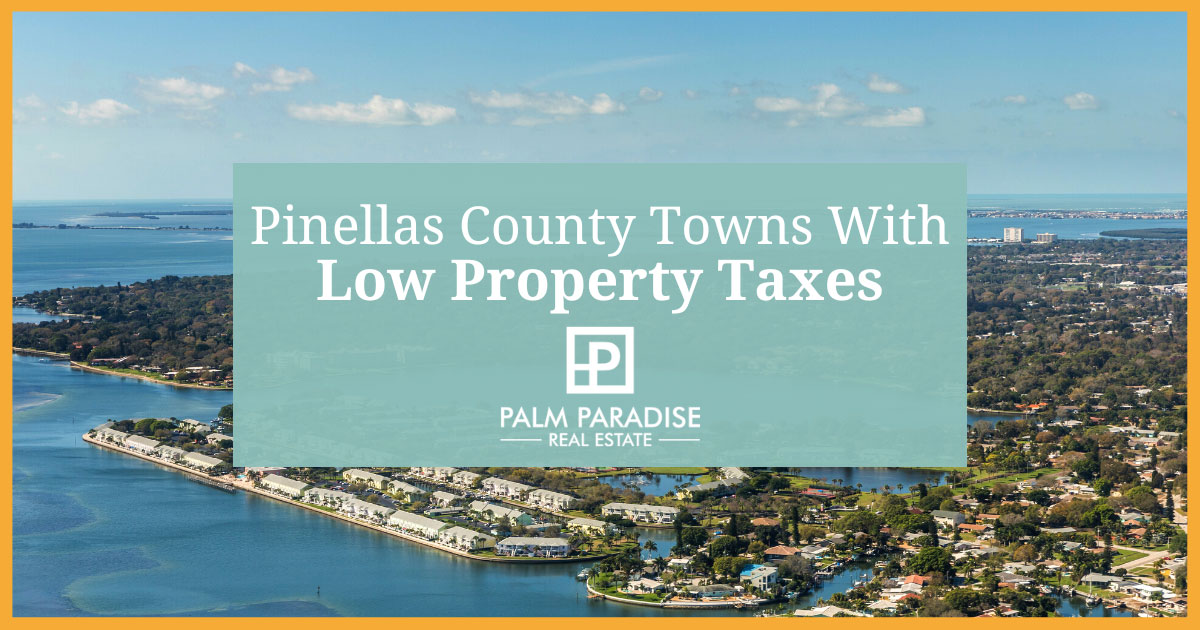 In the sun-soaked expanse of Pinellas County, Florida, lie several towns with an allure that extends beyond their pristine beaches and vibrant culture. As prospective homeowners seek their slice of paradise, understanding the intricacies of Pinellas County property taxes becomes paramount. By delving into the tax rates, exemptions, and assessment practices, prospective buyers thinking of moving to Saint Petersburg or shopping for homes in Indian Rocks Beach can make informed decisions while navigating the captivating real estate market of Pinellas County.
St. Petersburg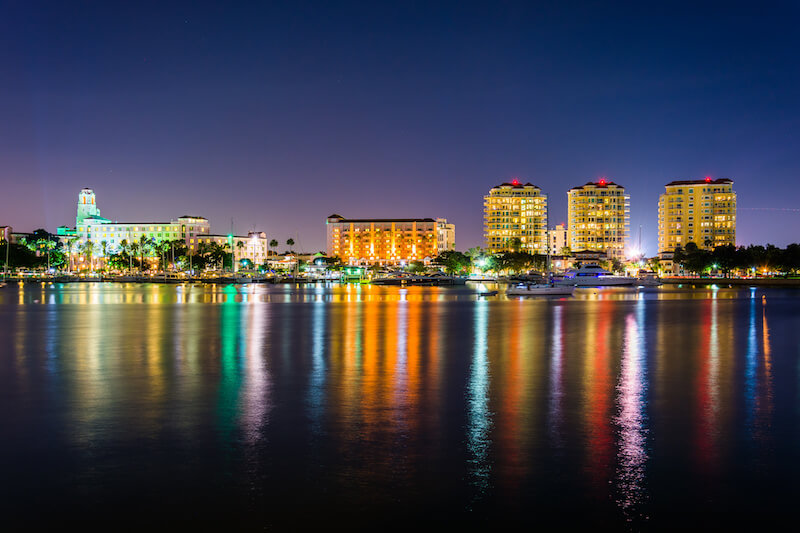 St. Petersburg is the largest and most populated city in Pinellas County, with about a quarter-million people spread over nearly 140 square miles, which stretch from the bottom of the peninsula to the Howard Franklin Bridge, and from Tampa Bay to the barrier islands on the Gulf. It offers the county's most thriving dining and nightlife options, particularly the highly walkable district near the popular St. Pete Pier.
St. Petersburg is also known for its many museums, including the famous Dalí Museum and many other destinations for fine art, glass art, and more. Meanwhile, residents can reach some of the nation's best beaches, and the employment centers around Tampa with just a short drive, making the town an ideal location for work and play.
Residential property taxes in St. Peterburg have a total millage rate of 20.0321, meaning owners with a half-million dollar home would be responsible for $8,914 annually. Homes in St. Petersburg run the gamut from affordable to high-end, with various condos, townhomes, and single-family detached homes. Condos range from older, modestly sized garden-style units under $100,000 to gorgeous modern penthouses overlooking the harbor, selling for $3–$5 million. Detached homes start in the mid-$100s, but most sell from the $500s–$1.5 million. Luxury and waterfront homes in St. Petersburg can list for up to $15 million. Though less common, St. Petersburg townhomes list from the $300s–$2 million.
St. Petersburg Amenities
St. Pete Pier
Vinoy Park
Weedon Island Preserve
Tropicana Field
St. Anthony's Hospital
Pinellas Trail access
St. Pete Beach
St. Pete Beach, one of St. Petersburg's best suburbs, sits at the southern end of the county's Gulf of Mexico barrier island chain. Less than a quarter-mile wide at points, it's densely packed with high-rise condos, single-family home communities, and numerous hotels and restaurants, most of which offer amazing views of the area's turquoise blue water. The Pass-A-Grille neighborhood is known for its gorgeous homes and serene sand, part of the city's nearly four miles of beach. The northern part of town offers more excitement at various bars and restaurants, with spots like The Toasted Monkey and Jimmy B's Beach Bar providing plenty of fun for residents and visitors alike.
St. Pete Beach's residential property taxes have a millage rate of 15.9071, meaning owners of a half-million dollar home will be responsible for $7,079 in annual taxes. Condos slightly outnumber single-family detached dwellings in St. Pete Beach. These multifamily units range from modest garden-style and medium-rise units in the mid-$200s to luxury choices in the $1.5–$4 million range, averaging just under half a million dollars overall. Detached homes in St. Pete Beach can be found from around $600,000; these typically reach just over $2 million but can sometimes list for three or four times that price.
St. Pete Beach Amenities
Approximately four miles of Gulf of Mexico beach
Numerous marinas
Egan Park
Pass A Grille Dog Beach
Dolphin Village shopping center
Clearwater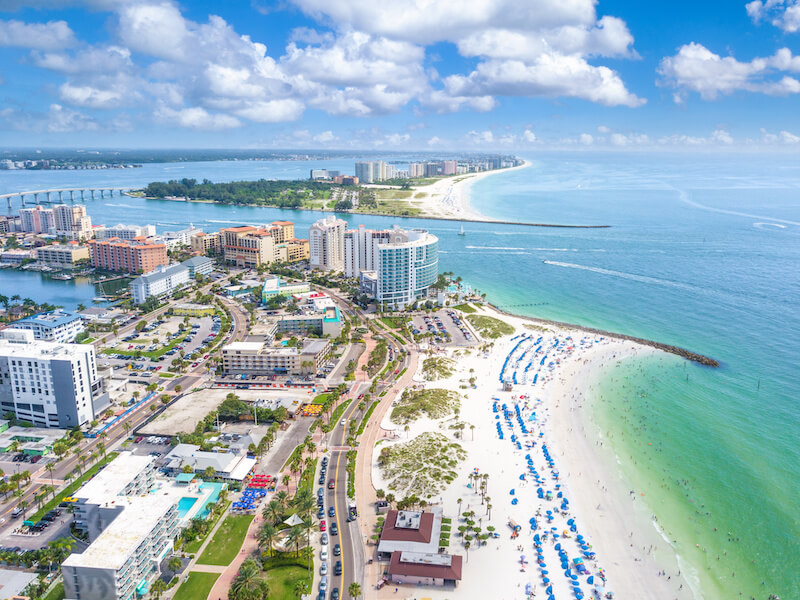 Clearwater is the county seat of Pinellas County, covering a broad area in the middle of the peninsula, centered around the downtown district and beach area on the Gulf of Mexico. The former has seen a dramatic revitalization in recent years, particularly around the Cleveland Street shopping and entertainment corridor and Coachman Park.
Meanwhile, just across Clearwater Harbor, Clearwater Beach and the Pier 60 area offers some of the Sunshine State's softest sand and most beautiful water, flanked by a wide selection of hotels, shops, restaurants, bars, and more to keep residents entertained for years to come. Music lovers also have easy access to the region's best venues: Ruth Eckerd Hall and The Capitol Theater regularly draw big-name acts.
Residents in Clearwater will pay a 19.3921 property tax millage rate, resulting in $8,629 in annual taxes on a half-million dollar home. The majority of the town's housing is made up of condos and multifamily units, with most of the rest made up of single-family detached homes. Condos for sale in Clearwater are available for $300,000 or less. Typical detached homes start in the mid-$200s and top out at around $1 million. However, luxury homes in Clearwater can be found from the high six figures to as high as $1-5 million.
Clearwater Amenities
Convenient to Clearwater Beach
Coachman Park
Clearwater Marine Aquarium
Ruth Eckerd Hall
Countryside Mall
Morton Plant Hospital
Pinellas Trail access
Tarpon Springs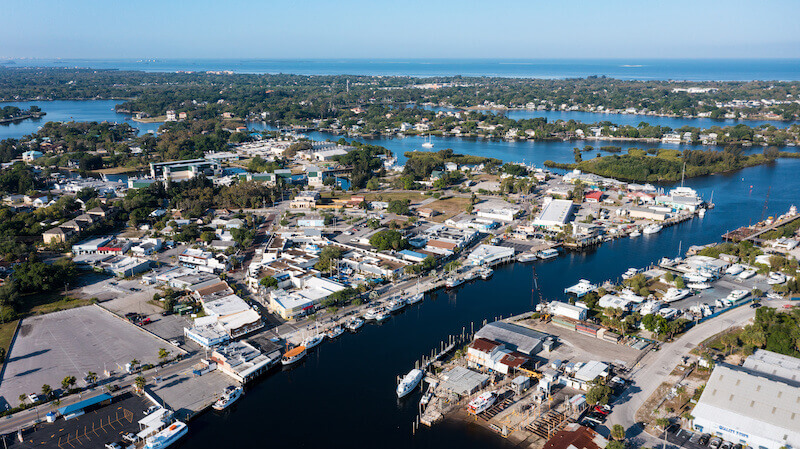 Would-be homebuyers can enjoy a little slice of the Mediterranean in Pinellas County in Tarpon Springs, which sits on the Anclote River between the Gulf and Lake Tarpon. The town's history can still be experienced today in the Sponge Docks district, lined with restaurants, bakeries, sponge shops, and working sponge boats bringing in their daily catch. In addition, a downtown strip along Tarpon Avenue is home to quirky local shops, breweries, and unique attractions like the Replay Pinball Museum. It's also the site of the county-run Fred Howard Park, which offers a beautiful beach, water recreation area, and green space on the Gulf.
Property taxes in Tarpon Springs are assessed at a rate of 18.8771%, resulting in an annual tax bill of $8,400 for a half-million-dollar home. Single-family houses outnumber condos in Tarpon Springs by about two to one. Detached homes in Tarpon Springs range from gorgeous, recently built waterfront mansions to modest ranches and cottage-style homes a century old or older. Prices are correspondingly wide-ranging from the mid-$200s to $4 million. Tarpon Springs condos typically list from the mid-$100s to around half a million.
Tarpon Springs Amenities
Sponge Docks shopping/dining district
Fred Howard Park
Anclote River access
Tarpon Springs Golf Course
Pinellas Trail access
Shoppes at Tarpon mall
AdventHealth North Pinellas Hospital
Pinellas Park
In a prime position to access the economy in St. Petersburg, Pinellas Park is primarily a bedroom community for the larger nearby cities. All are easily accessible via Interstate 275 and US Route 19, two of the region's major thoroughfares. Pinellas Park is also close to St. Pete-Clearwater International Airport, a lesser-known but highly convenient option for frequent travelers.
However, there's plenty to do right within the town, particularly in the area's traditional downtown near 49th Street and Park Boulevard. In addition to parks and entertainment spots like The Pinellas Park Performing Arts Center, the area is also home to many international shops and restaurants, reflecting the town's diverse mix of cultures.
Residential property taxes in Pinellas Park have a millage rate of 19.1571, meaning half-million dollar homeowners will owe $8,525 annually. Housing mainly consists of single-family detached homes, supplemented by a few townhouses and condo communities—all start in the mid-$100s, typically for modestly sized, older one- or two-bedroom properties. Most homes in Pinellas Park sell from the mid-$200s to just over half a million dollars. However, unique, high-end properties of more than 6,000 square feet can list for more than $2 million.
Pinellas Park Amenities
Freedom Lake Park
England Brothers Park
The Shoppes at Park Place
HCA Florida Northside Hospital
Mainlands Golf Course
St. Pete-Clearwater International Airport
The Pinellas Park Performing Arts Center
Seminole
The town of Seminole occupies much of the area surrounding Lake Seminole and Long Bayou in west-central Pinellas County. Most of the community is residential, though all homes have easy access to everyday shopping and restaurants in several complexes along Park Boulevard.
The community is also just minutes from some of the best Gulf beaches, from the shopping, dining, and nightlife of places like John's Pass to the quieter, more relaxed areas like Indian Shores. Seminole also makes it easy for residents to enjoy the other bodies of water that thread through the area at parks like Lake Seminole Park and Boca Ciega Millennium Park, ideal spots for exercising, picnicking, or wildlife watching.
Seminole property taxes have a millage rate of 15.9864, corresponding to $7,114 in yearly taxes for a half-million-dollar home. Homebuyers in Seminole will find condos and co-ops in roughly equal proportion to single-family detached dwellings. Seminole condos start around $100,000 and list into the $400s. Detached homes offer the most diversity in size and style, from modest ranches in the low $300s to spectacular Seminole luxury homes for more than $3 million.
Seminole Amenities
Lake Seminole Park
Boca Ciega Millennium Park
Seminole City Park
Seminole City Center shopping mall
Seminole Lake Country Club
St. Petersburg College
Pinellas Trail access
North Redington Beach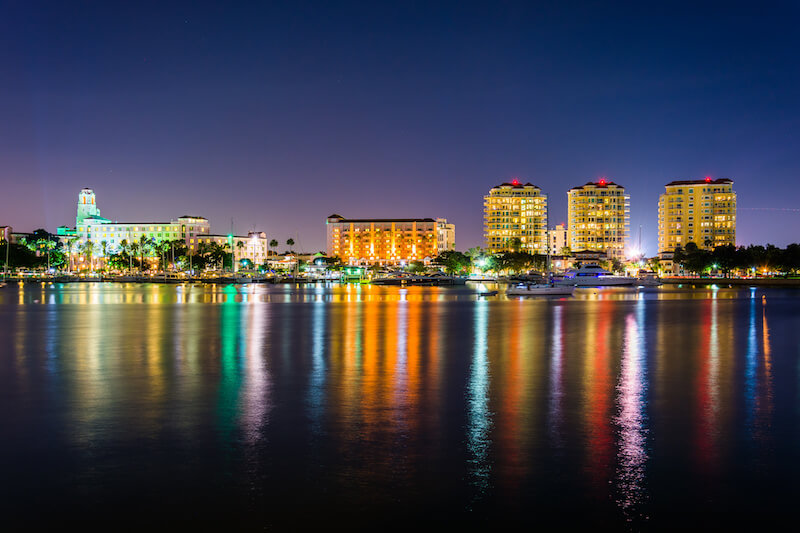 The tiny town of North Redington Beach sits on the chain of barrier islands between mainland Florida and the Gulf of Mexico. While it's just three-quarters of a mile long, the entire town enjoys direct beachfront living or access to the Intracoastal Waterway. While much of North Redington Beach is residential, the main strip along Gulf Boulevard is packed with popular restaurants, including Conch Republic Grill and Mango's Restaurant & Tiki Bar.
North Redington Beach assesses property taxes at a 14.5071 millage rate, meaning owners of a $500,000 home will be responsible for $6,456 in annual taxes. Condos in North Redington Beach are the most common housing style. These start around $400,000 and typically reach the $800s, though luxury units from $1–$2 million are also sometimes available. Buyers can find fully detached and townhome-style properties from north of $1.25 million to as high as $3–$4 million.
North Redington Beach Amenities
The Conch Republic Grill
Sweet Sage Cafe
Mangos Restaurant & Tiki Bar
Dolphin Park
Largo
Largo was once merely a central hub of Pinellas County's citrus industry, but the town's population and physical size grew in the post-World War II decades as it absorbed nearby areas. It offers another optimal location within the county for commuters, with quick access to Clearwater and St. Petersburg and two bridges across the bay to the city of Tampa. The town provides some of the best parks and green spaces in Pinellas County, ranging from convenient Largo Central Park (home to amenities like the Central Park Performing Arts Center) to the wilder, more spacious Eagle Lake Park. Meanwhile, numerous commercial corridors and shopping centers throughout town make shopping and dining easy.
Largo's residential property taxes are set at 19.0271, meaning owners with a $500,000 property will see an annual bill of $8,467. The community's vast area means many homes available for potential buyers, including condos and detached single-family houses. Largo condos start in the low $100s, with most selling from the mid-$200s to around half a million. Traditional homes in Largo can be found from the high $200s to more than $5 million, though most sell for under $1 million.
Largo Amenities
Largo Central Park
Eagle Lake Park
Florida Botanical Gardens
Largo Golf Course
Numerous shopping centers and malls
HCA Florida Largo Hospital
Pinellas Trail access
Safety Harbor
One of the first settled areas in what would become Pinellas County, Safety Harbor sits on the peninsula's eastern edge, along the shores of the very top of Tampa Bay. Residents can enjoy views of this gorgeous body of water from Philippe Park, an expansive green space also home to one of the region's best-preserved Native American shell mounds. There are also plenty of great views from the thriving Main Street district of shops and restaurants, anchored by the historic Safety Harbor Resort and Spa. Much of the rest of Safety Harbor is residential, including high-end properties on the water. The city is also very convenient to Tampa, with access to several routes into downtown.
Safety Harbor's property taxes are assessed at a 17.4571 millage rate, resulting in a $7,768 annual tax bill for half-million-dollar homes. Unlike many communities, townhomes are among the highest-priced properties. Older units start around $400,000, but most are gorgeous new construction units listing for up to $2.5 million. Condos in Safety Harbor list from the high $100s to the high $300s. Single-family homes in Safety Harbor are the most common option and list from the $300s.
Safety Harbor Amenities
Philippe Park
Safety Harbor Pier
Safety Harbor Community Center
Safety Harbor Dog Park
Mease Countryside Hospital
Indian Rocks Beach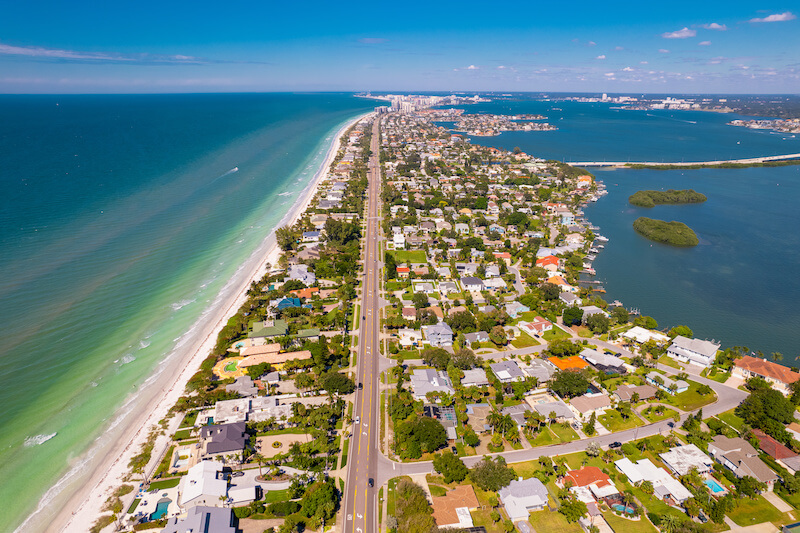 Indian Rocks Beach provides some of the area's most extensive beachfront, offering more than two and a half miles of sandy shoreline. Meanwhile, the hustle and bustle of Clearwater Beach is just to the north for when owners need a bit more excitement. Closer to home, there's also a popular district of restaurants, shops, and other attractions south of 5th Avenue. Here, residents can grab a bite to eat at the iconic Original Crabby Bill's, a locally crafted beverage at Anecdote Brewing Company, or cool off at plash Harbour Water Park.
Indian Rocks Beach sets millage rates for property taxes at 15.3397, corresponding to a $6,826 annual bill for homeowners with a half-million-dollar property. Condos provide the most budget-friendly choices, starting in the high $200s, with top-tier units reaching around $1.5 million. Indian Rocks Beach townhomes can be found for just north of half a million, while detached homes in town list from the $600s. Luxury homes for sale in Indian Rocks Beach list from $1–$10 million.
Indian Rocks Beach Amenities
Indian Rocks Beach Nature Preserve
Kolb Park
Brown Park
Public beaches
Redington Shores
Like nearby barrier island communities, Redington Shores is a quiet, primarily residential town just a few hundred yards wide at points, ensuring all residents are just steps from the Gulf or the Intracoastal Waterway. It offers a small commercial strip on Gulf Boulevard of casual restaurants like the Broke and Bored Grill and unique local shops. Along with more than a mile of beachfront, residents can relax in several well-maintained green spaces like Constitution and Del Bello Parks.
Property tax rates in Redington Shores are set at 15.1967, resulting in a yearly bill of $6,763 for owners of a half-million-dollar home. Homes in Redington Shores are roughly split between single-family detached properties, condos, and other multifamily units. Most homes for sale in Redington Shores list from the high six figures to around $2 million, though ultraluxury gulf-front homes can reach the $4–$8 million range. Fortunately, the area's unique geography means most properties have direct, private water access.
Redington Shores Amenities
Seaside Seabird Sanctuary
Redington Shores Beach
Del Bello Park
Constitution Park
Redington Beach
Redington Beach differs from many nearby beach towns in being comprised almost entirely of homes instead of hotels or other businesses. However, it's just north of the more developed community of Madeira Beach. Along with various other amenities, it's home to John's Pass, which offers a variety of shopping from everyday errands to quirky local stores, along with numerous restaurants, bars, and even water recreation and boat rentals.
Residential property taxes in Redington are assessed at a 15.322 millage rate, meaning owners of a half-million dollar home will be responsible for $6,818 in annual taxes. Despite the town's small size, single-family detached homes and Redington Beach condos are all plentiful. The latter is the least expensive, with modestly-sized units starting at $300,000. Detached properties list from a half-million and up, primarily selling in the high six figures to $2 million or more.
Redington Beach Amenities
Redington Beach Town Park
Friendship Park
Public beaches
Seaside Wild Bird Rescue
Indian Shores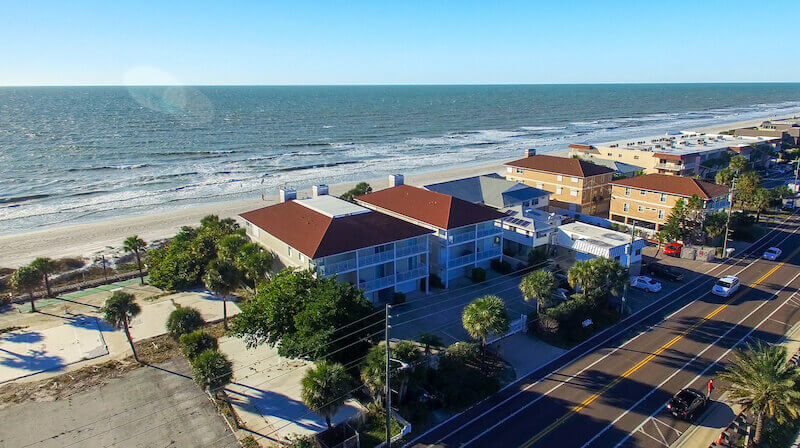 Indian Shores is another Pinellas County barrier island town, home to numerous hotels, motels, and resorts, ensuring a lively environment on the two-and-a-half miles of pristine beaches. Indian Shores offers ample park space beyond the beach, including a fishing pier and boat ramp just one side of the Park Boulevard bridge, while the opposite side is home to Town Square Nature Park, preserving some of the region's natural barrier island landscapes.
With a property tax millage rate of 15.3771, owners of a half-million-dollar property in Indian Shores will owe $6,843 yearly. The town's relatively dense development and numerous hotels mean would-be residents primarily have a choice of condos and townhome-style units. These typically start in the mid-$300s to low $400s, with the majority selling from the $600s to $1.5 million. Luxury homes in Indian Shores can sell from $2–$10 million.
Indian Shores Amenities
Seaside Bird Sanctuary
Town Square Nature Park
Bay Shores Yacht & Tennis Club
Smuggler's Cove Adventure Golf
Tiki Gardens
The Pinellas County Property Tax Landscape
Pinellas County's popular towns offer not only scenic beauty but also a unique property tax landscape. From the luxury homes in Largo to the historical allure of St. Petersburg, each town presents a distinct blend of tax obligations for property owners. Armed with this knowledge, buyers can confidently embark on their journey to finding their perfect home amidst the captivating towns of Pinellas County.