What Is Going On In The SWFL Real Estate Market???
Posted by Marcus Larrea on Tuesday, August 18, 2020 at 4:13 PM
By Marcus Larrea / August 18, 2020
Comment
What is going on in Southwest Florida's Real Estate Market??? I've analyzed the July sales data in the Southwest Florida MLS and you do not want to miss this month's market update.
Hi It's Marcus Larrea with Palm Paradise Real Estate in Southwest Florida. If you are like most people keeping an eye on the real estate market, you are wondering whether it is a good time to sell or a good time to buy. Or you just want to know what is happening with home prices. This might seem like a typical sales persons answer but it truly is a great time to sell and a great time to buy.
Inventory dropping month over month is driving prices up creating a strong sellers market especially for single family homes. Even with such low inventory and the COVID pandemic, closed Single family home sales in both lee county and collier county are now above last years numbers through July. If priced correctly, we are seeing many single family homes go pending in under a week. These same homes are receiving multiple offers which can turn into bidding wars and sell for well over list price in some circumstances.
That is why it is important to list your home with an experienced team like the Palm Paradise Real Estate Team. Our listings are selling at 98% of list price with an average Days on Market of 44 Days, Much better than the market averages of 96.8% of list price and 83 days on market for other brokerages in the area. It is important to get your home sold fast before your listing goes stale especially in today's market.
Across the nation, continuous record low interest rates are fueling buyer demand. Personally on our team, we have seen buyers get government loans as low as 2.375% APR and conforming loans as low as 2.875% APR with one of our preferred lenders, Nate Tasso at Core Mortgage Financial.
Locally, buyer demand is still rising strong. Record low interest rates along with many people reconsidering their living conditions among new norms are driving people to areas like Southwest Florida. As mentioned a minute ago, we are seeing many multiple offer situations and bidding wars on properties. If buying, it can only help to write a buyer love letter as mentioned in my previous video to help you stand out above competing offers.
As always, you can take a look at the detailed numbers for July by clicking on the image below: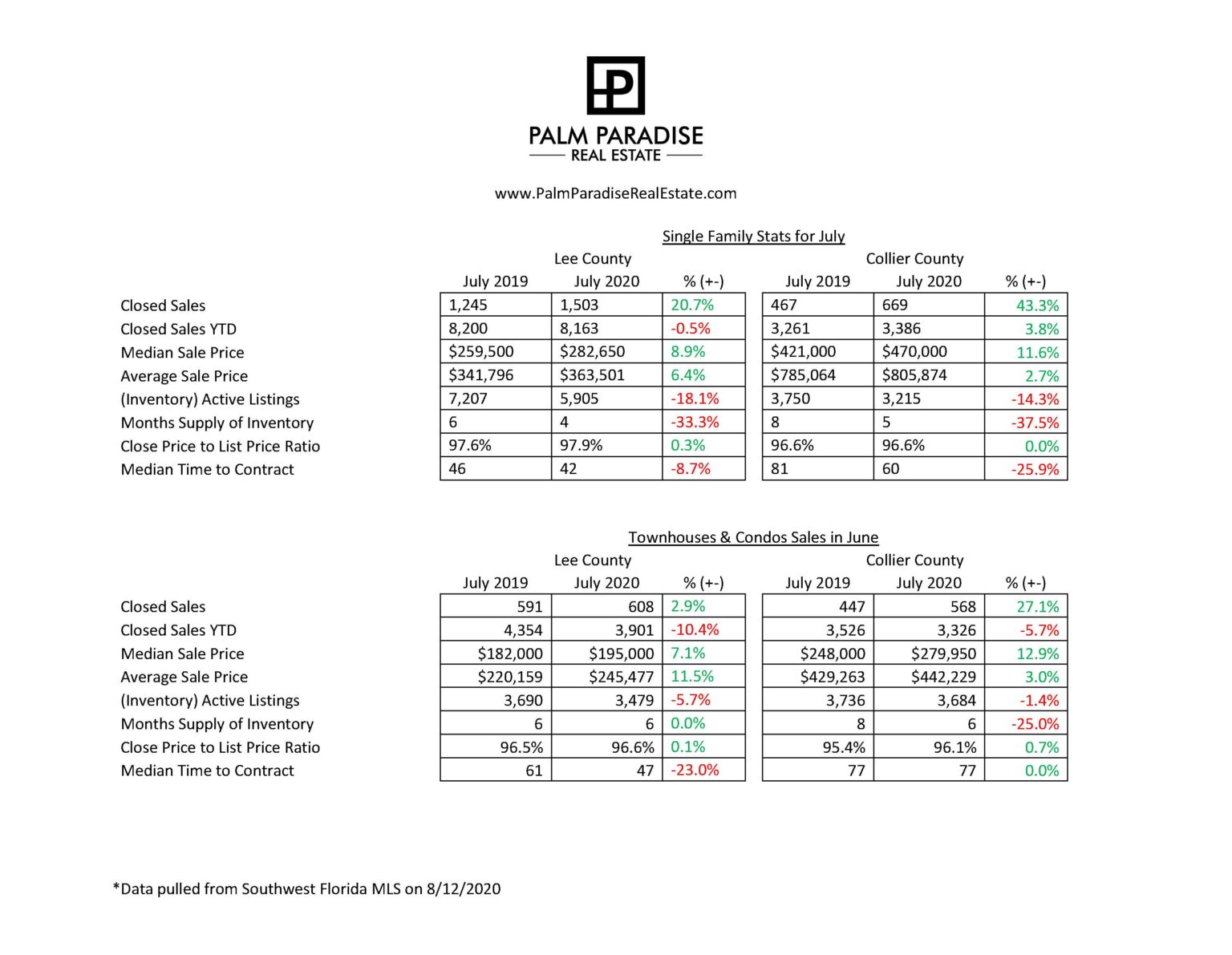 If you have any questions about buying or selling in this constantly evolving market, please don't hesitate to reach out to one of our team members at www.PalmParadiseRealEstate.com.
Thank you so much.